Whether you're going back to school or to the office (to save money on your energy bill, ofc), it's time to free up some space in your calendar for this season's new anime releases. There's some long awaited stuff in this Fall 2022 edition: buckle up! If you like binge watching an entire season in one go, I recommend you check out the summer releases first, as most will be finished by now. The fall 2022 anime release schedule is PACKED, so I'm only presenting my own hand-picked overview which already omits all the movies. But as usual you can find full lists on Anichart or LiveChart.
Week 39: 26/09-02/10
SPYxFAMILY part 2
Release date: 01/10/2022
Genre: Comedy, Slice of Life
Based on a manga series, in a world that has been stuck in a cold war for decades, spy "Twilight" has to build a family in order to infiltrate social gatherings. He adopts a daughter, who turns out to be a mind reader. And his new wife? An assassin! Although they are living together, they try to keep their true identities hidden from each other. The series enjoys great reception and has been nominated for several awards.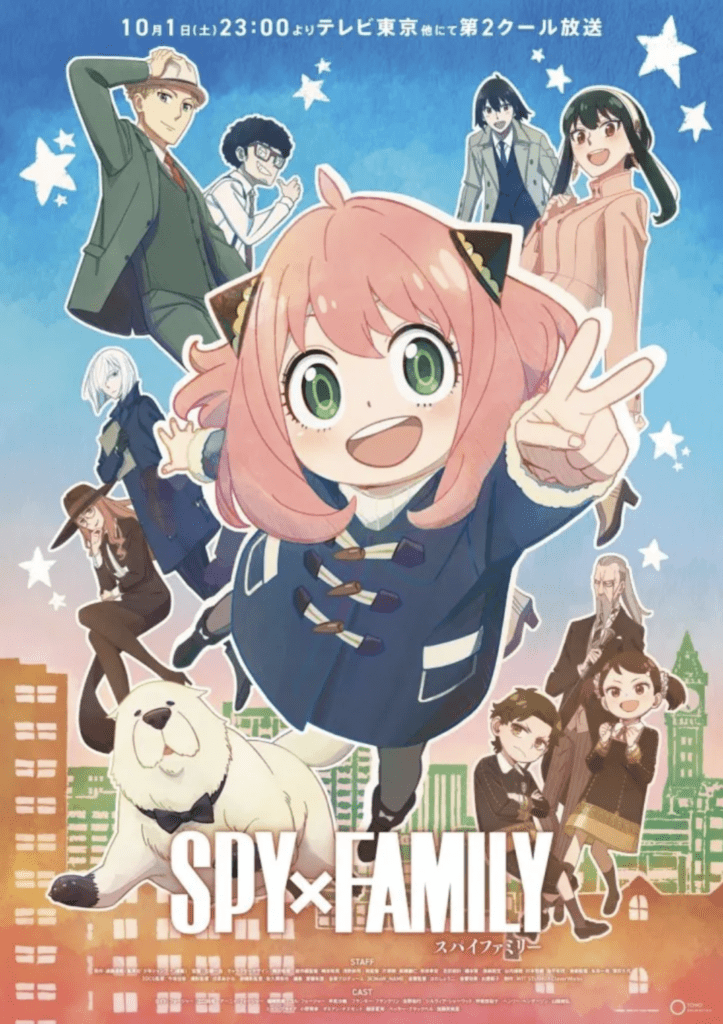 My Hero Academia 6
Release date: 01/10/2022
Genre: Action, Comedy
In a world where most of the humans have gained superpowers (called "Quirks") we follow Izuku Midoriya. Despite not having a Quirk, he dreams of becoming a Hero. After meeting his idol All Might, he passes his Quirk onto Izuku. Determined to become a hero he attends a prestigious high school for heroes in training. Season 5 will cover the story of the original manga starting from the first chapters of the 21st volume.
Uzaki-Chan Wants to Hang Out! Season 2
Release date: 01/10/2022
Genre: Comedy, Romance
Based on a manga series. Hana Uzaki is excited that she'll be attending the same college as Shinichi Sakurai, who used to be her upperclassman in high school. When she realizes he's turned into a loner, she decides to spend as much time together as possible. She thinks it's unacceptable that he's an introvert, and turns stalking him into a fun project. But will Shinichi be able to make it clear he just prefers to be on his lonesome, or will he fall for her charm?
I've Somehow Gotten Stronger When I Improved My Farm-Related Skills
Release date: 01/10/2022
Genre: Slice Of Life, Fantasy, Adventure
Based on a light novel series with a manga adaptation. AI Wayne loves farming in the traditional sense. While improving his agriculture skills he somehow maxes out his stats and becomes superpowered. His abilities are stronger than most heroes', but all he wants is to live the life of an idyllic farmer! With demons and other monsters invading, he has no other choice than to step up.
Week 40: 03-09/10
Shinobi no Ittoki
Release date: 04/10/2022
Genre: Action
In this OVA we follow the story of Ittoki Sakaruba, who learns that he is a descendant and heir of the Iga Ninja Clan. His mother sends him off to the only national ninja school, where he will study and train while also investigating who has been trying to kill him, and why.
The Eminence in Shadow
Release date: 05/10/2022
Genre: Action, Comedy, Fantasy
Based on a light novel with a manga adaptation. It's modern-day Japan, a boy tries to become a mastermind and exerts power from the shadows, but gets hit by a truck and dies during training. Reborn as Cid Kagenou in a fantasy world, he tries not to stand out, while still trying to manipulate from the shadows. One day he cures an elven girl infected by a mysterious disease. He enlists her in his secret organization Shadow Garden to fight the Cult of Diabolos, who run this world. Although he believes he entirely made up both organizations, they actually exist and he is unknowingly involved in a complicated power struggle.
Mob Psycho 100 III
Release date: 06/10/2022
Genre: Action, Comedy, Supernatural
Based on a manga series, this is already the third season. Mob (Shigeo Kageyama) is an average teenager, his nickname indicating he is just a "background character". But he is actually an esper, someone with immense psychic power. He lives under an emotional shackle not to lose control of his power. Trying to gain more control over his own abilities, Mob works as an assistant to con-man Reigen Arataka, a spirit medium. He threatens to break through his own limits as he encounters other espers.
Welcome to Demon School! Iruma-kun Season 3
Release date: 08/10/2022
Genre: Comedy, Fantasy
Based on a manga series. Protagonist Suzuki Iruma is a non-aggressive human, but one day becomes the grandson of the demon Sullivan. Sullivan is the headmaster of Babyls School for Demons where Suzuki now has to enroll. Despite all odds he actually finds himself enjoying life there with his demon classmates. He has to hide the fact that he's a human though, or he might get eaten…
BLUE LOCK
Release date: 09/10/2022
Genre: Sports, Drama
Based on a manga series. Japan finishes 16th at the 2018 World Cup, and the defeat leaves the team struggling. The Football Union wants to find a new ace, someone who hungers for goals, someone who can turn around a losing match. As a result they launch a new training regimen (Blue Lock): 300 of Japan's best young players gather, with one who will emerge and lead the team. Every player who fails, will never be allowed to represent Japan. Who will out-muscle and out-ego the others?
More than a married couple, but not lovers.
Release date: 09/10/2022
Genre: Romance, Comedy, Ecchi
Based on a manga series. High schooler Jiro Yakuin has a crush on his childhood friend Shiori. The school is running a couples training program, where students develop social skills by interacting with a partner as if they were married. Jiro is paired with Akari, who finds him repulsive at first, but they agree to gather enough points until they can switch partners to someone they actually like.
Week 41: 10-16/10
BLEACH: Thousand-Year Blood War
Release date: 11/10/2022
Genre: Action, Adventure
Bleach: Thousand-Year Blood War is based on the manga series Bleach, and serves as the sequel to the original series. It's also been announced that this will be "the last story arc". I don't know how to even begin summarizing Bleach, if you're reading the BWeeb features you're already familiar with the series. You might want to search recaps on Youtube or just binge everything again.
Eternal boys
Release date: 11/10/2022
Genre: Comedy
As a kpop & jpop stan, I just had to include this OVA. "The Mature Idol Project" is Manpuku Entertainment's latest effort to revive the company. They've taken 6 middle-aged man, that have experienced the successes and failures of the business world, together with the physical struggles that come with aging, and have them debut as an idol group. It's their shot at trying to prove you can still learn new things and shine even at a later age.
Chainsaw Man
Release date: 12/10/2022
Genre: Action, Comedy Horror
Probably the most anticipated release of 2022 (together with SPYxFAMILY). Studio Mappa is in charge of bringing this manga to your screen. It follows Denji, a poor young man who entered a contract with the dog-like devil Pochita. Denji fuses with the devil, which allows him to transform a part of his body into chainsaws. He then joins the Public Safety Devil Hunters, a government agency dedicated to fighting devils whenever they become too big a threat.
Urusei Yatsura (2022)
Release date: 14/10/2022
Genre: Comedy, Romance, Sci-Fi
This is a new adaptation of a manga series. The story of Ataru Moroboshi and the alien Lum got its first anime adaptation in the 1980s, and the manga has been republished several times as well. The series is known for its use of Japanese mythology and puns and has sprouted several films and OVAs. Lum is the (absolutely stunning) daughter of a race of invading aliens, whereas Atura is a womanizing high school student. In a series of comical events, Lum thinks Atura proposes to her and moves in with him. He's not interested in Lum, and keeps flirting with his girlfriend (among others). Lum electrifies him every time as a form of punishment. Lum even starts attending the same high school as him, where she soon gathers a horde of admirers.
Week 42: 17-23/10
To Your Eternity Season 2
Release date: 23/10/2022
Genre: Adventure, Fantasy, Drama
Based on a manga series. Fushi, an immortal being, was sent to earth. He takes on the shape of whatever leaves a strong impression on him. Starting off as a white orb, then a rock and then a wolf. As said wolf he encounters a lonely boy, whose shape he later also takes. Fushi travels the world, takes on various new forms and acquires new powers like creating objects from nothing and resurrecting the dead. He is aided by a mysterious black-hooded creature who claims to be his creator.
Week 43: 24-30/10
Romantic Killer
Release date: 27/10/2022
Genre: Romance, Comedy, Drama
Based on a manga series, in this story Anzu's life gets turned into a cliché romcom. Although she's not interested in romance in the slightest, a tiny match-making wizard has other plans for her. The trailer is pretty wild, so I suggest you just give it a watch and then add this to your endless Netflix watchlist.
Week 44: 31/10-06/11
Lookism
Release date: 04/11/2022
Genre: Drama
We usually cover Japanese animation, but this adaptation of a Korean webtoon caught my attention and I think it deserves a spot in the Fall 2022 anime release overview. Korean webtoons are very popular and often get adapted into live action series or movies, and now Netflix will release the animation of Lookism. It follows high schooler Park Hyung Seok, who is unpopular and gets bullied. He takes out his anger verbally on his mother and asks to be transferred to a different school. He moves to Seoul to start a new life, where he receives a new tall, muscular and handsome body. He has the ability to switch between this new body and his old, but the one he isn't using will be asleep.
Fall 2022 Anime: honorable mention
I'd like to give a shoutout to Netflix' Edgerunners. It wasn't on the release calendar when the summer season was about to kick off, but this Cyberpunk 2077 inspired anime dropped on September 13th. The anime was accompanied by a big update to CD Projekt Red's game. Patch 1.6 is thus also dubbed the "Edgerunners update". The update is quite significant; I can imagine Netflix didn't want to communicate a release date just yet in case the update got postponed. Both the recent update and the anime have received very good criticism. Together with the recent teaser trailer for the upcoming paid DLC, Cyberpunk 2077 gained a lot of concurrent players.