Two years after the last mainline release in the Resident Evil series, Resident Evil Village, we're about to welcome the remake of the most iconic title in the series: Resident Evil 4. Thanks to CDMedia, we had the opportunity to attend an extensive presentation of Capcom's upcoming flagship game, and we're here to share our impressions. We watched almost 20 minutes of gameplay from Chapter 4 of Resident Evil 4 in a hands-off preview, and even though we didn't have the chance to try the game ourselves at this time, we were able to form an astute first impression about the handling, combat and of course, the visual presentation.
If you're a Resident Evil fan and had any kind of reservations about the new remake… well you probably have not played the Resident Evil 2 & 3 remakes. The bar is set very high for remakes in the Resident Evil series, and this one follows suit. Gameplay is redesigned, bringing it up to speed with modern hardware and expectations, without moving away from the original feel. If you were among the countless gamers who enjoyed Resident Evil 4 in 2005, then you needn't worry because this remake looks just as promising. If you're a newcomer in the series and have started with Resident Evil Village, you'll find common ground here, along with significant differences that have always made Resident Evil 4 stand out.
The Resident Evil 4 remake kicks off a very strong year for Capcom, with Street Fighter 6 coming in June and a new Monster Hunter title rumored to release later in the year. Let's see if they can get the year off to the right start:
Resident Evil 4: A significant visual upgrade
Resident Evil 4 may have been a head-turner back in the day, but 18 years later, it's hard to say it's aged gracefully. Resident Evil 4 is one of the few titles that actually deserves the full-on remake treatment. If you've watched the trailers, then you can see for yourself that Capcom is about to deliver a remake worthy of the Resident Evil 4 name.
The environments we saw were highly detailed, and like all recent additions to the Resident Evil series, realism was emphasized greatly. This means there is less color in the world than in the original, but the new lighting engine more than makes up for any gaps in the art direction. Time to wave goodbye to the classic grey Resident Evil filter. Capcom's new lighting engine renders realistic colors in the light, making low-light scenes more frightening than any faint-hearted person can bear.
Capcom seems determined to invest in the game's atmosphere in the modern Resident Evil titles, and that's fully reflected here. The fact that this remake doesn't hold itself hostage to the technological limitations of the last generation of consoles is only a good thing.
If you didn't have trouble sleeping at night, you do now
The character models show just as much detail, with Leon and Ashley sporting a classic anime-style look with big-budget textures. This particular style gives the protagonists a larger-than-life aesthetic, which we've come to expect from Japanese studios. Where the remake really excels though is in the enemy design. The human bodies of the cult followers are very detailed, with large bloodstains on clothing, aptly themed clothing and pale skin. It's their parasitic forms that steal the show with intricate designs and multiple limbs moving in all directions at the same time. Real nightmare fuel.
When it comes to the antagonists, we got a little taste of Salazar and Krauser, who are completely redesigned, with both of them sporting a different style from the original. Cartoonish characters are a thing of the past for most modern games that take themselves seriously, and it would be difficult for Resident Evil 4 to deliver realistic horror without antagonists that live up to the standards. A welcome change.
Resident Evil 4: Gameplay Impressions
As mentioned above, this presentation was not hands-on. But we had a decent-sized sample available to us so we could analyze – even if only in the surface – the gameplay of the upcoming release.
The tone finds itself somewhere between Resident Evil Village and the original Resident Evil 4, with the remake tip-toeing the line between survival and action. Enough survival cues to make you feel like you're actually threatened and think twice about your every move, and enough action to be able to react to every threat without having to keep an eye on your supplies.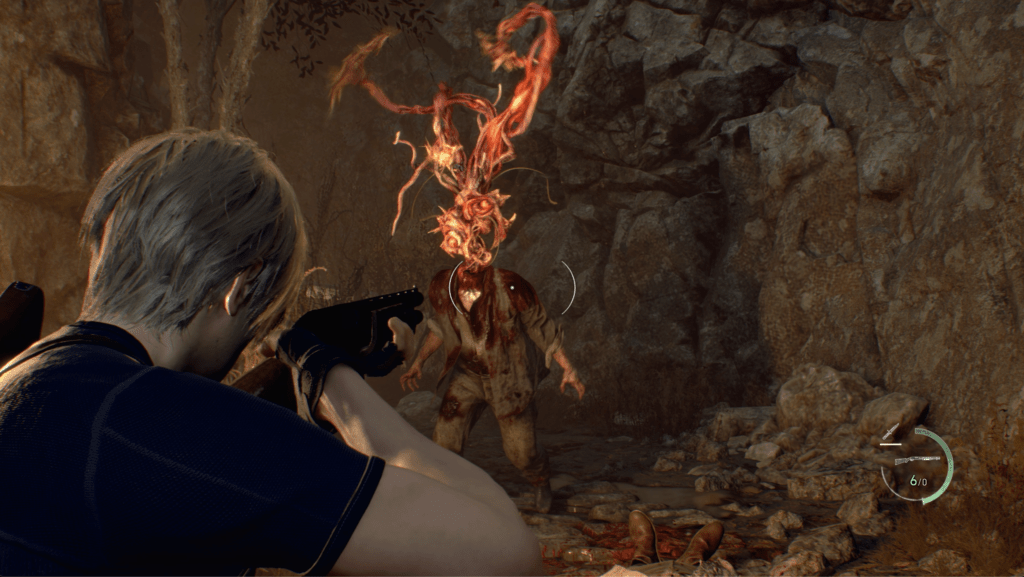 Welcome to 2023
At the same time, the combat system has received some significant additions to fully modernize the experience. Now, enemies are disoriented by your attacks, whether it's bullets or melee. On top of that, they have more HP than in the original, which makes you tackle each battle more carefully, giving a more realistic feel since most of the time you'll be facing more than one opponent and will have to prioritize. Leon can take fewer hits (or it's just that everyone hits harder), and even the slightest hit can change the outcome of the fight. To keep it balanced, Leon can now dodge to the left or right to avoid attacks.
The environment plays a bigger role than ever before. The classic red barrels that explode are scattered around the world and are a good strategy to get rid of large hordes of enemies. Enemies are (obviously) vulnerable to fire, and can now catch on fire through environmental cues, while you can also shoot their weapons out of their hands and make them blow up. Salazar's castle seen in chapter 4 is full of weapons you can use against cultists and parasites, including but not limited to siege cannons.
Another big change we found is in the companion system. This time Ashley follows you, without you being able to tell her to wait at a certain spot. But you can tell her to keep her distance, so she stays safe while you clear a path ahead. This means that enemies can attack her at any time, which does happen, so you'll have to constantly keep an eye on Ashley and protect her throughout the game.
Variety and quality of life upgrades
Among the many things that have made their way back from the original, we find the zonal inventory, as well as the iconic arsenal that can be obtained from the shopkeeper. Weapons are refreshed as you progress through the story, and since the remake brings survival nods, going in prepared is the wisest tactic. Weapons can now be hot-swapped (no weapon wheels thankfully), so they are readily accessible at all times. Leon's suitcase, the Atache case is now customizable and you can decorate it with charms that give you various bonuses.
At the same time, there are requests that you can accept through posters at the shop, or at other locations, and complete them to collect their various rewards. We don't know if there will be new side content but we remain optimistic, as what we saw from this preview pointed in the right direction.
Resident Evil 4: Key takeaways
Like the original, the Resident Evil 4 Remake never misses a chance to impress. Drawing on the source material that made RE4 the pillar that propelled the franchise into the gaming pantheon, and marrying it with modern survival horror elements that have made the latest additions to the series stand out, Capcom seems to have come up with something truly impressive this time around as well. The truth is usually in the middle, and Resident Evil 4 seems to follow that saying, toeing the line between action and survival, completely revamped both visually and gameplay-wise.
Resident Evil 4 releases March 24th for the PlayStation 5, Xbox Series X|S and PC.