Most of the anime from Winter 2023 are wrapping up already, which can only mean one thing… The new season is right around the corner! Spring time is commonly associated with romance, of which there'll be no shortage I assure you. But slaying some demons though, that's what every season should be about. This article will cover my selection of Spring 2023 anime, but you can head over to Anichart or Livechart for full lists with exact air times. To keep it spoiler free, every synopsis only covers the first season to accommodate viewers who could be new to the series.
Spring 2023 Anime Week 13: 27/03-02/04
Hell's Paradise
Release date: 01/04/2023
Genre: Action, Dark Fantasy
Adapted by studio MAPPA, this anime is based on a manga series.The story takes place during the Edo period, where we join the ninja Gabimaru. He gets spared by the executioner Yamada Asaemon Sagiri on the condition that he joins him on a search for the elixir of immortality. The elixir is supposed to be on Shinsenkyo, a legendary realm that was recently discovered. Having already lost five expedition teams that were to the island, this time the Shogunate sends a team of death row convicts. If they want to obtain a pardon, they need to return together with the executioner each of them has been paired with.
Heavenly Delusion
Release date: 01/04/2023
Genre: Sci-Fi, Mystery, Adventure
In this anime based on a manga series we follow the story of a group of children that are living isolated from the outside world. It's been fifteen years since modern civilization has been destroyed. One day, one of them receives a message, asking if they want to go outside. The director claims that the outside world is Hell. Others claim that someone is coming to save her. In the meantime a boy that looks just like her is travelling through a devastated Japan, searching for Heaven.
My Love Story with Yamada-kun at Lv999
Release date: 02/04/2023
Genre: Romance, Comedy, Drama
Based on a manga series with a slightly different translation ('Loving Yamada at Lv999!'). This story follows Akane, who just got dumped by her boyfriend. Just when she's about to quit the game they always played together, she meets Yamada. While Akane immediately falls for the IRL Yamada, he is only interested in the RPG. Will Yamada be able to keep his focus?
The Dangers in My Heart
Release date: 02/04/2023
Genre: Comedy, Romance, Slice Of Life
Based on a manga series, we follow Kyotaro Ichikawa. He is a loner at school and daydreams about murdering his classmates, reads encyclopaedic entries about murder and loves learning about human anatomy. His main target is "class idol" Anna Yamada. When he learns that she is rather quirky herself, they become more and more friendly.
My Home Hero
Release date: 02/04/2023
Genre: Drama, Thriller, Action
This story, based on a manga series, definitely stands out amidst the plethora of isekai we're seeing every season. Tetsuo Tuso is a regular salaryman. He learns that his daughter Reika has been physically abused by her boyfriend Matori. Tetsuo triest to learn more about him and discovers that he's scheming to extort money from Reika's grandparents. He also finds out that Matori is a member of a crime syndicate, with a gruelling history of murdering his girlfriends. Overcome by rage and fear, Tetsuo kills Matori. He successfully disposes of the body with the help of his wife. They have to work together to keep their daughter safe from the syndicate that's starting to question the disappearance.
Spring 2023 Anime Week 14: 03/04-09/04
In Another World With My Smartphone (Season 2)
Release date: 03/04/2023
Genre: Fantasy, Adventure, Harem
Based on a light novel series with a manga adaptation. Oopsy daisy! God accidentally killed the 15 year old Touya. To make it up to Touya, he'll be reincarnated in a fantasy world. On top of that he gets to make some special requests. As befits a 15 year old, he asks to bring his smartphone. He also gets a decent boost of his physical, magical and cognitive abilities. Touya takes full advantage of his second shot at life and befriends tons of people, mainly women though. He travels, takes on minor quests and enjoys adventures with his new allies.
Kuma Kuma Kuma Bear – Punch! (Season 2)
Release date: 03/04/2023
Genre: Comedy, Fantasy, Slice of Life
Based on a light novel series with a manga adaptation. We follow Yuna, a bored teenager living as a NEET. She makes good money through investments on the stock market, providing for herself and also her parents. She's been playing her favourite online game for so long that she receives an embarrassing bear suit as a gift. The admin of the game turns out to be a god, having based the game on Yuna's world. He transports her, and the bear suit, into this world. Yuna is powerless without her bear suit, and while she is angry about the whole situation, she quickly adapts and finds her new life more fulfilling than her life on earth.
Dr. STONE New World (Season 3)
Release date: 06/04/2023
Genre: Adventure, Sci-Fi, Comedy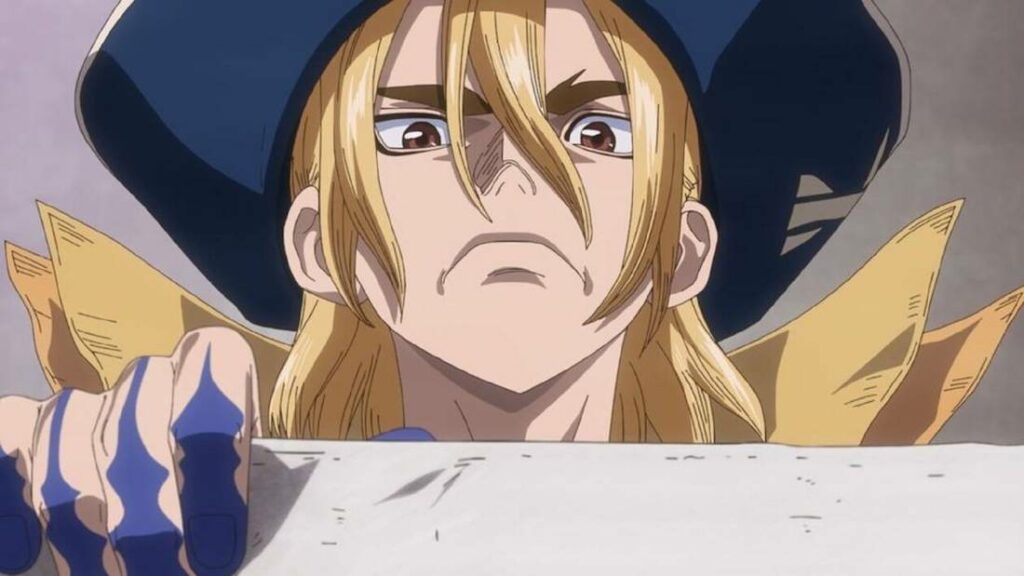 Based on a manga series. Nearly 4000 years after a mysterious light has turned every human into stone, the genius boy Senku Ishigami recovers from his petrification. Living in a Stone World, he wants to rebuild human civilization from the ground up. Together with his friend Taiju Oki, who also recovered, they start with developing a "revival fluid" to try and free other people.
Konosuba: An Explosion on This Wonderful World! (Season 3)
Release date: 06/04/2023
Genre: Fantasy, Comedy, Isekai
Originally a web novel, its light novel adaptation served as a basis for the manga, video games and anime. Protagonist Kazuma Sato, your typical NEET, meets an untimely and embarrassing death. Luckily, the goddess Aqua offers to reincarnate him in a MMORPG world, where he can adventure. They form a party and recruit other members, since Aqua cannot return to the afterlife until the Devil King is defeated. Their party is completely dysfunctional though, causing Kazuma to give up on his adventures, preferring to live a comfortable life instead. But that's not taking into account the Devil King's generals.
The Ancient Magus' Bride (Season 2)
Release date: 06/04/2023
Genre: Drama, Romance, Supernatural
While the anime is based on a manga series, the story has also inspired an OVA prequel already. Chise Hatori, a Japanese high school student and orphan, decides to sell herself at an auction. She wants someone to finally take care of her and to have a place to call home. At an auction in London she gets sold to the magus Elias Ainsworth for a stunning 5 million pounds. Elias is a very tall being with an animal skull for a head, but a human looking body. And so her new life begins in Great Britain, though it's unsure if it will be better or even worse than before.
I Got a Cheat Skill in Another World and Became Unrivaled in The Real World, Too
Release date: 07/04/2023
Genre: Adventure, Fantasy, Romance
Based on a light novel series with a manga adaptation. Our protagonist Yuya Tenja gets bullied at school, he's overweight, short and timid. On top of that he also gets bullied by his own family; his grandfather being the only one who cares about him. As his grandfather dies, Yuya inherits his house. His parents take the opportunity to kick him out and force him to live in his late grandfather's home by himself. Though there he discovers a portal to another world and the power to change his life forever.
TONIKAWA: Over The Moon For You (Season 2)
Release date: 08/04/2023
Genre: Romance, Slice of Life
Based on a manga series, this story revolves around Nasa and Tsukasa. Having just received the grades for his practice exam for high school, young Nasa sees a beautiful girl. He tries to approach her, but carelessly gets hit by a truck. She saves him however, and Nasa promptly confesses his love for her. Tsukasa only agrees to be his girlfriend if he marries her first. Nasa agrees, only to pass out right after. He awakes heartbroken in the hospital, unable to find his new love. But on his 18th birthday she reappears, marriage form in hand.
MASHLE: MAGIC AND MUSCLES
Release date: 08/04/2023
Genre: Action, Comedy, Fantasy
Based on a manga series, this story takes place in a magical world. Here a person's position is determined by their power and magical skill. Protagonist Mash Burnedead is a young guy with close to no magical ability. If he wants to live a peaceful life, he needs to become a Divine Visionary. Only exceptional students from the Magic Academy are granted this title. Although he possesses no magic at all, he enrols in this Academy, filled with determination to beat magic with muscles.
Demon Slayer: Kimetsu no Yaiba Swordsmith Village Arc
Release date: 09/04/2023
Genre: Action, Adventure, Supernatural
The first episode, lasting about 1 hour, already aired in cinemas in anticipation of the new arc.
Based on a manga series. Tanjiro Kamado, a responsible teenager with a strong sense of smell and rock hard head, trains to become a demon slayer after his family gets slaughtered by a demon. Only his younger sister Nezuko survives, but has been turned into a demon herself. Convinced he can find a way to turn her back into a human, he trains hard to join the Demon Slayer Corps. He hopes to find the answers he is looking for while carrying out missions and taking out demons.
Summoned to Another World… Again?
Release date: 09/04/2023
Genre: Adventure, Comedy, Fantasy
Based on a light novel series with a manga adaptation; despite what the title suggests this is just the first season. Once upon a time, a hero was summoned to another world to save it. He did, but got trapped and sent back to his own world. Forced to start his life over again as a baby. Now a gloomy high schooler, he gets summoned again to that same world!
The Blue Orchestra
Release date: 09/04/2023
Genre: Drama, Music
Based on a (web) manga series, this story centres around Hajime Aono. He used to win many prizes in violin competitions, but family circumstances caused him to stop playing the violin altogether. Struggling to decide on an academic path, he starts playing again together with another student. He makes into a high school with a prestigious orchestra club. Here he starts competing again.
Spring 2023 Anime Week 15: 10/04-16/04
Insomniacs After School
Release date: 11/04/2023
Genre: Romance, Slice of Life
Based on a manga series, with a live action film adaptation later this year. The story takes place in a small city called Nanao, where the insomniac Ganta Nakami tries to take a nap in the abandoned astronomical observatory of his school. Here he meets the carefree Isaki Magari, who faces the same sleepless struggle. They form an awkward friendship over their shared insomnia and reestablish their school's astronomy club.
Oshi no Ko
Release date: 12/04/2023
Genre: Drama, Mystery
Based on a manga series, in Oshi no Ko the successful idol Ai Hoshino welcomes parenthood, although she wants to retain her idol image at the same time. Luckily, her doctor happens to be a fan, willing to put everything at stake to ensure a scandal free return to the stage. On the fateful eve of her delivery, the doctor is slain by Ai's deluded stalker. And so he is reborn as her child, Aquamarine. Even as her child, he is still determined to help her shine in the oftentimes dark entertainment industry.
Pokémon Horizons: the Series
Release date: 14/04/2023
Genre: Adventure, Fantasy
I'm not about to explain Pokémon to you, don't worry. But this marks the 26th season of the show. What makes it worth a mention, is that the previous season concluded Ash's story. All tears mourning the loss of my childhood aside, you could say it's about time the show gets a new frontrunner after 25 (!!) seasons. This season will follow Liko and Roy, accompanied by the starter Pokémon from Scarlet and Violet. Another character called Friede has partnered up with Captain Pikachu, making sure Pokémon's mascot is still represented.
Ranking of Kings: The Treasure Chest of Courage
Release date: 14/04/2023
Genre: Action, Adventure, Drama
This series of special episodes will bring new stories with the same characters as the original anime adaptation of this manga series. A ranking of kings is a system by which a committee of magical beings ranks the power and success of a mortal world's kings. The number one king receives a boon from the 'Divine Treasure Vault'. The story follows prince Bojji. He's little, deaf and naive. He meets Kage, a survivor of an assassin clan, who is able to understand his words despite his disability. So the duo travels and adventures together. Especially since he's being denied his birthright due to his lacking physique, the little Bojji has a lot to prove.
Spring 2023 Anime: Bonus
Attack on Titan Final Season THE FINAL CHAPTERS
The long awaited finale of Attack on Titan will arrive in the form of two final chapters, of which the first (quite suddenly) aired earlier in March, with the second episode slated for fall 2023. This release doesn't quite fit in the Spring 2023 Anime releases overview, but I couldn't withhold this information from my dear readers.