This is a joint article from Stijn Ginneberge and George Makridis.
Let us start off by saying, what a year this was. 2022 was harder than we anticipated, even though COVID restrictions got lifted and life kinda normalized. Still, being a more private person and suddenly getting tossed into those social situations and obligations once again takes some toll. After about two years of relaxing at home and gaming a pandemic out, everything social came at once this year. It was a busy and exhausting year, in a good sense. 2022 was fulfilling, but it took a whole lot of effort to make it through it.
In terms of gaming, there has never been a better time to be a gamer than 2022. There were a lot of releases in 2022, a result of the pandemic and all the 2020-2021 releases falling behind schedule. That aside, this was an important year for console gaming, publishers are slowly starting to ditch last-gen systems and we are starting to see the true capabilities of the Xbox Series X|S and the PlayStation 5. While supply of new-gen systems remains limited, this is a welcome sign that progress is being made.
Year in review: The first wave of big releases
The year started out with a bang – or actually, a couple of them. January is usually a slow period, but this time, Pokemon Legends: Arceus caught us by surprise, bringing open-world action and ditching the traditional JRPG model in favor of the new 'gotta catch 'em all' that revitalized the fans' love for the series. While the Nintendo Switch stuggled to run the game at times, and it wasn't the most visually pleasant experience, for most fans, it was like a wish came true, beause it actually preseneted a living and breathing Pokemon world.
In February, we got to review the Game Of The Year Award winner, Elden Ring. Exploring the world crafted by Hidetaka Miyazaki and George R. R. Martin was some of the best fun we had all year, and fighting monsters in arguably the best soulslike ever pushed us to our limits but made getting the sometimes ridiculously difficult boss fights even more rewarding. At the same time, it feels like Elden Ring made the soulslike genre more accessible than ever before, and introduced more people to the high fantasy lore stories that FromSoft loves so much to put together. The scope and difficulty of that game means we still haven't completed (100%) it but we still put in a session once and a while. On a day where we feel like suffering a little.
While Elden Ring was undoubtedly the hottest release of the first half of the year (or 2022 as a whole), you should seriously not sleep on Horizon Forbidden West. Guerilla Games brought their absolute A-game and delivered the perfect sequel to 2017's Horizon Zero Dawn, improving on all of its predecessor's shortcomings. Forbidden West may be an action RPG at its core, but what sets it apart is the sense of wonder the open-world manages to spark, and the intriguing way the story mashes up pre-historic and sci-fi to create such a unique end product.
Not every game has to re-invent the wheel
Amidst the great first wave of 2022 releases, there are bound to be some that will be hit or miss for some people. Dying Light 2: Stay Human speaarheads this category. The free-running, the story and the zombie combat are some of this game's biggest strenghts, but the visuals and the performance leave a lot to be desired. We absolutely loved the game, but this does not change the fact that it will not be everyone's cup of tea.
March brought the end of the first big wave of releases for the year. While Gran Turismo 7 was a phenomenal driving sim, our pick for this month is GhostWire: Tokyo. Was the latest project from Tango Gameworks everything I hoped it would be? No, it was not even close in fact – it gets as many things wrong as it gets right, but is a fun experience if you can get it on a good deal. The story and the combat can leave a lot to be desired, but it has one of the best renditions of modern Tokyo, and absolutely nails the creepy atmosphere. The novelty of the combat might wear off quickly, but fighting off waves of faceless enemies is pretty darn cool, ain't no two ways about it.
In April we got asked to review Tiny Tina's Wonderlands, and we even got the chance to test the game on both Xbox consoles and PC. While the game was good fun, the co-op bugs really kept us from loving it. Even months after release, you still couldn't get a decent game running with friends and the 2K support had literally given up on trying to resolve the issue, sadly.
Year in review: Gaming vacation
In June, we got really High with the Elder Scrolls online High Isle chapter. Damn, are those mountain views amazing. It's about the only thing we did in June and dropped it like a rock after completing it. We are done with their seasonal drop content spread over a year in order to retain player retention. Drip feeding stuff and story based on chapters with less and less content, with worse writing on top. Zenimax Studios did reveal they are changing their model and are going to focus on bigger releases with content that is enjoyable and repeatable. Whatever that means, we'll be checking it out eventually, be sure of that.
Summer months are always slow in terms of new releases, and that was the case until July, when Stray released and set the internet on fire. You see, in this game you play as a cat, and if there's anything us Gen Zs love more than games and TikTok, it's cats. The fact that this is a great game helps, with an intriguing story, right platforming and an open world that not only lets you climb on anything you can set your eyes on – it urges you to explore this cyberpunk city and uncover its secrets. Although playing as a cat has been done before, it feels like a novel idea in Stray and the combination of these elements make this a must-play! Even though it may only last for a few hours, considering it's an indie that goes for 20€ (also included in PS+ Extra), it's definitely worth it!
Stray wasn't the only thing that released in July, but we're all trying to forget Outriders Worldslayer, the disappointing expansion to last year's Outriders. While we're on the topic of expansions, Sunbreak released as the first expansion for Monster Hunter Rise, and it really helped enhance the base experience.
A JRPG and Indie cocktail
Thankfully, August was much better in comparison. We got the chance to attend Gamescom, and that was a blast after the switch to online events the past couple of years due to the pandemic. In terms of gaming releases, Xenoblade Chronicles 3 was the best JRPG that was released this year, and got ultra close to getting a handful of awards. The Xenoblade community was very eaget to get their hands on this release, and after we got the chance to review it, we finally understand why. If you're a fan of JRPGs. Xenoblade Chronicles 3 should be on top of your list of games to check out. Being able to play on the go is also a huge plus (Nintendo master race), as we were able to level classes while waiting through the long queues in Gamescom.
August also brought the relesae of Cult of the Lamb, one of the most unique games we played this year. Being a Devolver release, this had a high chance of being an absolute gem, and it really didn't let us down. If it wasn't obvious, in this game, you get to create your own cult and recruit followers to do your bidding, and that means all the nasty business a cult would need get involved in. Saints Row also happened in August, but that is also one of this year's releases we collectively agreed to not bring up again.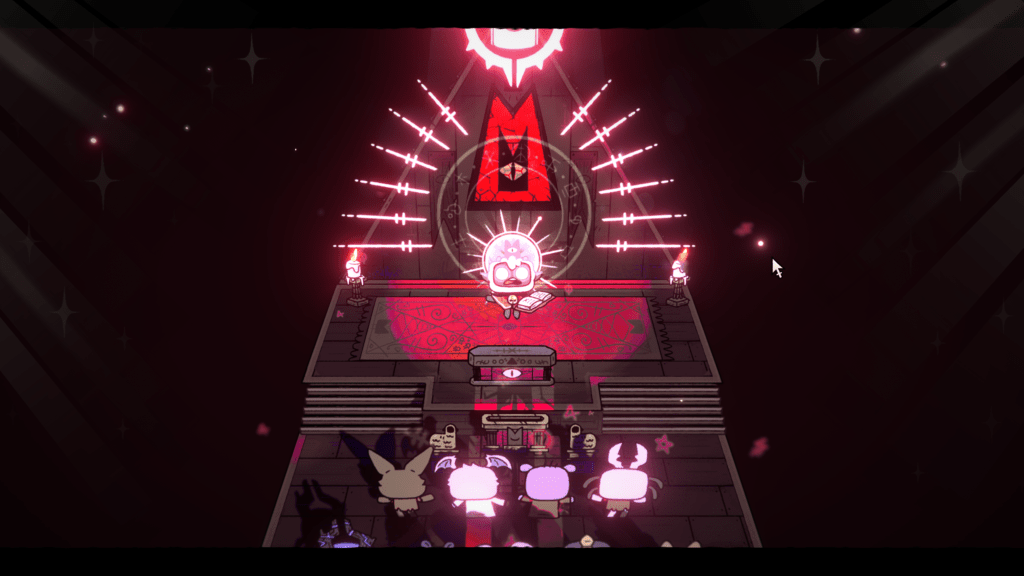 Year in review: 2022 really did save some of the best for last
The period of September through December was absolutely packed with new releases. We started off with The Last of Us Part I, which is now the best way to experience the epic tale of Ellie and Joel. While the remake of the now 2013 classic from Naughty Dog did not bring many new things to the table, it helped the tale to get up to speed with Part II. Definitely worth a play, even if you have played The Last of Us recently, just not at full price. Metal: Hellsinger had the best soundtrack this year and is really worth a shout, while Grounded finally got its full release. At the same time, FIFA 23 was the finale to the the 30-year long FIFA franchise with EA now having to sunset the FIFA-branding, and The DioField Chronicle was an intriguing blend of the classic JRPG formula with real-time strategy mechanics.
October was busy season all over again, and had a little bit of everything; from colossal successes to heavy letdowns. New Tales from the Borderlands was so damn fun, even though it did come with its own set of little quirks. Modern Warfare II was exactly what was needed to revitalize the Call of Duty multiplayer, and it's extra cool that it came with a great campaign mode, and later got enhanced with Warzone 2.0 and DMZ. Serial Cleaners made us clean up crime scenes and we loved every second of it because of te game's incredible art-style and vitage vibe. Sadly, Gotham Knights was not able to live up to the expectations, and while it did not ruin Halloween, it did deliver a subpar experience. The story was interesting enough to keep you playing, but the visuals, the performance and gameplay issues could make it difficult to cut this title as much slack as we would like to.
Going out with a bang
November brought the release of two of the best games we played this year: the first and most obvious one is God of War Ragnarok; the masterful conclusion to the Norse saga of the God of War series. We cannot praise Santa Monica Studio and this game enough, it's a must-play chart topper, as everyone expected it would be – in the age of the big let downs that has taught us to not believe in the hype. God of War (2018) was the perfect setup and Ragnarok was the perfect execution. Phenomenal storytelling, exceptional visuals and some great combat to top it all off. A definite must-experience for anyone already versed in the PlayStation ecosystem and a good reason to buy a PS5 if you're in the green camp and still waiting for Starfield (Bethesda pls no more delays).
But that's not all for November; Altus finally caved in and gave everyone without a PlayStation console the chance to give them their money! That's right, we're talking about Persona 5 Royal finally coming to Xbox and PC. The Persona series was already massively popular in Eastern markets, but with Persona 5, it pretty much took over the Western side of the gaming market too, and that's a pretty tough feat for a JRPG that is not a part of the Pokémon or Final Fantasy franchises. Royal is the enhanced version of Persona 5 that released in 2017 for the PlayStation 3 (the Atlus way), and features one of the best art styles in any video game ever, genre-defining turn-based combat, a gripping story and a whooping over-100 hours of runtime to unlock the first ending. And the best thing about it; it's on Game Pass.
At the same time, Goat Simulator 3 was great for some mindless fun if you're into smashing things in a sandbox (I mean, who isn't), and The Devil in Me was great for scratching that horror game itch we always get at the end of the year. November also saw the release of Pokemon Scarlet & Violet, the ninth generation of mainline Pokemon games, that unsurprisingly came riddled with bugs and performance issues. The premise of the games was fun, but they failed to innovate in more ways than one.
We closed out the year with Marvel's Midnight Suns, a tactical game from the XCOM devs featuring Marvel superheroes: a literal crossover episode. The Callisto Protocol tried to solve the gap in space horror games before the upcoming Dead Space remake could and it ultimately failed. Even though it did have some great ideas, the execution left a lot to be desired. Need for Speed Unbound was the last banger 2022 had in store for us and marked the return to form the NFS series needed, and the fans were waiting for all these years. Taking us back to the tuner era with hot imports and a great ride customization system, EA found their groove by doing exactly what we were asking them all along; not playing it safe.
Year in review: The end of the line
All in all, 2022 was everything we hoped it would be and then some. Not only did we get to experience so many unforgettable experiences through gaming (let us know in the comments if we missed your favorite one), and anime (we were all heavily looking forward to the quartely BWeeb articles), but BGeek also kept growing.
We gained new editors and started collaborating with renowned streamers (AngieV, Janine, and Cinderys) to finally kickstart the BGeek Stream Squad (final name still to be decided). We got to unbox bigger and cooler things than ever before, like the BenQ Mobiuz gaming monitor, the Puma Playseat gaming seat and the Anniverary Press Pack to Celebrate the 15 years of Assassin's Creed! We want to thank each and every one of you for sticking with us and supportng us throughout this year, especially those of you that made it all the way to the bottom of this article. We did our best to give back to the community (like giving away another PS5 and tons of other cool stuff), and there's no way to tell what the future holds, but one thing's for sure: we're only just getting started.
Happy New Year from the BGeek team!