We got lucky enough to try out the Tales of Arise demo build and experience the first chapter of the game. So without further ado, ikuzo.
If you just want the TL;DR: the Tales of Arise demo was really good.
Tales of Arise demo unique features and style
Storytelling done right
Tales of Arise is very story-heavy, at least for the demo. And it only takes the game a few minutes to throw you into the deep end and charge you head first towards your fate. The pacing was good and barely lets up any slack. The mystery pulls you in and unfolds at a steady pace. Although some areas are off limit until you reach a certain point. You still get the freedom to explore and complete side-quests.
In the Tales Arise demo the story was mainly brought in three different ways. First, we have our run-of-the-mill cut-scenes. With excellent voice acting, character development, and tension or mystery building.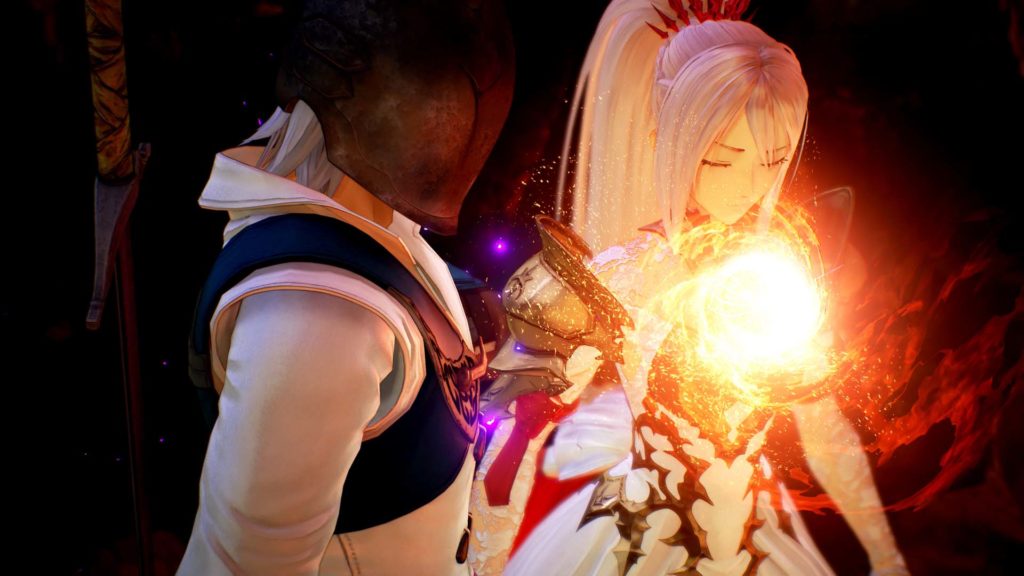 Secondly, the Tales of Arise demo had one cut-scene that was just a full-blown anime scene. I was amazed at how well it blended into the gameplay and how accurate the drawing was compared to the game. Through these anime cut-scenes, the combat portrayed is more fluid. Facial expressions and certain emotions are better conveyed when drawn, instead of forced on a 3D model.
And last but not least, the skits. These are cartoon-like windows that pop up while the characters in your party have a conversation about something relevant to the location or situation. Like talking about food while camping or getting some tips before a big fight. While not as impressive as the cut-scenes or anime scenes, they surely add a lot of character development and you get to experience how the relationship between your characters evolves. Skits are optional as well, so you can freely disregard the button prompt.
How it looked – graphics
First, the opening menu greets you with a great watercolor painting of the Torch Flame Sword. This is mainly because Tales of Arise features a new graphic shader called the "Atmospheric Shader". A cel-shaded graphic style inspired by anime and watercolor painting. This style is implemented throughout the game and menus.
The style and some of the scenery pieces can make you feel like you are walking in a scenic watercolor painting or running around in a living anime world. The art style fully complements the transition to the anime cut-scenes and makes them much more immersive. The skits look like panels straight from a manga and fit the whole anime art-style as well.
Tales of Arise demo – Combat
Tales of Arise utilizes real action combat instead of turn-based strategy like Monster Hunter Stories or Bravely Default II. The combat feels more like Scarlet Nexus's combat or Final Fantasy XV's combat.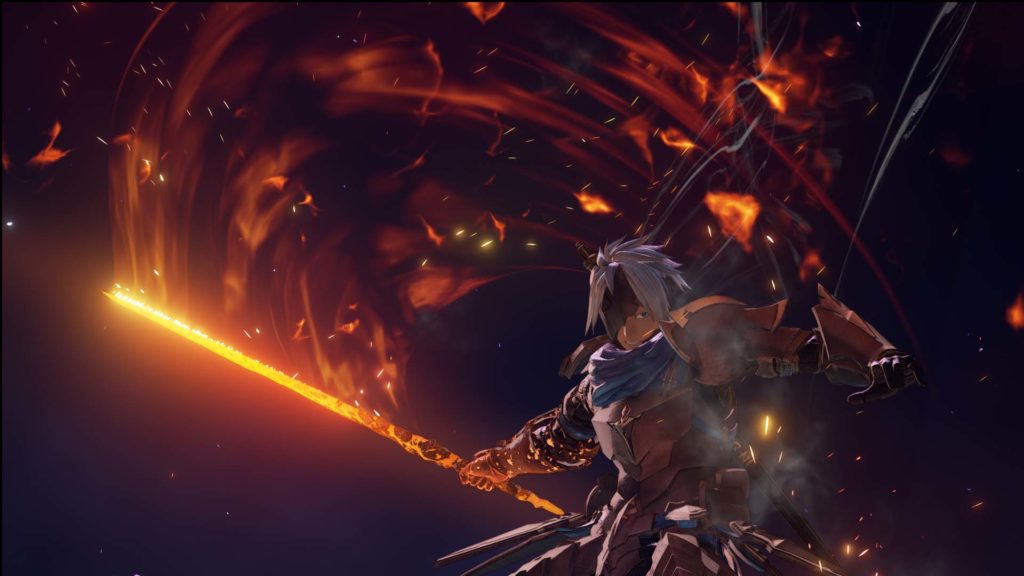 Tactical-real-time-combat
You take full control of one of your party members and go to town with the selected abilities. Or, and this makes it interesting, you can turn on auto-mode and just enjoy the show. While only having to use specials or finishers. Choose from different strategies the party can use to overcome enemies and switch them on the fly.
Go aggressive? Choose an all out attack strategy. A bit more that you bargained for? Well, stick to healing and defense. Running out of CP? Don't use CP abilities. Therefore, there will be a mode for any player.
Unique boss fight
The boss fight we had access to was impressive and challenging. Timing my dodges and using items to survive. Looking for a hole in his defense to land a combo and chip away at the health bar. It's hard to describe how fun it was without spoiling anything, but it broke the usual combat cycle you had with normal enemies.
Wishlist this, now.
The Tales of Arise demo convinced me how good Tales of Arise can be. This Tales of Arise demo felt smooth, bug free and excellently worked out.
When it came to the BGeek team, I was probably one of the persons that was least looking forward to Tales of Arise. But playing the Tales of Arise demo one-hundred percent convinced me that this is an absolute gem that will consume many hours of my gaming time.
First of all thank you to the BGeek team for making me play this; you were right. This is indeed an awesome game. And thank you Bandai Namco for giving us this opportunity to test the Tale of Arise demo build.
Get Tales of Arise for Playstation 4 and 5, Xbox One and series X|S, PC and Project Scarlet.
Click the image below.