Exactly one month after the shock I had using the MOBIUZ EX2710U, BenQ strikes again and this time with something even stronger. The BenQ X3000i is a projector the likes of which I have never seen before.
First view
The X3000i belongs to the category of gaming peripherals. There aren't many gaming projectors on the market and that's because they don't manage to meet the needs of gamers at such a level as to pull them away from gaming monitors.
Can the X3000i break that barrier and if so, at what cost? I tested BenQ's miracle for 2 weeks and I will share with you my experience and my opinion.
Unboxing
Firstly, I should mention that the box I received weighed in close to 10kg! But when I opened it and saw the projector, I understood the reason. It is a magnificent beast that weighs close to 6,5kg.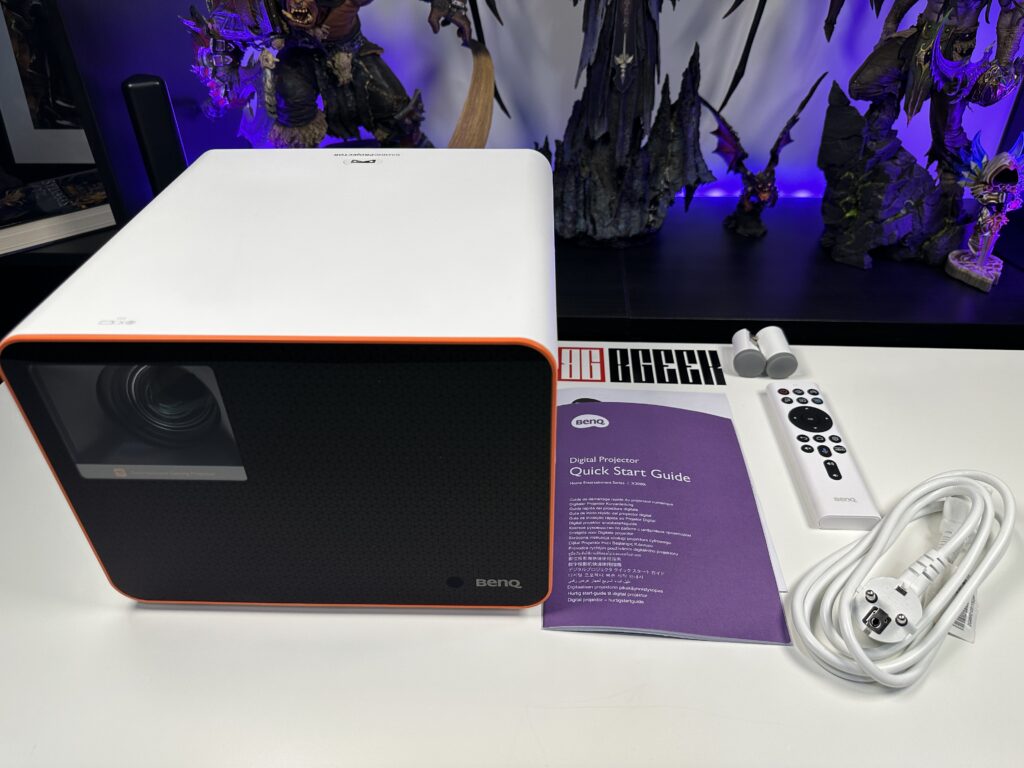 Inside the box are the essentials we will need to set our new projector up, namely:
The BenQ X3000i projector
A smart remote control
A power cable
Two extra feet in case we want to place the projector upside down*
The user guide/manual
And the BenQ QS01 dongle (which I'll talk about below)

Design
The BenQ X3000i comes in a familiar cube shape, and at a quick glance it might not seem that impressive, but it really has everything you need on it. It's built like a sleeper beast. I like the tri-color pattern that BenQ has been using in their latest products. Just as the MOBIUZ EX2710U, the X3000i follows the white, orange, and black/dark grey color scheme.
The front of the projector is dominated by dark gray color with a black pattern, making it look like it is all black. On the top left, we have the projection lens, and on the top right the LIGHT / TEMP / POWER status indicators that inform us about the actual status of the device. Finally, on the bottom right, there's the BenQ logo, and right next to it is the IR sensor which is used for the remote control.
The left side is pretty plain but plays a significant role since it sports a large air vent to keep the projector cool. On the left, we see a small sign warning us to not touch the projector if it's been used for hours on end, to avoid getting burned since the temperatures can get quite high.
The right side of the X3000i is where we find the control panel (in case the remote control is far from us), as well as the zoom and focus control wheels. The control panel buttons are as follows:
Power: to turn on the projector or put it on stand by
Source: to choose the image source between the two HDMI ports
A circular dial with 4 arrows (up, down, left and right) and an OK button
Back: to return to the previous menu or save and exit from the main menu
Menu: toggles the on-screen menu on and off
Eco Blank: hides the screen picture
The back has all the ports we need and even more. From left to right, we have:
An HDMI 2.0b port
An HDMI 2.0b port with eARC sound output
12V DC output (to power external devices such as an electric screen or light control, etc.)
USB 2.0 Type-A port (used for firmware updates)
SPDIF audio output port (the up-to-date version of the optical port)
An RS-232 port, primarily used by BenQ's tech support to diagnose the device
A 3.5mm audio output jack
Just below the ports, there is the exact same IR sensor that is also found on the front. Hidden inside the grills are two treVolo speakers. The power supply can be located on the center bottom of the back side.
Finally, at the bottom side of the projector, we have two front height-only adjustable feet, and in the center, there 3 holes to mount it to a ceiling mount.
Functionality
BenQ QS01
What exactly is this USB stick that comes with the projector? The QS01 is BenQ's own Android TV box in stick form and transforms the X3000i into a smart projector.
You can enjoy Netflix either by streaming from a Google Chrome browser on any device, connecting another device to the X3000i with an HDMI cable or by installing "BenQ Apps Manager" directly from Google Play. You also have the option of Amazon Prime as well as other recent Android and Android TV apps.
The QS01 TV Stick is not connected to the rear USB port as I thought at first, but it is actually hidden inside the X3000i. All you have to do is undo two screws, pull off the top cover and there you are!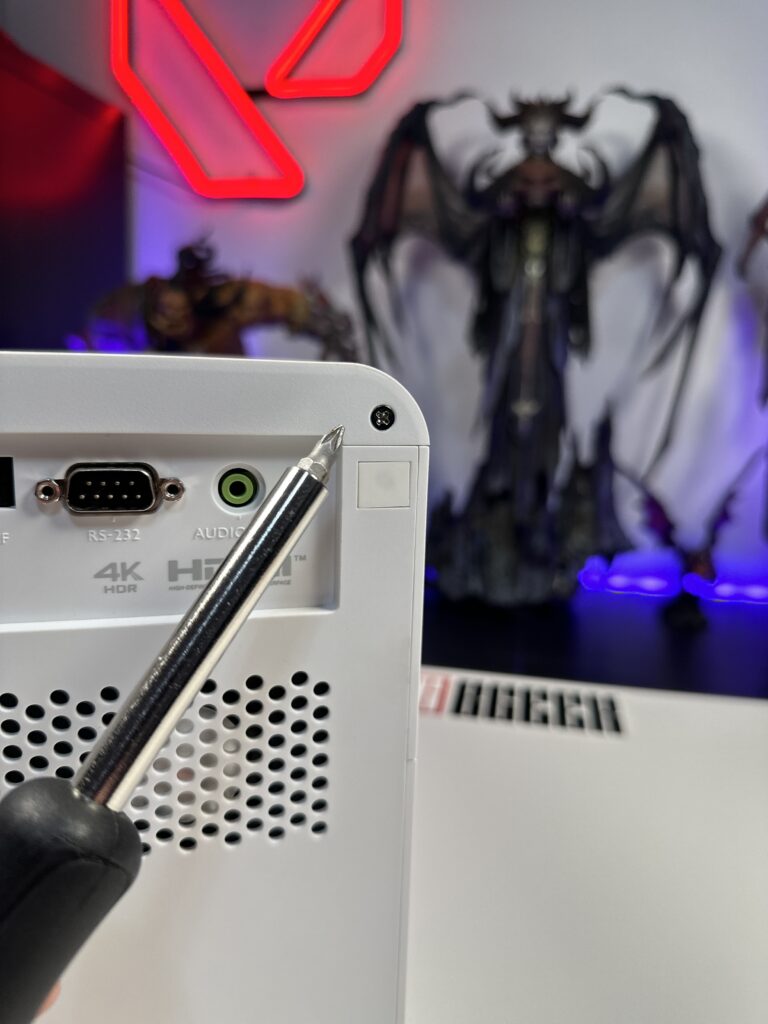 The BenQ X3000i remote control
The controller of the X3000i follows the same familiar design. It's all white with black rubber buttons and is truly a beauty. It's pretty much a standard issue smart TV remote with some additional functionality that really helps make this projector the center piece of your gaming/entertainment room, and not only when it comes to gaming.
In addition to the same buttons found on the control panel on the right side of the projector, we also have the following:
Dynamic Stereo Enhancement,
Change a scene preset and sound mode depending on the type of RPG / SPG / FPS game you're playing.
Change the source to Android TV and activate the mirror function
Change the source to Android TV and activate Prime Video
Return to the Home menu of ATV
Activate Google assistant
Volume controls
Main characteristics
Now let's talk about the most important attributes of the BenQ X3000i: the image quality and the sound.
Image quality
BenQ X3000i comes with a native 4K HDR-PRO resolution, 4ms response time and 240hz refresh rate. These make up for quite the ridiculous (in terms of performance) spec sheet when it comes to projectors, and I don't think there is another gaming projector out there that combines all three.
HDR-PRO™ Dynamic Black technology delivers sharp contrast and detailed shades of color that can help you appreciate even the darkest details in a scene. Its algorithm optimizes the power of the light and adjusts the brightness to reveal even the smallest but most interesting details in the dark. Two levels of modification are offered with black detail enhancement. You can choose "Low" or "High" to have better visibility in dark areas, depending on the needs of the game you're playing.
But, it doesn't stop there. The X3000i supports 100% of the DCI-P3 CinematicColorTM with 3000 ANSI lumen brightness and HDR10 compatibility, it projects cinema-quality colours and deep contrasts. One of the two HDMI 2.0b (HDCP2.2) offers eARC audio support for every console.
The greater the colour gamut, the greater the colour palette available to the projector to offer you exciting levels of realism, when it comes to colour and detail. With the power of BenQ CinematicColor™ technology, the X3000i is able to reproduce genuine colours, and make you experience each scene just as the developers of your favorite title would want you to.
4K Resolution
Is 4K resolution that important in a projector? Let's start things off by explaining what 4K resolution actually means and why it makes such a big difference.
4K resolution is considered an upgrade or the next generation of HD. When we say HD, we refer to High Definition, aka a resolution of 1920×1080 pixels. If you're confused about the difference between UHD and 4K, all you need to remember is: 4K and UHD describe the same thing, and they mostly refer to 3840×2160 resolution, although 4096×2160 is also possible. 4K resolution is nowadays supported by pretty much every TV or monitor in a smart home. Projectors with 4K resolution have been an elusive dream until now due to their very high price tags. Therefore, it was a luxury only a few individuals and mostly large businesses could afford. Today, 4K projectors find continuously increasing demand, from all kinds of different audiences.
There are two types of 4K projectors: native 4K projectors and projectors that upscale to 4K. Both are capable of 4K content playback, but there is a difference. Native 4K is 8.3 megapixels and is considered to show true 4K resolution ensuring an incredibly fast image switching speed. This achieves a resolution of 3840×2160 with 8.3 million individual pixels for each frame, a number four times higher than full HD 1080p. Upscaled 4K mainly refers to a more limited and slower version of pixel-shifting technology, which mainly presents 2K resolution or 4.1 megapixels, "stretched out" or AI-enhanced, to show as 8.3 megapixels on the screen.
The X3000i is a native 4K projector, offering the best possible image result.
HDMI 2.0b (HDCP2.2)
The two HDMI 2.0b (HDCP2.2) ports are compatible with every console and will not let you down regardless of whether you have a Sony PS5, PS4, Xbox Series X, Series S, or Nintendo Switch. Most importantly the 2.0b version of the HDMI port sports a very high bandwidth rate, and enables the playback of native 4K content at 60fps, with enhanced HDR support.
The second HDMI 2.0b port is equipped with audio return eARC that enables Dolby Atmos and 7.1-channel audio pass-through, transmitting the original full-resolution audio signal to your audio system via an HDMI cable. So, you can enjoy your game with the feeling of being in a 360° sound bubble with an amazing 3D effect.
Placement / Installation
The X3000i is compatible with 3 different placement methods. Screwed to the ceiling, placed on a table, and placed on a shelf or some other tall object. It should be noted that for the third option, you will need the extra legs we talked about earlier, since the projector should be upside down (like when mounted to the ceiling).
I personally tested it on a table and thanks to the 2D keystone correction it offers, it managed to achieve perfect alignment completely automatically. So my image remained "square" despite different viewing positions. Also with the 1.3X zoom it offers via the adjuster on the right side of the projector, I was able to enlarge the projection surface, even though my office is relatively small.
Sound quality
Just like our new favorite BenQ monitor, the X3000i is equipped with treVolo stereo speakers. Specifically, we're talking about two 5W speakers with Dynamic Stereo Enhancement and Bongiovi DSP technology to perfectly reveal the clarity in the sound of an axe when it smashes the heads of your enemies and offer additional depth to the bass while the music is playing. They emphasize ambience since they are calibrated for special sound functions, and they detect movement directions with virtual surround sound.
I know that all of this sounds incredible (did you see what I did there?) to be true through two built-in speakers, but you'll only have to hear it yourself to believe it. I usually prefer to connect my external speakers to my TVs and projectors but this time I didn't even try that with the X3000i. My whole experience has been with the factory speakers. And I couldn't be more pleased with the result.
They may be faint and well hidden, but when you turn up the volume, you immediately feel their presence.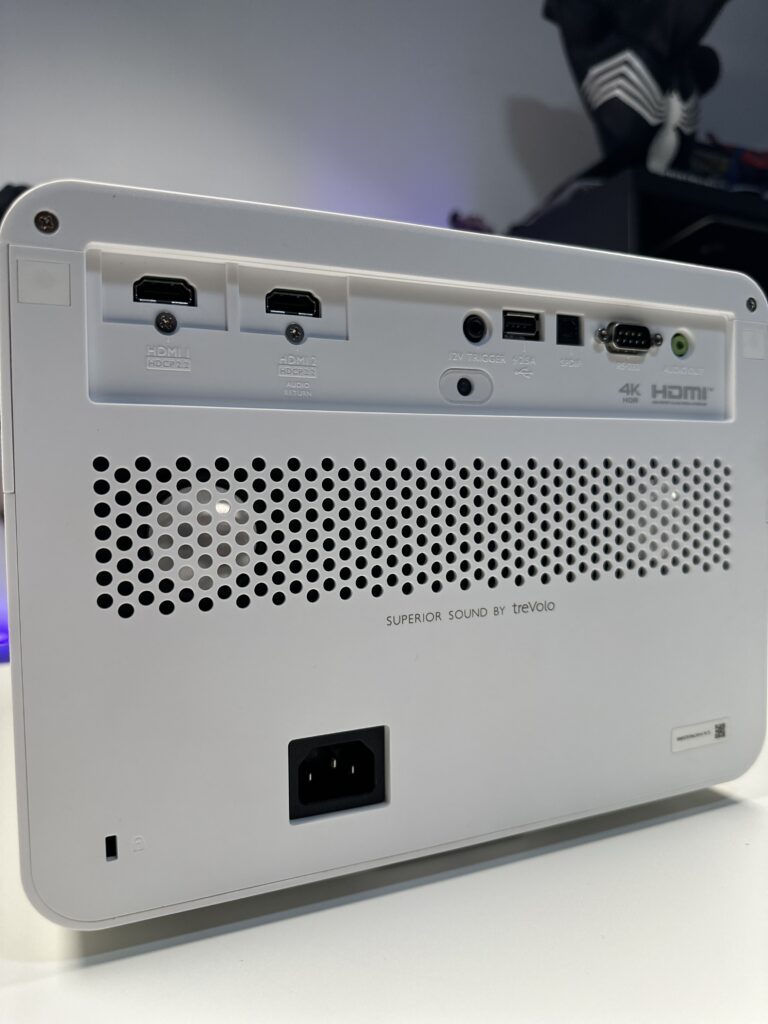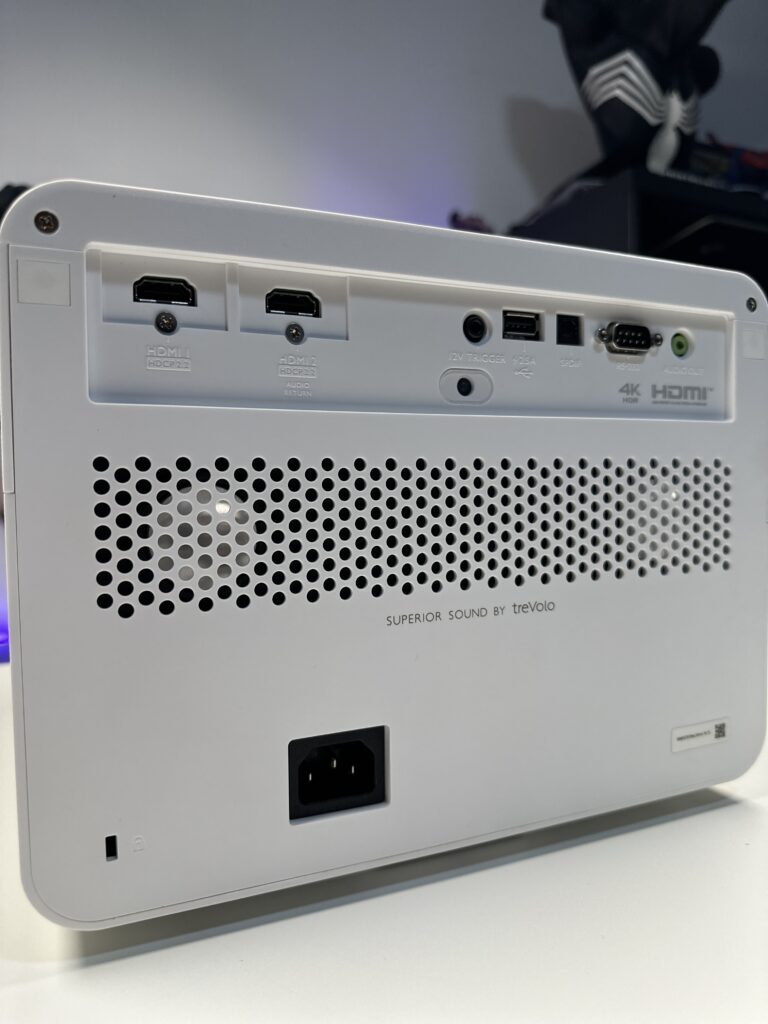 Table of Characteristics
Projection system
DLP
Brightness (ANSI lumen)
3000
Native resolution
4K UHD (3840×2160)
Screen colours
30-bit (1,07 billion colours)
Light source
4LED
Light source lifetime
α. Normal 20000 hours, β. ECO 30000 hours,
γ. SmartEco 20000 hours
DCI-P3
100%
Entry delay
16.7 ms (1080p@60Hz), 16.7 ms (4K@60Hz),
4.2 ms (1080p@240Hz), 8.3 ms (1080p@120Hz)
Resolution support
VGA (640 x 480) έως 4K UHD (3840 x 2160)
Vertical scan frequency
23~240Hz
Speaker
(x2), 5 W with chamber
HDMI ports
(x3), HDMI-1 (2.0b/HDCP2.2), HDMI-2 (2.0b/HDCP2.2), HDMI-internal (2.0b/HDCP2.2)
Operating system
Android 10.0
Dimensions (mm)
272 x 197 x 259
Net weight (kg)
6.4 kg
Verdict
Whether you are a fan of RPGs and love to explore new races and worlds with orchestral music and full bass, or whether you want to be at the heart of the war in your favorite FPS, with meticulous detail that reveals enemies in the shadows and enhanced virtual surround sound that helps locate shots, or even if you like to score at your favourite SPG, with incredibly realistic green grass, different skin tones, and audio that supports the clear voice description of the announcer and the roar of the crowd, the BenQ X3000i promises you that it will not let you down.
The only true gaming projector on the market right now that will cover your every gaming need.
The BenQ X3000i is now available for pre-order through the official BenQ site and it's priced at about €2,399. That was the reason I gave it 4,5 stars instead of 5. It does everything just as described and is definitely the best projector I've ever got my hands on (I can easily compare it to TVs and monitors as well), but the price is still a bit steep. It makes sense with all the tech that's packed into this little beast, but it's definitely not a toy for everyone's pockets.
With great performance, comes great price tags, and this is geared towards the enthusiast crowd as its top-of-the-line spec sheet makes abundantly clear. However, if you do decide that the X3000i should be the center of your gaming/entertainment room, have no doubt that you will get your money's worth in performance as this is a worthy investment, and will absolutely cover your needs for years to come.
We would like to thank BenQ for the review unit used.