You'll love it if:
You are a smooth gunplay enjoyer.
You wanted a solid set of maps and modes.
You are a fan of the Modern Warfare franchise.
Not for you if:
Confusing interface menus get on your nerves.
Yearly releases bore you.
A franchise that has grown throughout the thirteen years since the first Modern Warfare II. Though, said growth, did not come without its setbacks. Due to brand fatigue and other circumstances, many individuals -including myself- had stepped out of the Call of Duty roller coaster.
It was only when Activision decided to go back to 2019's Call of Duty Modern Warfare, and its Warzone Battle Royale mode, that I picked up my controller again. While the cycle begins repeating itself, the question is whether this year's Modern Warfare II can measure up to the classic.
With Infinity Ward picking up the torch for this year's iteration of the Call of Duty series, enthusiasm in the FPS franchise is rekindled. Last year's Call of Duty: Vanguard will still be remembered as a flop, but with the accomplishments of 2019's Modern Warfare, Activision couldn't have asked for a better studio. Besides Warzone 2, the studio presents Modern Warfare II as the franchise's new era.
TL;DR
Call of Duty: Modern Warfare II is a follow-up to the 2019 Modern Warfare reboot. The players will work with Task Force 141 and elite troops to prevent a potential terrorist threat. The sequel incorporates the majority of the tactical gameplay introduced in the reboot, whilst trying out new mechanics to keep things interesting. Although the campaign features outstanding visuals as well as enjoyable gunplay, it falls short of the lofty expectations established by its predecessors. That is not to argue that there isn't merit in either the single-player campaign or the multiplayer modes.
Call of Duty: Modern Warfare II Review – Campaign
Three years after we left off in 2019, Task Force 141 is operating effectively around the globe. Captain Price and Gaz head a group of returning characters who are joined by several new and old figures. While Simon 'Ghost' Riley and John 'Soap' McTavish end up making their Modern Warfare timeline debuts. Throughout the game, players swap among operatives of Task Force 141. Long-time fans will appreciate the allusions here and there, but anybody can step into the action, yet not feel helpless.
These new additions to the cast of Modern Warfare II, though, had the greatest effect on me. Alain Mesa's stern depiction of Mexican army Colonel Alejandro Vargas and Warren Kole's appealing bashfulness as Shadow Company Commander Phillip Graves, were both standouts. Each of these actors contributed their personality to their voices, making them strike out. Additionally, the game presents deeper character interactions in-between gunfights than usual, elevating the narrative above prior installments.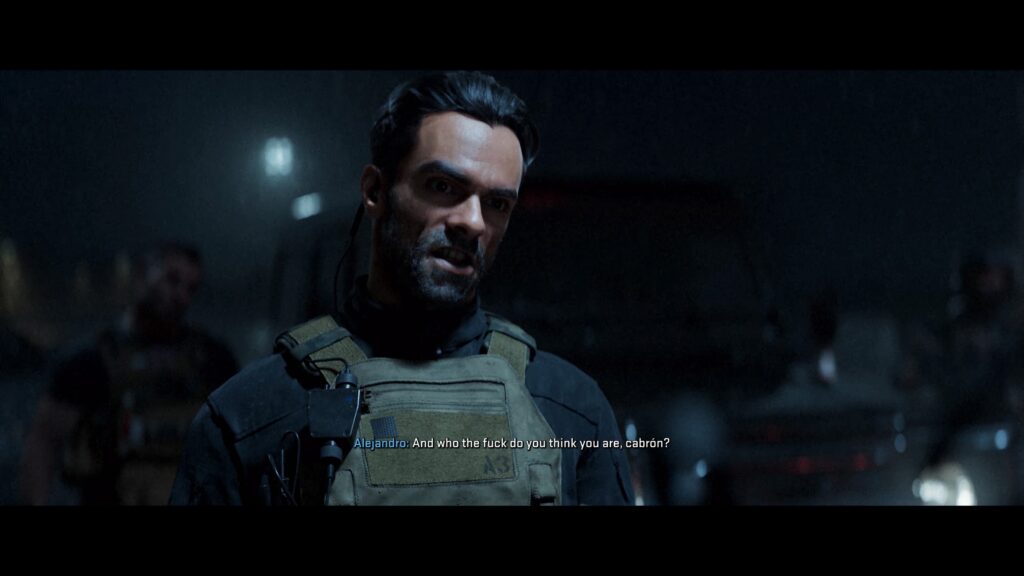 The storyline is set in a variety of locations around the world, including Amsterdam, Mexico, and Chicago, in addition to fictitious locales, such as Al Mazrah in the United Republic of Adal. I was also delighted to see that numerous of Modern Warfare II's campaign objectives were blatant nods to classic fan favorites from the first series. Close Air and Hardpoint objectives are reminiscent of Modern Warfare 2's Death From Above. While the Recon By Fire mission, a sniper assignment, appeared to be a throwback to All Ghillied Up.
In an attempt to prevent a monotonous murder, Infinity Ward has purposefully altered the tempo of the campaign. They've provided a wonderful blend that urges players to play that "one more" mission until the moment the credits begin to roll. And that's the Modern Warfare II campaign for you. It may not be as original as previous Modern Warfare titles. Yet, for the largest half, it's a well-coordinated effort that captures the essence of Modern Warfare. Veterans of Call of Duty campaigns will be unable to put their controllers down.
Call of Duty: Modern Warfare II Review – Gameplay
Call of Duty shines yet again at gun handling, as each weapon provides a substantially distinct experience in terms of recoil, rate of fire, heft, and accuracy. While testing the PS5 version of the game for this review, I was stunned as to how much the advanced haptic feedback on the PS5's DualSense controller contributed to the immersion. A gratifying amount of resistance while pressing the triggers and a varying rumbling in return.
Although normal run-and-shoot levels provide their thrills, the missions that deviate from this Call of Duty model are usually the most noteworthy. Another terrific AC-130 mission appears in Modern Warfare II, as does a moment that wouldn't seem out of place in the Uncharted series, where you hijack moving vehicle after moving vehicle.
Vehicle hijacking is one of the new gameplay mechanics featured in Modern Warfare II. During an objective approximately midway through the campaign, you find yourself chasing a convoy across the sandy roadways of the imaginary nation of Urzikstan. It is a fast-paced pursuit that includes a rotation between driving your car, leaning out of it in order to shoot attackers, and hijacking other cars.
On another note, what surprised me the most, were not the huge spectacular moments. Instead, the addition of numerous silent, covert surviving portions struck out. There are times throughout the game when you are separated from your group and your armory of weapons. Therefore, you must scavenge for items and craft equipment in order to slip past or destroy your enemies. This new crafting gameplay mechanic is added roughly halfway through the mission 'Alone' before the narrative speed comes to a halt. 
As a franchise, Call of Duty regularly implements new ideas like this as "canaries in a coal mine" to determine what thrives and whatnot. The winners are maintained and additionally developed for future entrants, while the losers are wiped away. That very same looting and crafting mechanism which was introduced in the campaign is exactly what I'd want to see more of. 
Call of Duty: Modern Warfare II Review – Graphics & Audio
The campaign plays smoothly, except for a few graphic glitches that caused some texture pop-in and a flickering landscape. Apart from that, Modern Warfare II sets a new standard for graphical fidelity. Considering the scale of both the development studios and the enormous investment in Call of Duty these days, you'd be right to anticipate nothing less.
However, both the precisely replicated real-world landscapes of the campaign along with the more imaginative interpretations of terrain, utilized in multiplayer, are aesthetically stunning. Establishing the franchise at the peak of realistic shooters.
In the opening scene of the Modern Warfare II's campaign, while you work your way out from a reconnaissance site, dust and dirt drift all over a near-photorealistic mountainside, then pan back to find Ghost scoping out a potential location for an airstrike. These initial scenes instantly raise the bar as to what the game's aesthetics and stunning art direction ought to deliver.
From vast Mexican landscapes, to a properly replicated part of Amsterdam and the Chicago streets, this title is truly worldwide. Thus bringing significant changes in variety. A standout aspect of the Modern Warfare II campaign is how aesthetically breathtaking some of the settings are. That's also notably noticeable in missions like Tradecraft, a covert level with strong Hitman tinges.
The objective entails carefully wandering around Amsterdam's cobblestone walkways accompanying Laswell, on your approach to a cartel rendezvous. Across this operation alone, the excellent graphics fidelity and care for detail provide some mesmerizingly gorgeous terrain and images. The audio effects and noises are also excellent throughout, contributing to the game's theatrical appeal.
Sadly, notwithstanding its cutting-edge visuals, stunning music, and fast and engaging fighting, Modern Warfare II appears to be an Infinity Ward "best of" experience, culminating in a top-tier shooter with a mid-tier delivery.
Call of Duty: Modern Warfare II Review – Multiplayer
When it comes to internet connections, players won't get nearly the same degree of graphical fidelity, but that gritty aspect extends over to multiplayer. Infinity Ward hasn't accomplished anything revolutionary, as Modern Warfare II's pre-release marketing billed it. Nevertheless, this is once again quite a solid product with a few teething issues. Hey, at least it works upon launch, which is an accomplishment in and of itself.
During your first few matches, the notion of whoever sees who first, or camps the longest, will undoubtedly seep into your thoughts if you're coming to the series after a lengthy break. However, with perseverance and re-acquaintance with the game's mechanics, maps, and systems, you will have a great time.
Game Modes
Modern Warfare II offers two new 6v6 modes, Prisoner Rescue and Knockout, in addition to the usual multiplayer modes. The first one is comparable to Capture the Flag, and includes both saving and protecting prisoners. Though perhaps not my cup of tea, Prisoner Rescue could be a great deal of fun for those who collaborate well together. 
The second one is an elimination mode, in which players rush to the map's middle and fight for a bag of cash. Each round the player has only one life, but you can revive friends to avoid elimination. Though I don't plan on playing Knockout soon, it appears to be a good game mode for Search and Destroy players seeking to try something new.
Ground War is also available in Modern Warfare II, which in itself is essentially Domination on a much broader scope. It is a 32vs32-player combat in which teams compete to conquer locations and score points. Players may also travel around in vehicles such as tanks and helicopters. 
There's also the Invasion game mode, which is a larger Ground War scenario with a combination of actual people and AI bots. Even though these modes were fun, I thought it was strange that I couldn't spawn on members of my squad in Invasion as I did in Ground War. Worth considering that this functionality could enhance this Invasion game mode.
Maps & Spec Ops
At launch, we got a reasonable selection of maps and modes to enjoy, as well as an additional third-person perspective playlist that turned out to be quite more enjoyable than I anticipated. One notable thing is the absence of a Hardcore mode, which has appeared in practically every Call of Duty game. Hardcore, on the other hand, is currently in development and will be released on November 16th, at the commencement of Season One.
The new Spec Ops co-op mode throws you and a teammate against swarms of NPC adversaries is also back. The whole co-op bundle is restricted to three missions, although more are being added after the release. These missions take place on the massive Al Mazrah map that will appear in Warzone 2.
Progression
Player progression in this game surely has its ups and downs. The method for obtaining and upgrading weapons has been substantially altered. You may acquire weapon attachments in the new Gunsmith system by leveling up a certain weapon type.
To advance a weapon type, you must utilize a certain receiver or version of a gun in that type, which opens up attachments and numerous slots into which attachments may be fitted. A new branch of that type will eventually unlock, giving you access to additional receivers and variants for you to modify.
Where the progression mechanism falls short is in the cosmetic department. At launch, there are only a handful of operator skins to choose from, and they largely derive from the storyline. The few worth mentioning are available as paid DLC through the game's "Vault Edition."
Not much difference when it comes to weapons, with many of the usual camos found in numerous previous titles. While there are several challenges to perform to acquire these camos, the rewards are first lackluster.
It should be noted, however, that this review is published before Season 1 launch. Call of Duty has a reputation for trying some really weird and entertaining things with its aesthetics, but it feels hollow here. There also appears to be a very limited number of emblems and calling cards with which you personalize your profile.
Bugs & Mismatches
The game's story has been available for three weeks at the time of writing, and the multiplayer section has been available for over two weeks, and I won't even mention the Modern Warfare II BETA. However, there are still a couple of issues worth highlighting. Character operators appeared to reset on and off the 1st week as the servers attempted to keep up.
Ping capability was deactivated shortly after launch due to a game-breaking flaw that caused pinged players to be "pinged" for the duration of the match. I anticipate these difficulties to be resolved, and I am seeing progress day after day. However, given that it has been over two weeks after the launch, I thought it was worth mentioning these here.
One last thing that I believe may be the real issue here, is menus interfaces beyond the matches, instead of the gameplay itself. I found myself numerous times getting irritated while trying to navigate through the countless interfaces menus just to invite a friend or change an attachment.
Call of Duty: Modern Warfare II Review – Closing Notes
Although the campaign's superb gunplay, movie-quality graphics, and brilliantly played characters were among its most saving graces, it depends largely on the nostalgia of its forebears without establishing any genuinely memorable moments of its own. 
Nonetheless, when the only thing we have to gripe about is a muddled set of menus, Modern Warfare II is off to a great start. Infinity Ward has another blockbuster on its hands that's ideal for investment, with the typical post-launch maintenance of additional areas and weaponry due to roll out in the upcoming weeks. Following the failure of Call of Duty: Vanguard, the franchise is back and the best it has been in a long time.
As a whole, Modern Warfare II has recovered a substantial chunk of what made the first Modern Warfare 2 such a success. The story is one of the greatest in the franchise, and the multiplayer seems like a polished version of the fundamental Call of Duty experience that contributed to creating this phenomenon back in 2009. This is a great strong foundation to grow upon, and I'm looking forward to what lies ahead.
All images in this article are screenshots taken from the Modern Warfare II on the PS5.