In my most recent communication with Corsair, I asked them if they had a headset to recommend for my Xbox Series S. What I was interested in was that it should be comfortable, lightweight, and of course, offered great sound. If it was wireless, even better. They replied that if I'm not so interested in it being wireless, then they have exactly what I need and it goes by the name of Corsair HS55. I just had to wait a bit since it wasn't announced yet.
So for almost 2 weeks now, I've had the HS55 in my hands before they were even released, to try them out and share my experience with you .
Unboxing
As soon as I opened up the trademark yellow box, a surprise was waiting for me. This time the packaging wasn't the impressive quality I was used to with all Corsair products so far. As far as I know, as we saw with the Elgato boxes, Corsair is trying to reduce the use of plastic in their packaging.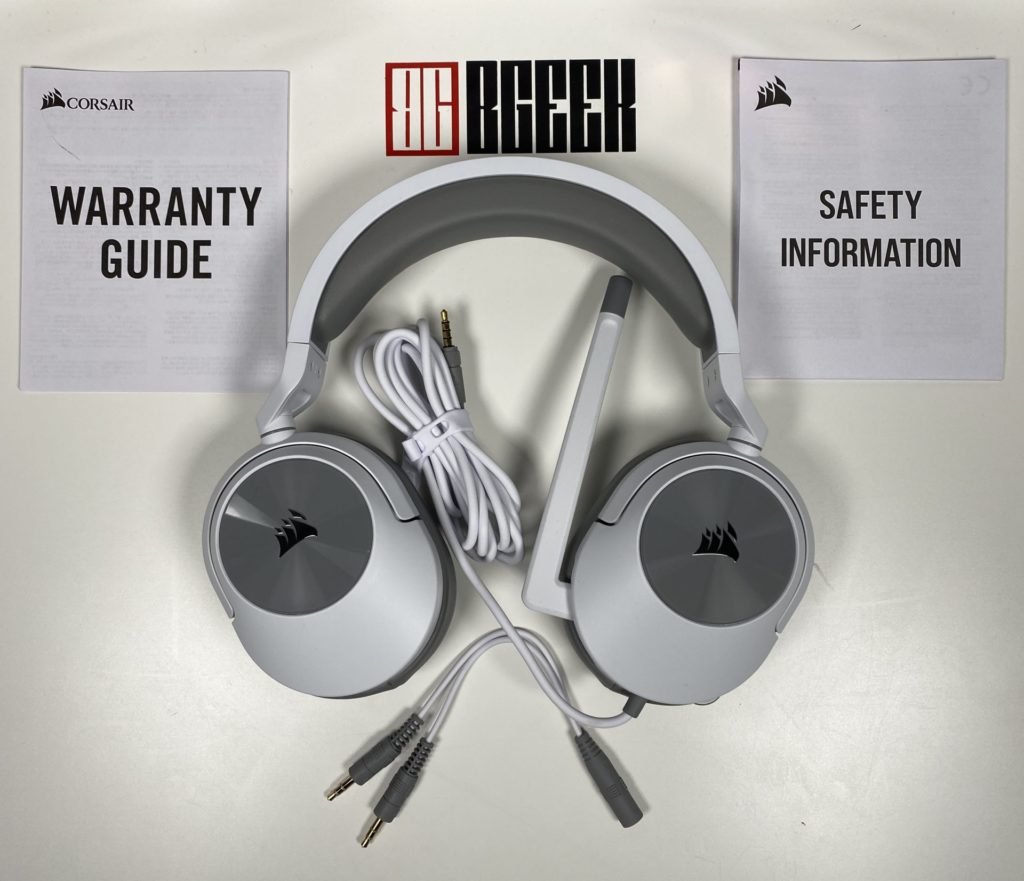 Inside the box:
The Corsair HS55 headset
An audio splitter for devices with separate ports for audio output and input
The usual papers
Design
The design of the Corsair HS55 goes down a new path. It's something completely new and fresh. To begin with, it's obvious that the earcups have moved away from the slightly squared-off shape of previous models and are moving towards a circular shape.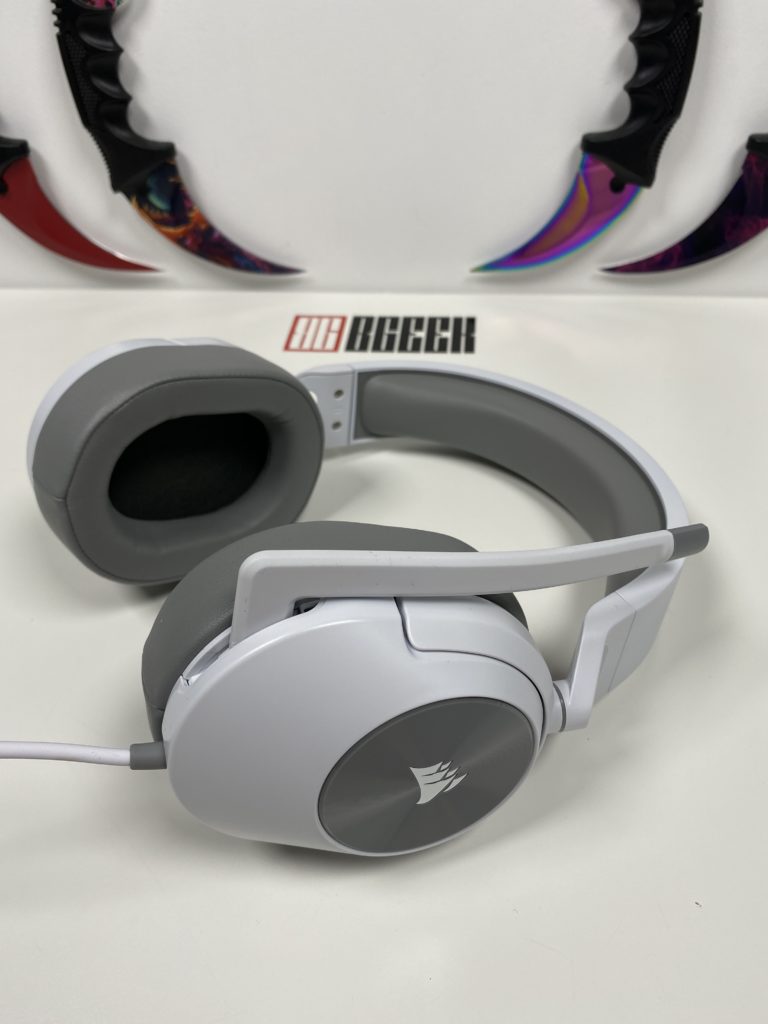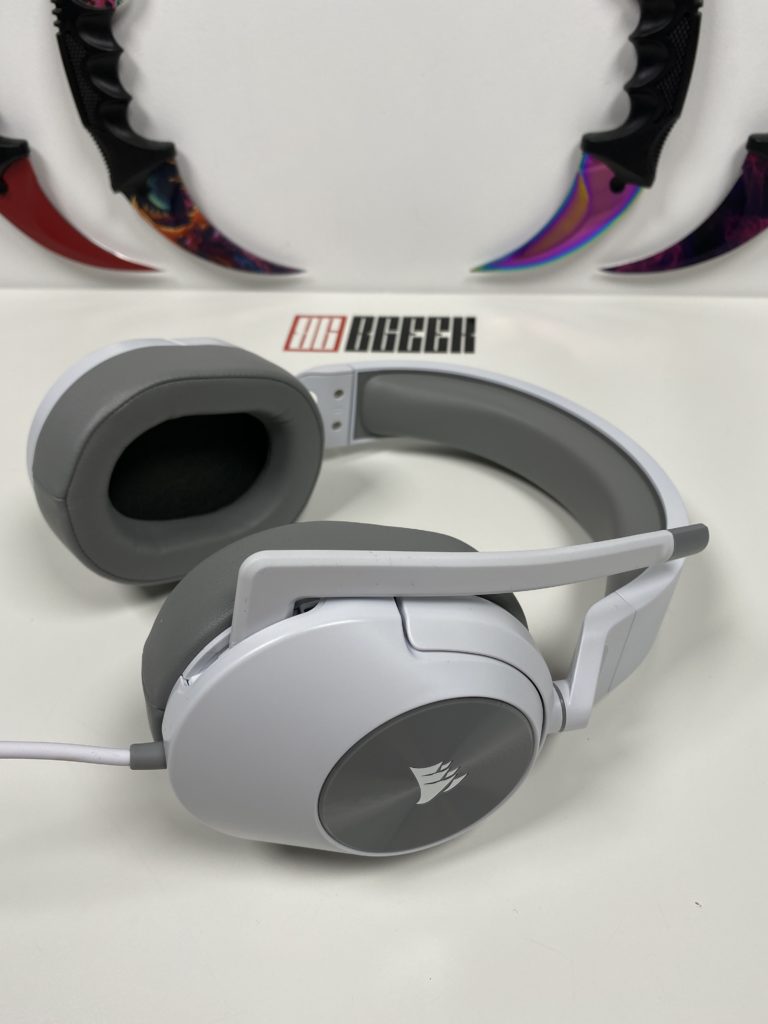 The build is all plastic, except for the extension on the headband that adjusts the head size. This means we don't have a ski band, but a leatherette pad with memory foam inside. The plastic of the headband is very flexible and can be stretched to the point where the headphones are completely flat. It also allows for twisting up to almost 180 degrees. In short, you can tie them in a knot and they'll still be able to get their original shape back.
Comfort
The Corsair HS55 may be made mostly of plastic but the feel in the hands is not the "plasticy" at all. You can immediately feel that it is made of good solid plastic. The reason the headphones don't have more metal parts is to achieve their lightweight status. With the Corsair HS55 weighing in at just 273 grams, they more than achieve this since they are Corsair's lightest headphones to date. I don't think we've ever got our hands on a lighter headset.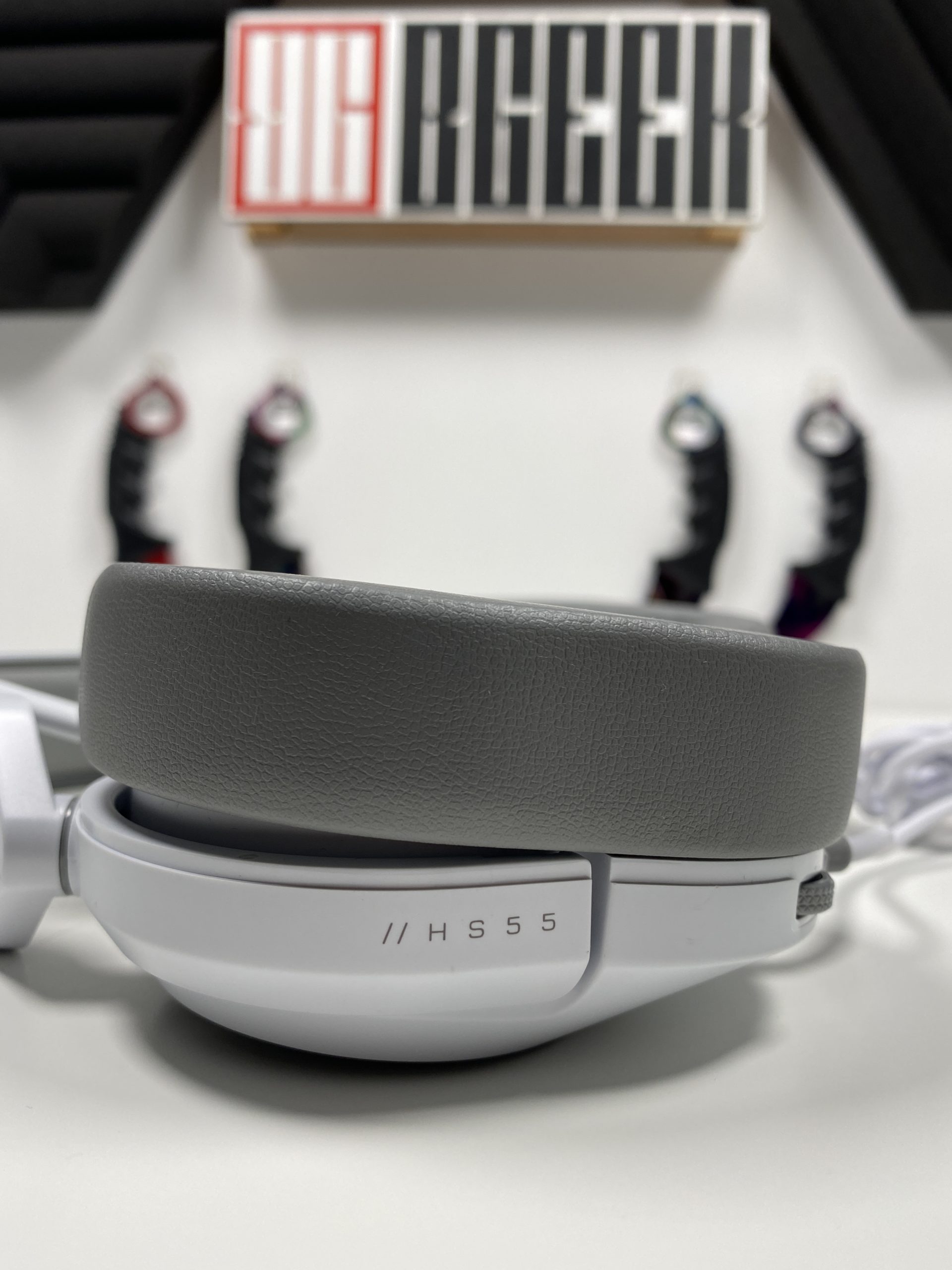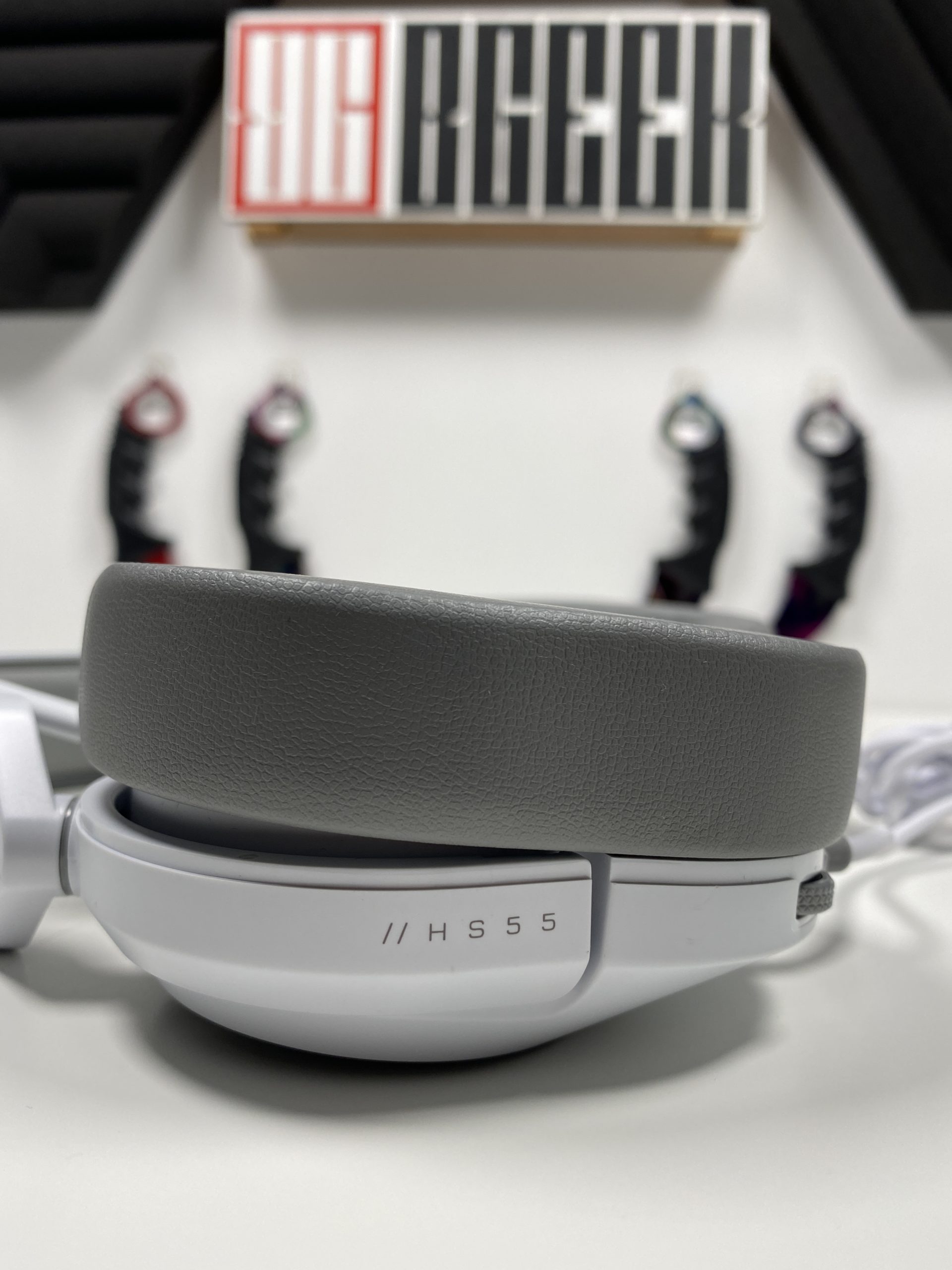 A lightweight headset goes hand in hand with great comfort. The new circular earcups hug the ear without pressing on it. There's enough room inside the earcup to fit even the oddest ear shapes without touching the base. Of course, this is made possible by the memory foam of the earcups being "coated" with high-quality leatherette.
The combination of these two features make the HS55 one of the most comfortable headsets I've ever worn. Even in long gaming sessions.
Functionality
As with the rest of Corsair's headphones, there's a volume control wheel at the bottom of the left earpiece. That's it though. No on/off button or anything else. Why? Because the HS55s come with a 3.5mm audio jack and don't need power. They can connect and work with any device that has an audio jack port. Plug them into your computer, your laptop, your phone, your Switch, your console controller, or wherever you fancy. And enjoy their high-quality sound.
Sound quality
As with all their headsets, Corsair delivers crystal clear sound quality. The 50mm neodymium audio drivers ensure that everything from the loudest gunshot to the subtlest musical note is reproduced with stunning clarity and echo.
The version I tested is the stereo version but there is also a Surround version (just €10 more expensive) that comes with Dolby® Audio 7.1 surround sound via an external 7.1 sound card.
The HS55s don't connect via USB, and thus they are not supported by Corsair's software, iCue.
Microphone
The microphone was the biggest surprise that this headset had in store for me. How can I describe the sound of the microphone in one word? Perfect. Honestly, the microphone can compare and outperform microphones from headsets three times its value. When I tested it in a Discord session, my friends couldn't believe that I wasn't talking through an external microphone.
Flexible and to the point
It is an omni-directional microphone with a flip-to-mute function. When it's "down" it works normally. With a flip-up motion, the microphone goes to mute. Very useful and handy when you don't want to fumble for mute buttons during a firefight. Finally, it comes with Discord's certification for crystal clear communication and great sound.
Tech specs
| | |
| --- | --- |
| FEATURE | DESCRIPTION |
| Audio Driver | Custom 50mm Neodymium |
| Frequency Response | 20Hz – 20kHz |
| Impedance | 32 Ohms @ 1kHz |
| Sensitivity | 114dB (± 3dB) |
| Mic Type | Omni-directional |
| Mic Impedance | 2.2k Ohms |
| Mic Frequency Response | 100Hz – 10kHz |
| Mic Sensitivity | -41dB (± 2dB) |
| Dimensions | 184mm(L) x 87mm(W) x 193mm(H) |
| Weight | 273g |
| Guarantee | 2 year |
Verdict
The Corsair HS55 is for anyone looking for an affordable but great quality headset. Incredibly light and comfortable, with sound that would be the envy of headphones two price categories above it and definitely one of the best microphones in a headset at this price point..
If what I've described above is what you're looking for, then you can buy the Corsair HS55 now for €69.99. Thank me later!
If you still prefer a more premium headset, you can always take a look at the Corsair HS80. The HS80 will have even your most extravagant audio needs covered.
We would like to thank Corsair for providing the review unit we used in this article..