I recently got my hands on Defunc's truly wireless earbuds called "True Gaming". Defunc is a relatively new audio company based in Sweden. The name of the company may not ring a bell, but if they continue to produce products of this level, they will soon enter your home.
Their true wireless earbuds are divided into categories according to everyone's needs. The currently available versions are True Go (slim), True Basic, True Plus, True Mute and True Gaming. I tried True Gaming and I will share my experience with you.
This specific model is available in three colors. Black (reviewed one), white and green.
Unboxing
Opening the package we find:
One pair of earbuds
The case which is also a charger
A USB-C cable
Silicone tips in different sizes
Manual
Nothing superfluous in the Defunc package
Design
At a glance one could say that True Gaming is something between Apple's AirPods 2 and AirPods Pro. I would say that they used the best elements from each model and combined them to achieve a beautiful result. The upper half reminds of Airpods Pro , while the stem is longer and clearly more like Airpods 2.
The earbuds come with a black square case (with curved corners) in a matte texture that leaves no fingerprints. At the top of the case the company's logo is engraved. On the right the type-c port for fast charging of the case. using the case, we can charge the earbuds. On the front there are four distinctive blue LEDs as an indication of the battery balance of the case.
The earbuds, as I mentioned above, are quite reminiscent of the Apple design that we all loved. It is worth noting that the upper half is matte, while the lower part is glossy with the company logo engraved.
Each earbud has a microphone for better voice recording and higher input quality. Of course, the touch controls are not missing on the earbuds as well as the blue LEDs at the bottom. They only light up when activating or pairing the earbuds and do not stay on during use.
Comfort
True Gaming comes with 6 sets of ear tips in different sizes to "fit" perfectly in any ear. Once you find the size that fits your ear, you will immediately feel that they sit inside the ear like a vacuum that absorbs external sounds for better isolation.
The fact that they fit perfectly in the ear does not only help the sound. It keeps them stable even when you go for a walk or run, or even during your "nerdrage" moments after an unexpected headshot.
Since I mentioned training, the headphones are IPX4 waterproof which means they will withstand any liquid falling on them (and sweat), without any issues.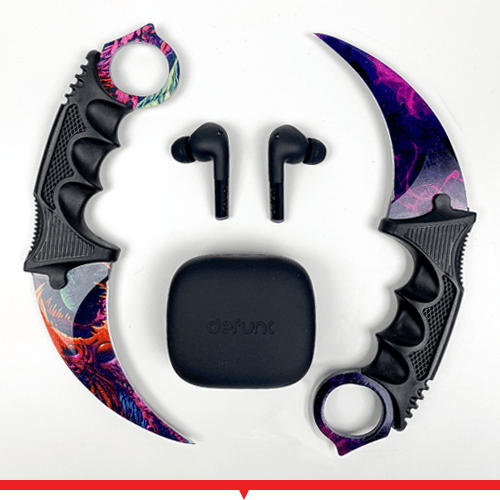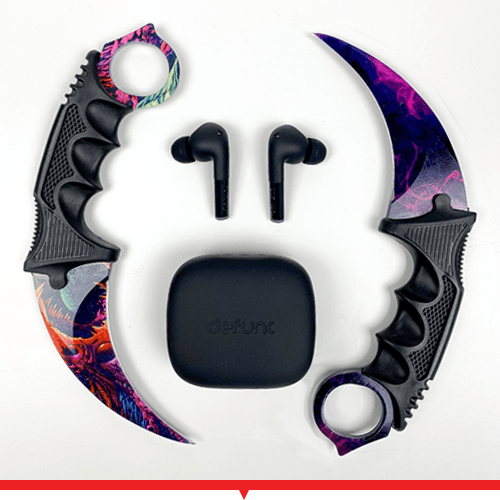 I wore them continuously for 3-4 hours, playing PUBG on my iPad and listening to music and I can say that they did not tire me at all. Especially if you wear them outside and listen to music, I believe that after a while you will forget that you have them in your ears.
Functions
Once you open their case, the earbuds will automatically pair with each other and start looking for a Bluetooth device to pair with (Bluetooth 5.0). I just opened the Bluetooth settings of my tablet and they appeared immediately. Pairing them was just a tap on my screen.
The touch controls on the other hand, while allowing you to do everything with a single touch, could be easier to use. Unfortunately for me the whole process was so complicated that at first I had to look at the manual constantly and in the end I just gave up and used it on default.
For example, some of the functions of touch control are:
Gaming mode: Triple tap on the right earbud to turn it on, and triple tap to turn it off. The gaming mode activates the Dolby surround and offers 360 degree sound. Top tier for shooting games.
Play/Pause music: Double tap on either of the two earbuds to pause the music and the same to restart.
Next song: Tap and hold the right earbud for 2 seconds. Be careful not to hold it for 5 as this will turn it off.
Previous song: Tap and hold the left earbud for 2 seconds. Be careful not to hold it for 5 as this will turn it off.
Volume up: Tap on the right earbud, wait a second, tap again, wait a second etc
Volume down: Tap on the left earbud, wait a second, tap again, wait a second etc
Answer or end a call: Double tap on any earbud.
Voice assistance: Triple tap on the left earbud for activation and the same for deactivation.
As you can see it is not that simple to remember all these by heart without confusing them sometimes. Nevertheless, the touch on the headphones works quite well and is sensitive.
Finally, I would love an app that will allow you to change the touch functions or change the EQ of the earbuds.
Sound
Now let's go to the most important thing about the earbuds: the sound of course. Do they have the best sound I've ever heard in earbuds? No. Do they do their job properly? Yes, and even more. What do I mean?
True Gaming does exactly what their name says. They aim to offer you the best sound for a mobile or switch game. The sound is clear and what I personally love is the extra bass. And these earbuds have both. They make explosions and shootings sound real.
With the gaming mode activated, the virtual Dolby surround does its job very well and you feel that the sound embraces you, but at a cost. The sound quality drops by one click.
What struck me most is that their sound is incredibly loud. I really love loud music but the specific ones are so loud that I could not stand the volume at full for more than 1 minute.
In combination with the incredible bass, as I mentioned before, that you can feel kicking in your ear, it works the best for "beats music" as a millennial would say. By no means are they audiophile headphones and it goes without saying that their sound quality is not aimed at that.
With the Gaming function, you will not miss an enemy's step
The biggest asset of these earbuds is the low latency. Using gaming earbuds, it makes sense that you do not want to shoot and hear the shot a second later in your ears. The latency is so low that it is almost zero for the average user's ear.
It is worth mentioning that the earbuds do not have Active Noise Cancellation (ANC). But if they fit in the ear properly, they isolate a lot of external sounds and combined with their loudness, I do not think ANC would make any difference here.
True Gaming comes with a dual microphone (one in each earbud) and does its job very well. I tried them on a few calls with my friends on Discord and Zoom and nobody had any negative feedback. In my daily life I use a professional microphone and of course they noticed the difference since they told me that I sound more "distant" and "robotic" but in general the microphone does its job perfectly. It would not be fair to compare it to a professional microphone.
Battery
True Gaming turns on as soon as you open their case and switches off as soon as you close the lid. Something that helps a lot people (like me) who forget to turn off their headphones.
Defunc claims that the battery lasts for around 30 hours. Of course this depends on how loud the earbuds are. A full charge of the earbuds and while I was using them at relatively high volume lasted about 6 hours of use. The case can charge the earbuds about 4 times so we can talk about 25 hours of use with the help of the case. Not bad at all.
Conclusion
Defunc True Gaming, priced at 99.95 euros on the official site, is a good alternative for anyone who does not want to pay double for a similar Apple model. If you are not so interested in the audiophile part and you want to listen to your music so loud that you lose 2% of your hearing each time you use them for their sick bass, then these earbuds are a very good choice.
Let's not forget the 360 sound that you never expected to hear in a mobile game for example.
I would like to thank Defunc for providing the review unit as well as for the extra set for our Giveaway. In case earbuds do not sit in your ears well, take a look at our article about the Arctis 7p.