The BGeek team has reviewed its fair share of head- and earphones over the past year. And though it may seem like we've covered something to fit everyone's needs, the kawaii lovers were left wanting more. That is, until now! The Edifier G2 II comes in a perfect baby pink shade, complete with kitty ears. Though it's also available in black or white, in case you're not ready to give into the fantasy.
The Edifier G2 II is a basic gaming headset at a very affordable price, covering the essentials. Their aesthetic makes them perfect for new streamers. If you're looking for some more high-end features however, these are not the ones for you.
Unboxing
Moving pictures say more than words, just watch the BGeek's Rapid Unboxing:
Inside the box:
the Edifier G2 II Headset
the detachable mic
pink stick-on kitty ears
user's manual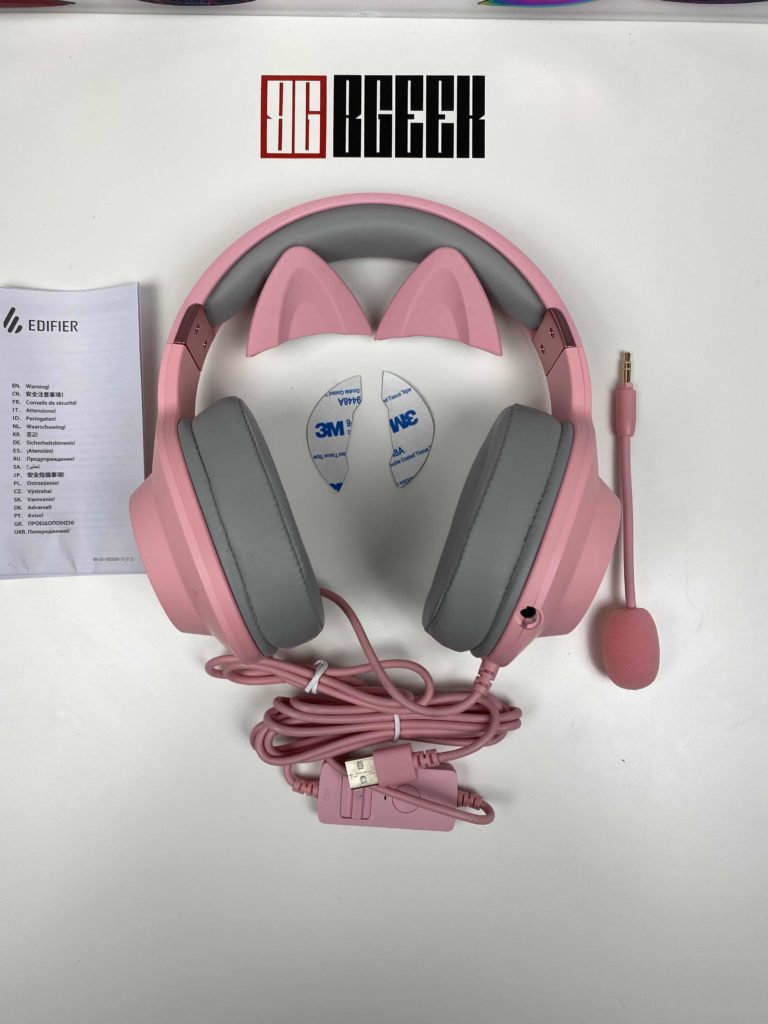 Design
The Edifier G2 II is available in black, white and pink. The pink one comes with kitty ears, but whether you stick them on or not is up to you. I don't see why anyone wouldn't though, but you never know! They come in a compact design, with a soft leatherette headband and earmuffs. There's a nice pink metallic detail on the sides of the muffs, as well as on the inside of the headband. The outside of the ears is made of a soft and matte feeling plastic material, very light weight. The plastic on the "headband" is made of a different material, which is less matte. This causes a slight colour difference, which is only noticeable if you'd wear them on their smallest size. The kitty ears on their part are made of silicone, in the exact same color as the headband.
The microphone is fully detachable, and comes with a foam cover. The USB cable feels sturdy and is pretty long. There's a little control box attached that allows you to turn off the RGB light, adjust the volume and microphone very easily. I personally really like how easy it is to control these settings, you can just plug the headset in and get started right away. The buttons on this are very sturdy and easy to use.
Build Quality / Comfort
The Edifier G2 II is very light, coming in at 266 grams. You quickly forget you're wearing them at all. Because they're wired, I have tried to get up and walk around before taking them off. I can thus confirm the cable and overall design is very sturdy, since they didn't break even after continuously dropping them like this…
The fit is comfortable, especially thanks to the fake leather muffs and headband. When I first wore them however, I did find they pressed the sides of my head too much. That feeling faded after about 30 minutes and I've never experienced discomfort again, even while wearing glasses. Concerning the buttons, there are none on the headset itself. I find this a big plus, because I would always have to "search" for the correct button, or even push the headset halfway of my head trying to press buttons on the sides.
The insides of the cups are covered by a thin fabric; I did worry about possibly ripping it with my earrings. No accidents so far though. The sizing is pretty good, it wouldn't fit children's heads though. Both me and my boyfriend (with a considerably large head) can comfortably wear the Edifier G2 II. Yes I made him wear them. DM me for pics.
Connectivity
The Edifier G2 II is a wired gaming headset, using a USB connection. Because of that, you can't connect it with your phone or most consoles, which is its biggest downside in my opinion. The 7.1 surround sound is also only supported on Windows computers, so there's not much added value using it on my MacBook while I'm working. Aside from me looking kawaii as hell during Zoom meetings.
Sound quality
Looking at the specs, the Edifier G2 II gaming headset has upgraded 50MM drivers with an independent sound card software. On Windows this allows 7.1 surround sound. The supported frequency is 20Hz-20kHz, with a resistance of 32 Ohm. The sensitivity lies at 98 dB.
The overall sound quality is actually pretty good, and honestly better than expected for a price of around 50 euros (depending on where you're buying them from). They don't emphasize the bass too much, allowing you to focus on the mid frequencies, which is perfect for gaming. There exists some very basic software for minimal finetuning, but I wasn't able to find it. I can only assume it's not really worth it, and I don't really expect much softwarewise in this price range anyway. It is worth mentioning that the volume button only controls the volume of the headset, allowing you to adjust it separately from the volume on your PC.
I'm not a sound expert, but I can tell when sound is bad and when it's good. Our old Xbox headset e.g. is plain bad. The sound quality of this Edifier G2 II headset is comparable to my 80 euros JBL headset. That would make it very good in its price range.
Mic
The best thing about the mic is that it's detachable. If you're a streamer who's just starting out and you want to bit by bit upgrade your gear, you'll probably want to start with the microphone. If you're no longer using the mic on the Edifier G2 II, you can just simply detach it.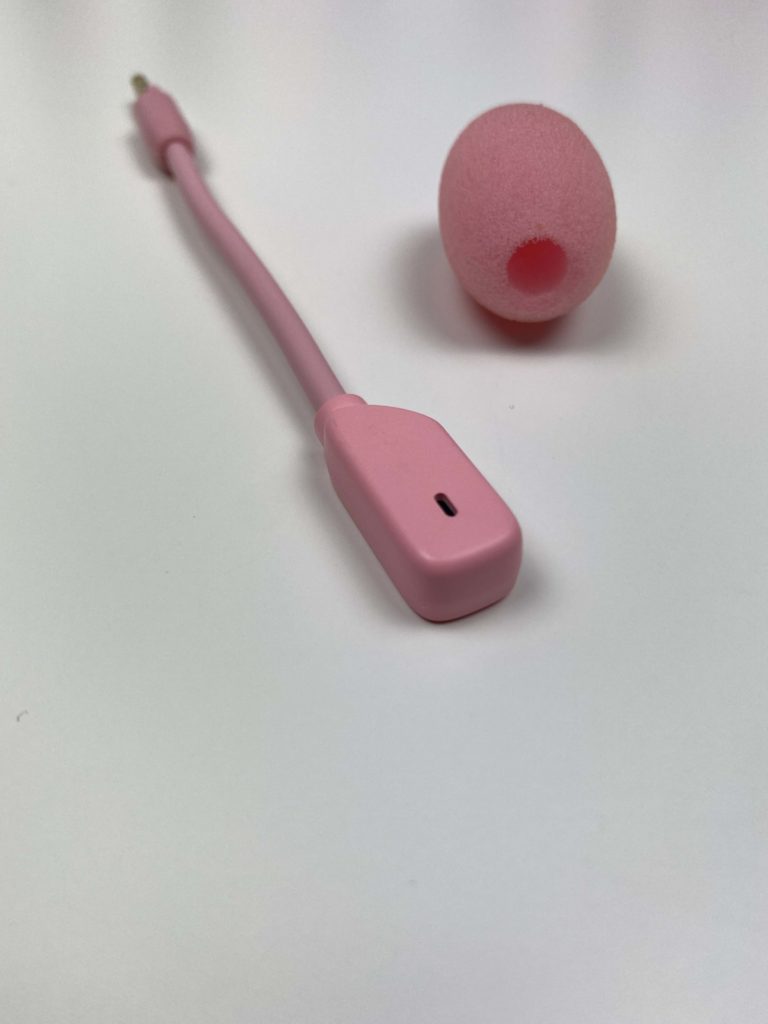 Don't disregard this mic though, it's actually pretty decent. It doesn't pick up the noises of you fidgeting or turning your head – even when your hair touches the mic. There's no actual noise cancelling though, so the typing on your keyboard etc. will get picked up. A nice touch is the fact that you can move the mic in any direction you want, and it will pick up sound just fine from anywhere. Your voice comes through clearly, simply put, the mic serves its purpose.
Edifier G2 II – Conclusion
The Edifier G2 II, pink kitty ear edition, is a very good basic gaming headset. It offers anything you need to game comfortably and look kawaii while doing so. Due to the USB-connection it's only really suitable for PC gaming though. The 7.1 surround sound and comfortable design are its biggest assets, together with the cute pink color and detachable kitty ears.
Thanks to Edifier for providing us with the review unit!