We live during a period that has trained us to be able to do everything without even leaving our home. Even a large percentage of the work sector has been converted to remote or hybrid working. What makes you stand out in an online meeting? A very good microphone and a very good camera. In our article about Elgato Facecam you will see how you can become 50% more professional. If you want to become 100% more professional, you should grab an Elgato Wave 3 and you are set.
It's not the classic webcam you were using until today for your video calls and your stream. It's something more. That's why it was awarded at the CES 2022 Innovation Awards.
Unboxing
Unboxing the blue box of the camera, we will find the essentials. Just a reminder about that box which, like the Elgato Key Light, is part of the Elgato for the Earth project and aims to reduce the use of plastic in their packaging. At the moment, the company has managed to achieve 95% less use of plastic, and their goal is 100%.
The main parts of the package are made of environmentally friendly and recycled cardboard. Instead of useless packaging, they use 100% recyclable, molded pulp. When they have to use plastic, they use the least amount possible and always prefer recycled materials.
So as I said, in the box we find:
The Elgato Facecam
A privacy cap to protect the lens (but also for your privacy)
A mount with 1/4″ Thread
One USB-C to USB-A cable (2m)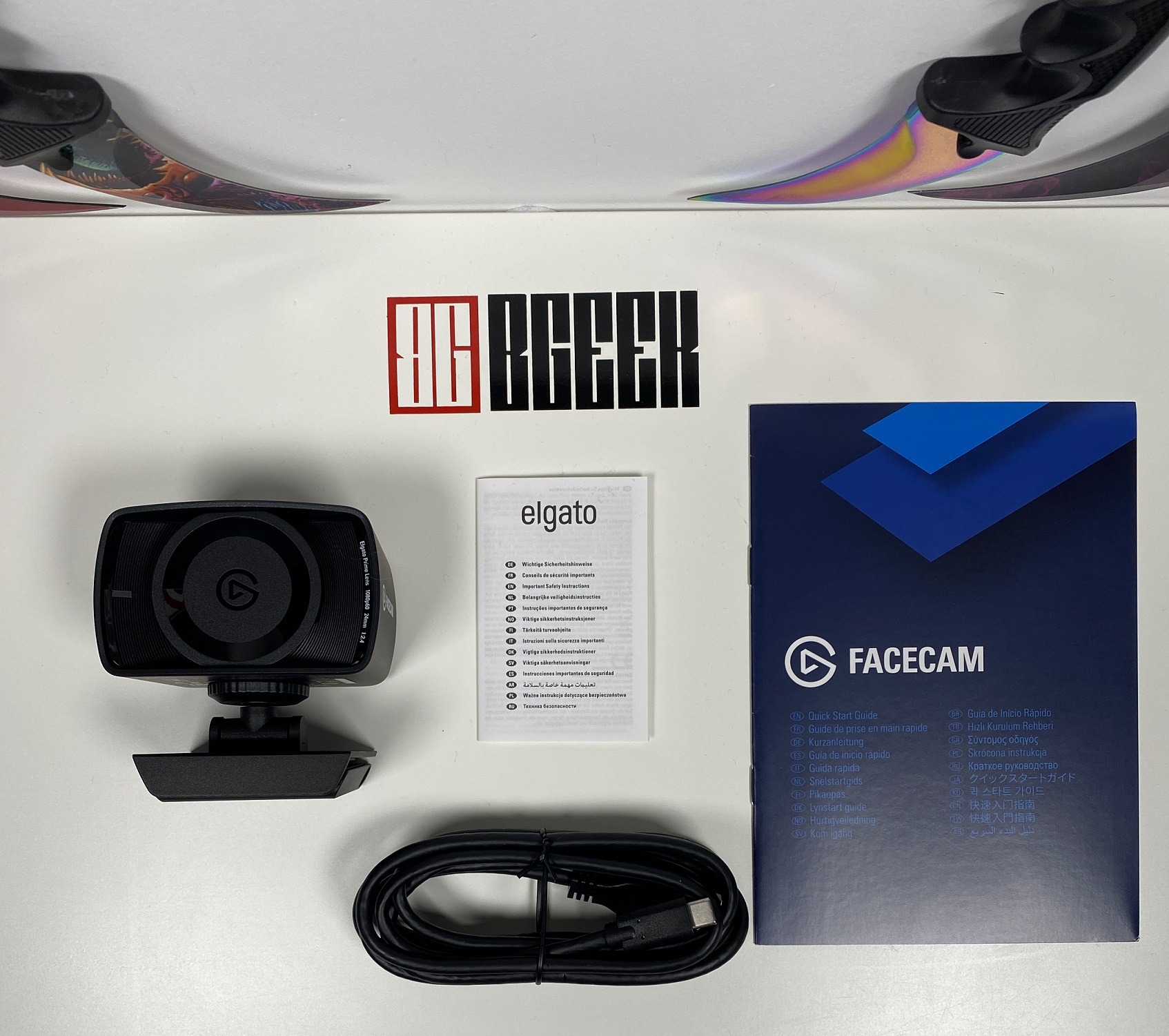 Design
The first thing I noticed was the shape of the camera. It is not elongated like most cameras on the market but cube shaped. This makes it more stable on its base. You can also change its position both left and right (sideways).
On the front of the Elgato Facecam there is a blue LED, next to the lens, which indicates if the camera is on. On the other side of the lens we can read "Elgato Prime Lens 1080p60 24mm 1: 2.4", giving us a taste of the lens used by Elgato for the Facecam (we will analyze that below).
At the top, the Elgato logo in glossy black and on the side (only on the left side) the logo and the name of the specific model.
At the back we see a grille that helps in better ventilation by avoiding overheating, during a streaming marathon for example. There is also a Type-C port for connecting to a computer.
The Elgato Facecam also comes with a screw base that offers the camera great freedom of movement. The mount is detachable and thanks to the 1/4″ thread at the bottom of Facecam, you can fasten it to any other mount or a tripod depending on your needs.
Users of the Elgato Ring Light can screw the webcam directly to the center of the Ring Light and adjust the ISO at low levels, avoiding the "noise" in their image.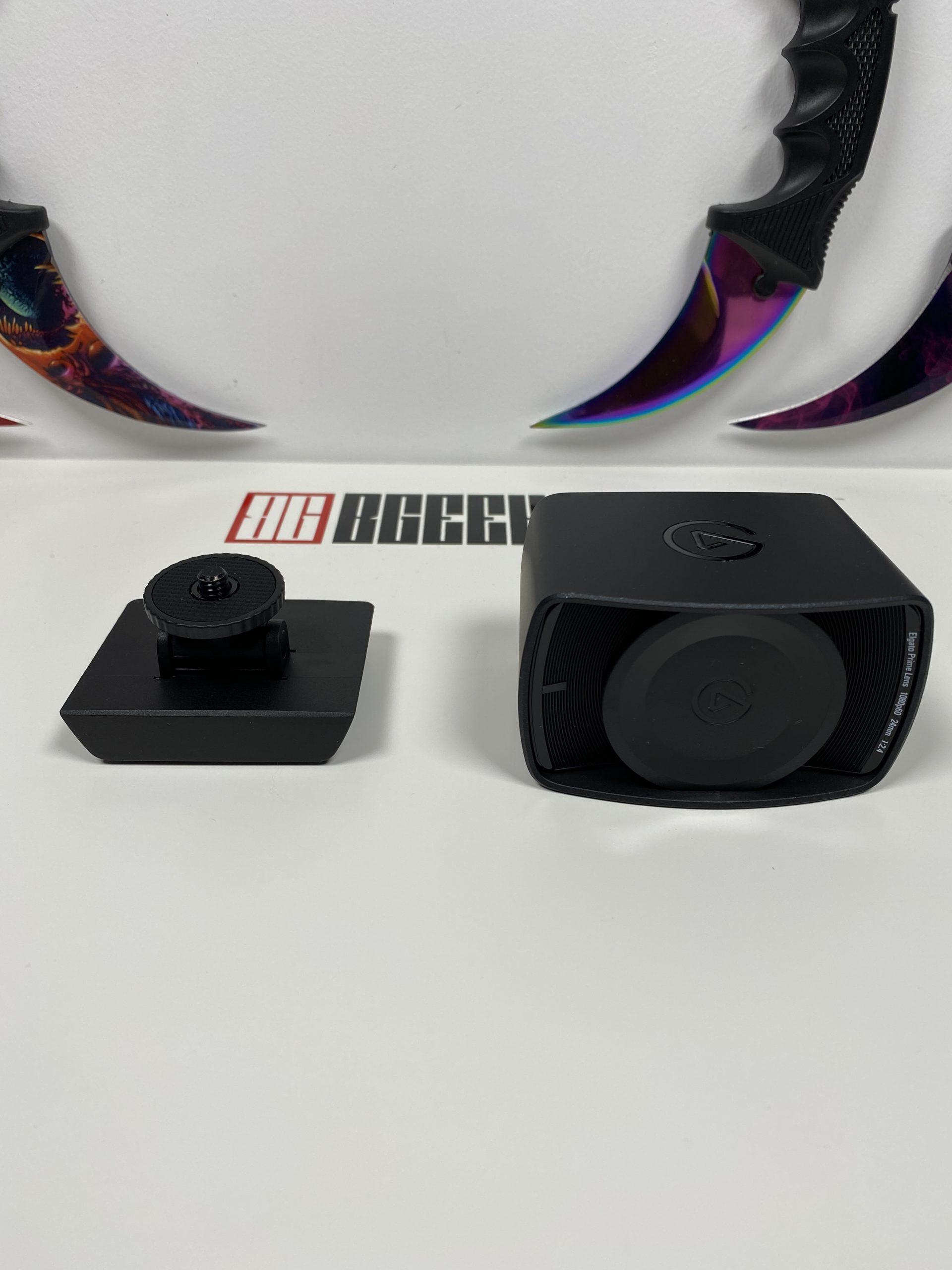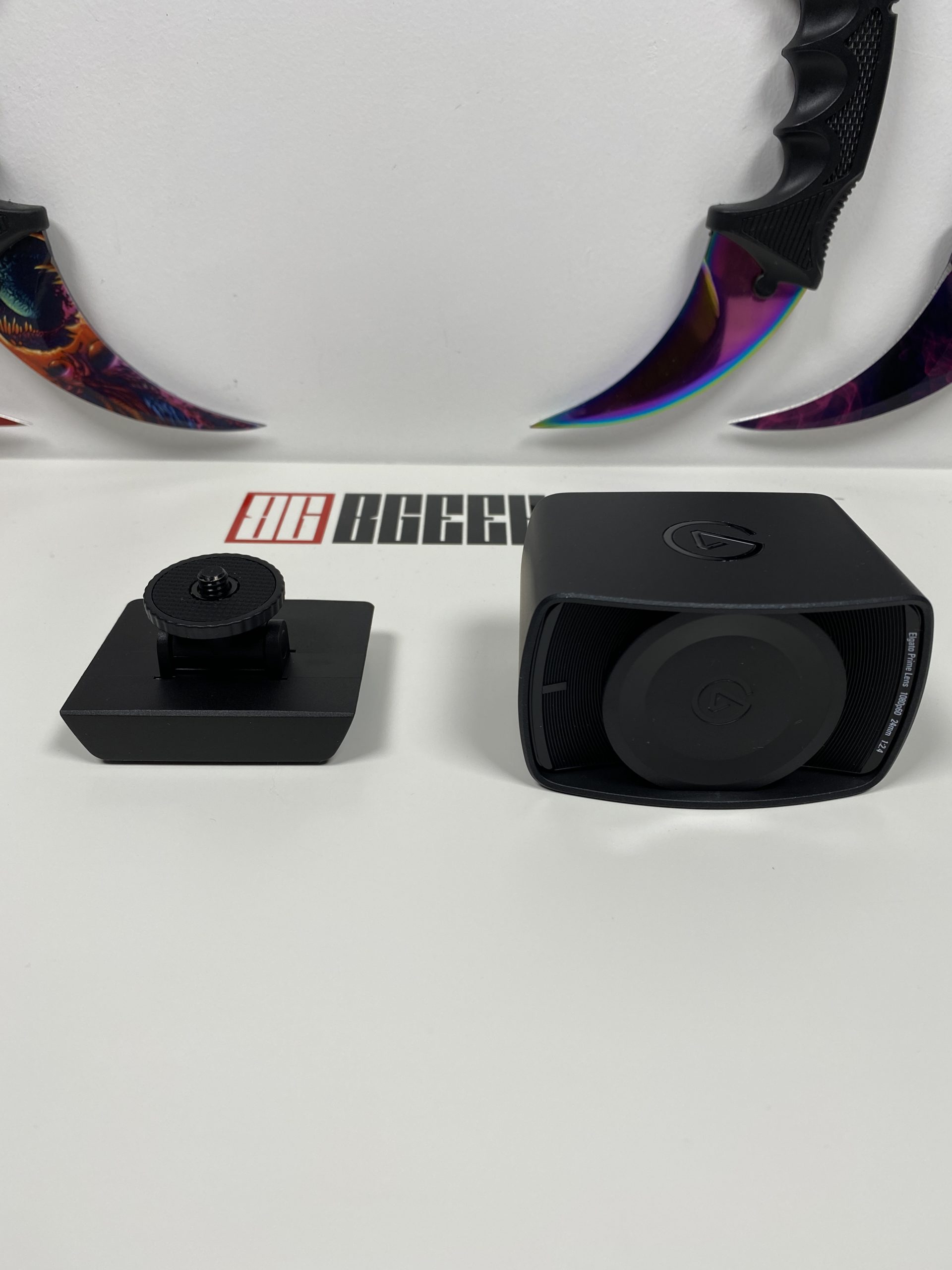 Finally, let's not forget the simple but so useful cap for the Facecam lens. It has the Elgato logo engraved on the front and protects the camera itself from dust and scratches. But also protects us from applications that open our camera without first asking for approval.
A very useful detail that we do not see so often in other webcams.
Elgato Facecam Functionality
Elgato Facecam may be a beautiful camera, but what makes it a beast is what it hides on the inside.
Hardware
Lens
Let's start with the lens. The truth is that it uses 8 different elements. All glass. With f/2.4 aperture and focal length 24 mm. How do you get started on the perfect studio video? Elgato shares their secrets with us:
Aspherical surface

Maximizes the sharpness of the image perimeter.

Low dispersion glass

Reduces chromatic aberration.
Enhances contrast, tonality and sharpness.
Stable transmission throughout the color spectrum.
Neutral colors, no shade, no color distortion.

Eighteen anti-reflective coatings

Improves image transmission.
Prevents lens flare.
Preserves the details of the image.

IR-Cut filter

Prevents infrared light from disturbing the sensor.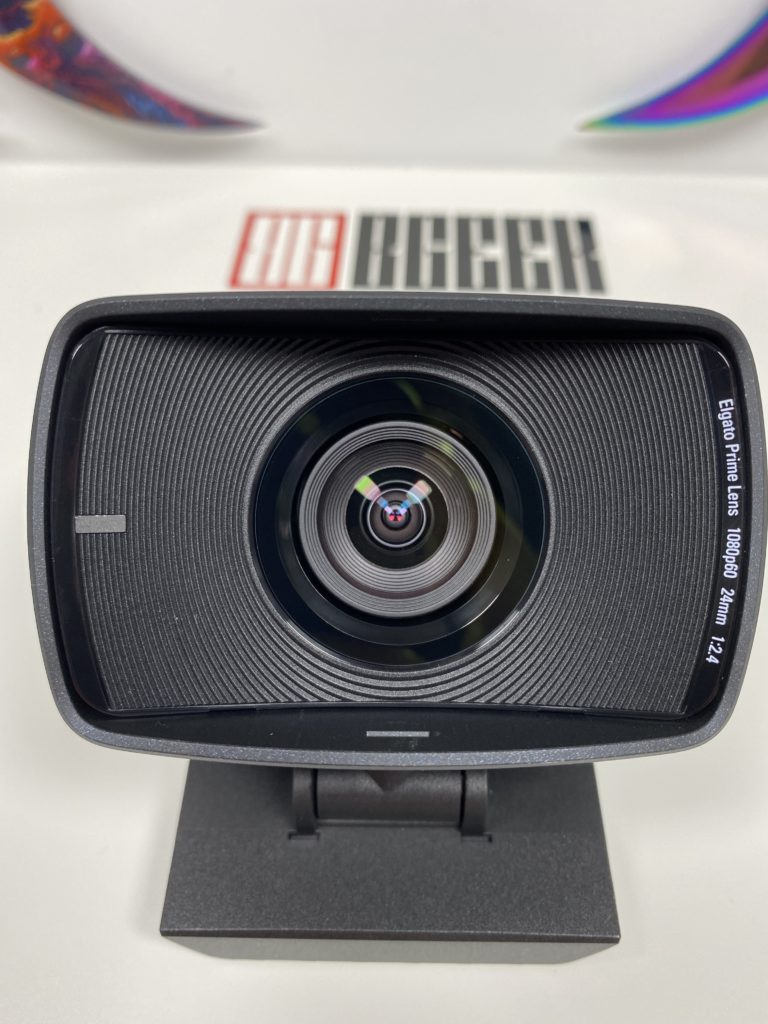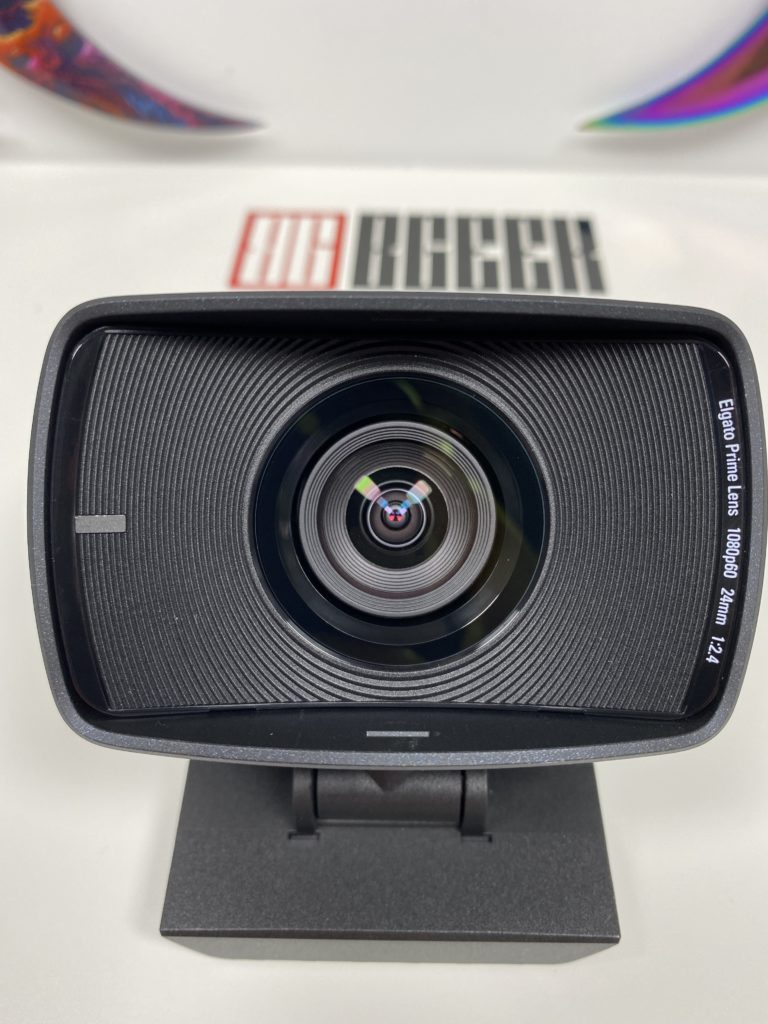 A glass behind a glass behind a glass behind a glass etc…
The sensor
The sensor used by Facecam is Sony® STARVIS ™ CMOS. Optimized for indoor use, it allows Facecam to capture great detail and minimal noise.
Directors and photographers rely on Sony image sensors for their industry-leading performance. Become your own director and shine on Twitch, Youtube and Zoom, in all lighting conditions.
Behind the sensor there is a custom heat sink that keeps the camera cool 24/7. This, of course, combined with the grille on the back of the camera.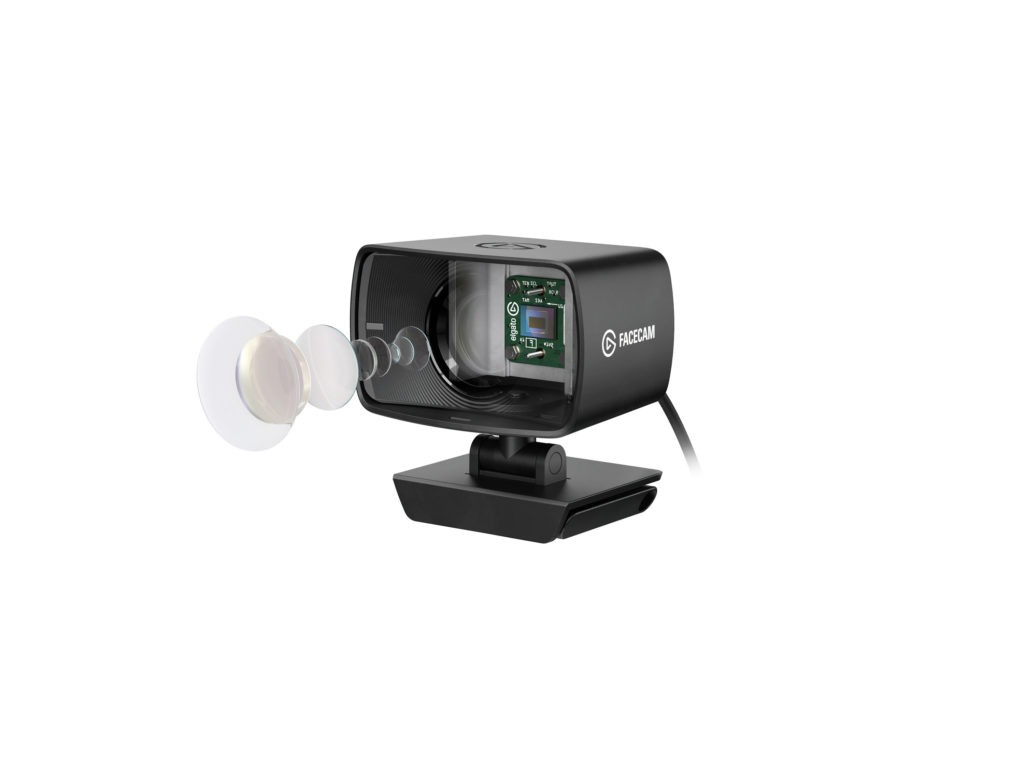 Processor
An extremely fast processor that can do everything automatically to make your video look perfect. Or you can go on manual mode, so you can have full control of the camera. Just like with a DSLR.
Exposure Metering

Average and center-weighted.

Automatic and manual exposure adjustment

Professional adjustment of shutter speed and exposure.

Millions of calculations per millisecond

Demosaicing algorithm (helps with color reconstruction)
Manual and automatic exposure
Compensation for black levels
Defect correction
Color correction
Automatic white balance
Automatic exposure and noise reduction
Lens shading correction
Lens distortion correction
Lens color deflection correction
Tone curve mapping
Color sharpening
Flickering compensation
Color space conversion
Yes, the list is long but I did not want to leave anything out. It is unbelievable that all these checks and calculations are done in less than a second.
These speeds are possible thanks to the high-speed circuit powered by Facecam USB-C to USB-A cable. USB 3.0 transmits uncompressed video with the lowest latency and through the Type-C port it becomes a game.
Elgato Facecam also comes with its own flash memory that helps us store all our settings directly on the camera. So, it will be ready for use every time we connect it to our computer.
How exactly do we set up Facecam? Via Elgato software called Camera hub.
Software
Using the Camera hub by Elgato you can adjust everything we mentioned above. Then press Save and you are ready to take your camera with you, connect it to any other computer, even Mac, and your settings will be there.
More specifically, through the Camera Hub we can tweak the Zoom, image, exposure, white balance, and the image processing. Here, you can also find the magic option for 60hz. Facecam offers 60 true fps in 1080p video.
OF COURSE Facecam is compatible with Stream Deck. One more reason to love Elgato. All your peripherals can be adjusted at the touch of a button on the Stream Deck. I can't get enough of it.
Verdict
I will just say that it managed to get me to change the webcam that I used almost every day for my work for the last 3 years. If you are a streamer, YouTuber or even if you want to have a good video quality in the zoom meeting of your work, then do not ignore this camera. I'm sure a test will convince you.
The Elgato Facecam costs € 159.99 and you can buy it directly from the Elgato online store. It may sound expensive, but for what it offers, its price is very reasonable. It is a pocket DSLR.
I would like to thank Elgato for providing the review unit we used.