You'll love it if:
You want to experience the new amazing single-seaters
The latest My Team features excite you
You are in search of the ideal co-op racing game
You want a near perfect feel of the F1 racetracks
Not for you if:
You hate embedded microtransactions
Virtual, unimportant lifestyle isn't your thing
You expected major visual upgrades
Formula 1's radically new era is midway through its inaugural season and it somehow feels very similar to the F1 of the past. The overall standings are slightly changed and a different team is steamrolling in the front of the field. But there is a sense that the 2022 regulations have caused as many problems as they have addressed, while the positives of the new rule set won't get noticed for a couple more years.
Powered by Netflix's "Drive to Survive" series, everyone knows about last season's dramatic ending. But its noticeable transition from sheer sports to an entertainment spectacle has drawn numerous, younger, fans into F1 as a result of the Netflix series. Giving the sport amounts of popularity it hasn't seen in decades. Although there haven't been many significant adjustments to the video game tie-in, one, in particular, would have been best if it had never appeared.
F1 22 Review: Visuals
The official F1 intro clip plays as soon as you start the game, and everything seems as authentic as it possibly could be, including Formula 1 broadcast overlays, information tables, and the whole shebang. F1 22 is a recognizable racer, but it's not exactly a radical new era for Codemasters' long-running series.
It includes this season's drivers and vehicles, with things on track being sharper than ever. Each track's visual representation seems unique. The level of immersion is further increased by paying attention to the distinct details that surround every track. The same idea holds for the cars and single-seaters, which are once more the center of attention in terms of both appearance and roaring sound design.
In addition, F1 22 debuts the Miami International Autodrome. A city-centered course with 19 total turns and 3 DRS zones. Based on their new real-life modifications, the circuits in Spain, Australia, and Abu Dhabi have also been updated.
For this year's iteration, Codemasters remained true to the Ego Engine 4.0, which is almost seven years old and you can kind of tell. Not that the game looks bad, on the contrary, the step-up from last year is evident, but it trails behind similar contemporary racing titles like Forza or Gran Turismo. It just lacks any new visually striking elements. But, the new single-seaters, including Ferrari's astonishingly gorgeous F1-75, rain, and tracks were all exceptionally made.
In regards to graphical fidelity, I'd also like to briefly concentrate on the game's optimization. I didn't encounter any freezes or stutters while racing, which is unquestionably a positive experience.
F1 22 Review: Gameplay and New features
The new Formula 1 cars for the 2022 season appear to be more reactive than those from the previous one, providing a new challenge for experienced players without being overly challenging to master. However, there still is a steep learning curve, and it will take novice players several hours to master the fundamentals of driving in F1 22. Though their racing experience can be tailored using the numerous driving aids and customization options that the developer added.
Virtual Reality
F1 22 has introduced some fresh elements that are sure to thrill players. The arrival of Virtual Reality (VR) for PC gamers is the first thing to scratch off the list. PC users have been asking Codemasters to implement this feature for a very long time, and at last, their prayers have been answered. All types of devices, such as the Oculus Rift S, HTC Vive, Valve Index, and others, will be supported by the VR system. Though I wasn't able to personally witness it, I'm positive that many players are looking forward to this.
Driving experience
This year's vehicles are also new and vastly different to last year's. More compact, with wider wheels and lower-profile tires, meaning that the game's tire model, from which most of the cars' feel stems, had to be redesigned by Codemasters. A round of applause for the developer's technical expertise! F1 22 doesn't in any way give the impression that one of its essential components has been taken out and replaced when you play it.
As opposed to that, even without the unpleasant porpoising and bouncing that has plagued the bulk of the field this season, you can immediately tell the difference between this year's cars and those from last year. Bulkier and slower, as a result, they feel more grounded, with more mechanical grip, and, like their real-world equivalents, have less of a tendency to slide when you enter the slipstream of the car in front.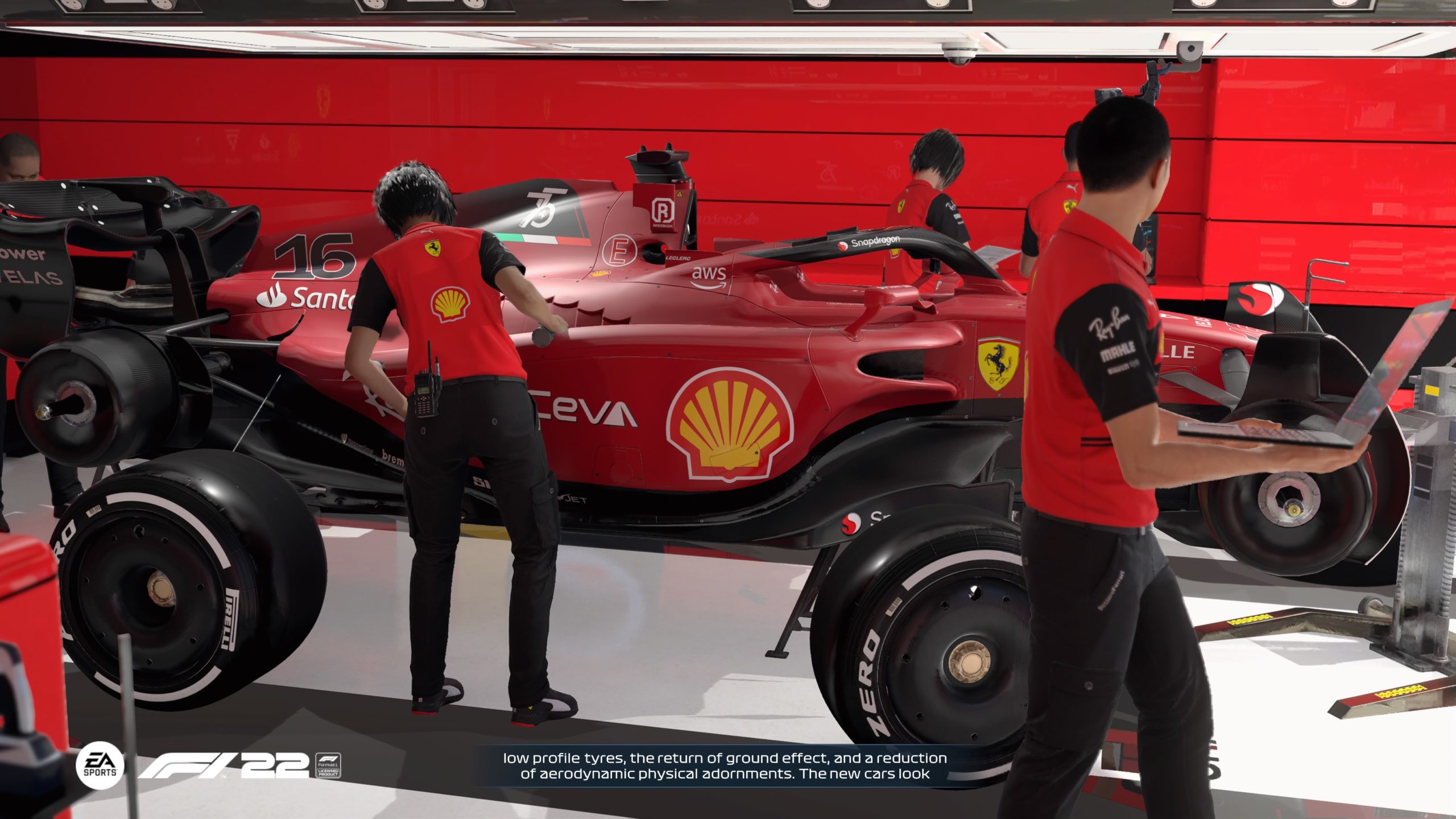 Quality of life improvements
The quality of life improvements are exceptional. Your game is now more accessible than ever thanks to the additional aids and difficulty settings. Ensuring that levels are both challenging and entertaining for gamers of all skill levels and ages. 
The new adaptive AI mode has been introduced, allowing you to modify the game's difficulty based on how well you race. At first sight, it seemed to be keeping the pack in overtaking distance for less skilled drivers. Despite expertise, this should result in far more intense racing.
The drivers have also received improvements. Although far from perfect, these AI athletes force you to swiftly and constantly switch between defense and offense. Making them feel more like real human players behind the wheel. In earlier F1 games, you didn't have to worry about them being aggressive or trying different tactics.
However, they are also prone to errors when they are ahead, such as locking their wheels when braking, allowing you to overtake them with ease. In the event of you losing a position or crashing during the race, you can always use the trusty Flashback option to go back and resume where you left off.
The lifestyle of a Formula 1 driver…
The letdown though is in the surrounding package of the game. I'm referring to the brand-new F1 Life component, which was created as a replacement for the "Breaking Point" cinematic campaign from the previous year. F1 Life gives you a glimpse inside the opulent lifestyle of a Formula 1 driver. This newly added feature greets you as you launch F1 22 for the first time.
It offers a luxurious virtual residence that you can furnish with pricey decor and have other players visit. You can even purchase virtual apparel and accessories for your driver's avatar from existing brands. You can also unlock and display supercars. And this is pretty much it for F1 Life.
Though it may be worse, it's exactly the kind of thing doomsayers said would be added to the game after the acquisition of Codemasters by EA last year. F1 Life is a dull addition that solely serves to promote the game's microtransaction system. The positive part is that F1 Life doesn't affect any single-player content at all; it's merely decorations for the main menu and online lobbies.
…and their supercars (?)
Following F1 Life's uninteresting path, are the Supercars. They don't contribute anything particularly noteworthy to F1 22 while their whole implementation feels a bit rushed. They aren't even all that difficult to unlock. Within the first few hours, I was able to obtain six out of the 10 in total. They are an ok addition that gives diversity to a series that previously only emphasized on single-seater vehicles. You can use them to participate in time trials or Pirelli Hot Laps.
Weight and momentum, on the other hand, are present when driving a supercar. Matched by the thunderous sound of a Mercedes-AMG GT or the stunning scream of a Ferrari Roma. It shows promise as a foundation for whatever Codemasters may want to take on next, but for now, they function decently as a temporary diversion from single-seaters.
Other minor but significant changes to the overall racing experience were the smart reworking of the track acclimatization program which has been improved visually. The fuel management program gained brilliant new graphics that demonstrate how gentle your right foot is.
F1 22 Review: Career and multiplayer
The core of F1 22 can be found in the Career mode. Starting in Formula 2 and working your way up to Formula 1 is an option, as is joining the Formula 1 starting grid right away if you want to pursue the Driver's World Championship. You can change the race's duration, switch between practice sessions, and, if you'd like, organize a Sprint race ahead of the main event. There are numerous ways to customize your racing experience.
As you set up your racing team to compete for the World Constructors Championship in F1 22's My Team mode, the situation becomes even more intriguing. You have three admission options for this game mode: Newcomer, Challenger, and Front Runner.
It is, in my opinion, a fantastic addition for seasoned players who have already led their teams from the middle or bottom of the field to victories in prior Grand Prix. In Newcomer, you begin from scratch, and in Challenger, you seize control of an established midfield team. Both demand a little more work as you spend money on research to make your cars faster and hire competent drivers.
Your team's drivers, marketing, development, sponsors, and other factors can all be affected by the Department Events in F1 22. As a result, these unpredictably occurring events can be a valuable ally. Each choice you make could benefit your team in the near future or could have long-term repercussions that could even be addressed in-game. The possible consequences of this feature enrich the "My Team" feature with greater depth, and they force you to be truthful in your decision-making.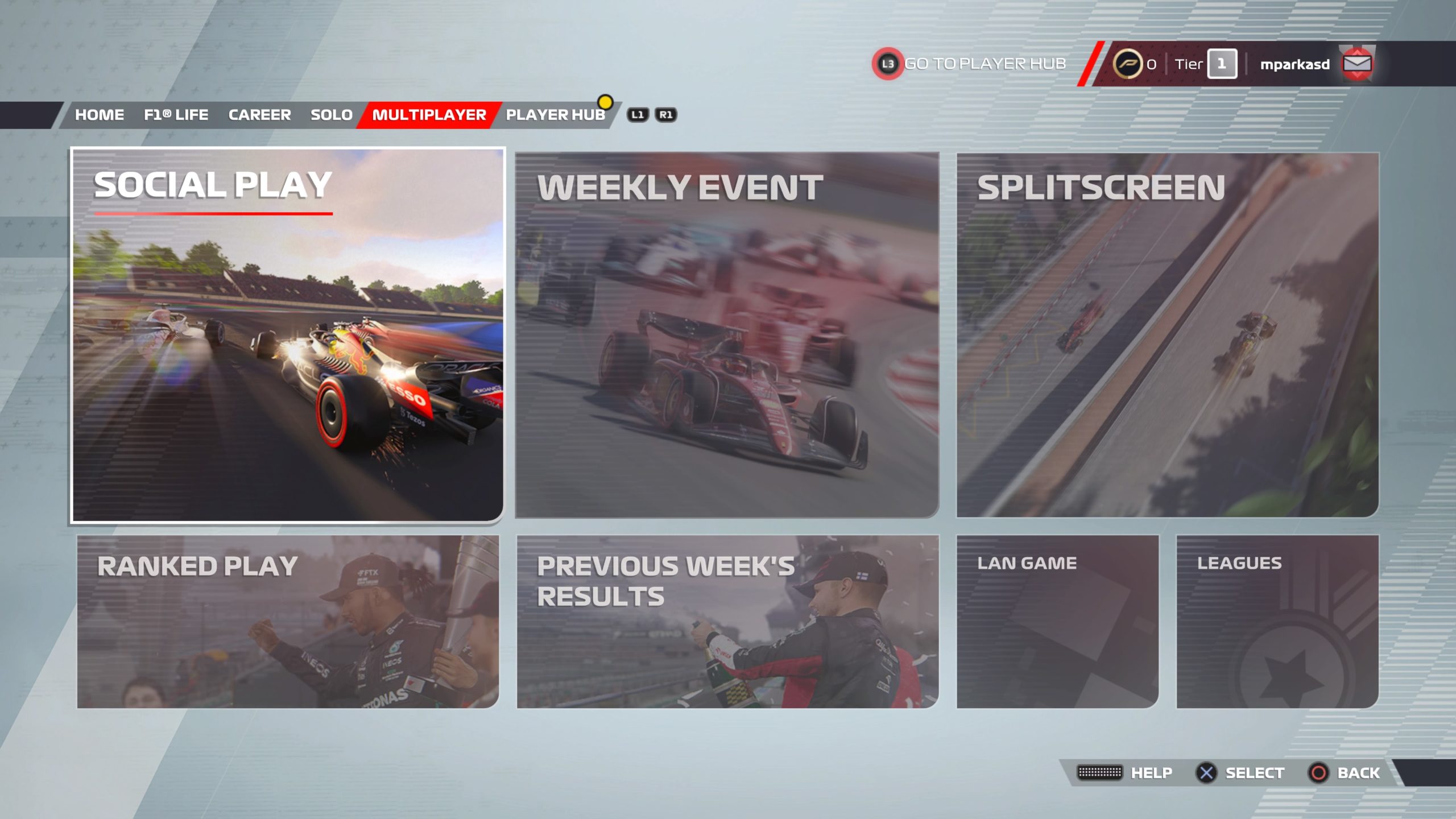 Multiplayer and co-op
F1 22 has every mode you might anticipate from an online racing game. There are many choices available, with social play coming first. Players can construct their events and ask their online friends to join them in F1 Life, which is strongly tied to this game mode. Players will be able to search and join pre-made lobbies.
I was delighted that Codemasters didn't overlook F1 22's split-screen feature, allowing two players to play simultaneously on the same system. Additionally, you and a friend can begin your careers as drivers at the same time. You can sign your contracts with any team of your choice or join the same team as co-drivers.
The ranked game mode is available for truly die-hard gamers. This mode offers both quick races and lengthy races. Lengthy races are undoubtedly more difficult since participants must manage their pit strategy and tires. All the ingredients in order to have you coming back. Finally, Codemasters plans to add full cross-platform online play through an update later on.
Unfortunately, I only manage to enjoy a substantial portion of the single-player mode while the multiplayer modes sadly had little or no people.
F1 22 Review: Audio
Moreover, F1 22 stands out from previous F1 games thanks to the new race engineer voice and the option to replace commentator David Croft with Alex Jacques. Combined with the new in-between-action breaks successfully replicating the TV's Formula 1 coverage, the immersion experience has substantially strengthened. The game's commentary has been re-recorded and expanded by Codemasters for various regions. In other words, for this specific game, every single piece of commentary has been completely redone in a variety of languages.
Along with that, players may also savor the vibrant on-track music. EA has, in my opinion, always been recognized for its in-game music. This is seen in the case of FIFA. It should therefore go without saying that the music and audio for the F1 series would be excellent as well.
F1 22 Review – Conclusions
Considering it all, F1 22 resembles a pit stop more than a top-three finish. Simply put, "F1 Life" lacks creativity, and the supercars seem to be out of place. F1 22 appears to be able to provide an exciting on-track experience, which will satisfy any fan of simulation racing games, even with all its flaws. It would seem that Codemasters were laying the foundation for the next projects since the video game itself lacked additional content.
Fans of Formula 1 will appreciate how this year's cars are portrayed in F1 22, and for many, that ought to be sufficient justification for purchasing the game. However, it's unfortunate that even this historic and exquisitely made franchise has succumbed to EA's insatiable drive to bring microtransactions to all of its games. On the contrary, people that continue to appreciate F1 2021, and don't care much about the new adjustments, won't miss much.
P.S. In any case that you don't feel like driving with a controller, and you're in search for a wheel stand for your gaming wheel, check out this Trak Racer review.
Huge thanks to Bandai Namco EU for the Review Key.