Hercule Poirot: The First Cases, as the title suggests, lets you explore some of the famous detective's first cases. This detective game has been developed by Blazing Griffin and is available for PC and consoles. I've chosen to play it on the Nintendo Switch, because I think this genre of game is more laid-back and perfectly suited for handheld. I wound up spending all Sunday on the couch, snuggled up in a nice warm blanket, with the game equivalent of a classic mystery book. Was it a Sunday well spent?
Hercule Poirot: The First Cases – Story
The story was created exclusively for this game; so if you're a big fan of Poirot, this is your chance to discover some new stories starring the famous detective. Better yet, in the game he has just been promoted from officer to detective, so you'll get to know him in his early days. Since this is a mystery game, I won't tell you too much about the story, as that would defeat the whole purpose of playing it. But I'll sketch a bit of the background. You can decide for yourself whether this is your cup of tea or not.
TL;DR
For you if
Not for you if
– You like detective games
– Solving mysteries is your thing
– You enjoy a laid-back game
– You're a fan of Hercule Poirot

– You're looking for challenging gameplay
– You don't like mystery novels or games
Hercule Poirot
Hercule Poirot is a fictional detective from Brussels, created by the writer Agatha Christie in 1920. You don't have to be an avid book reader to know Monsieur Poirot, as he's also been portrayed on stage, television, film and radio. Yes there's even a manga and anime series based on the Belgian detective. As a detective, he is very logical and will often talk about his "little grey cells" (meaning his brains) and "order and method". He also tends to conceal important details until the right moment. "Murder on the Orient Express" is likely the title you're most familiar with. I wouldn't say he's necessarily a likeable man, but he's a solid detective with a mind for justice.
The first cases
Hercule Poirot: The First Cases kicks off with a prologue, which provides both a nice segue into the story and a tutorial. Officer Poirot meets maid Elisabeth, who's desperately looking for a man of the law because there's been a burglary at the Van den Bosch's house. He, of course, comes along and investigates the crime scene. He quickly learns there hasn't actually been a crime committed, and leaves quite the impression on the young lady of the house: Angeline Van den Bosch.
Some years later, now officially a detective, he receives an invitation from Angeline. She asks him to attend her engagement party at the family house. Although the real reason for his invitation is to investigate blackmail letters the young woman has recently received. As expected, the dinner party turns into a murder mystery party and your little grey cells are put to work to solve several mysteries and catch the killer.
Hercule Poirot: The First Cases – Gameplay
As opposed to Famicom Detective Club, this is not a point and click type detective game. You play as Hercule Poirot and walk around freely within each room or area. If there's an object of interest, you'll notice an icon appearing from pretty far away. Thanks to that you won't find yourself circling the same rooms over and over again in case you missed something.
Mind maps
The objectives in this game take the form of "mind maps" that you need to complete in order to solve mysteries. Some mind maps are smaller, of which the outcome plays a role in a bigger mind map. Each mind map has an indicator of the amount of links you can currently make. Those links are a deduction based on two facts or clues. Mind maps can also give you objectives like "talk to X" or "inspect roomy Y". If you ever feel stuck, make sure you've made all available links and completed the other objectives. The story will progress when you've found all there is to find.
Challenging dialogue
In Hercule Poirot: The First Cases there is little room to actually fail. Throughout the game you'll reach some "challenging dialogues". There you'll need to understand the other person's character and choose the best approach to get them to confess information. If you fail to do so, you can just try again. The only exception is the final chapter of the game, where you will get a different ending based on how you handle these dialogues.
Hercule Poirot: The First Cases – Conclusion
If you're a fan of classic detective novels, you'll find that playing this game is pretty similar to reading one of the classics. Because of that, none of the "plot twists" are very shocking though. The story is solid however, with some impressive voice-acting in a range of languages that support it very well. The English contained quite a bit of French actually, which portrays the time and place of the story adequately. Although you can even buy the soundtrack separately, it did not stand out to me.
The gameplay is solid, although easy, since there's no opportunity for you to really fail. There is also some achievement hunting, if that interests you. In general, there's no room for frustration. That's often the case in other detective games, where you need to ask questions in a certain order or click every possible object. I do have to point out that I ran into a bug (which has already been patched for PC). During the second chapter I had no outstanding objectives or links, yet the story would not progress. Luckily I found a thread online, explaining there was one more link available, despite the mind map already being solved. From there it was smooth sailing.
Definitely give Hercule Poirot: The First Cases a go if you're looking for something laid-back, yet immersive.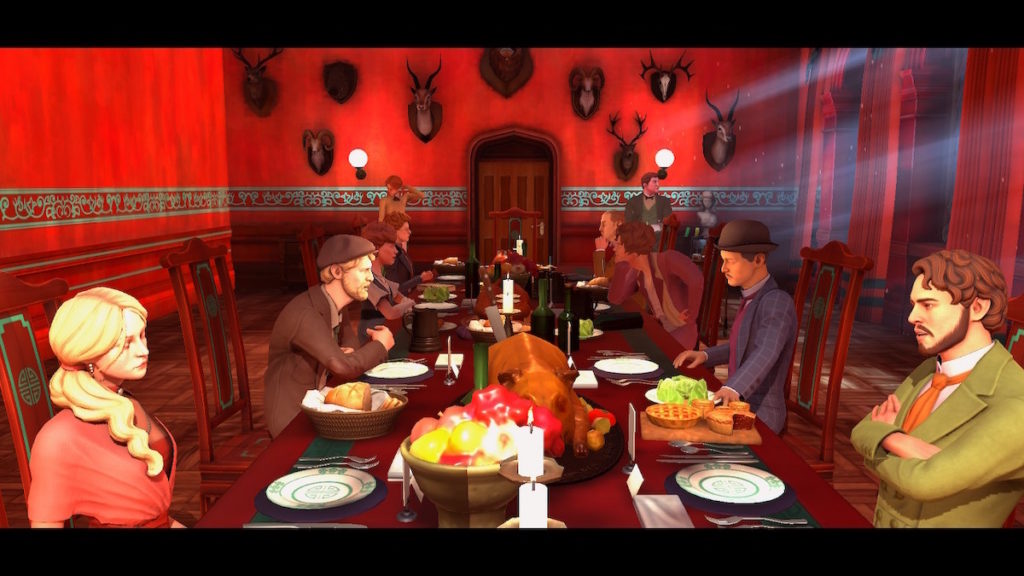 I'd also like to thank Enarxis for the opportunity to review this title!