Elegant, simple, and frugal. This is how we could quickly characterize the Logitech G305 mouse. Designed to satisfy even the most demanding gamer audience, the G305 can easily become your new BFF when it comes to gaming. But let's check out in more detail what this little diamond has to offer:
The Logitech G305 Wireless at first glance
Opening the box, in our hands, we have a mouse "dressed" with a subtle, but at the same time girly, combination of colors in lilac and purple. (Of course, the mouse also comes in other wonderful colors: black, blue, mint green, and white, but lilac, as a girl, stole my heart). This is an ideal combination, as the soft lilac relaxes the eye, while the purple details add elements of dynamism to the overall appearance of the mouse. The mouse weighs 98 grams. Therefore, it is not one of the lightest you will find in terms of the range of wireless mice in the market. Especially if we consider that the average reaches 83 grams. Still, its shape is based on the traditional and legendary design of the classic mouse, offering enough comfort to the small and medium-sized palms.
Playing with the DPI is possible in any case, although of course, they do not reach very high levels. Specifically, the DPI start at 200 and can be adjusted (per +50) to reach up to 12,000 thanks to the mouse's HERO sensor, which also offers up to 10x power efficiency. Of course, this makes it quite accurate depending on the DPI setting. As well as quite sensitive, depending on the user preference. Finally, Lightspeed technology significantly contributes to reducing any response delays. When it comes to a gaming mouse's battery, a great range of use plays a very important role. Thus, the G305 can withstand up to 250 hours of use with a single AA battery.
Buttons and use
The mouse has 6 different buttons, two of which are located on the left side, covering almost the entire palm of your hand. Of course, this position may not be super convenient for left-handed gamers.
You can discover and configure all mouse capabilities through GHUB. The software provided by Logitech. In addition, there are special configuration categories for DPI, commands, and Macros separately. This is a fairly simple, easy-to-use, and well-designed program.
At this point, I must mention that unfortunately, although the mouse has on-board memory, you can only save one profile at a time. Of course, you can create and save more than one, but you must always open up the software to switch between profiles.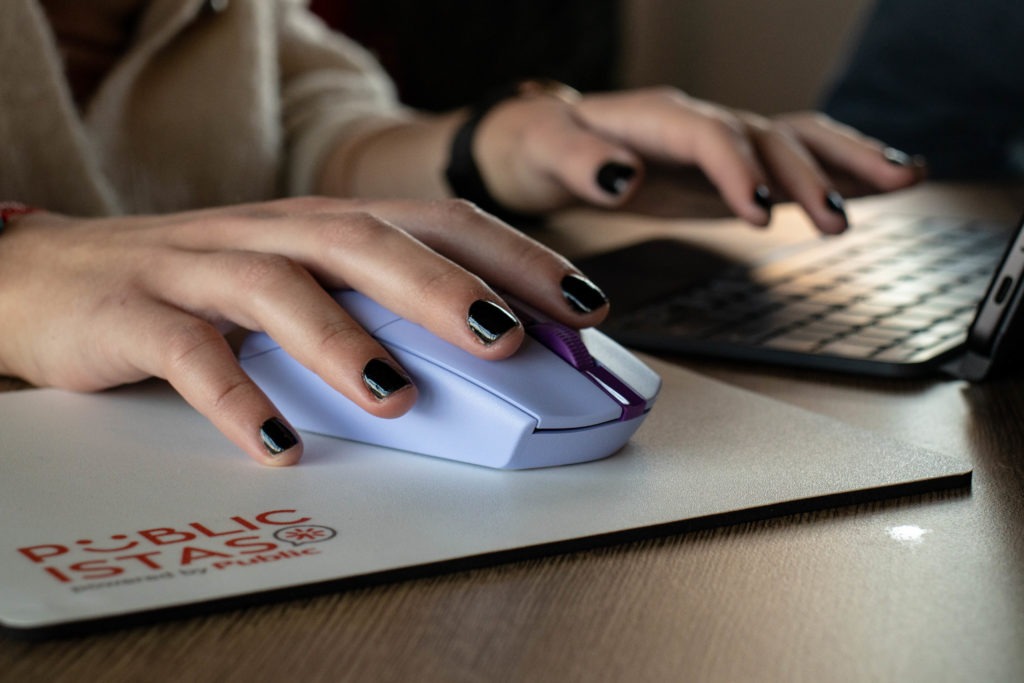 Extra features
Touching on its general features, the Logitech G305 Wireless has no lighting. However, this does not mean it 'lacks' in beauty and style. While at the same time this contributes to a longer battery life. The mouse has a response rate of 11ms, which is quite impressive, with the input lag almost completely absent. Finally, inside the package, you can also find the USB wireless extender cable and of course, the USB wireless receiver.
Verdict
The Logitech G305 is a great choice for a gaming mouse. Features such as its high-performance sensor, its convenient, traditional shape, and its low latency, easily place it high up on the satisfaction bar.
At the same time, GHUB software, which is compatible with Windows and macOS, significantly optimizes the mouse configuration and user experience. Although it is not very light for its size, it is definitely a very sturdy, stylish, and convenient gaming mouse. You can get the Logitech G305 Wireless at every Public store, for €39.90 at the time of writing this review.
If you're looking for more peripherals to surround your G305, the Logitech G435 Lightspeed is one of the best options you can find!