This SteelSeries Arctis 9X review will prove to you that the Arctis 9X is the best headset in the market for your Xbox Series X. Not only is it super comfortable to wear during your long gaming session. It also delivers clear sound and immerses you deeper into the worlds you love. All this and more features truly grant the SteelSeries Arctis 9X the throne of best headset.
Unboxing the SteelSeries Arctis 9X
Just like the SteelSeries Prime+, (that I also reviewed by the way), the box contains only the basics. None of that annoying clutter that only makes it way from the package straight into your trash can. It gives more focus on the product and not two booklets of instructions in seventeen different languages.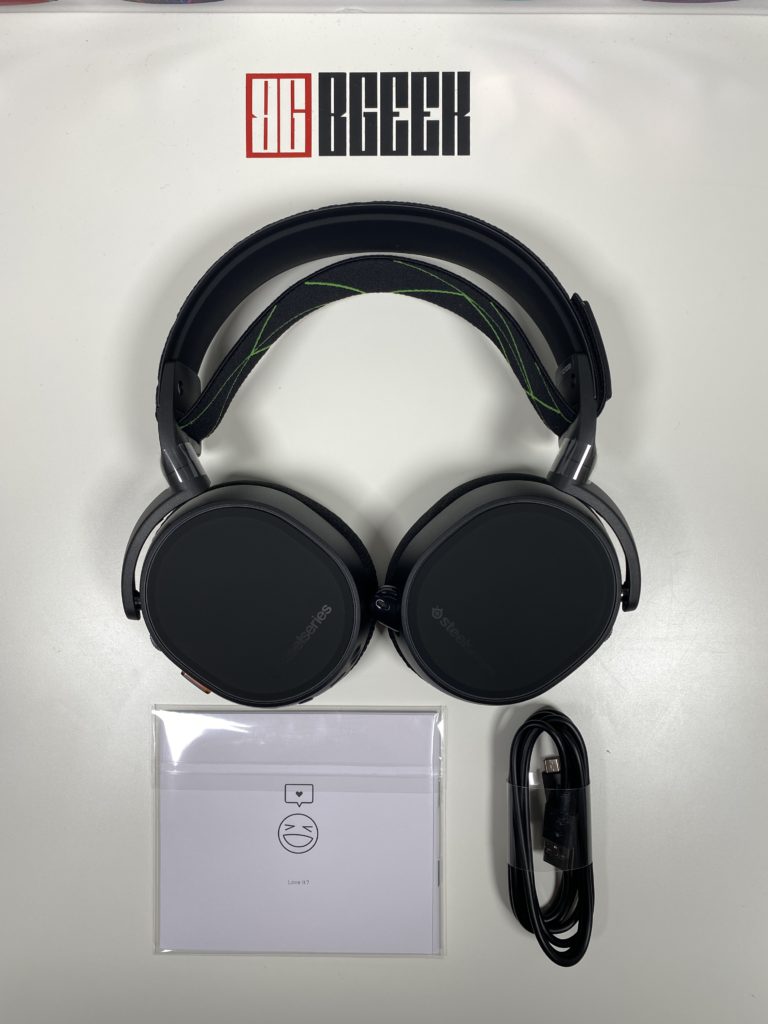 SteelSeries Arctis 9X: Design
Unlike your conventional headsets, the SteelSeries Arctis 9X stands out with its durable steel frame and premium woven ski goggle fabric suspension headband. I was afraid it might not sit sturdy enough. Falling off as I hang my head in defeat after getting domed by a nine year old in Halo Infinite multiplayer. Contrary to my suspicion, it actually sits atop my head quite sturdy. During gaming sessions I was able to reposition myself without it shifting or having to readjust it to a comfortable position. As a reviewer I took it a step further and cleaned the house while wearing it, listening to Spotify as I hunted dust and cat hair. It remained in position like a camper in his favourite corner.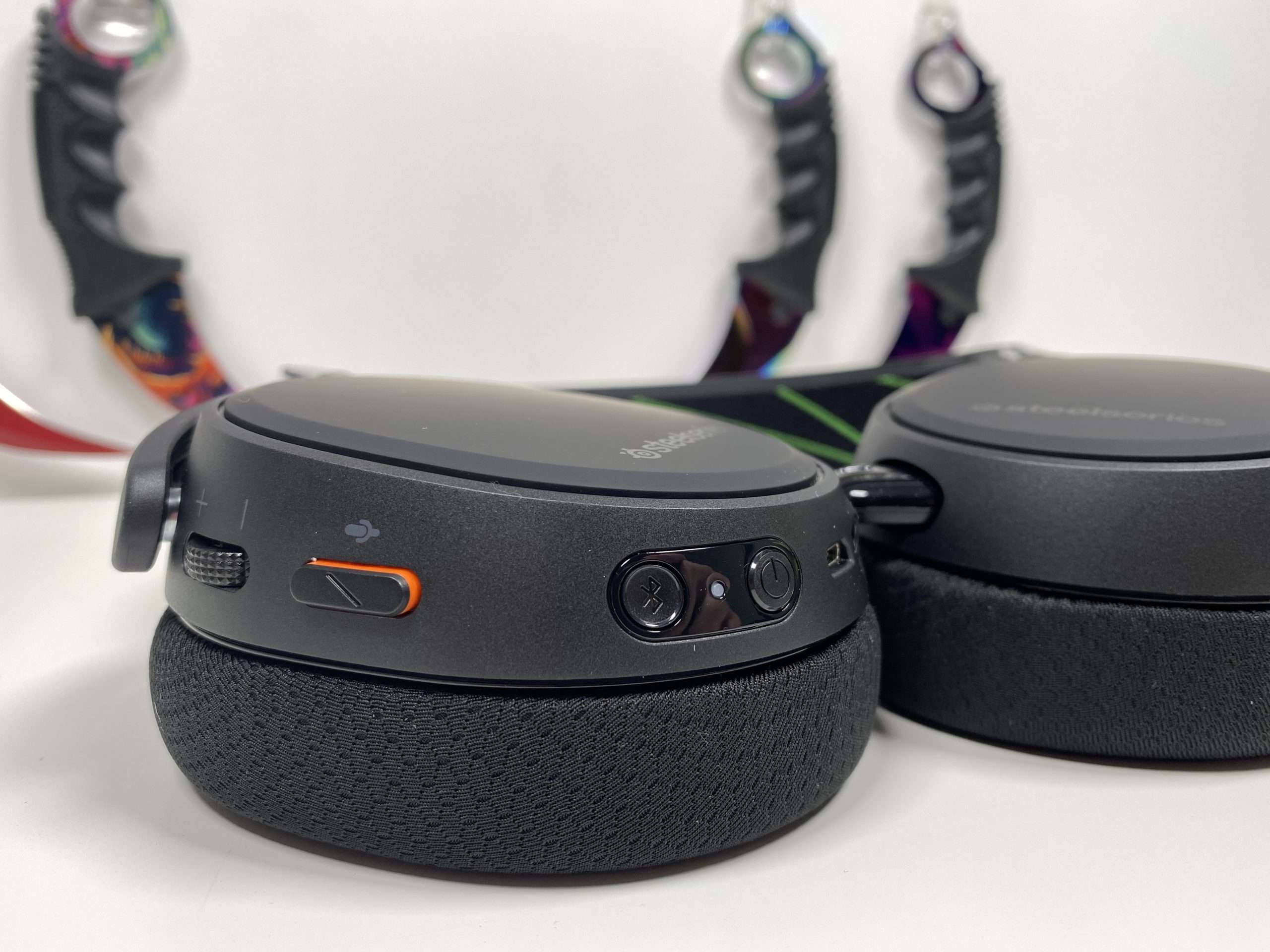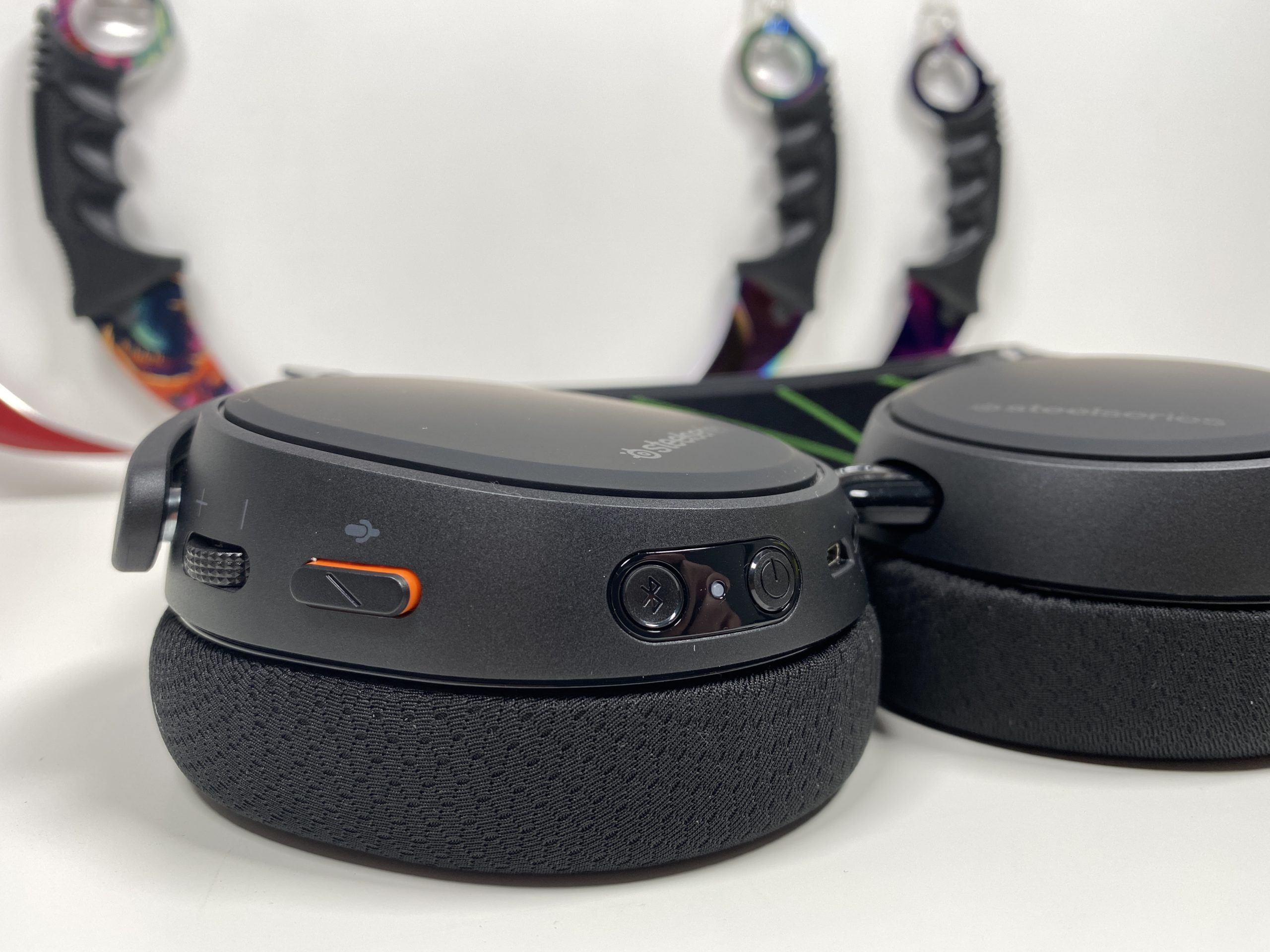 Immersive Windows Sonic Spatial Audio
Let's talk about the headphones of this SteelSeries Arctis 9X headset. The Arctis series by SteelSeries is built around emphasizing subtle but critical sounds. Basically meaning, hearing the small noises that get lost in the chaos of battle. When playing Halo Infinite multiplayer the sounds of grenades stand out between the gunshots. Giving you time to react and evade. Your opponent reloading sounds clearer compared to conventional headphones. Allowing you to push that audio cue and finish the fight.
On top of the amazing Arctis soundscape, the SteelSeries Arctis 9X is built for the Windows Sonic Spatial Audio software that is utilized on the Xbox Series X and S, Xbox one and Windows 10 and 11. Yes, these headphones are built to work with this software, giving a huge advantage in sound quality over headsets that aren't. Furthermore, the headphones are covered with Airweave fabric ear cushions that are so soft and comfortable. I want a pillow made out of that material.
Microphone
The SteelSeries 9X comes equipped with a retractable ClearCast microphone. Once again comparing it to other headsets, it's a huge upgrade for your ears. When you listen to it anyway, your friends will hear your sobs of defeat a lot more clearly. The noise cancellation is good but not good enough to block out the loud D-Pad presses on the Xbox controller. Granted, we tested it in a semi silent environment. Some button presses did get through, although the dishwasher or crazy cat zoomies remained unheard through the microphone.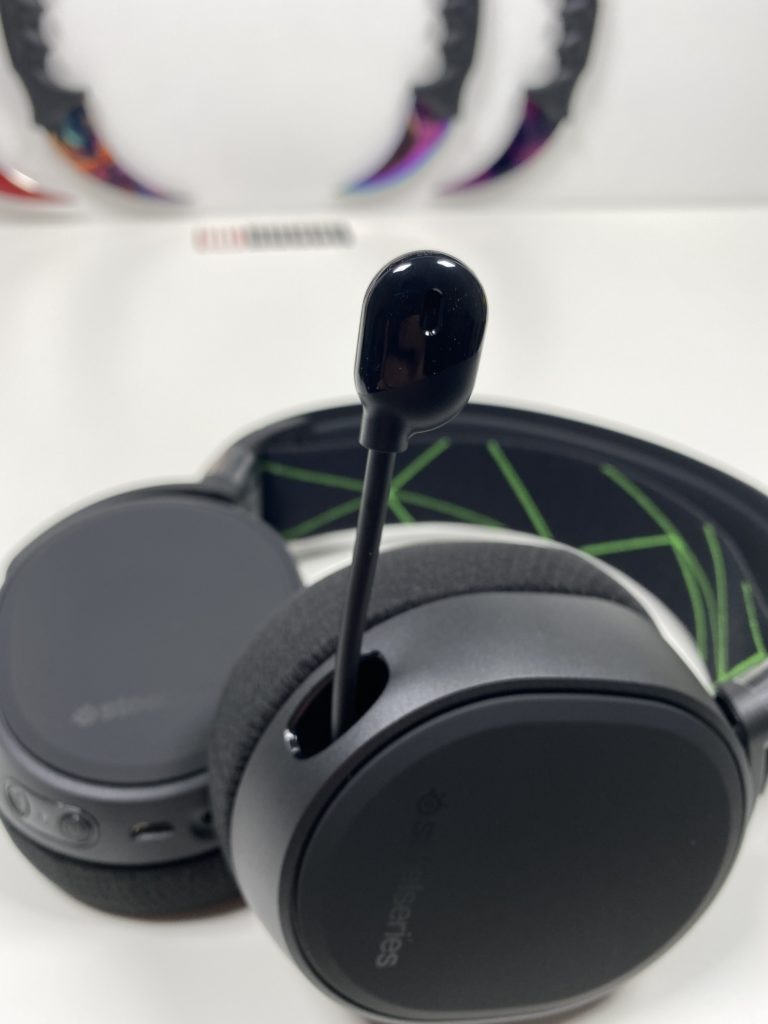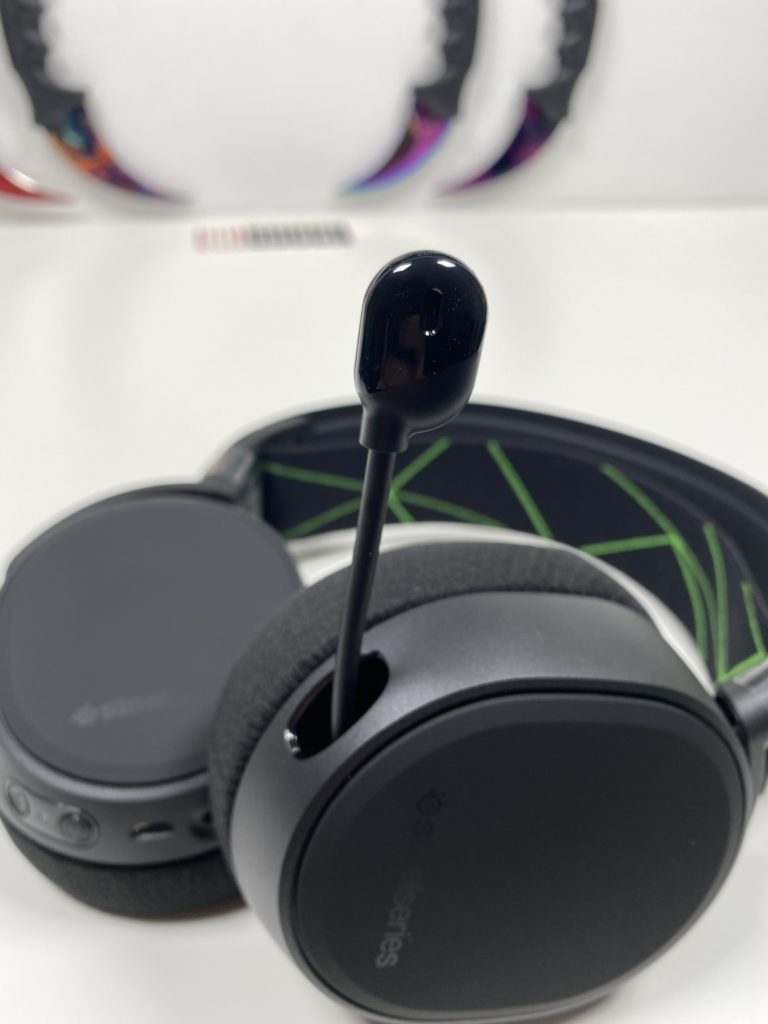 Battery life
Most of the price tag for the SteelSeries Arctis 9X is going to the biggest and best upgrade a wireless headset can have. The battery life of the SteelSeries Arctis 9X is insane, a whopping twenty hours is what SteelSeries promises. And they deliver, at least in my case. If you use your microphone more in multiplayer you might get a few less hours. But overall the battery life is really the most amazing and best feature.
Most wireless headsets only have up to twelve hours, usually less. Take into consideration that batteries decay over time and use; those meager twelve hours suddenly become nine. With a starting battery life of twenty hours the SteelSeries Arctis 9X will still deliver a good performance after battery decay.
Quality of life features
Some other small features on the SteelSeries Arctis 9X are really worth a mention. These features aren't actively marketed on the SteelSeries Arctis 9X website, but can surely make a difference. Especially when you look at the price tag.
Simultaneous Bluetooth
Simultaneous Bluetooth means that you can pair it with your phone and Xbox Series X, at the same time. You can pick up calls while gaming without having to take off the headset. You can now have a lengthy conversation with your favourite scammer. Or talk with your mother while picking up hookers in GTA V. The Bluetooth feature also means you can use it as a wireless headset for your phone.
Turn your Xbox Series X on with the headset
You can use the SteelSeries Arctis 9X to turn on your console. Just like an Xbox controller, turning on the headset will signal your console to boot up. Not a huge feature but definitely worth mentioning.
Built in Equalizer
The four EQ presets can really change your hearing experience. The choice between flat, bass boost, smiley and focus really change the range of sounds that pop out. Using the power button, a short press cycles between the presets. A beep will tell you what EQ preset you are using.
And last but not least, the LED light will show how empty your battery is when you turn it on and off. The colour of the light will instantly tell you if the SteelSeries Arctis 9X needs charging after your gaming session.
SteelSeries Arctis 9X Price – Quality is expensive
At a retail price of €219,99 the SteelSeries Arctis 9X really takes a chunk out of your budget. You can almost buy half an Xbox Series X for the price of this headset. With the quality of the sound and comfort it offers it's really worth it. But the true test will be a longevity one, will the battery really uphold its battery life. Are the strap and frame sturdy enough to withstand use over time?
The SteelSeries Arctis 9X really is designed for the serious gamer. And by serious I don't mean competitive only. But the gamer that really wants to immersive itself into worlds they play. Someone who likes having a comfortable piece of hardware over their ears. While listening to the sounds of the forest and mystical creatures within. While everything sounds crystal clear without having to worry about a battery interrupting the experience. Yeah I really like the SteelSeries Arctis 9X and you probably will too.