The main thing that you should take away from this SureFire Kingpin M2 review is that this is an incredibly durable keyboard with a superb format. Compared to my actual keyboard the SureFire Kingpin M2 is noticeably smaller and opens up more space on my desk. I can place it around for a perfect position without the edges getting in the way of my mouse movements. The Title of this SureFire Kingpin M2 review really says it all, a strong keyboard and loud keystrokes make it the perfect weapon for online raging barbarians.
As a final note for this SureFire Kingpin M2 review I just want to add that SureFire is also a supplier of tactical flashlights, I've seen and used them while playing airsoft and it confused the hell out of me at first. But SureFire hardware for gamers is a brand introduced by Verbatim, a company that specializes in data storage.
Unboxing the SureFire Kingpin M2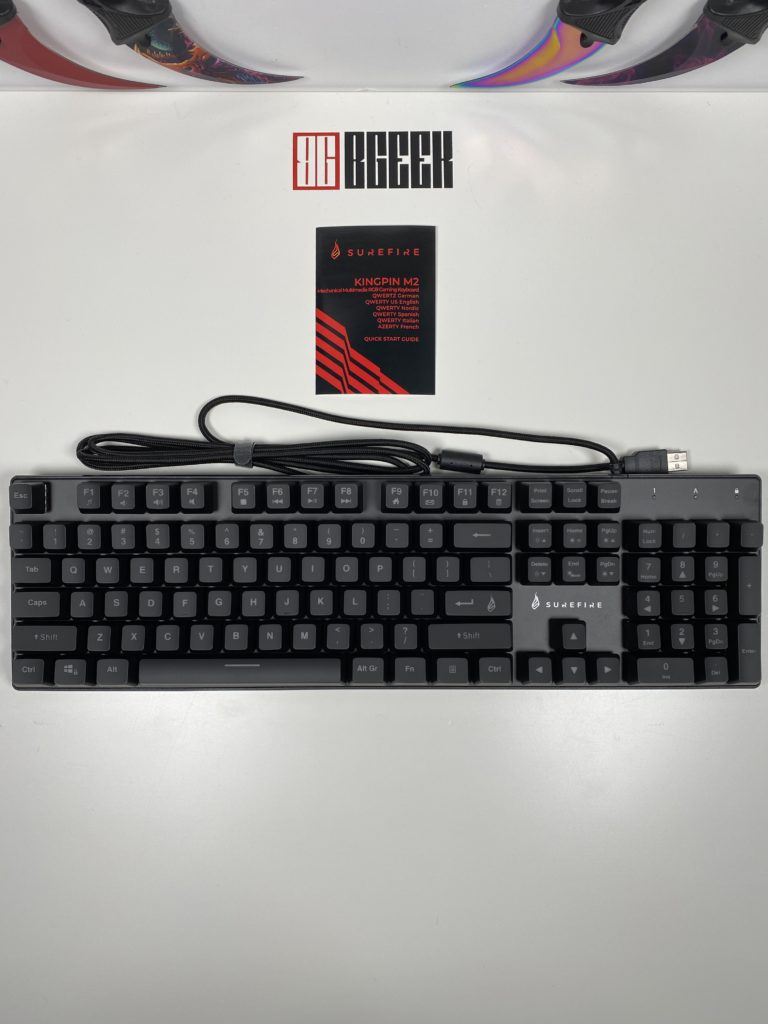 The best weapon for a barbarian is a simple one. The box of the SureFire Kingpin M2 review unit only has the basics. No confusing extra warranty booklets or stickers for your loincloth. A booklet on the Surefire Kingpin M2 software and the glorious keyboard itself. As it should with all things, less waste is what we all need in our lives.
SureFire Kingpin M2 review – Design
The SureFire Kingpin M2 is only 436mm by 125,7mm making it the smallest full keyboard in my collection. Coming from a 505mm by 210mm keyboard it felt like my oversized DOOM mouse pad was an open field. But its small size doesn't mean it will blow away at the slightest breeze; with a whopping 1,025 kg it feels really hefty and stays in place during the most intense battles.
Keyboard keys
The main feature of the keyboard, and what we will be using most, are the keys. An open frame lets you look straight at the switches beneath your keys. Making it easy to spot dirt and even easier to clean it. The SureFire Kingpin M2 review unit had the standard QWERTY US English load-out. What bothered me most when I started using it was the small ENTER key. Most of the keyboards that I had in the past rocked the old huge ENTER key you couldn't miss. It took a while for me to hit it consistently, I'm writing this SureFire Kingpin M2 review on it and my fingers adapted swiftly enough to the smaller key.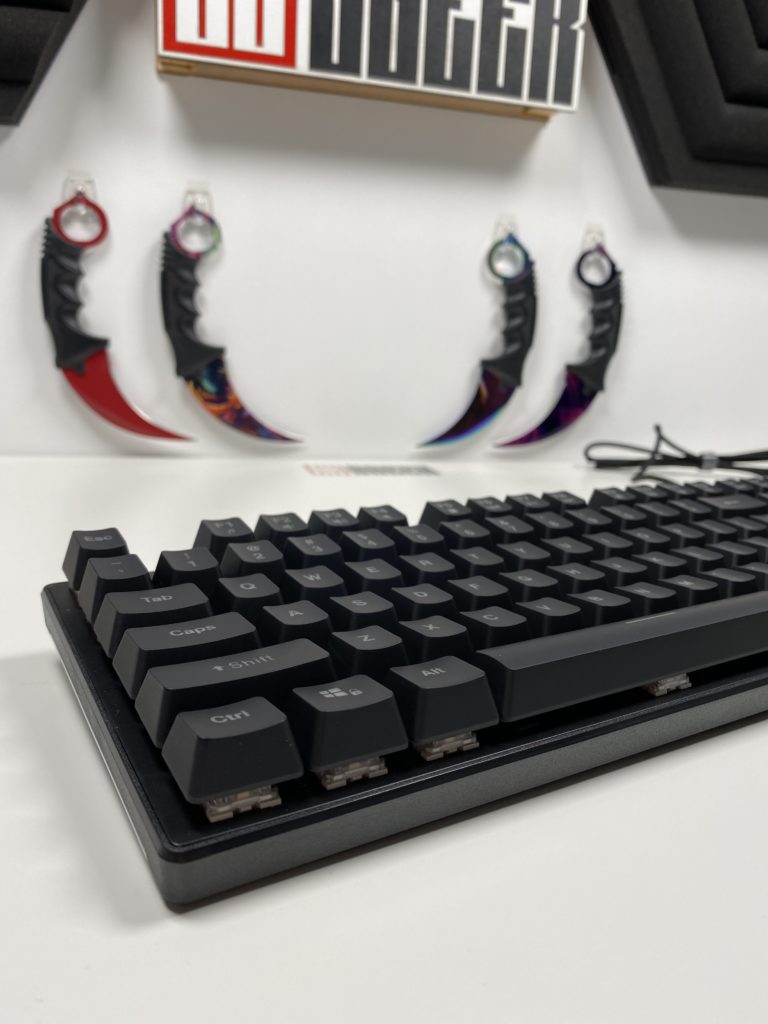 Mechanical red switches
There is a small minority of gamers that don't buy non mechanical keyboards any more. And the market has so many different types of mechanical keyboards everyone can find one they like eventually. The mechanical red switches SureFire uses are linear and soft, meaning they don't have that clicky feeling but require less force to push down. If you want a mechanical keyboard that is silent the SureFire Kingpin M2 isn't for you or your roommates.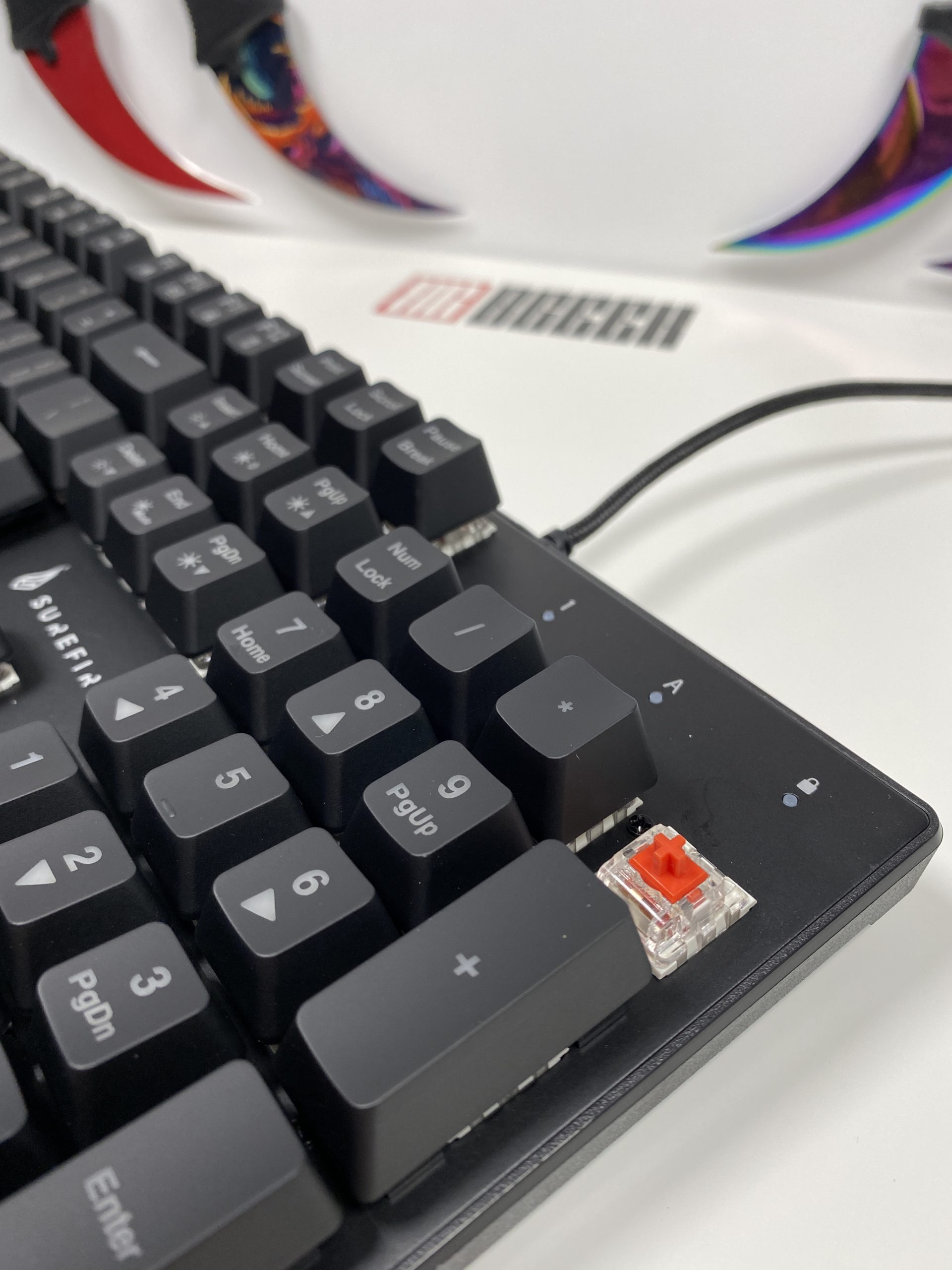 All the RGB bells and whistles
Each key is lit by a small LED underneath that can be adapted to your favourite colour. While the SureFire Kingpin M2 software was giving me some problems; I was able to adapt the keys to the red lighting theme my whole rig is built around. A neat smaller feature are the RGB strips to the sides of the keyboard. While gaming at night these strips lit up my mouse pad and the effect was pretty neat, and not too much of a distraction during matches.
Multi multimedia keys
Whenever I play Escape From Tarkov, The Hunt: Showdown or the Marauders Beta of last week, I always have a video or Spotify playlist running in the background. As inventory management or character prepping can get quite tedious and boring. The moment the match starts I want to hear all the sounds of bushes, guns or footsteps as clearly as possible. Having to Alt+Tab out and press pause is a hassle. The SureFire Kingpin M2 multimedia keys let you pause, play, adapt your volume and much more using the FN key and corresponding F1-F12 key. The Insert, Home, etc keys also let you control your RGB lights on the fly.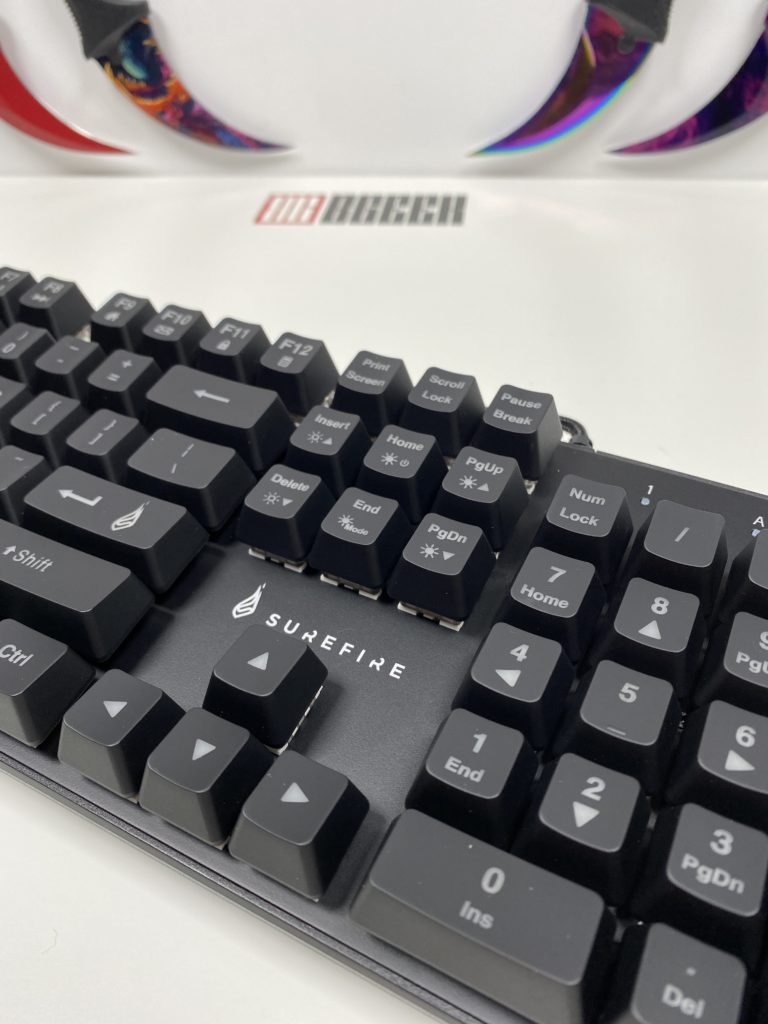 Built for battle
While compact, it sure is one sturdy keyboard. The SureFire Kingpin M2 can take and deal some damage.
Metal front panel
The front panel is made from metal, I couldn't figure what material and nothing is mentioned on the SureFire Kingpin M2 website. It adds to the weight and the black finish is pretty good. I do think over time some greasy finger stains might end up on it.
The side and back are hard textured plastic, the side bottom features the extra RGB lighting that shines down on your desk. The bottom has two adjustable feet with rubberized grips and two rubber grips to avoid unintended keyboard movements.
Ain't no rest for the wristed
What I did start to miss after a couple of hours of running and gunning in the Marauders Beta, was a wrist rest. This is probably something very personal but I like having my wrists for typing at a more even level with my fingers. By the end of writing this SureFire Kingpin M2 review I'm guessing my fingers will feel a little bit tired because of the strange angle they aren't used to.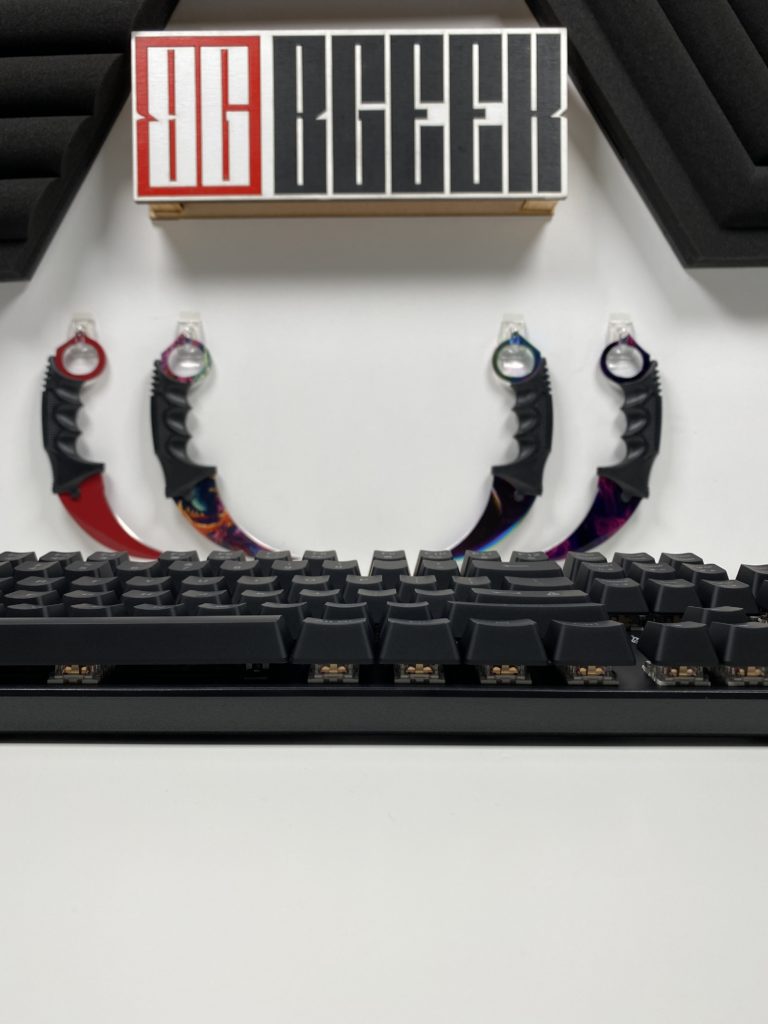 Technical specs
A picture speaks a million words. Below are the specs of the SureFire Kingpin M2 review unit that I used in this SureFire Kingpin M2 review.
SureFire Kingpin M2 software
As is custom with every peripheral company these days is that every brand has its own software to accompany their hardware or peripheral. Sadly I wasn't able to get the SureFire Kingpin M2 software running as it should during my SureFire Kingpin M2 review period.
Crashes and errors
After installing I first got an error that Windows detected a virus. After doing some research and contacting the Verbatim support they assured me there was nothing wrong. Me being a suspicious person and this PC being my own built pride and joy, quarantined whatever was giving my anti-virus the creeps. Not only was the SureFire Kingpin M2 software giving me a record open fail error, it also said it was being blocked by my anti-virus software.
After a full deletion of the software and reinstalling it while I was offline I quickly took a peak at the software. And it gave me another error. I sent a new message to Verbatim support with the new error. Set my RGB lights to RED, took some screenshots of the software and deleted it. I can now say that if you change your colours in the software they remain that way after a reboot even if you don't have the software installed.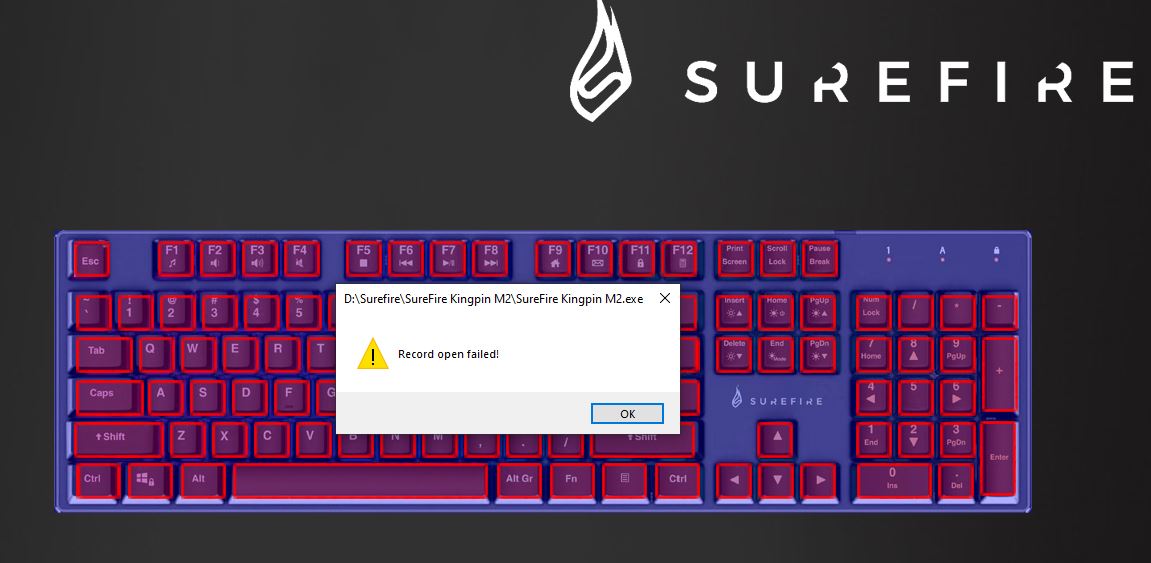 What you hypothetically could do
Having not tested the software at all I can only say what you probably can do with it. I changed the color of the RGB lighting and there are options to change the effects. You can rebind the keys on the SureFire Kingpin M2 and create macros.
But like I said I was not going to risk my review pc even if it was a false prompt. While the build of the SureFire Kingpin M2 surely is something to write about I would just avoid downloading the software if you plan on using the standard RGB rainbow effect.
SureFire Kingpin M2 review – Conclusion
A sturdy small unit with noisy but linear soft keystrokes. I'd say it's perfect for travel and to connect to your gaming laptop. Avoid using it on the train because it does get a little loud when typing. And yes I can confirm that my fingers do feel a little strained for not having that wrist rest after writing this SureFire Kingpin M2 review.
At 58,99€ it's an easier entry product although it could be hard to get as they haven't rolled out to major outlets yet aside from Amazon that sells it at a higher price.
Be sure to check the SureFire website for any official outlets near you. Site can be found by clicking this sentence.
Want more peripheral reviews? We got a bunch of those. BGeek Peripheral reviews.