Ratchet and Clank were one of the twins who marked the childhood of those who loved platform shooters. Especially for this title; when something awakens nostalgia it very rarely brings the exact same feeling you had in mind. Rift Apart, however, achieves this masterfully. There are many reasons why we consider this to be a great game. Let's go into detail.
| You will love it if | Probably not for you if |
| --- | --- |
| – You are a fan of the series | |
| – You like platformers and intense action | – You do not like short to medium length games |
| – You are looking for high quality toys | – You want a large number of collectibles |
| -You want to see a next gen game with a nice story | |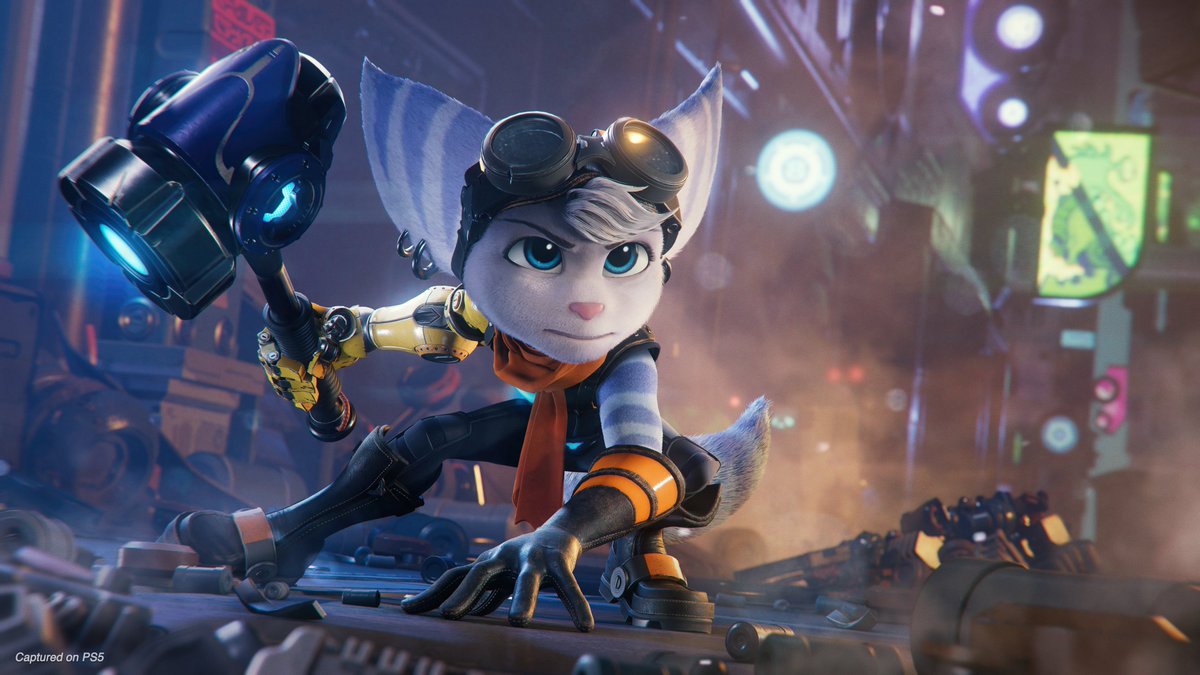 Graphics
As always, starting from the most obvious point of reference, the graphics in Rift Apart excel in many areas. First and foremost there's Ray Tracing: a must-have for any true next-gen experience. The game runs incredibly well and is visually beautiful. Reflections everywhere, shadows where you expect them and generally a smooth feel throughout your gameplay. It is undoubtedly one of the most beautiful games we have seen so far.
Ray Tracing
Rift Apart has three different graphics "modes", so you can decide where your priority lies. Performance mode disables Ray Tracing, "dilutes the scenes" and drops the resolution (not below 1080p) to capture 60 frames per second. It does not always work, but the overall experience is very smooth. Then there is Fidelity mode, where the game simply enters a completely different level of graphics. Even Ratchet's hair looks real! This is definitely the way Insomniac intended the game to be played. Unless the cap at 30 fps bothers you, of course. The last is an emerging graphics "ladder", Performance RT, which is a mix of Performance mode with Ray Tracing. In this mode the game usually runs at 1440p, which is very satisfying if you consider the depth that Ray Tracing adds.
Colors
But it's not all just hair, frames and resolutions. I cannot remember if the graphics were as impressive in the older games of the series (PS2), but the colors have a very tight and beautiful design. Speaking of the general design, the atmosphere always matches the appropriate, and always lively, color palette. Even for a game with a design style that is close to that of a cartoon, the color harmony is exemplary. Both the scenes and the situations in which our characters find themselves appear outlandish. The intense, lively character of Rift Apart is unmistakable.
Source: Insomniac
Visual information
The presentation of visual information is also excellent. Rift Apart is one of the few games whose design does not drown the player in information. While there is a huge amount of information on the screen and especially in battles, even those with a large number of opponents, you never suffocate. No matter how fast-paced the combat is. It shows the best planning so that the player still understands what is happening during battle. You do not get lost on the screen even when Ratchet goes through the portals, or runs from one side of the battlefield to the other. The highest quality animations make all of this possible.
Level design
The level design is very interesting. When Ratchet goes through the portals, you go with him. Immersion plays a very important role in story-driven games and Rift Apart does not lag behind. Each level looks like it came from a childhood dream, mixed with a Rick and Morty backdrop. Ain't that something? Not only do they look great, but they also "play" that way. The levels are multidimensional, have plenty of verticality and allow you to move freely in space in more than one vertical level. This is not something we are used to from most AAA games, as they aim more at impression than functionality. Again, Insomiac, as with Spider-Man, succeeds perfectly here.
A beautiful blend
While all of this sounds nice individually, the magic of Rift Apart lies in how all these features tie together. They compose a colorful experience that translates Insomniac's vision. This game has so much character, it's unreal. The PS5 takes us between different dimensions without even "sweating". While I personally found Fidelity mode to be the most visually enjoyable, if you want to enjoy a fast-paced gameplay, you can choose a mode that works for you. However, Insomniac knows how awesome their game is, and in many places they do not hesitate to "take your control" and tell you to "look here", while throwing Ratchet in a different dimension in slow motion, flexing raw graphic horsepower. Good for them.
Source: Insomniac
Sound
Sound design
The sound frames all the elements of the game to an incredible degree. The sound levels in the overall design were where they needed to be, whenever they needed to be. Perfect and well-crafted sound effects. Intense huums, ambient sound and impeccable voice acting. What the graphic presentation starts with, is perfected by the audio design. Nothing was foreign, everything composed a single universe around our protagonists. It's really impressive that the sounds are designed to work perfectly in the 3D soundscape that the PS5 produces. With a good headset (wink wink, Arctis 7p) you will get lost in the fire of battle. I was thrilled with the detail in the sound mapping. The same goes for the more "stable" sounds, such as the sounds of guns, environmental cues and other elements of the game.
Music, Voice acting and more
The music filled the game very nicely. In general, the goal of music is to enhance the environment and put the player in the appropriate atmosphere. Through the melodies of Mark Mothersbaugh (Thor: Ragnarok) we can say for sure that this is achieved to a satisfactory degree. Τhe musical transitions definitely give a Hollywood note. The music in a few words accompanies the image perfectly without drowning the player in all the audio cues that exist.
Within the sci-fi genre, the designer can create whatever he wants. At Rift Apart there are majestic explosions, lively reactions to the environment and everything ties in perfectly. And you understand this from the debris you leave in your passage. The battles are not funny here, you play serious fights with the space "muscles" of Dr. Nefarious and sometimes you need to destroy everything in your path. You have to hear it for yourself.
Finally comes voice acting. Personally, I love games with regular funny voice acting from the opponents, but also from the heroes. What does not always succeed is the exaggeration of the dialogues. But Ratchet & Clank games have always had a dose of parody. Maybe more than you would expect at first glance. That does not change here. Rift Apart will make fun of everyone, Insomniac takes no prisoners. And usually when a game "tries too hard", somewhere it loses the ball. But Rift Apart is one of the few games in which you will really laugh like a fool with cheeky jokes. Apart from that, the quality of the voice-acting is also excellent. The dialogues are well written, but also well performed by the voice actors.
Source: Insomniac
Plot
Just a few spoilers ahead….
Main plot
The story of Rift Apart actually starts as impressively as one would expect. Our story begins with Ratchet & Clank celebrating how tight they are at a huge event. There, Clank gives Ratchet a special gift, the Dimmensionator. It is essentially a device that allows him to travel to other dimensions in order to find the rest of his family. And somewhere there, Dr. Nefarious, reveals his grandiose plan: to use the Dimmensionator to find the dimension in which he emerges victorious. Something like Doctor Strange in Infinity War.
As the game progresses, our heroes find Rivet, the female Lombrak who fights alongside Clank after leaving Ratchet. Rivet comes from a dimension in which they know Dr. Nefarious as Emperor Nefarious. That's where most of the adventure begins, trying to stop Nefarious once again. Dr. Nefarious is no stranger to those who have played previous titles in the series. We would like to see something different in this area, as this is probably the only point where Insomniac takes the safe path.
Dimensions
Hunting between different dimensions is interesting as a background for everything. From the beginning of the game it is obvious where this story is going. But it really is exactly what makes you fall in love with the game. A difficult situation, with your favorite characters, and an interesting pace that keeps you committed. Rivet is pretty cool too. The rest of the characters are a bit meh, but this one is an interesting addition to the group.
Source: Insomniac
Gameplay
Weapons
And here comes the intrigue of a Third Person Platform Shooter. Obviously, Rift Apart has a wide variety of weapons. In particular, the weapons are worth mentioning because the character of the Platform games is necessarily enriched by the other elements that make it up. In this case from the environment, the story and the weapons that change the gameplay accordingly.
There is something for everyone's taste. Weapons that take out a huge block of ice to hide behind or lightning that just deals huge damage to opponents. Grenade launchers that literally plant the opponent by immobilizing them, explosive devices and, of course, the hammer to bonk them. My personal favorite was the one that brought out a lot of little robots that ran to eat the enemy.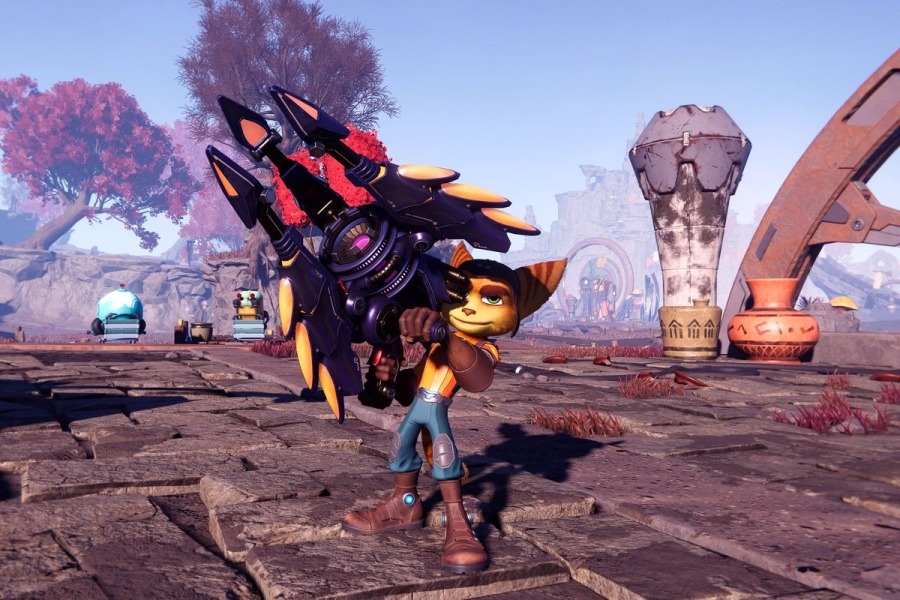 Of course, you will not play with all the weapons. That's why you can upgrade your favorites, so that they become stronger as you go. All upgrades are generally made with the "money" of the game, but upgrading weapons seems relatively easy. Classically there is an upgrade tree that deals with ammo, rate of fire and the classic shooter attributes.
Movement
Kinesiologically, the basic principle of the Platformer, applies: we shoot the opponent while avoiding whatever is flying towards us. The dimensional whip gives a different flavor, providing the ability to move the player where there is a gate nearby. We have met a similar mechanic in other games, but nowhere was it integrated so satisfactorily. It's part of the game, not something they added after because "why not". It ties in very nicely and changes the form of the game a bit. Caution – it is convenient when it throws you behind enemies, but it is not convenient when it throws you right in front of them.
Next Gen
The reasoning to release on this console is something very special that I wanted to refer to both the PS5 and this specific game. In general, only if you play this game can you understand how brilliant an example of a next gen game is. Graphically, Rift Apart is unbeatable so far. Miles Morales's wintery New York was probably the only world approaching Rift Apart in terms of graphics. Nevertheless, Rift Apart is not an open-world game. And it does not have to be. It is largely a guided experience. And that is perfectly OK. It does not have to be all open-world games, and Rift Apart is perhaps the proof of that argument.
Haptic feedback on the subject of the controller works just as well. Multi-level vibrations, in all parts of the controller. But the whole Dualsense experience, which you might expect in certain levels, was not as intense as in Returnal, for example. Demystification? Would that have been game-breaking, or would it just be a nice addition to an already multifaceted experience? Did we miss a fuller Dualsense experience? No. Would we like it to be better? Yes.
Source: Insomniac
Summarizing
Ratchet & Clank Rift Apart is an awesome game, no matter which way you look at it. If you ever need to figure out what exactly has changed from the previous generation of gaming consoles, just show this game to your friends. I enjoyed every aspect of the game as you may have understood if you read this far. Ideally, play Rift Apart with a good headset in 4K using Fidelity mode, so that none of what the game has to offer is lost. I'm not an engineer, but you'll have to trust me on that.
The duration of the game could be longer, especially compared to what we expected, but here it is worth mentioning something that may not cross the minds of most. The game is excellent in many ways. Let's not forget that Insomniac, in a very short time, released Marvel's Spider-Man: Miles Morales and after a while Rift Apart. Both in excellent condition. Do we really have any complaint?
At this point we would like to thank PlayStation Greece for providing this review unit and their support. Thanks to them, this article was made possible.