You'll love it if:
You like Soulslike games
You like the Steampunk idea in general
Fast-paced battles is your cup of tea
Not for you if:
Building an RPG character is not your best feature
You can easily be disoriented
Well....you swear a lot!
After a while of patiently waiting, we finally get Steelrising, from Spiders. An RPG title that has quite a bit of hype. It's not the first RPG title from this particular company. Steelrising of course, pulls off a spot-on Bloodborne feel and a plethora of Soulslike elements. So for those of you who know about these titles, and those of you who don't, let's take a look at what it has to offer in detail:
Steelrising: Great aesthetics but a bit off on the application
Starting with a general description, you will see the classic elements that make up the Elden Ring, Dark Souls, and Bloodborne games. A single player RPG for skilled players. It definitely has its own aesthetic based on the principles of the French Revolution. The souls-like formula is of course tried and tested, so it all comes down to the implementation.
Graphics – Visuals
Perhaps the strongest element of the game is in terms of atmosphere and aesthetics. The mood of Paris in 1789 is very beautiful and as a general idea, I didn't find any repeating pattern in the map design. The individual areas are very nicely structured. Paying a little more attention, the scenery is extremely well done with details that a lower-end PC will run. More powerful devices will obviously excel.
Going into more detail about the atmosphere, the graphics run quite smoothly, and the variations in shadows and lighting were also diverse. Fog effects, fast movements, and special effects didn't detract from the performance so you could see the flow and enjoy the detail. The performance was seamless.
Speaking of detail…
There was no better part of the game, than the well-designed characters and weapons in either cinematics or gameplay. The game may have been lacking in other areas, as we'll talk about further down, but the engraved inscriptions on the metals, the well-crafted weapons, and the other NPC's with their design are beautiful.
Finally, let's not forget that the main character is a mannequin robot. It has well-designed movement and the animation is great. It is as it should be and also brings a lot of detail. This creepy, but at the same time, friendly face will be your companion throughout the game.
Story
In this part, as always, we will not reveal much. The plot in a nutshell: you'll be cruising around France slaughtering robots! Nice!
The whole city is in chaos. Blood, corpses, and robots with various attributes adorn every corner of the city. All because of the madness of King Louis XVI (16th). Your character, Aegis, an automaton created by Vaucanson, is the queen's bodyguard. Through your actions, the evolution of the famous French Revolution will also unfold, with a more sci-fi twist.
As you make your way through Paris you are confronted by the armies of King Louis. The more you delve into the story the more automatons with different properties you encounter. All this through the different play-styles and quests that make up the story. Practically, Aegis is the eyes of Marie Antoinette, who, as strange as it sounds historically, is fighting to help the revolution.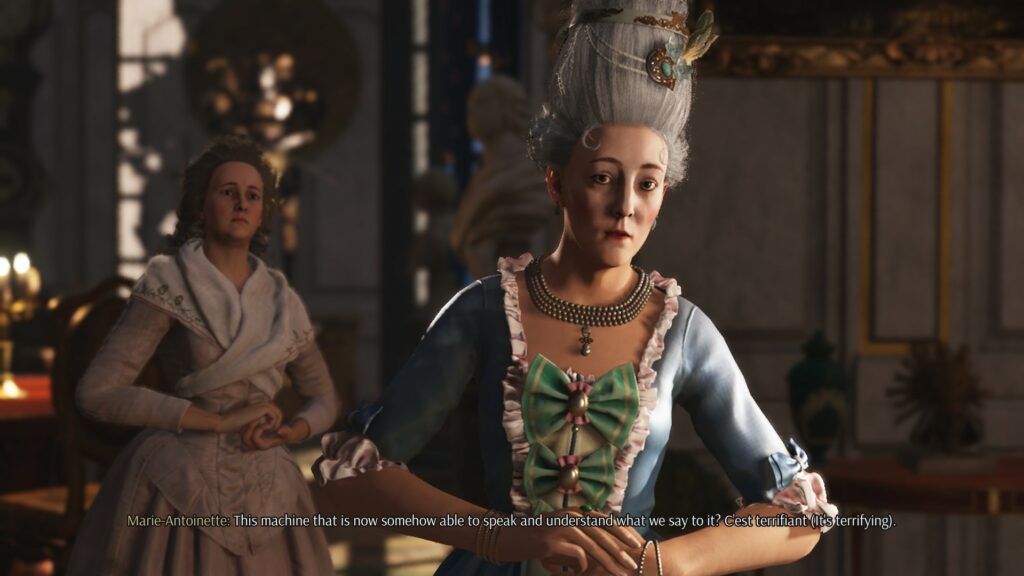 Music – Sound Design
I cannot say the best words about this point. My main complaint is that all the metallic sounds were not as varied as I would have liked. You'll say "Ok bro, you're in steampunk mode". It has nothing to do with the fact that I couldn't hear a difference in the footsteps and the hits that Aegis was dropping. The difference in general in sound effects is important because, unfortunately, if there wasn't stuff there to document their presence you wouldn't understand what was going on. As an example, some fountains sounded like you were next to a river…which technically you are next to the Seine but you get the point…
Apart from that, I was losing orientation in relation to the enemies. I didn't understand if some sounds were supposed to dominate the area so much, and which ones were not there at all. For example, there were patrols of NPC's that were beyond the wall but you could hear them next to you. It lost the narrative element a bit because of it. Maybe some things had to be absent and others were there on purpose but that still made me feel disoriented.
The voice acting, especially by Aegis, is slightly awkward. However, it pulls off that Robo-sensitive-google voice weird speech pattern that works in some cases and not in others. It gave more of a creepy doll motif than a wind-up machine.
Steelrising: Gameplay
And this is where the most important part of this title begins. As we said at the beginning, Steelrising is very heavily based on the template of Soulslike games. In its main feature, you collect Anima Essence, which is the base currency to upgrade your character and its attributes.
The character
I can't say I was crazy about the customization options in Steelrising, since there could have been more available. But on the other hand, all the other options could perhaps not be so Steampunk France of the 1700's so the creators left them out.
Beyond the basic Aegis design at the beginning of the game, you are asked to choose your Class. Bodyguard for slow attacks, more armor, and more damage. Soldier for heavy weapon and increased life. Dancer for more flexibility and weaker attacks but faster. And finally Alchemist with also weak melee attacks, but taking advantage of the "chemical" element of the game which is…well…elements.
The choice of character will not prevent you from changing weapons or tactics at the beginning, but it will give weight to the stats you have and will obviously make the build you want to do easier or harder.
Mechanics
There is nothing simpler than the basic structure of an RPG. Heavy attacks that need to be built, light and faster attacks, special attacks that consume resources, and obviously combos. Judging it as Soulslike, there was no difference in the overall build. Each weapon has its own magic and from the looks of it they've invested in it: pistols with frost damage, two fans that slaughter everything there is, double swords that have separate combos with special moves, and various other things that are split into two parts. Either the weapon will have a defense that will do a little stun on the opponent, or it will have some special attack. All attacks eat away stamina, which in this case is Aegis's temperature rising while performing complicated combos or just running.
As you eliminate enemies, you collect Anima and resources to level up your character. Either in stats or weapons or slots that open with keys from bosses and provide attributes to the character.
Travel to Paris on a tight budget
Inside the map, you will find stations called Vestals and they are the ones where your character heals and replenish the heal potions which in this case are… oil! You're a machine, what did you expect? The bad thing about Vestals is that they respawn everything that was dead up to that point. Obviously not the bosses, but it takes care of how everyone moves around the map, especially until the character gets stronger.
The map is quite large for its size and quite unwieldy. While the game world is a large area, it makes no difference if you had the map or if you did not. A compass that you use gives direction that points out the quests' locations with icons. Which is like negating the map a bit.
Finally, and like any self-respecting Soulslike, in Steelrising once you die you have to go back to where you were to get the Anima Essences. Bosses are difficult, depending on the class you've chosen, and it takes a lot of care of how you deal with them. Heals are metered and the grenades that give you the upper hand in certain situations don't get replenished when you die. As you re-enter the Vestal, which is quite a long way away, you have unlocked the whole route leading to the next quest, or else you simply have to phase everything again.
Steelrising: Conclusion
I can't say that I enjoyed Steelrising as much as I expected. To be clear, I felt like it was a Soulslike game without the enjoyment of a Soulslike game. Its biggest problem is the inconsistent pace of combat. In every other instance of the genre, the bosses and characters had a clear very nice structure to the flow, something we don't see here. This isn't just on the NPC side of things, but on the character side as well. I started the first run as Dancer and really struggled to exist, taking me 2 hours to get through the first level until the map opened up. On the second run I got Bodyguard and it was really funny how the heavy attacks outperformed everything. Finished the level in 10 minutes.
The unbalanced elements are there and generally beyond the beautiful atmosphere and the clever art design I just got tired of dungeon crawling at some point. Once you decode the characters, you're just left with 1-2 combos that take you right on top in every battle. In short, it didn't feel like RPG gameplay as it should, in a world that gives so many play-style options.
The game is currently priced at 49.99 euros on Steam and will be released on September 8th.
Thanks to AVE for the review unit that gave us the opportunity to annihilate some great machines in magnificent Paris.