When Michail told me I have to try the SteelSeries Aerox 5 wireless I was sceptical at first. Doing a SteelSeries Aerox 5 wireless review was going to be a chore as I never liked wireless peripherals for PC gaming. You have to charge the battery and end up playing wired anyway. Or the connection is bad and you lose connection mid match and miss that game winning shot.
I can safely tell you that after doing this SteelSeries Aerox 5 wireless review, I am totally on board with the future of wireless gaming that SteelSeries presents.
Unboxing the SteelSeries Aerox 5 wireless
Just like the SteelSeries Prime+ the box contains only what you need to set everything up. SteelSeries even went out of their way to future proof the SteelSeries Aerox 5 wireless. Read on to find out what I mean by that.
SteelSeries Aerox 5 wireless review: Design
The SteelSeries Aerox series in a whole takes over that Holey Shell design I've seen in other mice. This reduces the weight and gives a cool view of what's inside. The left mouse button has the SteelSeries logo printed on it in silver. A small detail, but a really nice one. Overall the quality of the plastic doesn't feel as pristine as the SteelSeries Prime+. The more rugged surface does offer some grip over a totally smooth mouse.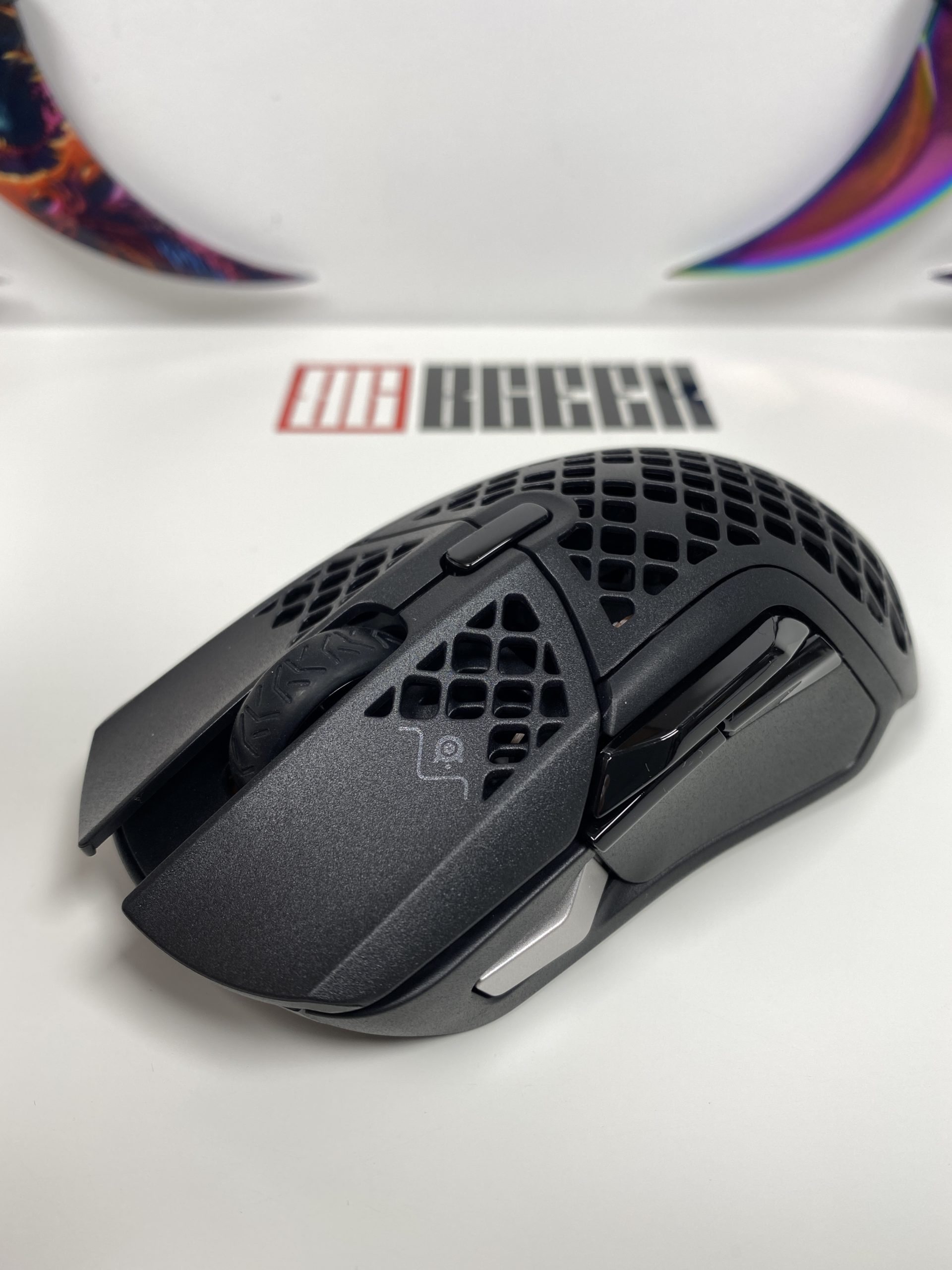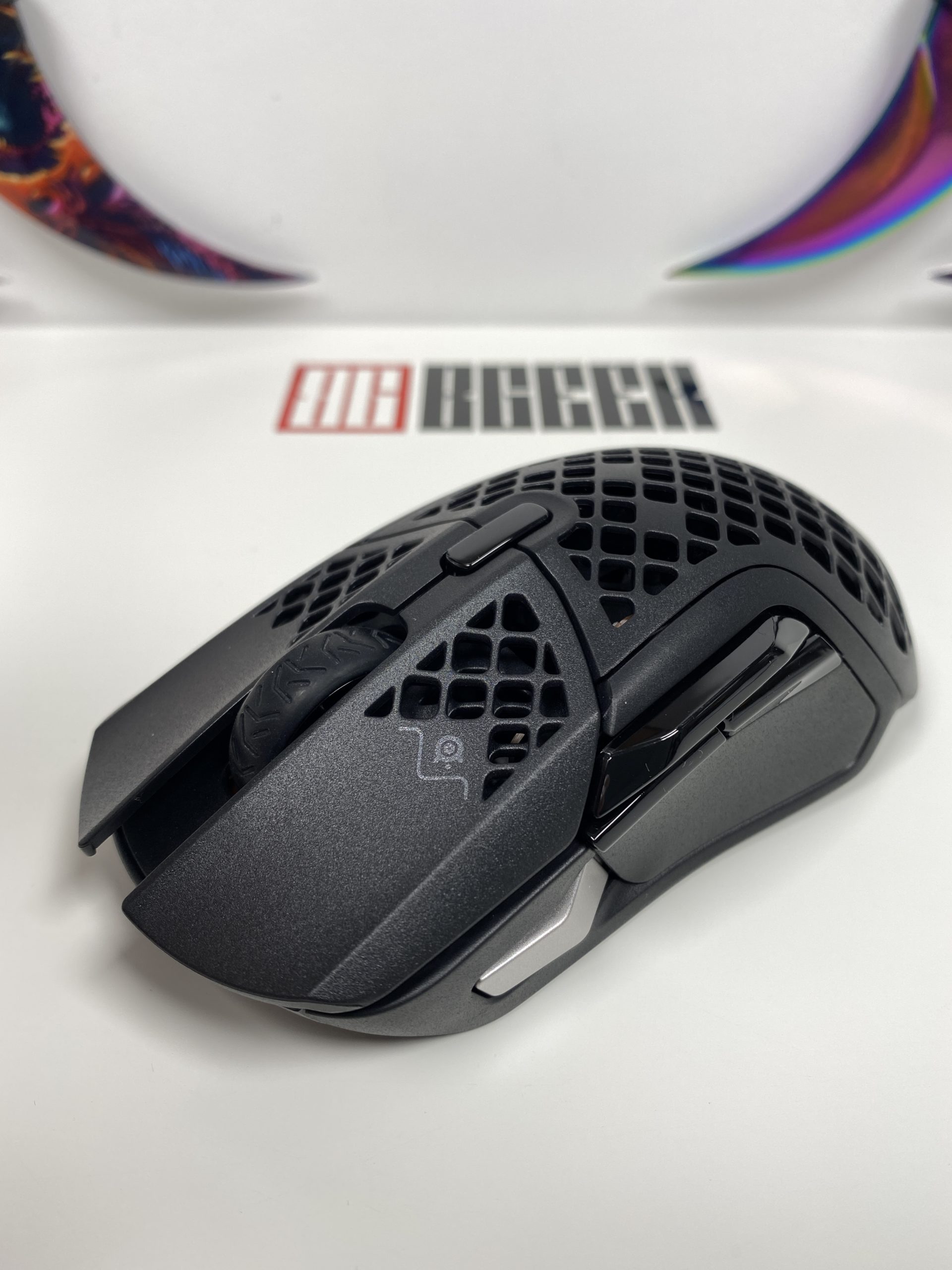 As light as a feather
The SteelSeries Aerox 5 wireless tops off 74 grams in the weight category. That's only 3 grams more than the SteelSeries Prime+ but yet it feels lighter. The SteelSeries Prime+ is still connected with a cable, when moving your mouse you also need to drag the cable and that resistance is not taken into calculation.
When I was testing the SteelSeries Aerox 5 wireless for this review it felt lighter. Only because I wasn't dragging along the cable during my games. Every part of the SteelSeries Aerox 5 wireless is designed with being lightweight in mind.
The Holey Shell shaves off 20 grams while still being durable and giving some breathing room to your palm. But the big thing that wowed me was that their 6 gram battery can give up to 180 hours of battery life. Let me repeat that, 6 gram battery with 180 hours of life.
Charging is for losers
The biggest "Wow" moment any of us will have, is learning about the promised battery life. SteelSeries promises up to 180 hours of battery life. And I didn't get 180 hours of battery life while testing for this SteelSeries Aerox 5 wireless review. But I also didn't test their optimal battery savings settings.
The SteelSeries GG engine has all the options to tweak everything you want. From your RGB settings to CPI. It also features a High-Efficiency Mode setting and Illumination Smart Mode that can improve your battery life. Essentially Smart Mode will disable or enable features based on your current battery charge. Disabling RGB when it gets too low or shortening the auto time-out function.
The future is now, old mice
Buying a product with a €150 price-tag better be worth it in the long run, right? Well, the SteelSeries Aerox 5 Wireless is sure to be future proof for at least a couple of years. Not only does it feature Bluetooth 5.0 and 2.4GHz for lag free gaming. Even better, if you use Bluetooth you won't even need the dongle.
The dongle only has a USB-c connector so if you're using an old motherboard it might not fit. Fear not though, as the box also contains an extension piece. Simply use your charging cable to connect the extension piece to your motherboard. And insert the dongle in the extension piece, works like a charm.
Programmable buttons for multiple genres
SteelSeries itself calls the Aerox 5 and Aerox 5 wireless "multi-genre mice". Having the buttons set around your thumb doesn't make it uncomfortable when you aren't using them. You can still grip the mouse and lift it around your mousepad to do those 360 no-scopes without accidentally pressing a button. For Halo Infinite and Tiny Tina's Wonderlands it took some getting used to the placement of the buttons. Especially using the flip button for switching grenades in Halo.
When I set the SteelSeries Aerox 5 wireless up for The Elder Scrolls Online, it felt a bit more intuitive. The big button was my spammable, the two keys above my attacks on cool down, flipping up my defensive and flipping down switched attack bars. No more weird thumb position to push a tiny button on the side of a 22 button mouse while I only need four.
SteelSeries Aerox 5 wireless review – conclusion
The real simple conclusion is: I'm keeping it. Having that one cable gone from my setup is an actual relief and I don't have to bother with charging it every week. Like I mentioned earlier, I didn't get the promised 180 hour but I got just short of 70 hours with a full charge. I tested it as a combination of editing and gaming.
Let's talk about the price-tag, €150 is a huge one for a mouse. But you do get the latest technology when it comes to battery, weight and connectivity. It's still insane how long the SteelSeries Aerox 5 wireless lasts and I have never had an issue with the connection. Overall it's definitely worth it if you are looking to upgrade and have some budget. Still not convinced about taking up a wireless mouse? No worries, check out my review for the SteelSeries Prime+. It's the mouse that made me fall in love with SteelSeries products.
Are you looking to get a SteelSeries Aerox 5 wireless right now? They have them on their website right here!
Thank you SteelSeries Greece for giving us a look at yet another fine product. Keep up the great work.