The Trak Racer FS3 was my first experience with this kind of peripherals. Or does it fall into the furniture category? Does not matter. It's definitely something that's cooler than the word that defines it. I recently had the pleasure of testing the Logitech G29 steering wheel in conjunction with the new Gran Turismo 7. I've never been a fan of racing games but this particular combo, especially with the Trak Racer FS3 made me change my mind.
Trak Racer is a company founded in 2008 in Australia and has distributors throughout Europe and America. At Trak Racer, they're not interested in creating the cheapest, lightest and simplest gaming platforms. They focus on delivering the best possible, high-quality gaming experience that won't feel like a homemade DIY product. I can assure you that their products meet the highest competitive standards.
After all, if all that were not true, they would not have an active partnership with Alpine, the well-known Formula 1 team. Unbelievable, yet real. As soon as I read this, I knew I wanted to get my hands on one of their products. And I did, and I will share with you my experience.
Unboxing
Unboxing the Trak Racer FS3, you will see that there's many metal parts in various sizes inside the box. To someone who has no experience with this kind of equipment, all these metal parts will seem a bit weird. The same thing happened to me. But the magic starts as soon as you start setting it up.
What we find FS3 package:
High-quality chassis
Adjustable gears mount (left or right)
Wheel mount with adjustable angle and height
Pedals mount with adjustable height angle
Tools and screws for assembly
And finally the instructions
Design
Before you even set it up, from the moment you hold the pieces in your hands, you can tell you're dealing with a high-quality and high-end product. Almost all of it is made of metal, in matte black. On the sides of the front right and left arm, we can spot the company logo.
The upgraded FS3 isn't just built to be more attractive than any other you've seen before. It is fully adjustable. And I absolutely love that on the FS3. Everything on it is adjustable either in height or angle of inclination. From the adjustable feet to the 3-point adjustable wheel mount. With this adjustability, the result is a reduction in stress to your shoulders and back while you're driving your favorite digital vehicle.
The FS3 wheel mount is bolted to the frame. It has the ability to slide 30 mm for perfect grip and angle adjustment for the best driving position.
The base for the pedals is also adjustable and can cover all needs depending on the height of each user since it can go from completely flat to an almost vertical position.
The design of all Track Racer products is approved by industry professionals as well as professional racing drivers. Each product combines high-quality materials with exceptional craftsmanship and state-of-the-art manufacturing processes.
Assembly
Assembly wasn't anything out of the ordinary. On the contrary, if you have built IKEA furniture as a student, then this will be like a walk in the park. You do not believe me? Take a quick look at the manual to see how you can set up the FS3 in 16 simple steps.
Functionality
Using the Trak Racer FS3
The best thing about the FS3 is that it is not bulky and is easy to store after use. It achieves this because it's just a stand for the steering wheel and pedals. It does not have a base for a seat.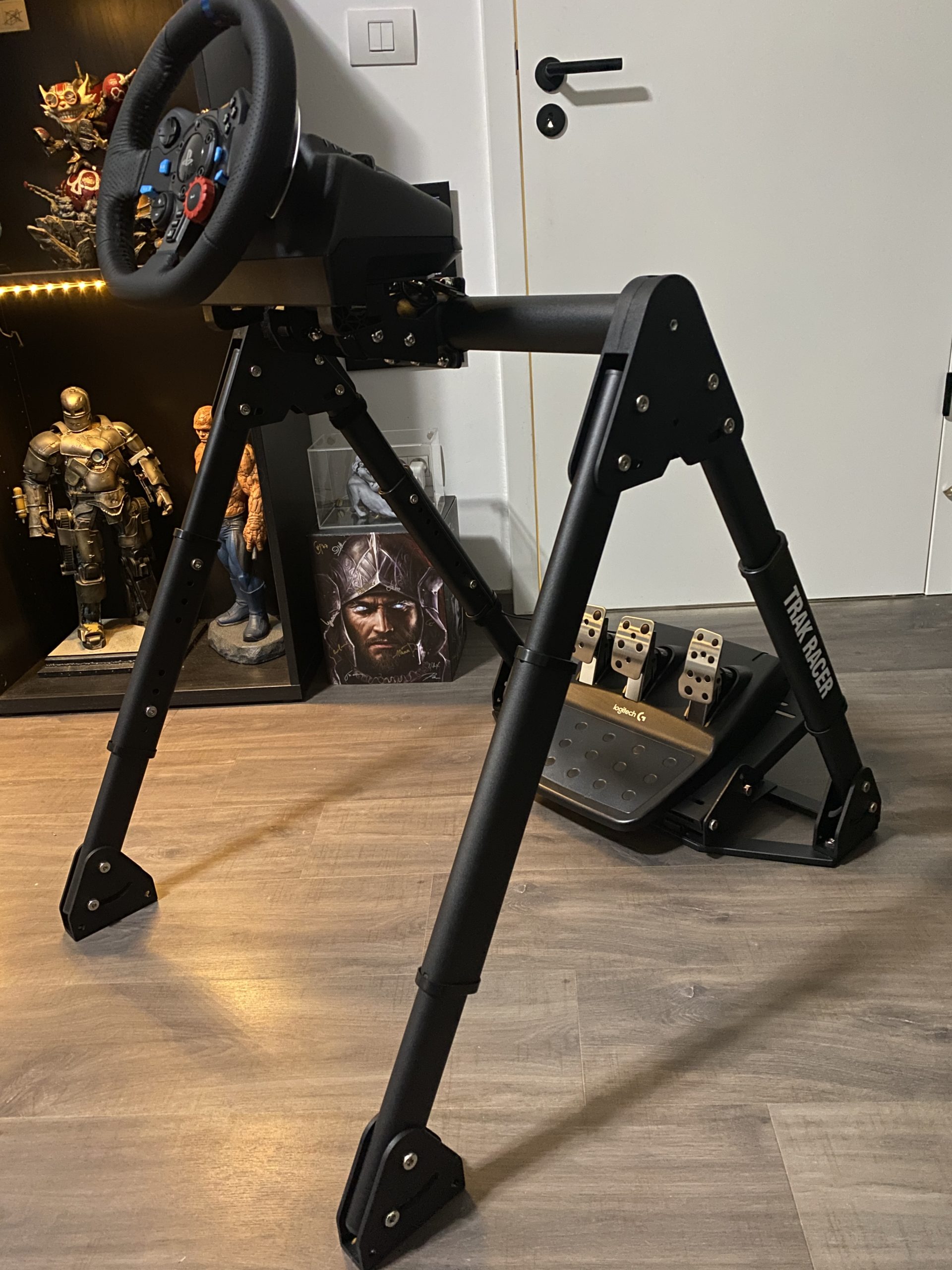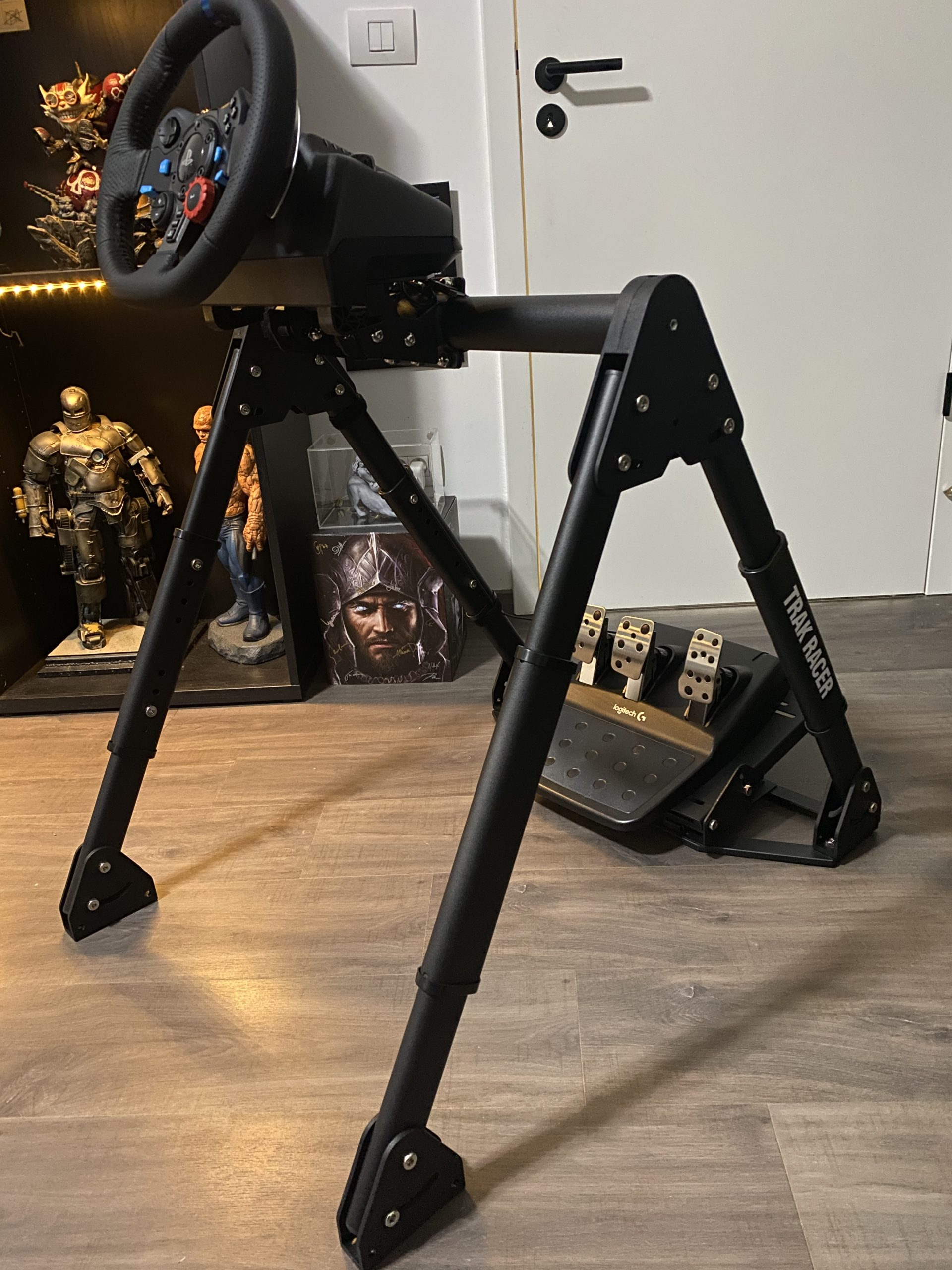 That said, you use it with your desk chair. Easy and fast. The base is adjustable in all its elements. The office chair is also adjustable. So, there is no chance of not finding the perfect height to suit you 100%. Let me add at this point that the FS3 is incredibly stable. No matter how hard you press the brake or how sharply you turn the steering wheel, it does not budge in the slightest from its position. I wish I could say the same about my chair. That's my only problem. It makes sense though since the chair has wheels and if you hit the gas or brake hard, it will roll backwards.
Everything you need to grab the gold cup in Gran Turismo 7
Once I'm done racing, I just leave it in the corner of the room. Even with the G29 clipped on, it's not heavy and can be carried comfortably by one person.
But, if you're missing even that bit of extra space, then the FS3 can shrink to save even more space.
Compatibility
Isn't it awful when you buy something and it limits you because it's only compatible with certain products? Well, FS3 is not one of those purchases. It is compatible with almost all steering wheels, shifters, and pedals on the market (such as Logitech, Thrustmaster, and more).
More specifically:
| | | |
| --- | --- | --- |
| Wheels | Pedals | Shifters |
| Thrustmaster (T500, T300, TC-PS, TS-XW, TX) | Fanatec CSL Elite Pedals, ClubSport V1/V2/V3 | Fanatec ClubSport Shifter, SQ |
| Logitech G25, G27, G29 | Thrustmaster all 2 pedal models, T-LCM, T3PA, GT Ed, T3PGT, T3PA PRO, T500 | Thrustmaster TH8A, RSTSS, TSS+ |
| Fanatec CSL Elite and Clubsport | Heusinkveld Ultimate, Sprint and Pro | Heusinkveld SQ Shifter |
| Fanatec Podium DD1/DD2 | Logitech G Series | Logitech G25, 27, 29, 920 Shifter |
| SIMAGIC M10 / ALPHA | Venym Pedals | DSD SQ Shifter |
| Moza R9 DD | Moza CRP Pedals | As well as almost all handbrakes on the market |
| Moza R16 DD | JCL HYDRAULIC PEDAL | |
| Moza R21 DD | | |
Trak Racer advises that if you have a model that is not listed above, you can contact their support. They can inform you if the FS3 is compatible with your steering wheel.
Verdict
Honestly? I didn't think I'd have so much fun with a racing game since, as I mentioned above, I'm not a fan of those titles. So, if it managed to win me over, then you can imagine what he's going to do to a racing fanboy.
Strong, stable, fully adjustable, light and does not take up space. These are the qualities of the Trak Racer FS3. I would add the definition magical as well since it really made me change my mind about the whole racing game experience.
The Trak Racer FS3 retails at €189 but while you are reading this article, there is a summer sale and you can get it for the bargain price of €141. While you are on the Trak Racer page, don't forget to take a look at their other models. Some of them are truly insane!
Ready, Set, Go!
At this point I would like to thank Trak Racer EU for the review unit they provided us.