On May 4th, SteelSeries launched something new and very useful for many gamers. No, it is not a new peripheral. This time they presented us something completely new: SteelSeries Moments.
Every day you play with your friends and fail in every round. You decided to play some solo games and suddenly your skills come out of the closet. Four headshots in a row and you carry the round on your back. You rush run to share the news with your friends in your group chat. Of course, no one believes you. With a simple click here, you are covered for your future outplays to come.
SteelSeries Moments is a new platform for clip capturing and editing. It's part of SteelSeries GG and has been added to the left bar as a new tab called "Moments".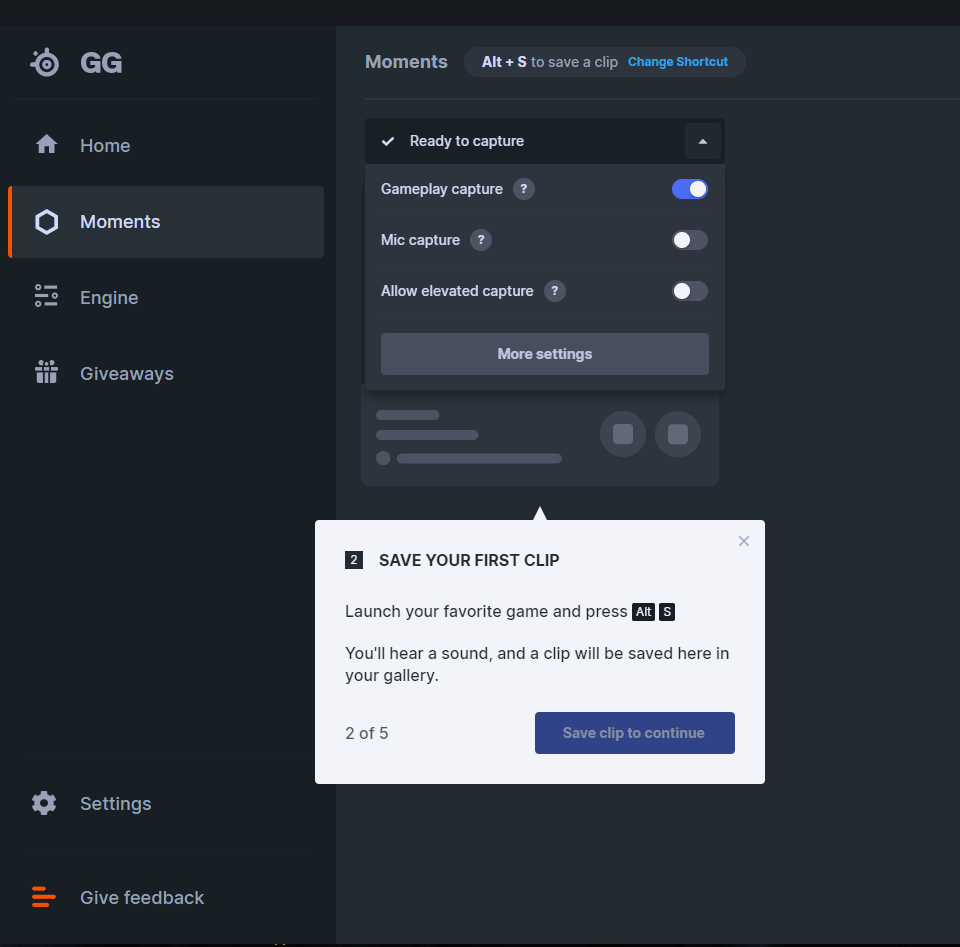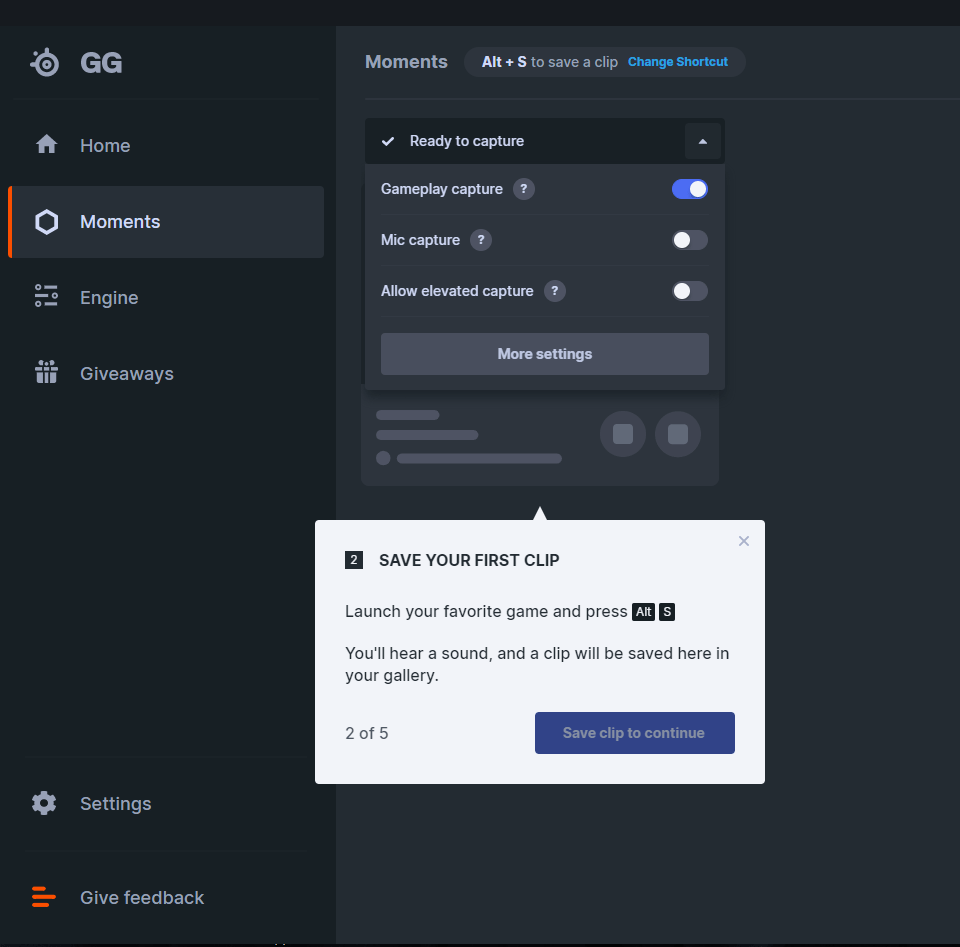 But what is SteelSeries Moments? Is it easy to use? What capabilities does it have? Why not use the classic OBS or Nvidia Shadowplay instead? Woah, woah! Put on your SteelSeries Arctis 7, play your favorite music and keep reading this article. I have all the answers you seek.
SteelSeries Moments is an easy and incredibly useful tool that helps you store your best plays, edit them and share them with your friends using the most popular social platforms. This is the brief description. Let's see now how it works and what exactly it can offer you.
Usage
Honestly, I might be the worst on this planet when it comes to video editing. But I managed to master Moments in one day. It's so easy to use that you don't even have to sweat. It does everything automatically for you.
You must first enable Capture. Then you run your favorite game, and that's it. Leave the rest to SteelSeries Moments. It automatically stores clips from the game and all you have to do is press Alt + S (these are the default key bindings but you can change them in the settings) and the clip will be saved in the clips folder of Moments.
From there you can edit the clip, keeping only the important part of the video. You can add effects or even gifs to trigger your enemies when they will watch your video. Neat!
When you have finished editing the clip, you can see all the important information such as video quality and size, at the bottom right. Then you can Export it, which will save it on your computer as a common media clip. Or you can make a Share Clip, which gives you the option to share your video on the most popular social platforms such as YouTube, Discord, Reddit, Facebook and Twitter. Even in Gfycat, where it can be saved as a looping gif.
What is so special about it?
The main difference between SteelSeries Moments and other video capturing tools is that Moments uses AI (called Gamesense). It is so smart that it knows when you headshot someone or when some other action is happening during the clip and then marks it with icons on the video bar. Since I'm talking about this, while I was fooling around in the Moments settings, I found that it has the ability to automatically store clips when, for example, you get a multi kill in LoL or if you steal Baron from the opposing team. I know it sounds a bit hard to believe that something like this works effectively but I tried it and it really does what it says! It has similar options for other games like multi kills in Dota or 3+ kills in a round in Counter Strike etc.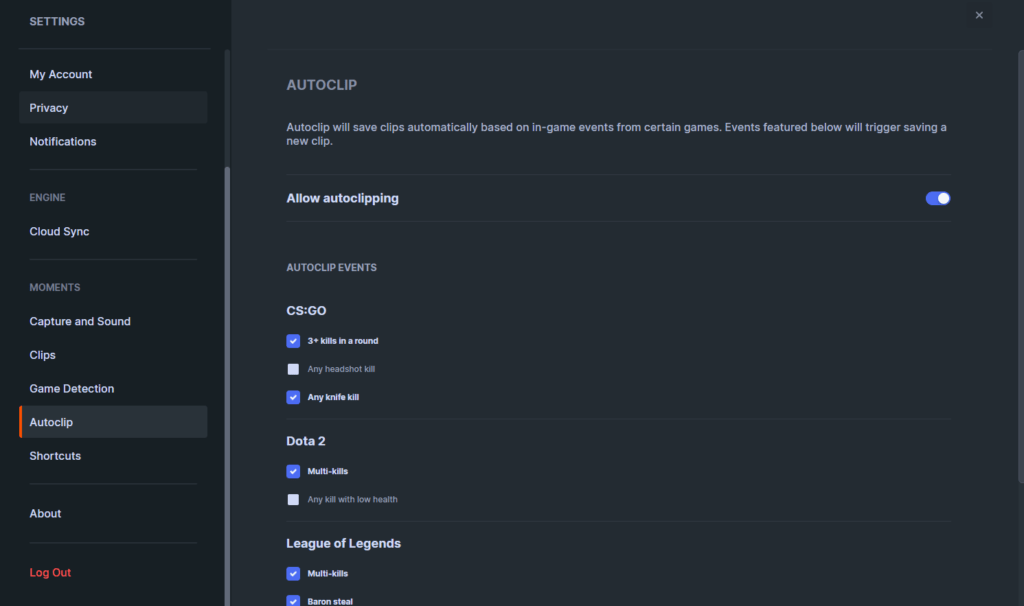 But this is not the only thing that makes it stand out compared to other clip recording software. I will share with you a table announced by SteelSeries; comparing SteelSeries Moments with Nvidia Shadowplay, Windows Gamebar and OBS. It is clear who is the winner in this battle of the video capturing kings.
SteelSeries
Moments
Nvidia
Shadowplay
Gamebar
OBS
Free to download
X
X
X
X
Platforms support
Windows
Windows
Windows
Windows, Mac, Linux
Any graphics card
X
Nvidia only
X
X
Easy setup
X
–
X
–
Advanced editor
X
–
–
–
Clip effects
X
–
–
–
Clip management
X
–
–
–
Game event support
For selected games
Autoclip
X
X
–
–
Event markers
X
–
–
–
Social sharing
Native upload
Youtube, Gfycat
Youtube, Facebook, Weibo
–
–
Easy drag & drop
Twitter, Discord,
Reddit, Facebook
–
–
–
Video quality
1440p | 60FPS
2160p 4K | 60FPS
60FPS
60FPS
Audio quality
192kbps
184kbps
192-320kbps
Clearly the winner here is SteelSeries Moments (source http://www.steelseries.com)
So, should I try it?
You must try it. You better download it right now. It is free and it is a tool that will save you a lot of time if you like to save your plays or you like to "rub" your top plays in your friend's face. SteelSeries Moments was announced 10 days ago and to date 1,751,627 clips have been captured (the number is constantly increasing).
Connect your brand new Rival 5, crack your knuckles, activate SteelSeries Moments and let's go!!