Corsair did it again. They showed us that we need the Corsair iCue LC100 in our lives, while we didn't even. We just got our hands on an iCue LC100 a Starter Kit and an Expansion Kit. We will mostly be talking about the Starter Kit but we will also take a brief look at the Expansion Kit as well.
The iCue LC100 are the new Corsair's triangle panels that will add color to your computer cases. And if they already have color, even more so! Can someone have enough RGB? I don't think so.
Many call them mini-Nanoleafs and they are not wrong. They are very reminiscent of the Nanoleaf in design and functions. However, I believe that the technology behind the LC100 is on a higher level than that of Nanoleaf. Their magnets offer something that is missing from Nanoleaf. But we will analyze that below.
Unboxing
Unboxing the Corsair iCUE LC100 we see the 9 triangular panels, the Lightning Node PRO and a QR code that points us to the online manual. All contents are:
9x triangle panels (one of them, the master triangle, has two cables attached)
8x magnetic connection rods 4mm
2x magnetic connection rods 5.5mm
1x Corsair Lighting Node PRO
1x Internal USB cable
1x extension cable for RGB connection
1x warranty guide
Design
The panels are the most good-looking triangular bites I have ever seen. The top of the panels is matte white and at the bottom, they are matte black with the Corsair logo in glossy black. Inside each triangle, there are 9 RGB LEDs (3 on each side) to provide perfect lighting throughout.
They are equilateral triangles that have 2 small magnets and 5 connectors on the two sides. The third side is flat. With the magnetic rods, the power passes through the 5 connectors between the panels. That way, each triangle power-ups the next one.
It's all about the magnets
This is what I meant above, talking about Nanoleaf technology lacking compared to LC100. With the magnetic rods, you just bring them close to each panel and they stick together. You don't like the pattern? Are you tired of it and want to change it? You just pull them from the magnet and change their position. Very handy and easy to use.
In total, we have 8 thin cylinders and 2 thicker ones. The thin ones are designed for flat connection, while the two thicker ones are designed in case we want to make a curve, such as to go over a corner of the case.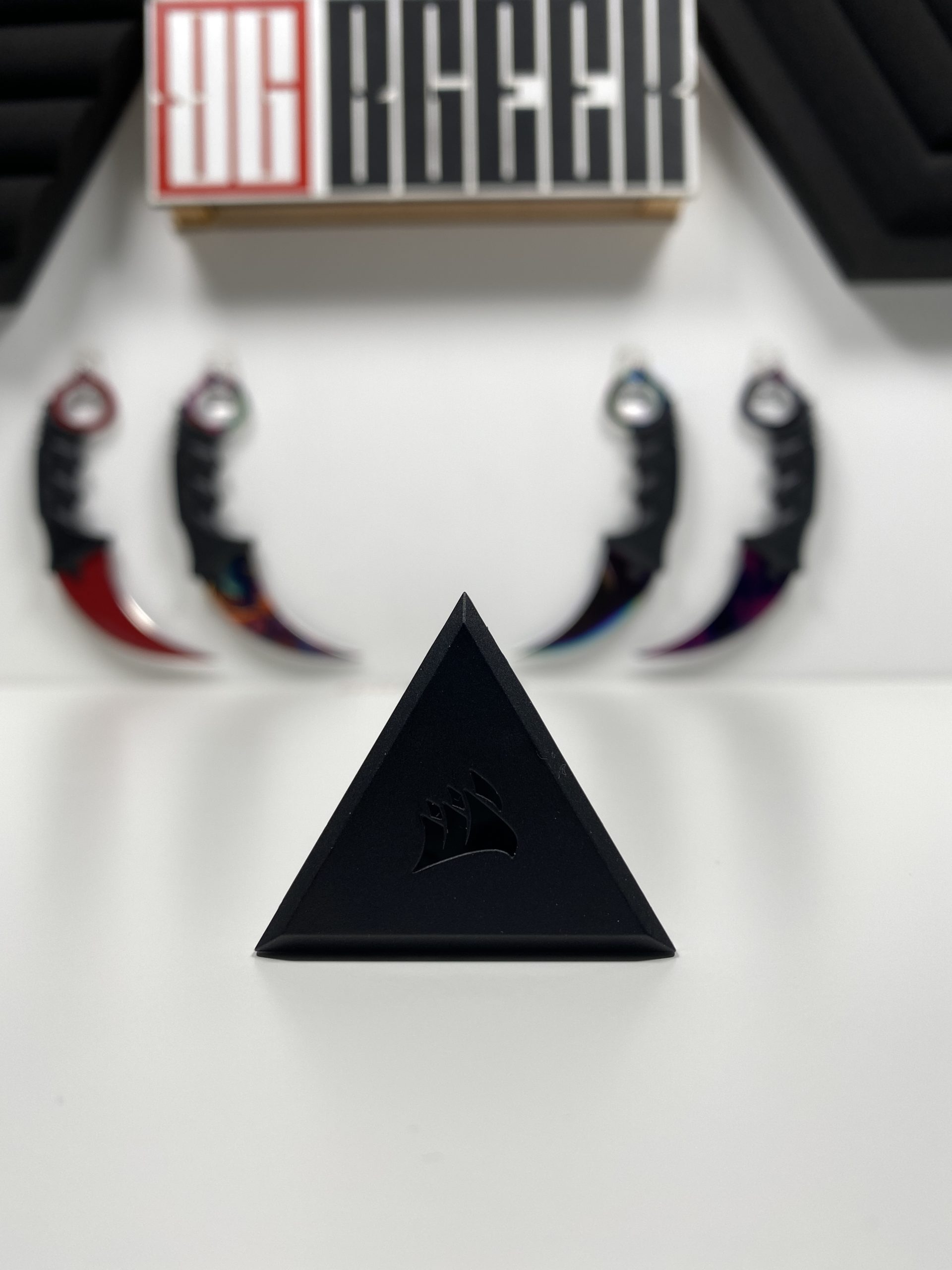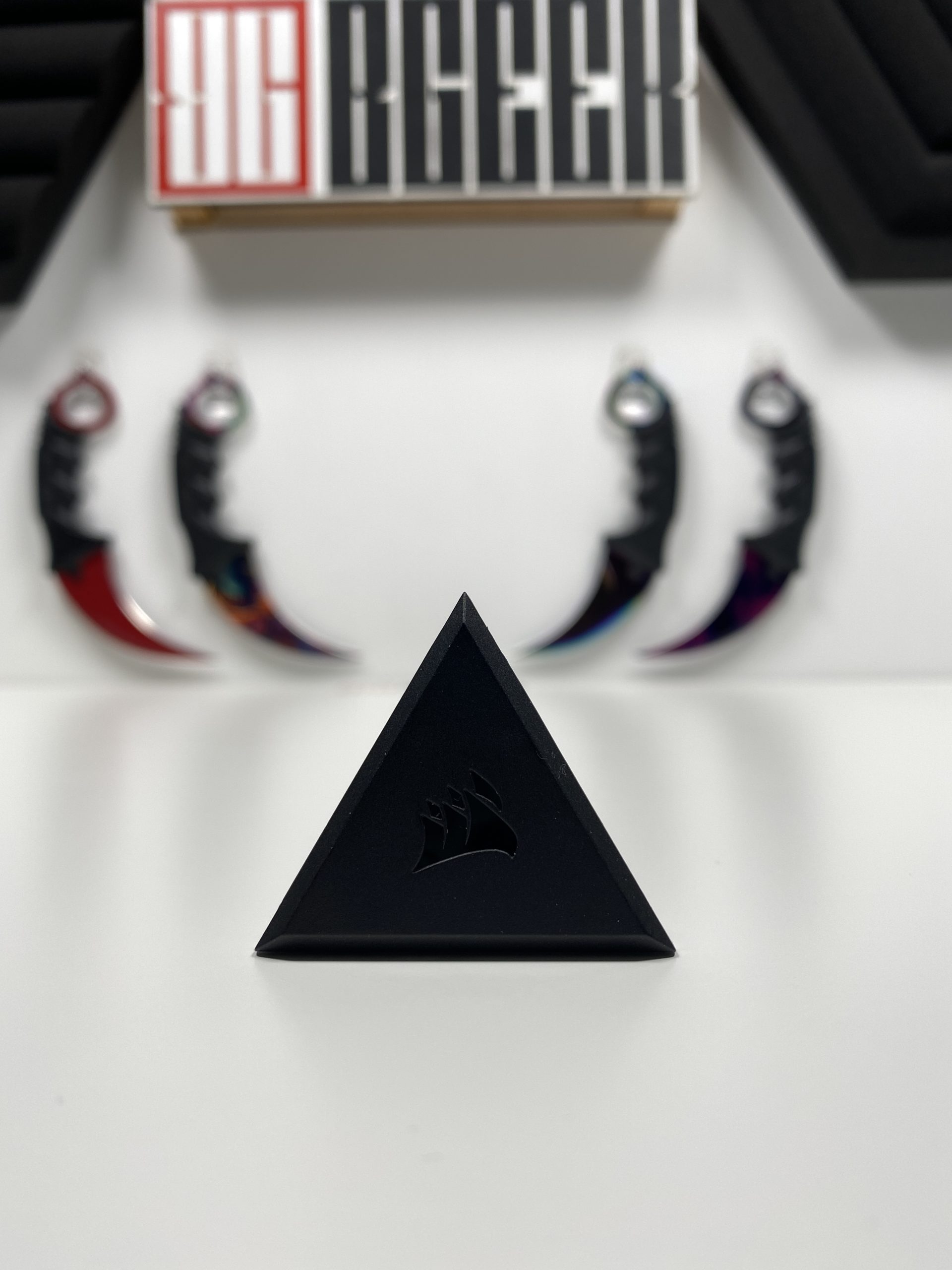 Functionality
Τhe Lighting Node PRO has two LED ports on the front for connecting the master triangles and USB port at the back. So, you can control its operation through software. Also, a SATA power socket for the power supply. It comes with two double-sided adhesive tapes so you can glue it where it fits you best in the PC case.
The master triangle is connected with two cables. The RGB connection cable goes to the Lighting Node PRO and a SATA for power.
Make your beautiful case even more beautiful
The whole installation process is not that complicated. Especially if you are into modding, it will be a walk in the park. Connect the master triangle to the Lighting Node PRO and its second cable to a SATA power supply. Then the Lighting Node PRO to a second SATA power supply and the USB cable directly on the USB pin of the motherboard and you are ready!
The next step is to mix and match your triangles art to your prefereneces.
Because my Project Arthas does not have much space inside the case to allow me to play with the LC100, I had to think smart and I mounted them on top of the case. On the outside! I'm crazy, I can do whatever I want.
To be honest, even outside the case they are gorgeous. I like that you can also make 3D designs like the pyramid I made at the bottom. And the LEDs are incredibly smooth in color cycling.
Software
Everything mentioned above is configured through Corsair iCue which is Corsair software for all its peripherals.
Once we run iCue, on the left, there are options from the ready-to-use scenes that we can use and below some information about our hardware. In the center, we see the Lighting Node PRO and this is what we want to configure.
By clicking on it, we go to the next tab where we select the triangles either all together or each one separately. I have the Starter Kit and the Expansion Kit, which also contains 9 panels, equipped, making for 18 panels in total. For the design I shared above, I used a total of 15 of my panels and put them all to follow the same scene in the same colors.
Be careful though; For every 10, at most 11 panels, you must have a master triangle (the one with the cables). Each master triangle can supply power to up to 11 panels. If you want to use more than 11, you will need to connect a second central panel. This is what I did and it displays them as Lighting Channel 1 and Lighting Channel 2.
This does not mean that all panels must follow the same colors or the same scene. Each one individually can have its own RGB theme.
In the final option, we can check if there are updates available for the firmware of our panels.
| | |
| --- | --- |
| Specifications | |
| Control Scheme | RGB Lighting |
| RGB Channels | 2 through Lighting Node PRO |
| Max RGB devices per controller | 10 up to 11 |
| RGB Strip diffusion | Yes |
| USB connection | Internal female USB 2.0 9-pin |
| System Requirements | iCUE software, Windows |
| Warranty | 2 years |
Verdict
The Corsair iCue LC100 is what every modder and even an avid gamer wants. More RGB! They are beautiful, simple, but incredibly bright, and with wonderful LED lighting. Easy installation, even easier mounting, and infinite color combinations.
You can buy them here at the price of €129.90 and in case the 9 panels are not enough for you, you can get the Expansion Kit for €99.90. Because the magnetic rods are small and you could lose 1-2 of them, Corsair thought about it and sells various sets of magnets, just in case.
Do you know what else has great RGB and will match like a glove with LC10? The Corsair K65 RGB Mini that we loved by the first second we opened its box.
We would like to thank Corsair for the review units that we used in order to write this article.