You'll love it if:
You are a fan of Just Dance
You are ready for the next chapter in this franchise
You like to... just dance
Not for you if:
You don't like live service games
You stink at dancing
Just Dance 2023 was recently released by Ubisoft for the Nintendo Switch, PS5 and Xbox Series X/S. You read that right, old gen consoles are no longer supported and with good reason. The Just Dance team has finally seen the light and did an overhaul of their old game model. Just Dance 2023 is now a live service game and I'm all here for it. Keep reading if you want to learn about everything new in the Just Danceverse.
TL;DR
Just Dance 2023 now uses a live service model and is only supported on current gen consoles. New songs will be added seasonally. On top of that the interface has been reworked and the graphics have improved once again. The game now also finally supports online parties. Next to the quality of life improvements though, in its core the game is still the same. And that's a good thing.
Just Dance 2023: In with the New
So, what's new? For once, a lot. Last year I mainly rated the game high because of the excellent song curation, but I have been advocating for some major changes for years now. Looks like the endless complaining finally paid off. Just Dance 2023 offers a completely new interface, one that feels a lot more modern. The overall graphics have also improved, which is very noticeable during new songs. This new edition is only available on current gen consoles, which allowed the developers to implement some more demanding visuals.
Story mode
Yes, you read that right! Story mode wasn't even on my wishlist, but yet they found a way to add this to Just Dance 2023. Basically, they've made a playlist with all new songs that follow a coherent story. Throw in some small videos, which you could consider cut-scenes, and you got yourself a story-driven dance playlist. "Save the Danceverse" is a fun addition and I wonder if we can expect more playlists like this in future updates.
Just Dance +
If you're familiar with the Just Dance franchise you know Just Dance Unlimited. Just Dance + is its successor and comes at a similar price point and in similar formulas. This subscription gives you access to additional songs, mainly consisting of songs from previous versions. It's worth noting that currently the Just Dance + library is a lot smaller than the Just Dance Unlimited library used to be. That's probably because Ubisoft is planning on using it as a proper live service, with seasonal updates that will add new content. It makes sense to add the back catalog of songs step by step together with completely new ones.
It's hard to judge if they'll handle the seasonal updates well, but I've got high hopes for sure. I used to always buy the game on cartridge for the Nintendo Switch and pay for Unlimited, then sell my copy of the previous year. Since Unlimited gives you access to all the old songs anyway. But Just Dance 2023 has only been released as digital copies, which makes sense if they're not going to be releasing new base games every year anymore, but rather add new content as part of their subscription model. They did still add "2023" to the title, so I'm curious if we should still expect big yearly updates on top? Only time will tell; I know I would love for them to sell "song packs" like Beat Saber does. A girl can dream.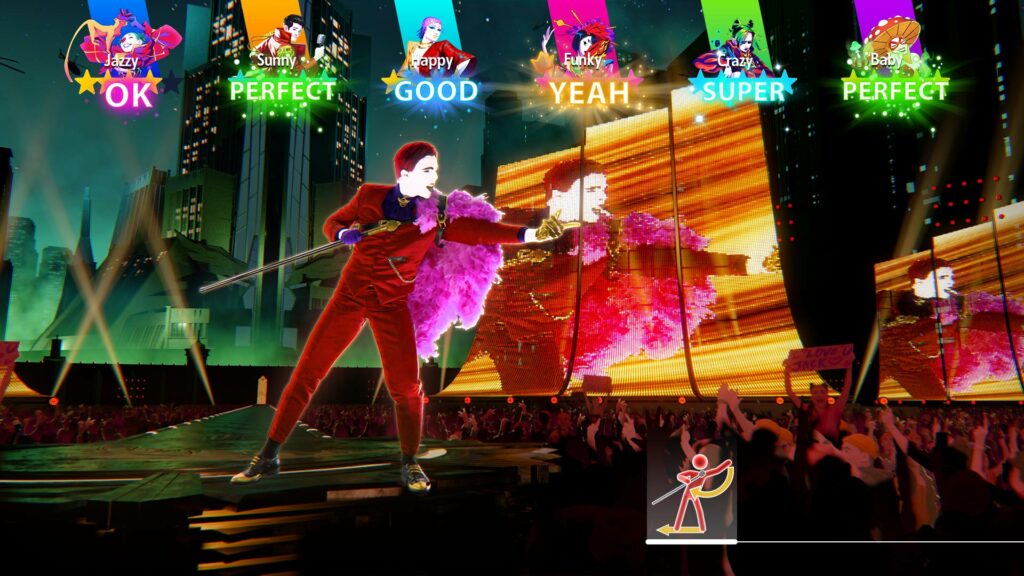 Multiplayer
Just Dance has always been a decent local party game. You can add up to six people in your party, but with the new online multiplayer your friends can join in remotely too. To go with the revamp of the game, they've also released a new Just Dance Controller App. The new controller app is only compatible with Just Dance 2023 though. Unlike Just Dance +, the online multiplayer does require you to have an online subscription for your platform of choice, in my case that means Nintendo Switch Online. Not surprising, but something to keep in mind.
Just Dance 2023: But also in with the Old
New features are great, but some things never change. Whether it's for better or for worse. One thing that has remained consistent throughout the years is the core gameplay. There's a dance coach on the screen that you have to mimic. You score higher points depending on how on-beat you are and how well you get the movements down. I did notice that it has become significantly harder to get high scores on the new songs. With the global leader boards that's actually a good thing. I feel a lot more motivated to play songs again and again to improve my skills and climb the leader board.
Same issues on the Nintendo Switch
Some may say that it's time for Nintendo to release a pro version or whatever of the Nintendo Switch, but I disagree. I do think Nintendo should just fix the poor internet connection. I believe Just Dance 2023 doesn't have performance issues in general, but when I'm streaming an online song from Just Dance +, or even browsing its catalog, the game is slow. And I've gotten used to that, sadly.
Another annoyance on the Nintendo Switch is that it's still impossible to take screenshots while playing Just Dance. It hasn't been possible on previous editions either. It's a shame because I would definitely snap screenshots to celebrate a new high score and flex it on social media. Alas, not possible. That's also the reason why you won't find any non-official screenshots on this review, in case you were wondering!
Just Dance 2023: Conclusion
Just Dance 2023 is good. It feels refreshing and addresses some age old gripes, such as being able to turn off promotions for their subscription model if you don't want it. It finally offers online multiplayer, comes with a new app, new interface and new live service model. I feel like JD has finally caught up. They also FINALLY added BTS songs to the line-up (and they did the original choreo justice btw, in case you were wondering). If it weren't for the current small catalog and the fact that I still cannot take screenshots, I would even rate this game a 9. But for now, I will patiently wait until the first big content update. Please don't disappoint me Ubisoft; I want to love this game so badly.
Big thanks to CDMedia for providing us with a review copy.