If you're a long-time reader, you probably know that that we have a thing for sound. A good pair of headphones is the cherry-on-top of every decent gaming setup. We have said it plenty of times before, and we're still firm believers of that. Recently, we've reviewed some good-looking headsets, comfortable headsets, and even some high-end performers. The always-evolving tech market, however, has pointed out an itch of ours we never thought we'd need to scratch. You see, if you've ever used AirPods, you know how effortless the process of using them is. You just pop open the case, put them in your ears and forget they even exist. In the gaming headsets market, we've never had something so simple, as most manufacturers opt to just fill their products with headline-worthy features, that are there only to justify the price. This is the gap that Logitech is trying to fill with the G435 Lightspeed.
Of course, just like the AirPods, Logitech G435s are aimed at a very specific audience. They tick specific boxes and perform specific functions, and they definitely excel at them. If you're looking for a feature-heavy headset though, this probably isn't the one for you.
Unboxing
The Logitech G435 is one of the latest products to make its way to BGeek's Rapid Unboxing series. You can watch the unboxing video here:
Inside the box:
the Logitech G435 Headset
the USB-A dongle for wireless Lightspeed connection
a USB-A to USB-C charging cable
user's manual and the Logitech G sticker
Note that this headset comes in environment-friendly, paper packaging. As interesting as it is to open up beautiful boxes and play around with even more beautiful tech products, Logitech is a company that takes the protection of our planet more seriously than that. This is the main reason why the Logitech G435 is made of 22% recyclable plastic and is one of the first headsets with a carbon-neutral footprint. Go little rockstar.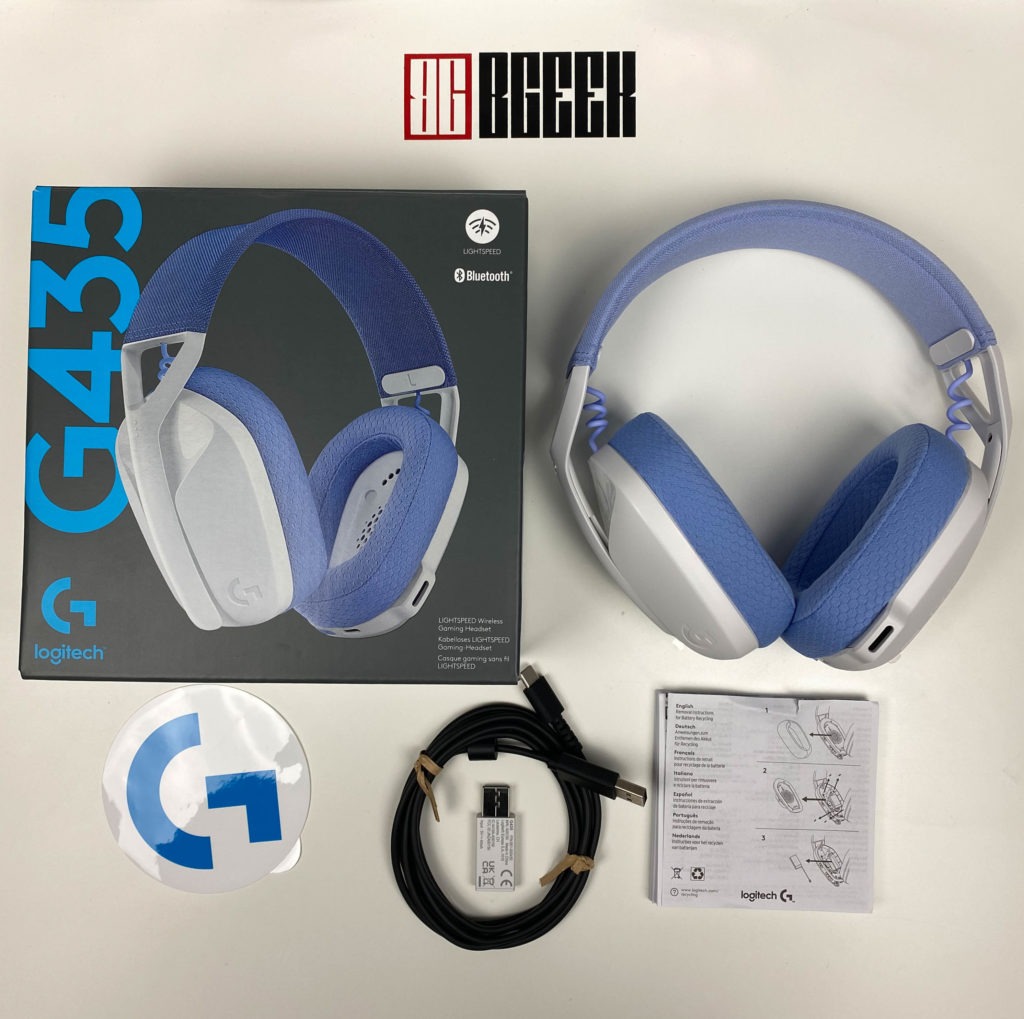 Design
The Logitech G435 has a more lighter-hearted design than the headsets we usually review, and that's a bit refreshing. They're available in three different color combinations: off-white with lilac, black with neon yellow, and blue with dark fuchsia. Our review unit is in the off-white and lilac one, which is the best color combination and this is not up for debate.
The headset is made almost entirely of plastic, using colored fabric where it rests on the head. The earcups are made of matte plastic, and on the back, we get glimpses of glossy plastic inside the headband slider. The headphones are connected to the headband via the plastic arms and the colored rubber cable that secures the communication between the two earcups.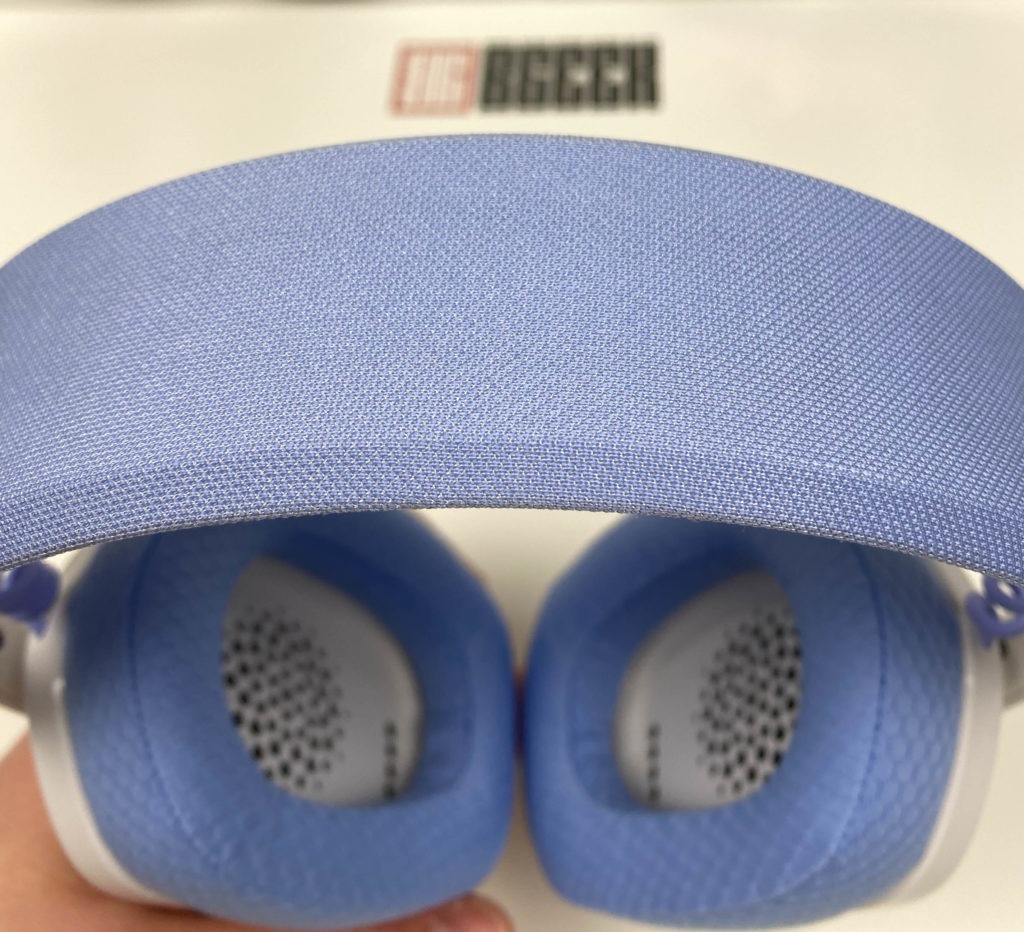 The headband does not have any additional padding other than the fabric that coats the plastic "bridge". The earpieces have memory foam pillows, covered with colored, soft fabric. Inside the earcups, there is no separating fabric that protects the ears from touching the cold plastic during long gaming sessions. At the bottom of the left earcup, we can find all the controls for our headphones. Specifically: the power button, volume control and the mute button.
It is noteworthy that the Logitech G435 has neither a detachable nor a reclining microphone. It uses two built-in long-range microphones, which are hidden on the outside of the left earcup. This was the main reason I started comparing them to Apple's AirPods, to be honest.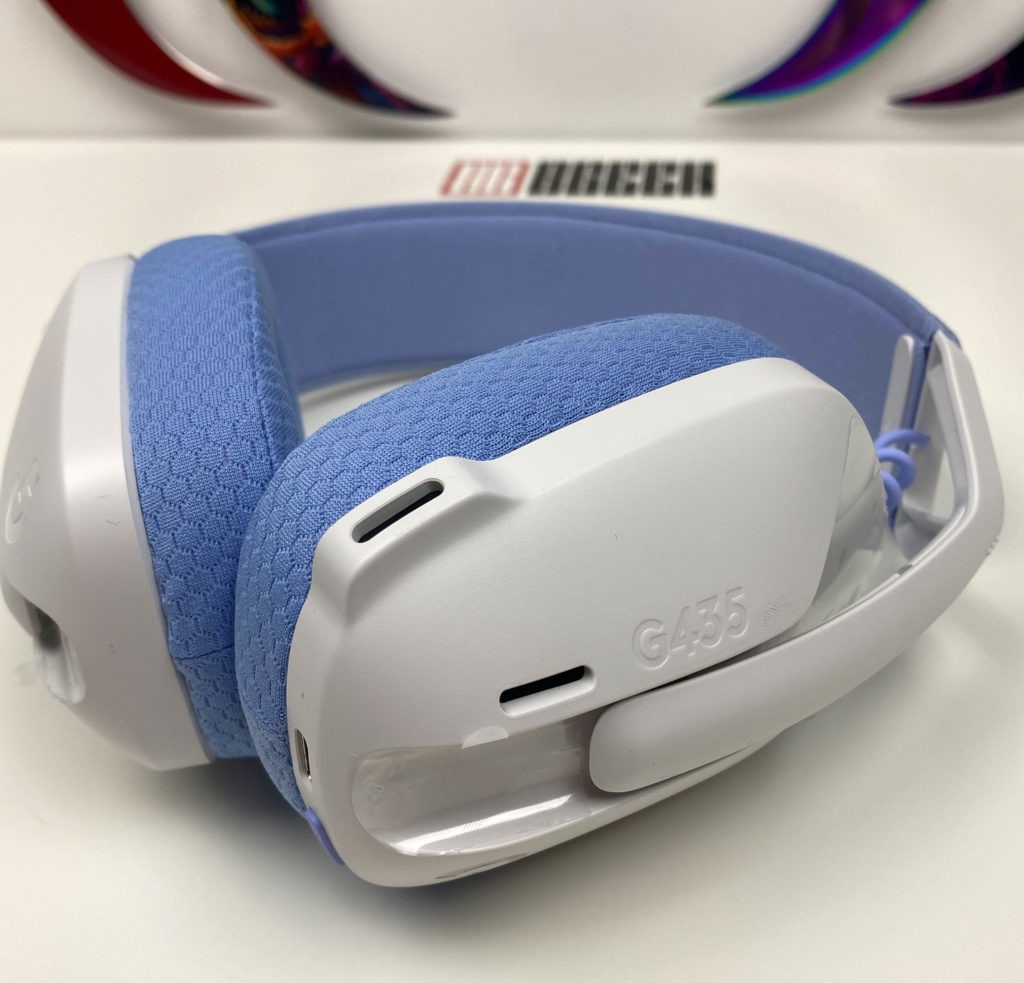 Build Quality / Comfort
The G435 is one of the lightest headsets we've ever gotten our hands on, perhaps the lightest. To be more specific, it weighs just 165 grams. Its emphasis on being lightweight, as well as its minimalist, environmentally conscious build, translate into some sacrifices in the area of comfort, which we will get more into detail below. In terms of build quality, however, I can't say that I found something to be missing. At least, not something that is a build problem and not a conscious design choice.
The plastic build shows minimal squeaking when under pressure. The buttons are tactile, but since the headset doesn't sit tightly on your head, every time you press something, it's audible. The headband is flexible and can definitely get wide enough. Sadly, I can't say the same about adjusting its height, but this is by design. You see, the Logitech G435 is designed for smaller heads. This makes it ideal for kids, teens, women and smol bois like me. I honestly did not have a problem with the headband, but that's something you have to keep in mind when buying a headset.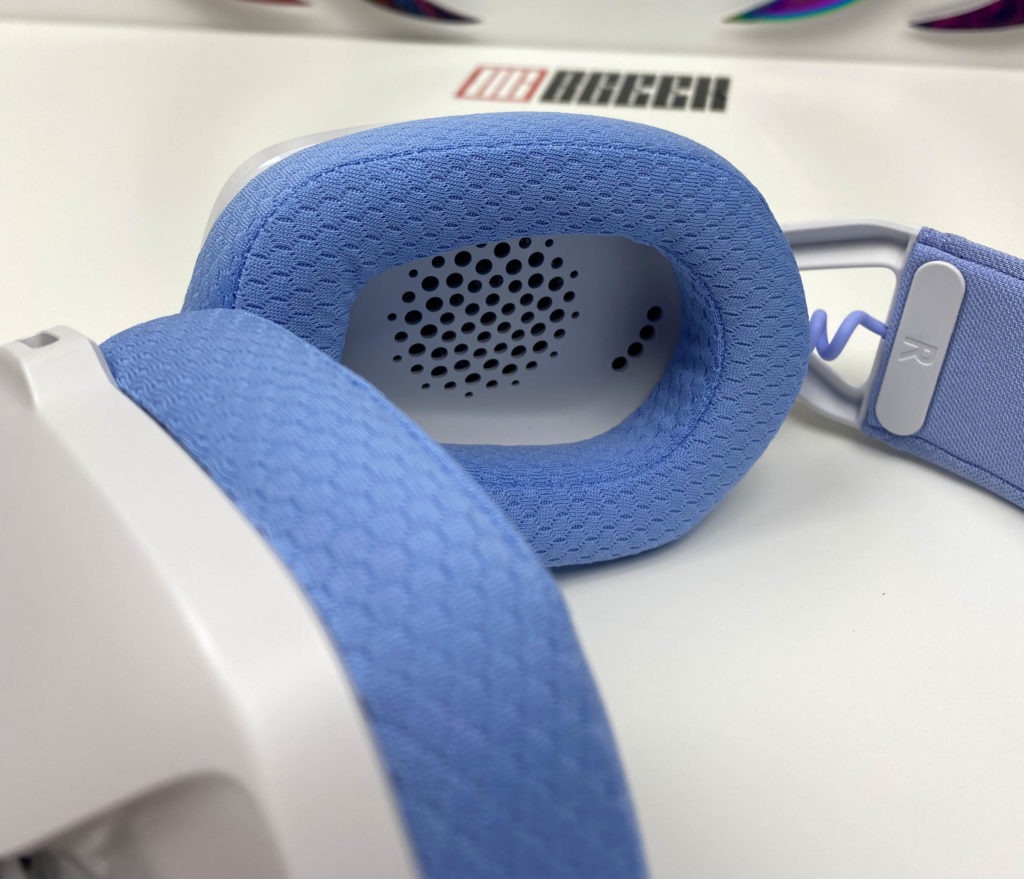 The memory foam is also soft enough not to bother everyone wearing glasses. No problems here. But because there is no fabric inside the earcups, there is a possibility, no matter how slim, for earrings to get caught up in the holes inside. Do be careful. There was never a moment during testing that I felt the headset pressing hard on my head, as is the case with most metal constructions. The plastic was light on the gead, but the lack of padding on the headband makes it so that you have to feel your way to the perfect position to rest it on your head.
Connectivity
This headset makes everything very easy. You don't even have to think about it before you press the power button. The Lightspeed USB dongle works on PC and PS5 with equal ease. Via the wireless Lightspeed connection, stability in data transfer is instantaneous. In addition, you have the ability to adjust the EQ of your sound exactly as you want through the Logitech G Hub. The range of the receiver goes up to 10 meters, although let's be honest, you'd probably notice it if you walked further than that.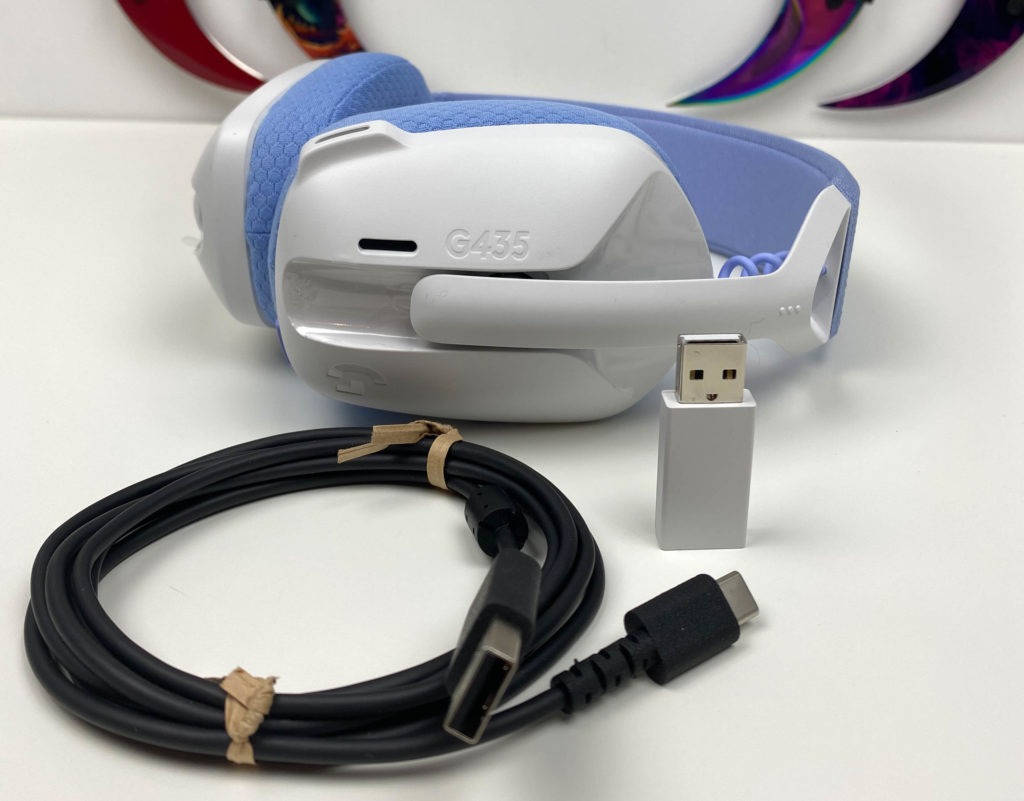 This is something you expect to see in every wireless headset made with the gaming crowd in mind. What really intrigued me most was the ability to use Bluetooth, which greatly increases the devices the headset works with. It blows my mind that we've made it to 2021 and Bluetooth is not yet the standard for connecting peripherals to consoles. Either way, the connection works seamlessly with PCs, mobile devices, and even Smart TVs as external audio output. Minimal playback interruptions due to interference from other Bluetooth devices, and only when used on PC, so I can't really count those as the headset's fault.
The battery has an indicative life of 18 hours on a full charge according to Logitech. Measuring based on my usage, the headset usually needed charging every 1.5 days. That is, if not 18 hours, it was definitely somewhere in that ballpark. Of course, even charging won't disrupt your gaming sesh, since you can use the headset while it's charging, even if it is not the most convenient thing. Note, however, that the G435 does not support a wired connection with a 3.5mm audio jack. The only cable connection is USB-C and it is for charging only. Strange choice.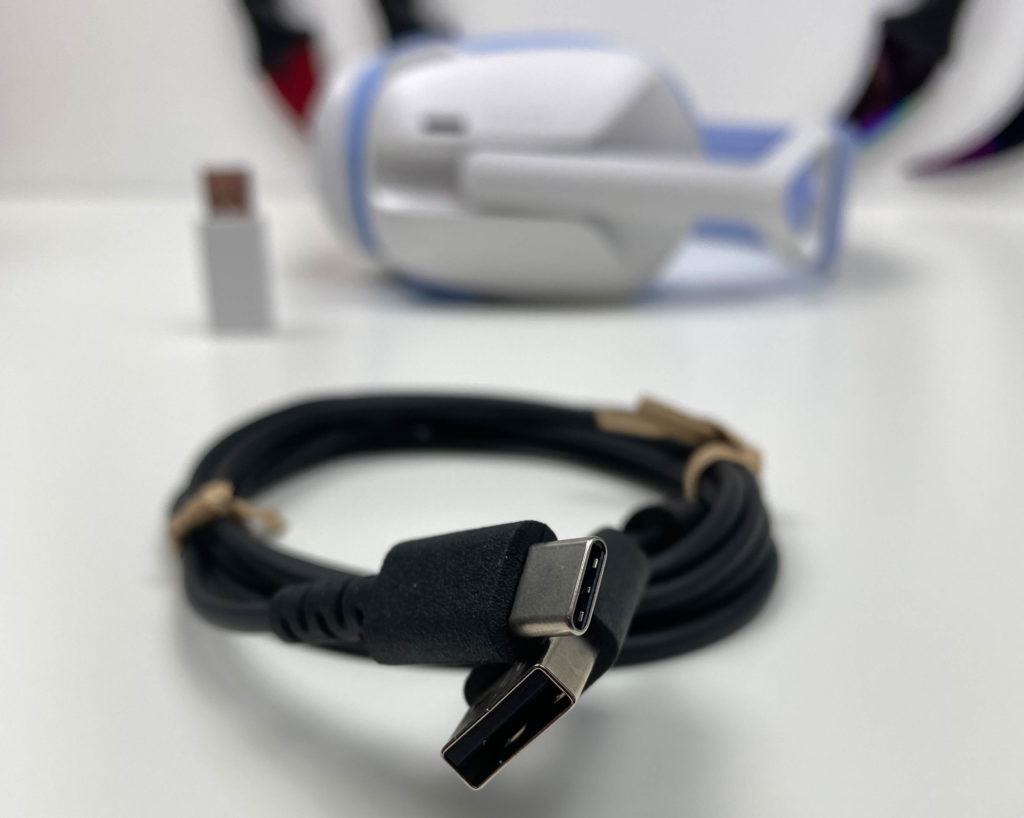 Sound quality
Starting off with the technical specs, the Logitech G435 sports two neodymium drivers of 40 mm (40mm), which are tuned at a frequency of 20Hz-20KHz with a resistance of 45 Ohm. The headset is compatible with Dolby Atmos and Tempest 3D. If you are like me of course, all these specs don't much, but going over the spec sheet is always a good idea.
In real-world use, their sound is good enough, even more so when we understand that we are looking at a €70 wireless headset. Like most gaming headsets, they tend to overemphasize the lower frequencies. This is not a bad thing at all, since gaming experiences always feel more bombastic with a bass-heavy headset. The same goes for movies with intense action scenes or music with nice 808s. I found the mid frequencies crystal clear, and rich in detail, especially during gaming. The highs felt a bit muddy, not as detailed as I would have liked. This, of course, is something that can be fixed with a simple EQ tune on G Hub.
Sound is always subjective and criticism is always related to the intended use of each device. If the Logitech G435 is the headset you want for media consumption, gaming, and chilling with music, then it'll be a great buy for you. If you're looking for something to impress you with an 'wow' sound quality, I'm sorry, but you are not only looking at the wrong product but also the wrong price range. You might want to take a look at the Logitech's G Pro X or the G733.
Mic
The mic is another feature for which the G435 has an interesting approach. Not having the microphone in your field of vision when you play is a huge quality-of-life improvement. This is one of those features that help make the whole experience feel effortless. If you want to talk, you just turn on your headphones and start talking, without having to think about it. It just works, as our friend Todd likes to say.
The dual microphones make sure that no matter how quiet you talk, the mic will pick it up, something that I liked very much. Unfortunately, the G435 does not have an automatic voice limiter, so this is something you have to adjust either from the G Hub or from the VoIP program you use.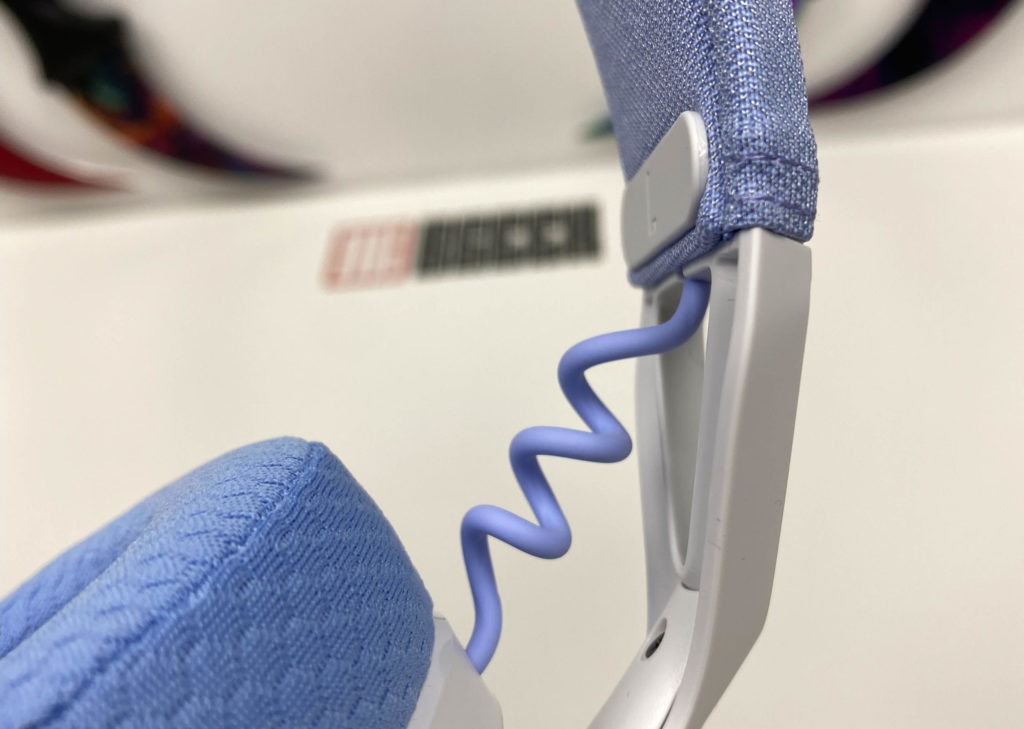 When used with the PS5, the voice was as clear as any other headset and communication was seamless. Always based on the claims of my teammates, of course. On PC, Discord picked up some noise here and there, for which I was notified of within the app. These small problems, however, only through a Bluetooth connection, not Lightspeed. Probably interference from other Bluetooth-enabled devices in the room, or my laptop's crappy Bluetooth chip: the point is that it wasn't something that significantly impeded communication.
Verdict
The Logitech G435 is a headset that meets very specific needs, but does so much better than any competitor. It's a headset, for those who want to switch between many different devices, without having to take off their headphones. It works with so many devices that the only reason you might need to take it off your head is to charge it. The whole process is so effortless in fact, it feels natural by the third day.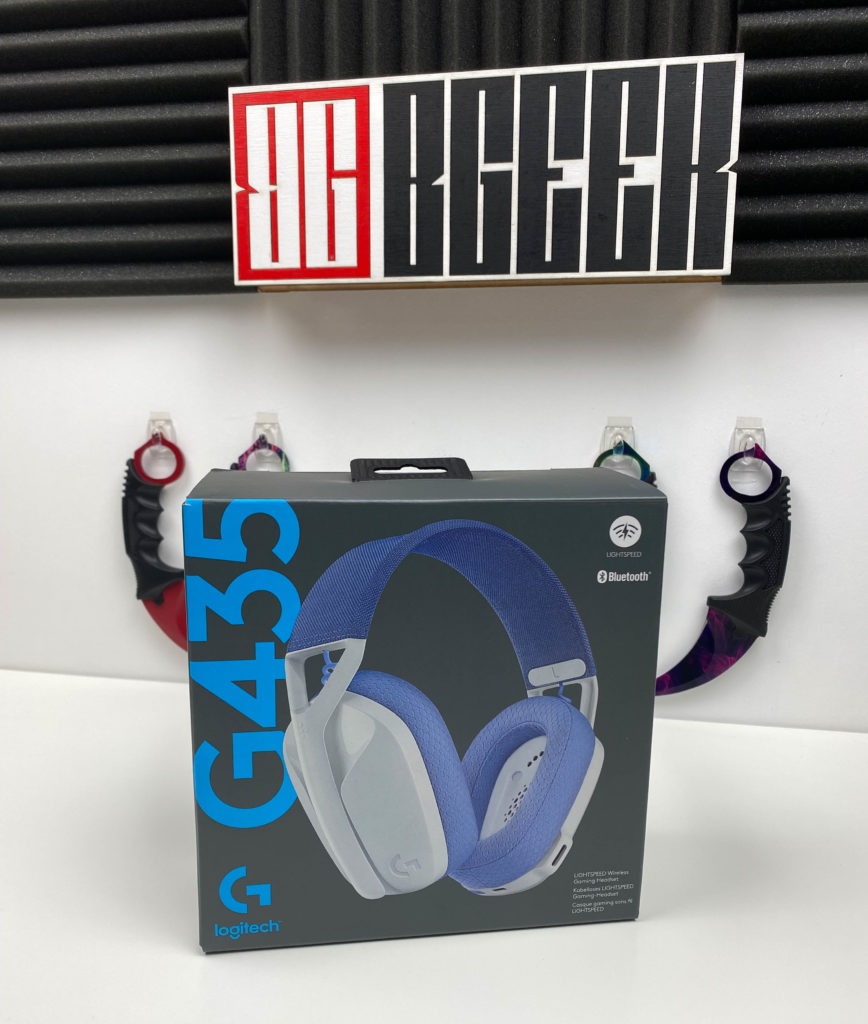 The sound is good enough as an all-rounder, for all purposes, but do not expect to be have your mind blown. The microphone works without problems on the subject of communication, but it will hardly suit you for something more elaborate than that. The battery lasts comfortably for a full day, considering that you're probably asleep when it's charging. It is also Logitech's first headset to support both Bluetooth and Lightspeed connectivity. In short, the Logitech G435 is a plug-n-play wireless headset for those who want to just put the headset after a hard day, and it just works, without any extra steps. That's it. For just €70.
We would like to thank Logitech for providing the review unit we used for this review.