The Nanoleaf smart lighting panels have been around for quite some time, and the Nanoleaf Shapes quickly became the top gaming/tech-influenced home decor choice. Nanoleaf come in all shapes (heh) and even some different textures, so you can match them to your aesthetic without much of a hassle. We have had the chance to unbox and play with some Nanoleaf bundles over the past couple of years. Most recently, it was the Nanoleaf Lines that we unboxed in our RapidUnboxing series over on our social media pages, and we were quite impressed with the sleek unboxing experience. But we've never done a review of the actual products. Well, it's time this changed.
In this article, we'll be taking a detailed look at the Sonic the Hedgehog Limited Edition bundle of the Nanoleaf Shapes. This is a Shapes Starter Kit bundle that ties in with the Sonic the Hedgehog 2 film. There are 32 panels in total (4 Triangles and 28 Mini Triangles) inside the box, and you can use them to create the head of either Sonic, Knuckles, or Tails. Or you make your own design, the sky's the limit. This is the first-ever Limited Edition bundle Nanoleaf has done, and it's actually a very good deal since you're saving 119€ by buying this specific bundle, and not buying the same amount of panels separately. Plus, it's also on a 50€ discount at the time of writing on the Nanoleaf Shop.
What makes Nanoleaf special?
Nanoleaf Shapes are the most popular smart home decor products, and for good reason. They are extremely easy to install and set up, they're heavily customizable and they can interact with the most popular smart home hubs and voice assistants on the market. It doesn't matter if you use Apple Home/Siri or Google Assistant/Home, or even Alexa. Your Nanoleaf will play nice with all of them.
Each panel is not only individually lit, but it reacts to the touch as well. You can set up all the touch reactive functions to your liking from the Nanoleaf app. You can set colour-themed scenes or music reactive scenes from the Nanoleaf app. There are plenty to choose from, some created by Nanoleaf, and some by other users. Color scenes are great for setting the mood, but music reactive ones are an unbeatable party trick.
You also have the Screen Mirror feature available, which allows you to use the Nanoleaf desktop app and sync the Nanoleaf with what is on your screen. It's fast, it works very well, and is absolutely great for immersion, so that means it's perfect for watching movies or playing single-player games like God of War or The Quarry. I would recommend turning it off though for Multiplayer games, as it can be quite distracting at times, especially if you have your Nanoleaf positioned around or behind your screen. Screen Mirror is currently only available for PC.
But let's dive into the actual Nanoleaf Shapes – Sonic The Hedgehog Limited Edition bundle:
What's inside the box?
You can watch our RapidUnboxing video of the Nanoleaf Sonic Limited Edition bundle here, where we show exactly what you can expect to find in this bundle but here's a list of what is included inside the box:
4 Nanoleaf Shapes Triangle panels
28 Nanoleaf Shapes Mini Triangle panels
4 Nanoleaf Shapes Triangle mounting plates
28 Nanoleaf Shapes Mini Triangle mounting plates
33 Nanoleaf Rigid Linkers (connectors)
32 pieces of mounting tape
1 Nanoleaf Controller
Power brick (with region-specific plug)
There's 1 extra Rigid Linker that you can use as a spare or replacement plug, but if you plan on doing some weird designs, you might need to use it in order to keep the furthermost panel in place, especially if it's a Mini Triangle. I had no trouble whatsoever setting all the panels up, but in case you need some extra mounting tape or even a couple of Rigid Linkers, you can easily order replacements from the Nanoleaf Shop.
Installation process
The installation process of the Nanoleaf Shapes is really simple and the instructions on the manual and the mounting/unmounting instruction video the company has put up on their channel is extremely helpful. It didn't take me more than an hour to set everything up for the first time. I found the most time-consuming part to be deciding the pattern you want to use when mounting your Nanoleaf Shapes on the wall.
For this Sonic The Hedgehog bundle, it was easy to decide, since you have just enough panels to recreate the head of the main characters. My personal favorite design was Knuckles, but it's hard to beat Sonic. We even gave Tails a shot. If you're getting a standard Starter Kit, make sure you have made up your mind on the design before starting the installation process. We recommend arranging the panels in the design of your choice before you begin mounting them on the wall, and maybe take a few photos of it with your phone so you can refer back to it when in doubt.
Mounting your Nanoleaf Shapes to the wall
You should start off the installation from the panel that will be at the bottom of the design, so you can calculate the space you will need more easily. It can be a mini triangle, although I suggest starting off with a big Triangle. First off, you will need to attach the mounting plate to the back of your Nanoleaf Shapes panel, by applying a little force until it snaps in place. Then, lay the panel facing down, take a piece of mounting tape and stick it on the mounting plate, leaving a small piece of the tape sticking out of the plate, so you can detach the mounting plate from the wall without leaving any residue. That's right, if you want to change up the design, you can always remove the panels and the mounting plates from your wall without worrying about any damage to the wall.
Before mounting the first piece, refer back to the design you have selected and attach the power supply, the controller, and any Linkers you might need for nearby panels. Linkers, the controller, and the power supply all use the same connection interface, so just click all of them in place, in different connection sockets. The power supply and the controller can be attached to any panel in the design and will still work fine, but you will need at least one Rigid Linker to power up each subsequent piece from the one the power supply is attached to. So make sure you calculate the space and the connections you will need correctly.
After you have figured out the space you will need, you can finally start mounting. First of all, take a clean cloth and clean the swipe away gently on the surface you plan on using, to get rid of any dust. Make sure your first panel is level (we used the Level app on our phones for this), and stick it on the wall. Apply pressure on the panel with your fist (or finger for Small Triangles), for about 30 seconds, just to make sure the tape is stuck on the wall. If you make a mistake, don't fret too much, as you can always pull the panels out of their mounting plates, without the mounting plate coming off the wall, and attach any Linkers you might need. Keep doing that for the rest of your panels until your design is ready. After you're done, you're ready to pair your Nanoleaf to your network and your smart devices.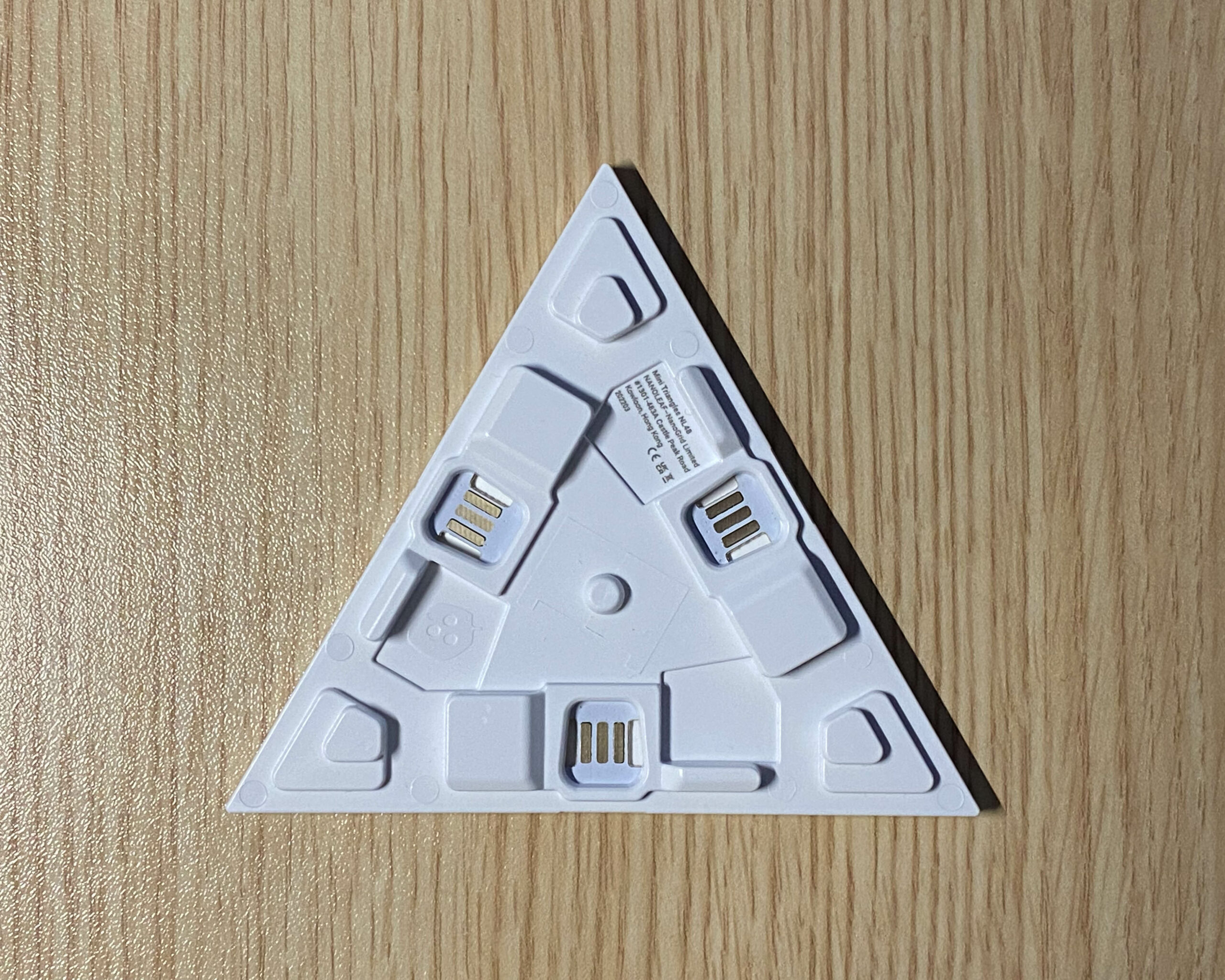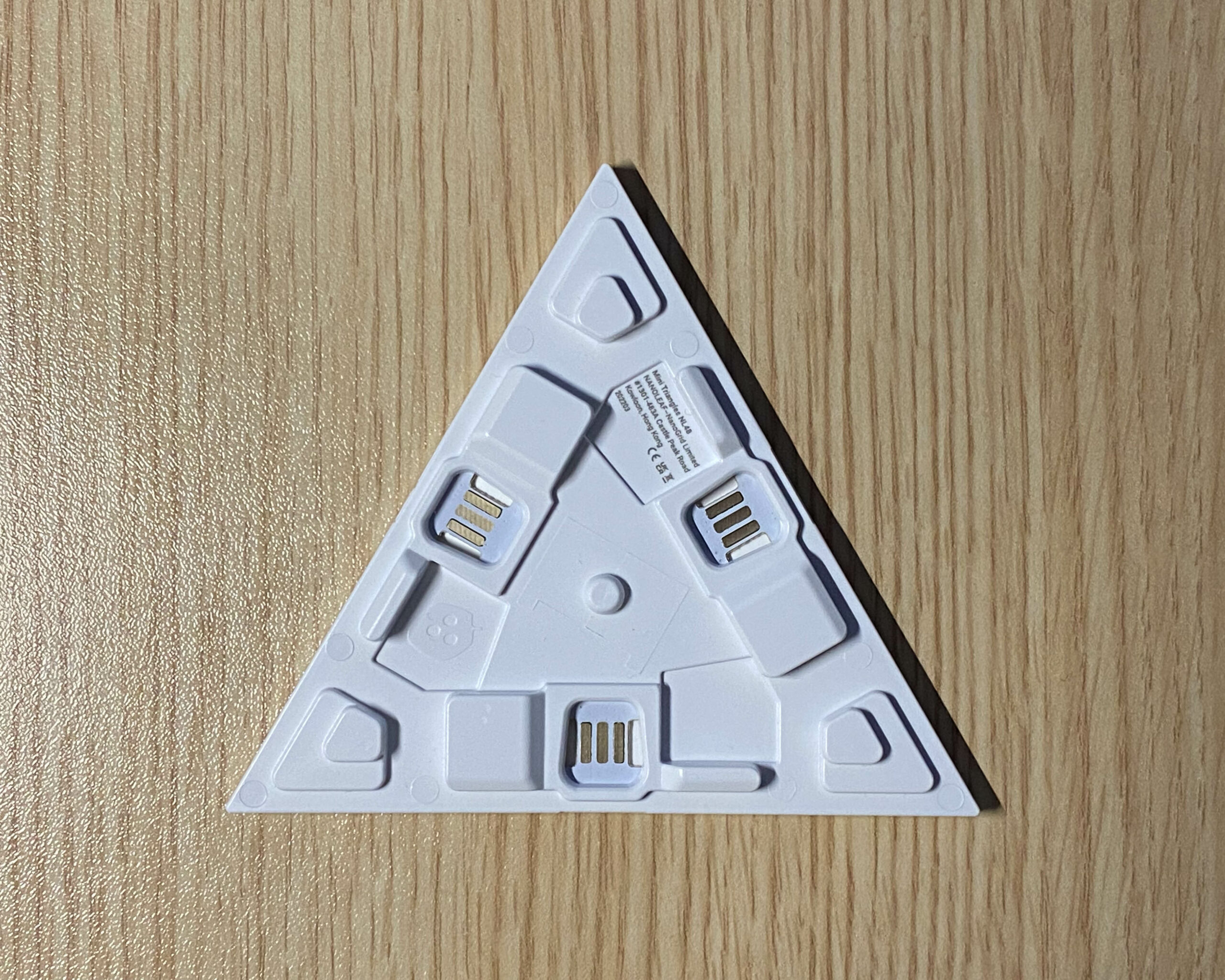 Pairing the Nanoleaf to your device
After you mount all your Nanoleaf to the wall and make sure that all your panels have power, tap the Power button on the Controller. This will power on your Nanoleaf and they will start calibrating. After all the panels have lit up, it's time to pair them to your phone. Of course, you can also use the desktop app, but let's be honest, it's much easier on mobile. Make sure you are using the 2.4GHz WiFi band on your router, as Nanoleaf panels do not currently support the 5GHz WiFi band.
The first thing you need to do is download the Nanoleaf app from the App Store or the Google Play Store, depending on the device you're using. You can make a Nanoleaf account if you wish to sync your settings to the cloud. After launching the app, press Start Pairing and then Add Accessory. You can pair either by scanning the QR code on the power brick or by holding your phone close to any one of the panels and waiting for NFC to do its magic. After the Nanoleaf are paired, you can give them a name for the voice assistants to recognize. The Setup Orientation assistant will pop up and will ask you to confirm the automatically detected design of your Nanoleaf Shapes. Make sure you get the shape right on the app, as this is essential for the correct display of the various Scenes. And now, we get to the good part.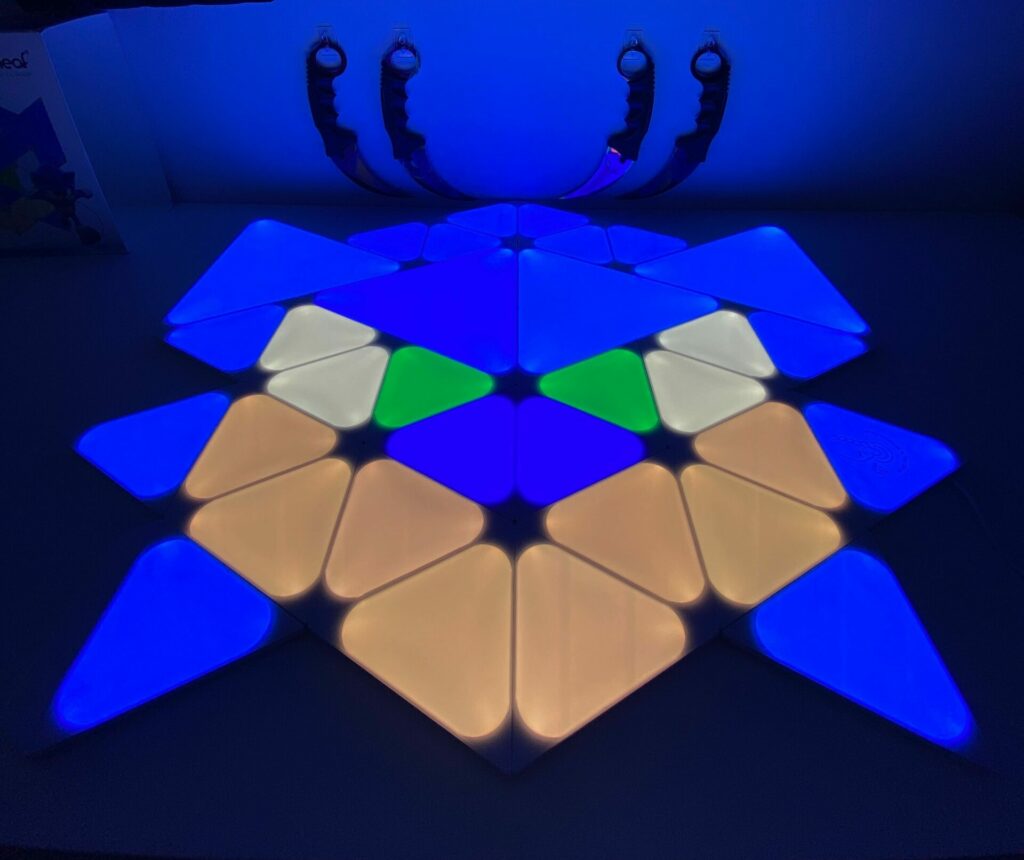 Setting up your Scenes
After your Nanoleaf Shapes are set up, you can start going crazy with all kinds of colour combinations and motions. You can make your own scene from the Dashboard, by clicking on your Nanoleaf device and then choosing what type of Scene you would like to create. You can either let the AI pick a color combination for you, based on a word you provide, or try your hand at making a new Scene completely from scratch. The process is very easy, and I highly encourage you to explore it on your own.
I'm not that good at creating stuff, so off to the Discovery tab we go. Here, you can preview and save Scenes made by Nanoleaf and the community. There is an endless amount of Scenes to choose from and you will spend a lot of time just trying them out. Playing loud music when testing Reactive Scenes is now one of my favorite pastimes. It's a huge mood booster. The most fascinating thing is that there really is a scene for everything you can think of. Rainy morning? Classic. Club lights that react to music? You got it. Cyberpunk-themed neon lights? Of course.
The best thing about the Sonic The Hedgehog Limited Edition bundle is that there are specific scenes tailor-made for this pack. There is one Scene for Sonic, one for Knuckles, and one for Tails, and you can they're using animations that are directly linked to the Nanoleaf shape of each character. Sweet.
Lighting is science
There are also Playlists you can save, which are essentially a combination of scenes that play one after the other. It really works just like your Spotify playlist. These are sets of Scenes that are fit for specific purposes, for example relaxing before going to bed or being productive when working. Lighting can heavily affect your mood and these Nanoleaf playlists are proof of that.
You can also create Schedules, which is essentially a way to power on your Nanoleaf panels at a specific time of the day and make them play a specific scene(s). This can be extremely useful if you have trouble waking up. Most people sleep with the curtains closed, so you can just set your Nanoleaf to simulate the sunrise and wake you up (you'll probably need to set an alarm too, if you're not a light sleeper). Talk about smart tech!
Hidden away nuggets
Blink and you'll miss them, but there are some very useful features tucked away in the Device Settings menu of the Nanoleaf app. From this menu, you can assign different swipe gestures to the panels. You can increase or decrease the brightness and shuffle through your scenes using these gestures. Please note that a swipe is only registered when you drag your finger from a panel to the one next/above/below it. You can also set tap and long press actions for each individual panel!
It's also noteworthy that the Nanoleaf have sensors that can detect how much light is present in a room. You can set the mode to either Ambiance or Functionality and the AI will adjust the lighting intensity accordingly. You can also set limits for the minimum and maximum brightness when Auto-Brightness is on.
Nanoleaf Shapes – Final Thoughts
Man, I feel like the Nanoleaf are such a unique product of this era. They're individually lit, smart panels, tailor-made to fit or change your mood, and they even help you enjoy your music. Sometimes a smart lighting companion, and sometimes an actual tool to get you to focus or prepare you for a good night's sleep.
A masterful use of technology that can actually affect your daily life through such a simple thing as lighting up your living space. And it really works, these little lighting panels can be a huge mood booster when you need them. Nanoleaf took smart living to its literal sense, and they actually made it work. I'm sure you must think I'm exaggerating, but in all honesty, this is a product that you have to not only witness, but live with in order to appreciate it.
Nanoleaf Shapes Starter Kits usually start at 99.99€, and they contain from 4 up to 15 panels. Getting a total of 32 panels for 249.98€ with the Nanoleaf Shapes Sonic The Hedgehog Limited bundle is a much better deal since you can use that many panels to create intricate designs, even if you're not into the Sonic theme. I too created my own design just to test out all the different lighting patterns. If you're looking to upgrade your home lighting, I doubt you'll find a better deal than this, so click that 'Add to cart' button before the promotion runs out.
We would like to thank Nanoleaf EU for providing the review unit we used in this review.