It's already been a year and a half since we finished Project Arthas and it was time for something new. This time, we decided to make a Destiny 2 PC mod. We wanted to make our case look like the Ghosts in the game, and more specifically the Warsat Shell, which was available for a limited time.
With this build we wanted to test ourselves and for this reason, the work done on the case and its hardware is top tier.
The preparation
Once we decided on the final design and had a clear picture of what we want to do, we contacted our partners to make it come true.
This is how I imagine heaven looks like
As soon as we shared our idea with them, they were excited and wanted to support it. So, MSI, CoolerMaster, Kingston, SteelSeries and Jonsbo through Caseking joined forces.
The partners
The case
The first step was to find a case that fits the concept. Searching the internet, I found Jonsbo's Mod 5 and I couldn't believe my eyes. It was just what we needed. I immediately contacted Caseking, describing what we had in mind, and they agreed to send us the Mod 5. We chose the white colour because we were going to use it as a canvas. Our goal was for the entire case to be hand painted, so that our Ghost would look battle damaged.
The Mod 5 is a full case with an open frame, which helps with better airflow. Up to 9 fans fit in this futuristic box as well as a 360mm heatsink on the front or a 240mm on top / bottom. Another thing that makes it stand out is the unique design with the motherboard base positioned diagonally. On the sides we find the pretty common tempered glass, making the interior visible. On its left side, there is also hidden RGB lighting under its "wings". The case is available in metallic silver, white and black, full aluminum frame.
The hardware
MSI
MSI was once again by our side and supported us in this project sending us the MPG Z790 Carbon WiFi motherboard and the beast called GeForce RTX™ 4080 16GB SUPRIM X.
The MPG Z790 CARBON WIFI belongs to MSI's premium series of motherboards. Supports 13th/12th generation intel processors with LGA 1700 socket and DDR5 memory, up to 7600+(OC) MHz. PCIe 5.0 slot, Lightning Gen 5 x4 M.2, USB 3.2 Gen 2×2. The 2.5G LAN and Intel Wi-Fi 6E network cards and M.2 Shield Frozr technology will cover even the most demanding gamers for a continuous gaming experience. For such a motherboard, the mighty Intel Core i9-13900K processor was our only choice and that's how we created the couple of the year.
I don't even know where to start with GeForce RTX 4080 16GB SUPRIM X. The SUPRIM logo and name are inspired by the geometry of diamonds. Clearly because the card itself is a diamond in its category. Basically, I won't say anything more about the card. You can just read our detailed review and understand why it was called SUPRIM.
Kingston
Kingston is one of the leading companies in the storage industry, both in long-term (HDDs/SSDs) and short-term (RAM), and has deservedly won the trust and love of its customers through their products. We collaborated with Kingston for the first time, and I can say for sure that it will not be the last. We were promptly sent two Kingston FURY Renegade PCIe 4.0 NVMe M.2 SSDs, one 512GB and one 1TB as well as a KF552C40BWAK4-64 kit. Flawless!
The FURY™ Renegade PCIe 4.0 NVMe M.2 SSD delivers top performance with up to 4TB capacity. It is suitable for PC gamers as well as console gamers. Because everyone should enjoy high end performance, without differentiation. Leveraging Gen 4×4 NVMe and 3D TLC NAND technology, the Kingston FURY Renegade SSD can reach speeds of up to 7,300/7,000MB/s1 read/write and up to 1,000,000 IOPS1 for almost zero loading screens. You can choose between the simple model and the one with the built-in heatsink. When the game gets heavy, your PS5 and PC will stay cool without any worries.
The KF552C40BWAK4-64GB kit belongs to Kingston's Fury series and is one of the top RAM in their category. It is a kit of four 2G x 64-bit (16 GB) DDR5-5200 CL40 SDRAM (synchronized DRAM) 1Rx8, memory module, based on eight FBGA 2G x 8-bit elements per measurement unit. Each kit supports Intel® Extreme Memory Profiles (Intel® XMP) 3.0. The total capacity of the kit is 64GB and it operates at 5200MHz at low latency. Not to forget to mention that it has great RGB lighting and of course it came in white to match our build.
CoolerMaster
This collaboration with CoolerMaster was also our first one. The story was kind of similar. – What will you need? – Power supply, fans and closed loop water cooling system for the processor. – Say no more! And that's how we received five SICKLEFLOW 120 ARGB WHITE EDITION, an Adressable RGB LED Controller, a MASTERLIQUID PL360 FLUX and finally a MWE GOLD 1050 – V2 Full Modular power supply.
The SickleFlow 120 ARGB White Edition are the new members of the CoolerMaster Fans family. They are ideal for the CPU but also as intake fans for the case. The design of their blades with the improved curve helps in better air pressure and distribution. Their frame has also been upgraded for increased noise reduction. With the sealed bearing of the fan, there will never be leakage of lubricating oil or dust inside it, thus stabilizing their operation and increasing their service life.
The MASTERLIQUID PL360 FLUX cooler of Cooler Master's Flux series is one of the best implementations for efficient cooling. With improvements to the pump, cooler and fans, the Flux series can handle heat dissipation and provide CPU cooling even when running Baldur's Gate 3 at Ultra settings. The new dual chamber pump is more compact than previous models, and provides the perfect flow for faster and more efficient cooling. The cooler has a relatively low profile and its fins are thicker to dissipate heat faster.
All of the above come with adjustable RGB lighting. CoolerMaster has managed to do this configurable literally at the push of a button with the ADDRESSABLE RGB LED CONTROLLER. The controller is connected to the ARGB devices and / or directly to the motherboard. So it can adjust the RGB based on the other devices connected to the motherboard that use RGB. It comes with four buttons: LED Mode Setting, ARGB & RGB Lighting Mode, LED Colour Adjustment and LED Speed ​​Setting.
Finally, the MWE GOLD 1050 – V2 FULL MODULAR power supply is the latest, upgraded version of CoolerMaster's power supplies. The MWE 1050 Gold – V2 comes standard with 2 EPS slots, 6 PCI-e slots as well as a 12VHPWR slot with a 600W cable making it compatible with RTX 30 series graphics cards. This particular PSU will power your PC and all your hardware without any problems and the most important thing is that it comes at an affordable price for what it offers.
The peripherals
Peripherals are just an extra touch in a PC build but in our case they are the perfect peripherals for our MOD. Why? Because it's Destiny themed of course! I want to thank Joanna from SteelSeries who once she heard about our build, she wanted to support us and we didn't even have to ask for anything.
She sent us a QcK PRISM, an Arctis 1 as well as a Rival 5, all from their Destiny series. Of course, the keyboard should match the build, so they sent us their white Prismcaps to use them with our Apex Pro Mini Keyboard.
The building of Destiny 2 PC Mod
As I mentioned above, this particular MOD we wanted to be our best and for that reason we paid a lot of attention to the details.
Hand painted
The box came in white. The black details had to be added by us.
Of course, "pure" black wasn't what we wanted, that's why we "battle damaged" it. Starting with some scratches on it.
Of course, when we're talking about battle damage, scratches aren't enough. Our Ghost came out of battle with quite a bit of fire and explosions damage as well as dust and debris. Of course, it was also stained with the blood of our enemies.
Not to forget my personal favorite finishing touch.
Always wash your hands before touching your computer
3D design and print
The last part after painting, was to attach the 3D printed parts. Which had to be sculpted into the 3D software, printed, then sanded and painted. All pieces were printed with the Bambu Lab X1 Carbon Combo. Of course, the logos as well as the hunter's dagger from Destiny 2 were relatively easy to print.
As you can see, the dagger also had some rough times in battle
Even now, I felt like something was missing for our PC to resemble our Ghost. What was missing was the inner piece. The heart, or the eye of the Ghost as it is called, somehow had to fit onto our case. For this reason I contacted Jared Koh who is the artist who designed this particular Ghost for Destiny 2. I told him what we were up to and that we needed his help and he gladly offered to design the Warsat Shell eye for us. And it happened!
Now we had the design. What we were left with was the 3D model. My good friend Edward Crane came to save the day. Within 2 days and while he was in the middle of moving, he managed to sculpt me a 3D printable model of the eye.
After a few hours of printing, sanding and painting, it came to life.
The final result
Adding everything on the box, we came up with the desired result. "Enjoy responsibly"
Let's check it with the RGB on: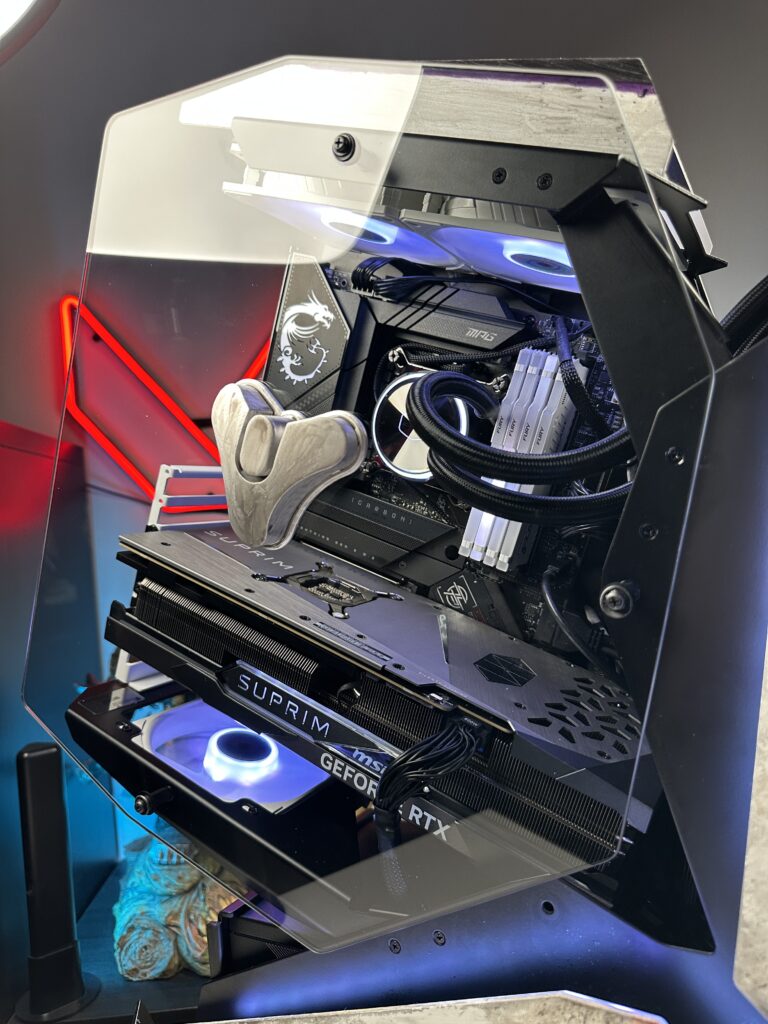 And that's the end of our build that took us several months to complete. I want to believe that the result came out beautiful. What do you think?
Stay tuned to our Instagram page as we will soon be uploading some videos from the build showing all the details and the work that was done.
Once again I would like to thank our partners, MSI, Kingston, CoolerMaster, Caseking and SteelSeries, for trusting us and supporting this project.
Onto to the next one!