Spring is here and you know what that means: Tons of new anime! Perfectly timed for allergy season if you ask me. For full lists and release schedules I recommend you check out AniChart or LiveChart. If you don't want to go through all the trouble or wade through the immense list, I've got your back. In this article you'll find some of the most notable new anime in April 2021.
Week 13
Release date: 01/04/2021
Genre: Action, Adventure, Supernatural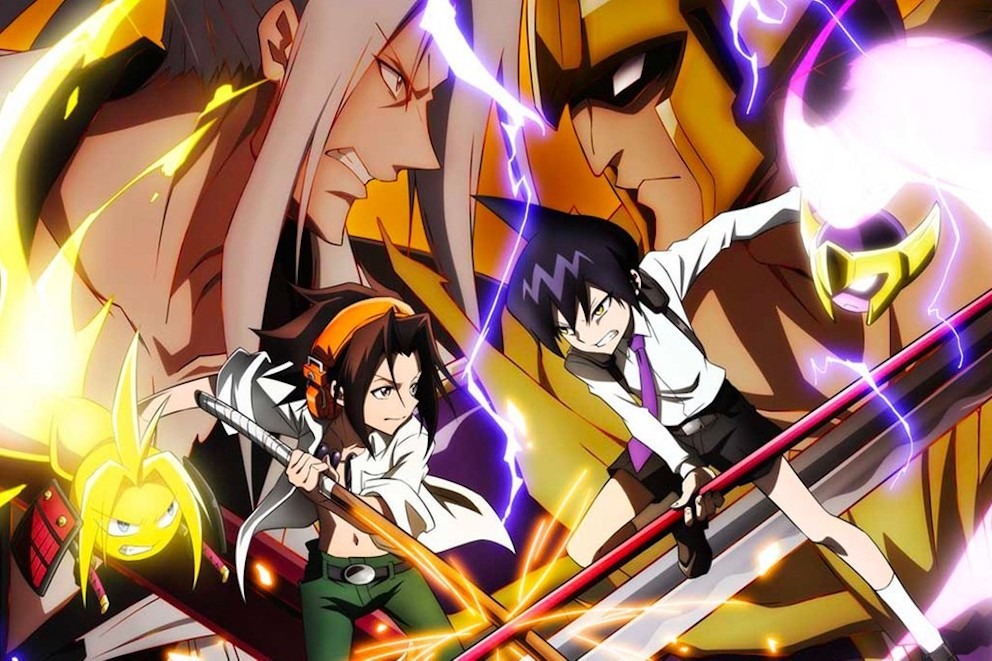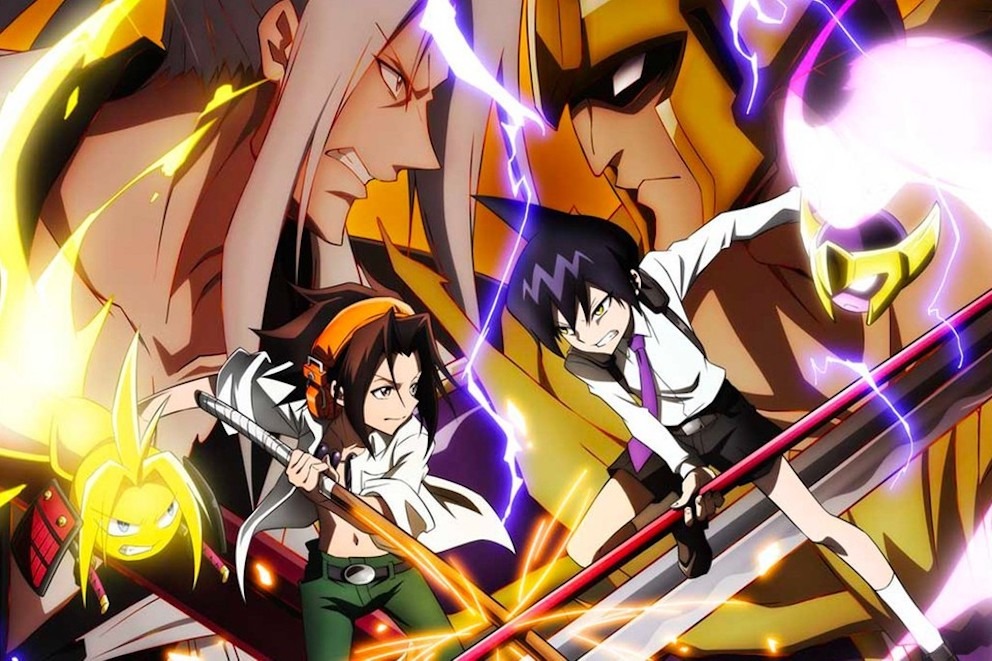 A reboot of the anime from 2001, which was based on a manga series from 1998. Yoh Asakura is a shaman, a medium between the worlds of the living and the dead. He wants to become the Shaman King, for which he needs to win the Shaman Fight. That tournament occurs once every 500 years. During said tournament he encounters his estranged twin brother Hao, who wishes to use the power of the Shaman King to create a new world for shamans only.
SSSS.Dynazenon
Release date: 02/04/2021
Genre: Action, Sci-Fi, Mecha
An original anime, the sequel to SSSS.Gridman. High school student Yomogi Asanaka runs into the mysterious Gauma, who claims he is a "kaiju user" or monster tamer. Suddenly a kaiju and a gigantic robot, Dynazenon, appear and Yomogi finds himself at the wrong place at the wrong time.
My Hero Academia: Season 5
Release date: 03/04/2021
The new season technically started with a recap in episode 0 that launched on the 27th of March.
Genre: Action, Comedy
In a world where most of the humans have gained superpowers (called "Quirks") we follow Izuku Midoriya. Despite not having a Quirk, he dreams of becoming a Hero. After meeting his idol All Might, he passes his Quirk onto Izuku. Determined to become a hero he attends a prestigious high school for heroes in training. Season 5 will cover the story of the original manga starting from the first chapters of the 21st volume.
The Snow White Notes
Release date: 03/04/2021
Genre: Music, Drama
Based on a manga series. Ever since the loss of his grandfather, Setsu has lost his "sound". Trying to cope with his grief he goes to Tokyo. There he encounters Yuna, who saves him from a robbery. She dreams of becoming an actress, Setsu dreams of mastering the shamisen. (a traditional Japanese musical instrument, similar to a guitar)
Combatants Will Be Dispatched!
Release date: 04/04/2021
Genre: Action, Comedy, Fantasy
Based on a light novel series. The Kisaragi Corporation, an evil megacorp, decides to involve themselves with interstellar conquest. They nominate their chief operative, Combat Agent Six, to explore an alien planet. As with all corporations he needs to work hard to earn his promotion. His first task: get rid of the other villains on the planet, the "Demon Lord's Army".
Megalo Box: Season 2 (Nomad)
Release date: 04/04/2021
Genre: Action, Sci-Fi, Sports
An original anime that takes place in a futuristic Japan. The popular sport Megalo Boxing differs from regular boxing because the fighters wear a metal frame, making their attacks more lethal. Junk Dog fights in the underground rings where matches often have a fixed result. When he almost crashes his motorcycle into the head of the wealthy Shirato Group, which oversees the Megalonia tournament, he picks a fight with her bodyguard and loses. To seek revenge he must enter the tournament, for which he'll need to forge an ID and work his way to the top of the ranks.
Moriarty the Patriot: Part 2
Release date: 04/04/2021
Genre: Historical, Mystery, Psychological
Based on a manga series. The story takes place in the late 19th century when the British Empire has become a global power. Albert Moriarty's family adopts two orphans, William and Louis James, who share a common hatred for the British nobility. They burn down the family estate and start a new life, employing illegal means to destroy the class system they despise so much. Sherlock with his unseen deduction skills piques Moriarty's interest and he tries to frame him for a murder to test his abilities.
Week 14
Fruits Basket: Season 3 (the Final Season)
Release date: 05/04/2021
Genre: Romance, Slice of Life, Comedy
A reboot from 2019, based on a manga series. Tohru Honda finds herself living in a tent after her mother passed away. She stumbles upon Shigure Soma's house and learns her classmate Yuki lives there as well. After learning of her fate they invite her into their home. The Soma family is however possessed by the animals of the Zodiac, a curse that turns them into animals when they are weak or embrace someone of the opposite sex. Tohru learns about their hardships and wants to break the curse.
HIGEHIRO: After Being Rejected, I Shaved and Took in a High School Runaway
Release date: 05/04/2021
Genre: Drama, Romance, Comedy
Based on a light novel series. Our protagonist is the ordinary 26-year-old Yoshida. He gets rejected hard by the woman he's had a crush on for 5 years. On his way home from a bar he meets a teenage girl at the side of the road. She offers to sleep with him if he lets her stay at his place. Before he knows it she's moved in with him.
Koi to Yobu ni wa Kimochi Warui (Koikimo)
Release date: 05/04/2021
Genre: Romance, Comedy
Based on a manga series. Salaryman Amakusa Ryo gets saved by a high school girl at the station. As a way to repay her, he offers her a kiss or a date. Ichika calls him a creep. Ryo of course falls in love with her and continuously tries to express his feelings for Ichika. Although she keeps insulting him, Ryo mistakes it for affection.
The Saint's Magic Power is Omnipotent
Release date: 06/04/2021
Genre: Fantasy, Romance
Based on a light novel series. Sei, a young office worker, gets summoned to a new world. The ritual should have summoned a "Saint" that will banish dark magic. It summoned two girls instead and everyone seems to like the other girl more. Sei decides to leave the royal palace and starts selling potions and cosmetics with her new magical abilities. Business is booming, but Sainthood starts to haunt her.
The Slime Diaries: Season 1
Release date: 06/04/2021
Genre: Comedy, Fantasy, Slice of Life
Anime based on the spin-off manga from That Time I Got Reincarnated as a Slime. "Dear diary… I got reincarnated as a slime." Even in another world, lives aren't always on the line. There's plenty of work to be done, from feeding the community and forging the items the community needs; as well as plenty of play …and hijinks throughout! Join Rimuru and friends as they kick back and enjoy their daily lives. (source: Kodansha)
Mars Red
Release date: 06/04/2021
Genre: Historical, Action, Supernatural

Based on a stage reading play. It's 1923 and vampires have existed for quite a while. Their numbers are increasing and a new artificial blood called Ascra has appeared. The Japanese government has created a special army unit to take down the vampires. "Code Zero" actually uses vampires to track and take down vampires.
Full Dive: This Ultimate Next-Gen Full Dive RPG Is Even Shittier than Real Life!
Release date: 07/04/2021
Genre: Action, Comedy, Fantasy

Based on a light novel series. Hiro Yuuki, boring high schooler, gets tricked into a fully immersive VR RPG. Kiwame Quest is said to be "more real than reality". Gamers quickly abandoned the game, saying it was "too realistic" with nearly impossible quests and actual pain. Hiro vows to beat the game anyway.
Bakuten!!
Release date: 08/04/2021
Genre: Sports

Original anime series. Shotaro Futaba develops a passion for men's rhythmic gymnastics during junior high. He enrolls in a private academy, Soshukan High School, and joins their men's rhythmic gymnastics club to pursue his dreams together with a group of unique young men.
How Not to Summon a Demon Lord: Season 2
Release date: 08/04/2021
Genre: Fantasy, Comedy, Ecchi, Harem

Based on a light novel series, gamer Takuma Sakamoto is transported into the virtual world of his favourite MMORPG "Cross Reverie" as his character Demon Lord Diablo. Rem en Shera, a pantherian and an elf, summoned him, attempting to turn Takuma into their servant. However the spell rebounds and turns them into his servants. Takuma decides to play the part of his character and travels with his new servants in search for a way to unbind them from their servitude.
The Way of the Househusband
Release date: 08/04/2021
Genre: Comedy, Action, Slice of Life
Read also: Netflix to release 40 new anime in 2021

Based on a manga series. Tatsu, former yakuza boss and nicknamed "The Immortal Dragon" gives up his life of crime to become a househusband. He tries to adapt to the domestic life as good as he can, but his criminal past keeps getting in the way.
Zombieland Saga: Season 2 (Revenge)
Release date: 08/04/2021
Genre: Comedy horror
An original anime by studio MAPPA. High school student Sakura Minamoto gets killed by a truck on the same day she decides to become an idol. Ten years later she is brought back from the dead together with six other girls from various eras. Their resurrector, Kotaro Tatsumi, wants to put together an all-zombie idol group under the name "Franchouchou".
The World Ends with You
Release date: 09/04/2021
Genre: Action, Supernatural
Based on a video game. Neku wakes up in the middle of Shibuya with no memory of how he got there. He's been transported to an alternate reality called the Underground. He is now a participant in the "Reaper's Game" and has to partner up with Shiki to be able to survive.
Don't Toy With Me, Miss Nagatoro: Season 1
Release date: 10/04/2021
Genre: Comedy, Romance, Slice of Life
Based on a web manga series. Nagatoro, a freshman in high school, loves to tease and torture her male classmate Senpai (Hachioji). At first he's very introverted, but all the teasing makes him more self-confident. When other people try to bully him, Nagatoro becomes hostile to them. Does she have a crush on Senpai?
Edens Zero
Release date: 10/04/2021
Genre: Adventure, Comedy, Sci-Fi

Based on a manga. Shiki lives on the planet Granbell, a deserted theme park filled with robots in the Sakura Cosmos. He befriends Rebecca and her cybernetic cat Happy when they visit the park. After robots chased them off the planet, they start exploring the universe together. They search for "Mother", a fabled goddess. Shiki obtains the warship Edens Zero, which the Demon King Ziggy once used during his own search for the Mother.
I've Been Killing Slimes for 300 Years and Maxed Out My Level
Release date: 10/04/2021
Genre: Comedy, Fantasy, Slice of Life
Based on a light novel series. Azusa worked very hard, so hard she died from overworking. She reincarnates in a new world as an immortal witch. She vows to live stress-free and enjoy herself as much as possible. Azusa hunts the easiest targets: slimes. But after 300 years she reaches level 99 and rumours quickly spread about her powers.
86 EIGHTY-SIX
Release date: 10/04/2021
Genre: Sci-Fi, Drama

Based on a light novel series. For nine years the Republic of San Magnolia has been at war with the Empire of Giad. Because the Empire used autonomous mechanized Legions, the Republic had to develop its own Juggernauts, operated remotely by a Handler. On the surface it seems no blood is spilled in this war with robots, but in reality humans pilot the Juggernauts. All of them are from the 86th Ward, a minority being persecuted and scapegoated by the racist government.
Shadows House
Release date: 11/04/2021
Genre: Drama, Slice of Life, Supernatural

Based on a manga series. A faceless clan lives in a large mansion, pretending to be nobles. Living dolls take care of them and clean up after them. The mystery and secret of the house will be unveiled.
Tokyo Revengers
Release date: 11/04/2021
Genre: Action, Sci-Fi

Based on a manga series. Freelancer Takemichi Hanagaki, already beyond despair, discovers that the only girl he ever dated got killed by the Tokyo Manji Gang. When he finds himself on the station platform, he gets pushed over onto the tracks and closes his eyes. Instead of dying, he travels 12 years back in time. He decides to try and save the girl's life and change his own.
Week 15
To Your Eternity
Release date: 12/04/2021
Genre: Adventure, Fantasy
Based on a manga series. Fushi, an immortal being, was sent to earth. He takes on the shape of whatever leaves a strong impression on him. Starting off as a white orb, then a rock and then a wolf. As said wolf he encounters a lonely boy, whose shape he later also takes. Fushi travels the world, takes on various new forms and acquires new powers like creating objects from nothing and resurrecting the dead. He is aided by a mysterious black-hooded creature who claims to be his creator.
Osamake: Romcom Where The Childhood Friend Won't Lose
Release date: 14/04/2021
Genre: Romance, Comedy, Harem

Based on a light novel series. Seventeen-year-old high schooler Sueharu Maru lives next door to his childhood friend Kuroha Shida. He has never had a girlfriend, but when Kuroha confesses her love to him, he refuses. Sueharu only cares about his first love, the beautiful idol and author Shirokusa Kachi. He thinks he has a real chance with her because she ignores all the other boys at school. He later learns she already has a boyfriend, after which Kuroha offers her help to plot revenge against Shirokusa and her boyfriend.
Welcome to Demon School! Iruma-kun: Season 2
Release date: 17/04/2021
Genre: Comedy, Fantasy

Based on a manga series. Protagonist Suzuki Iruma is a non-aggressive human, but one day becomes the grandson of the demon Sullivan. Sullivan is the headmaster of Babyls School for Demons where Suzuki now has to enroll. Despite all odds he actually finds himself enjoying life there with his demon classmates. He has to hide the fact that he's a human though, or he might get eaten…
Above list with new anime in April 2021 is not exhaustive, if you feel like a certain anime is missing; do let me know in the comments below and I'll make sure to add it to the list. Happy viewing and see you again in May!