Several weeks ago I was press-ganged into Flesh and Blood. The Flesh and Blood Monarch pre-release was the first official event I attended. Also, the second time I was going to play Flesh and Blood against veteran players. Not an online event but with real cards against fellow players, while staying safe from SARS-CoV-2.
The set-up takes some preparation, and it's best if you have a friend that can help you test your placement, settings and sound. Especially when going into an event like a pre-release.
First things first
Flesh and what now? Flesh and Blood is a new Trading Card Game, at least for Europe. Legend Story Studios released Flesh and Blood on the sixth of November last year in Canada and Europe. What makes Flesh and Blood special is a combination of several aspects which the game and studio adhere to.
First, the game has a tactical depth where making the correct choices and calculations can turn the worst situation into your advantage and a win.
Secondly, the collector's aspect of Flesh and Blood is amazing. Pulling a legendary or special foil (called cold foils) gives that dopamine rush in full blast. And my monkey brain likes good shiny drops.
Flesh and Blood Monarch pre-release where to start?
Find a store to help you out using Flesh and Blood's Store Locator. My closest official Flesh and Blood store was Brood en Spelen, after sending them a message I got an invitation into their Flesh and Blood discord.
Everyone was super helpful to help me get up to speed with the game and setting up a webcam. From choosing a good model of camera to creating a deck to test play. I was only able to play one match, having to work the week after also left little time to explore the game. In order to help out a friend, I got help and had two test decks made and got them dropped off at the store. Thus, I was able to press-gang my girlfriend Romy into playing with me for some practice.
Flesh and Blood Monarch pre-release
In order to participate, I had to pick up the packs at the store. My eagerness to play and learn nearly tempted me into buying more booster boxes. But I got out with minimal financial damage. Once home, I set up my camera, light and some beverages. All that was left was waiting for my friends to get home, and we were going to unpack them together via webcam and discord. A good test to see if everything is running well. And of course I got some good advice when making my deck.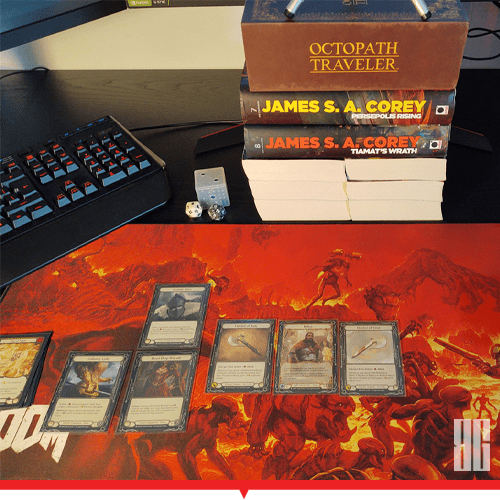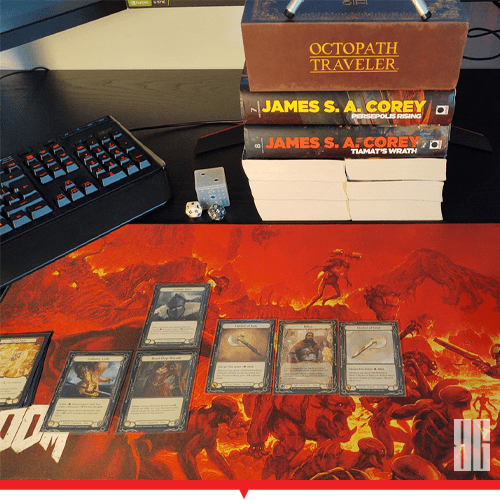 For the Flesh and Blood Monarch pre-release I still had to make an account in order to sign up for the event on their website. The tournament organizer simply sends you a link that you click to sign up. After that, the Flesh and Blood system mixes and assigns all players to tables, in our case rooms in discord. Everything was very easy and intuitive to do.
After 5 rounds of thirty-five minutes the tournament ended. I managed to be twelfth out of twenty. And six players dropped, so I was actually twelfth out of fourteen. But every match I played, I saw an improvement. I started seeing the connections between the cards and my opponents were patient and helpful. From explaining some basic aspects to explaining what I could have done differently when the match ended.
Last but not least
Flesh and Blood and especially events like pre-releases are meant to be played in the flesh. The philosophy that Legend Story Studios strives for is meeting in person and having fun games. With the pandemic they made YouTube videos (linked below) on how to set up a discord and their website to organize events.
The Brood en Spelen Tournament Organizer was full of praise when it came to Legend Story Studios. Open communication, quick response, excellent price support for events and documentation on how to run an event (aside from the YouTube videos). Also, brick and mortar stores are the focus of Legend Story Studios and webshops are their second concern.
It's all about bringing people together (from a distance right now, but soon…) and playing some great memorable games. And it works, I'm hooked.
Keep an eye out for more Flesh and Blood content here on BGeek.
Additional Flesh and Blood documention to get started
Flesh and Blood Official getting started page.