You'll love it if:
You want to experience the enhanced gameplay and improved physics.
Racing on iconic tracks from around the world sounds appealing.
Intense racing is your idea of gaming excitement.
Not for you if:
If you were expecting a more in-depth story mode.
Plenty customization options are a must.
The realm of Formula 1 has expanded significantly, fueled by its growing popularity and the influence of series like Drive to Survive. Therefore, it's only fitting that F1 23 races onto the PS5 with the most extensive offering the series has ever seen. Developed by Electronic Arts and Codemasters, it's the newest instalment in the Formula 1 gaming series.
Annual releases from EA Sports often come across as incremental updates that may not justify their full price, but F1 23 eagerly embraces the challenge, packing the grid with an abundance of content. While not every aspect is flawlessly executed, Codemasters has set its sights on securing the pole position.
F1 23 offers something to suit every player's preferences. If you enjoy a structured and narrative-driven experience, the story campaign is available. For those who prefer managing and developing their team, the returning Careers modes are great options. Additionally, if you're seeking a similar experience to FIFA's Ultimate Team, the new F1 World mode provides that dynamic.
TL;DR
The game features an engaging story mode continuation of Breaking Point, which was introduced in 2021. Additionally, it offers fresh racing options with the F1 World and numerous enhancements to handling and gameplay. Although it retains a familiar essence with updated elements for the new season, it also demonstrates progress in the right direction.
F1 23 Review – Breaking Point 2
With the launch of F1 23, we witness the comeback of Breaking Point, the story mode that premiered in the 2021 game. The familiar characters from two years ago return, alongside some new additions. It presents diverse scenarios to conquer on several F1 23 tracks, spanning 18 chapters covering both the 2022 and 2023 seasons, providing an immersive experience. The mode emphasises the significance of results and the impact of your decisions on expectations and outcomes.
Despite retiring in 2021, Ackerman makes a comeback due to his friendship with Konnersport Butler Global Racing Team team principal, Andreo Konner. At the beginning of the story, he is working with an up-and-coming F2 driver named Callie Mayer. Callie happens to be Davidoff's daughter. Racing in Formula 2, she aspires to make her mark in Formula 1 but distances herself from her father's name by using her mother's maiden name.
While Aiden's struggles remain a significant part of the narrative, Breaking Point 2 focuses more on the overall dynamics of the Konnersport Butler Global Racing Team. Players switch between characters throughout the 18 chapters of the story, assuming the roles of Aiden, Devon, Callie, Andreo, and Casper.
However, the true standout in the story this time is Devon Butler, overshadowing the others. Aiden's character development is lacking compared to the original game, while Callie's story is captivating as it delves into her and Davidoff's past.
Unfortunately, Casper takes on a more supportive role despite being a fantastic character in the first instalment. Davidoff, on the other hand, plays a significant role throughout the entire story as the team's financial backer, even though he is not directly managing the team.
Throughout the chapters, players collect "performance" and "reputation" rankings, although their impact on the overall storyline is limited to influencing dialogue choices, media responses, and team-related questions. In hindsight, it would have been preferable if performing well in a Grand Prix had more significance for the plot, rather than solely aiming for a fifth-place finish in the constructors' championship to become the best midfield team.
The question now arises as to when we will see a story where we contend against Red Bull, Mercedes, or Ferrari (cue quiet sobs) for the championship, or a story where Aiden Jackson is in the running for the Driver's Championship. Breaking Point 2 leaves much to be desired, but it manages to captivate and provide decent entertainment.
The experience was also further enhanced by enabling interactions like phone calls, social media checks, and email reading between chapters, contributing to the well-rounded development of the characters.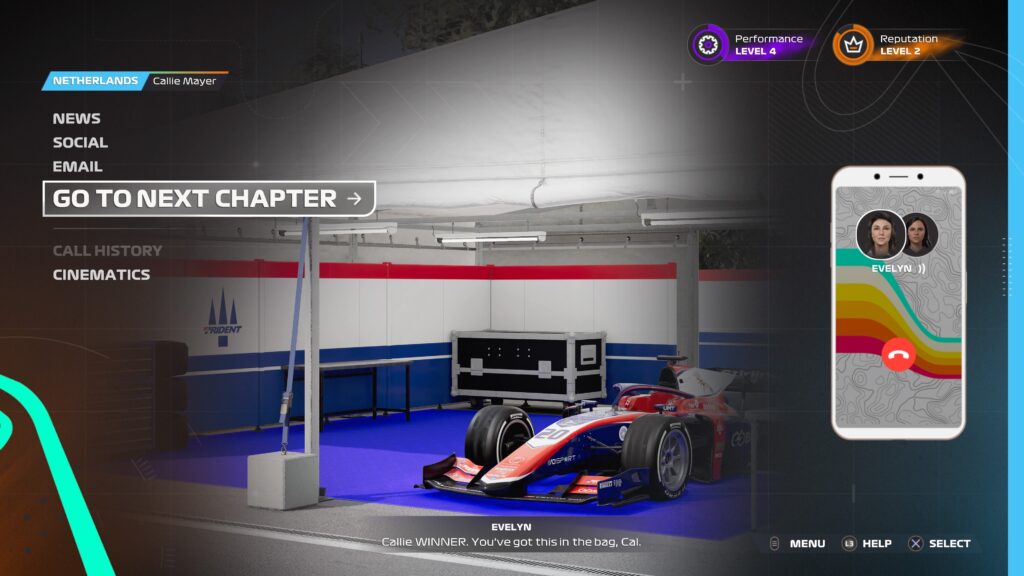 F1 23 Review – Gameplay
Codemasters have significantly enhanced the game's mechanics, resulting in an incredibly enjoyable racing experience. The game successfully strikes a remarkable balance between realism and recreation. The cars' reactions to quick corners and braking feel authentic, and I was pleasantly surprised to find that I could navigate the track effectively without relying on full traction control assists.
This year's title boasts notable improvements and additions. It would be remiss of me not to mention the updated physics, which I wouldn't label as easier, but rather more forgiving. F1 22 was known for its relentless handling, where even the slightest push beyond the limit would result in crashing into the barriers.
However, in F1 23, while driving poorly still carries consequences and losing control is still possible, the razor's-edge difficulty has been softened. Players now have a greater chance of recovering from mistakes and correcting their trajectory before disaster strikes. If you apply too much throttle too early, it can still cause a spin, but you now have the opportunity to counteract it by adjusting your steering and reducing throttle application.
This improvement has significantly enhanced the enjoyment of the game, allowing players to catch slides and push closer to the limit with less trepidation. Additionally, the force feedback settings and overall wheel feel have been improved, resulting in a brilliant experience.
Controller users need not worry either, as they haven't been neglected. The new Precision Drive Technology introduced in this year's game ensures a better driving experience for controller users, aiding in consistency.
F1 World
F1 23 introduces F1 World as a noteworthy addition, and it certainly proves to be intriguing. F1 World serves as the main hub, connecting various aspects of the game. Building upon features seen in F1 22 like F1 Life and Podium Pass, F1 World combines and expands upon them.
It can be likened to the sport mode in Gran Turismo 7, featuring ranked races and licences, along with elements reminiscent of F1 Mobile Racing where players strive to improve their Tech score for their F1 World car through daily, weekly, and seasonal challenges.
Moreover, F1 World integrates with Podium Pass and introduces a ranked multiplayer component. It incorporates various elements of the game, except Career Mode and Braking Point 2 story mode, similar to FIFA Ultimate Team, but focuses on acquiring parts and personnel for your car.
These parts not only enhance your F1 World's single-seater Tech score but also offer unique upgrades such as increased DRS, additional downforce at specific tracks or even increased downforce for a limited time after clean laps. Undeniably, it's a fascinating concept.
The good news is that you don't need to spend real money on microtransactions to succeed, alleviating concerns stemming from EA's past practices. Purchasing Pitcoins or the Podium Pass mainly grants cosmetic items, with XP boosts being the only exception that cannot be obtained through Pitcoins. F1 World also serves as the gateway to single-player races, non-ranked multiplayer matches, and various weekly events.
Career Mode
Let's delve into the career mode now, particularly focusing on the My Team mode. For players anticipating significant improvements to this vital aspect of the game, I'm afraid disappointment may arise.
In My Team, when embarking on your driver career, the introduction remains quite similar to last year, albeit now voiced by Natalie Pinkham. While there are updates in terms of schedules, the 2023 driver lineup, and team additions, the inclusion of paid-for icons and updated rankings gives a sense of familiarity.
If you enjoyed F1 22, here's some good news: you'll essentially experience the same gameplay in F1 23. This continuity can be seen as a positive aspect, providing a more authentic experience for purist racers, in contrast to the changes brought about by F1 World.
Ranking System & Stickers (?)
Furthermore, F1 23 introduces a new licensing system with ranks ranging from Bronze, Silver, Gold, and ultimately, Elite. Once you unlock a level, you can compete against others at that level or any level below. Achievable goals are in place, unlocking additional opportunities within the hub, including upgrade options and a sticker book compendium section.
While the sticker book is cool, some may find it a bit tedious. As you play F1 World, you earn stickers that can be placed in the compendium, completing entries and earning valuable rewards. This aspect may appeal to some players while others may not enjoy it as much. It bears a resemblance to mobile games that have the potential to be addictive (damn you Rush Royale).
However, it's worth noting that F1 23 aims to attract and engage a younger audience. Players can earn parts and crew members simply by playing the game, and they have the freedom to race however they like. F1 World allows you to shape your world within the game as you please, which is an ideal feature.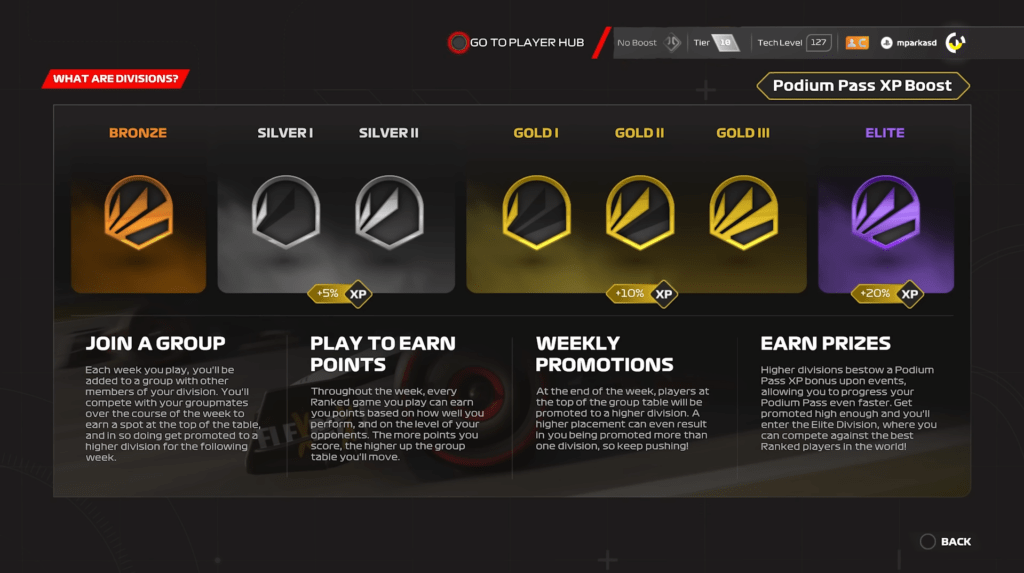 What about F1 tracks?
The game features a variety of tracks, including some exciting additions. The Lusail International Circuit makes its return, offering a familiar racing experience. Additionally, the brand-new and visually impressive Las Vegas course has been introduced, with the track running along the iconic strip.
In addition to these new tracks, some older circuits which are no longer part of the current F1 Calendar, make their appearance as well. These include the French Paul Ricard Circuit, the Shanghai Audi International Circuit, and the Autódromo Internacional do Algarve, also known as the Portimão Circuit.
Likewise, certain existing tracks have been updated to reflect their current layouts, such as the Circuit de Barcelona-Catalunya. However, many of the other tracks remain unchanged, retaining their previous designs, for better or worse.
And on top of that, F1 23 introduces an eagerly discussed new feature: red flags. This addition enhances races by adding a sense of realism and unpredictability. To experience red flags during races though, it is important to set the race distance to at least 35%. Keep this requirement in mind when configuring your races to ensure you can enjoy this exciting addition.
F1 23 Review – Graphics
F1 23 presents a visually stunning racing game with top-notch cars and environments that live up to expectations. Although the fast-paced racing might hinder the full appreciation of the visuals, taking moments to admire the scenery is a delightful experience. While the graphics may not be a significant leap from F1 22, which already looked impressive, the subtle enhancements should please graphics-oriented fans who appreciate the game's overall visual quality.
Among the changes in the game, the menus received more attention. The new menu design is straightforward, user-friendly, and easy to navigate. Although some may underestimate the importance of menus, they play a crucial role in the overall gaming experience, as they are constantly used during gameplay. It's vital to get them right, and fortunately, F1 23 manages to improve upon this aspect, ensuring a smoother and more enjoyable interaction.
The tracks in F1 23 are a visual treat. From the lush greenery of iconic circuits like Spa-Francorchamps to the dazzling night race in Singapore, each track feels vibrant and alive. The environmental effects, such as weather conditions and track-side details, further enhance the realism and create an immersive atmosphere.
Additionally, the game benefits from improved textures and smoother frame rates, resulting in a more polished and visually pleasing experience. The graphics engine utilised in F1 23 showcases the power of modern gaming hardware, allowing for detailed car models and stunning environmental effects without compromising performance.
Overall, F1 23 delivers a visually striking experience that captures the essence of Formula 1 racing. The attention to detail, realistic lighting, and impressive track designs combine to create a visually immersive and captivating gameplay experience for racing enthusiasts.
F1 23 Review – Conclusion
EA Sports F1 23 may not have undergone a complete overhaul of the Pirelli tire system, but the improvements made to its handling are significant enough to instil a positive impression of this latest Formula 1 title. To be honest, I didn't find myself returning to play F1 22 as frequently as I would have liked, primarily due to the handling issues.
However, F1 23 seems to address those concerns, making it a game worth revisiting. Additionally, the inclusion of Breaking Point 2 provides several hours of enjoyable gameplay (around 7-8 hours) with an enthralling narrative, brimming with surprises and intricacies.
In addition, if you're a fan of F1 World, which introduces a much-needed sense of meaningful progression beyond Career Mode saves, then you'll find even more reasons to spend time in the game.
All in all, credit goes to Codemasters and EA for successfully addressing the necessary improvements in the game. F1 23 provides an immensely enjoyable gaming experience, making me eagerly anticipate spending race-less weekends fully immersed in the game.
We would like to thank Bandai Namco EU for providing the review copy we used.