You'll love it if:
Enjoy fighting games with a lot of skill expression
Enjoy fully cinematic stories with amazing graphics
Not for you if:
You hate watching cutscenes
Can't handle blood and gore
Mortal Kombat is such a mainstay in the fighting game community that you can't even discuss the genre without talking about the Mortal Kombat series even a bit. Just like Street Fighter, For thirty years now, every time Nether Realms drops another bone-crushing installment, players around the world rally to their favorite iconic characters and challenge new foes in the next cycle of Mortal Kombat. Mortal
While being called Mortal Kombat 1, this is actually the 12th mainline game of the series. The name stems from the ending of Mortal Kombat 11, where Liu Kang, a series main character, resets the in-universe timeline. While it may seem like a full reboot, the main story of the game is actually a continuation of the overall story, which we will go into later. This review was written using the PC version, but Mortal Kombat 1 is available on PlayStation 5, Xbox, and Switch as well.
The game continues the tradition of a high-quality cinematic-based story mode, as well as individual single-player challenges in the form of the new "Invasions" mode and challenge Towers. The combat system sees a dynamic shift with the inclusion of a new Kameo system, and the online multiplayer sees player rewards for improving their own skill level with each character. Overall, Mortal Kombat 1 continues to deliver the skull-splitting, bloody, and gory Kombat that we know and love.
TL;DR
Mortal Kombat 1 is another amazing installment of the iconic series and delivers on creating a unique and graphic fighting experience. While some of the single-player modes are lacking in refinement, the overall combat is finely tuned and very engaging. The new Kameo system allows for so much creativity and skill expression, and of course, the ever-famous fatalities are back and more brutal than ever.
New Beginnings
Mortal Kombat 1 follows the ending of the Mortal Kombat 11 Story and the Aftermath DLC Expansion. What we see is a soft reboot of the Mortal Koimbat Universe with now Fire God Liu Kang replacing Raiden as the protector of Earth Realm. The full Mortal Kombat cast is given slightly altered origins, and there are plenty of details for older fans to enjoy. Some of the best moments in the story are seeing the characters' origins and how they changed in this new universe. One of the best changes is characters such as Syzoth and Baraka getting to be shown in the spotlight more as opposed to being forgotten background characters.
Story Mode
Liu Kang has created an alliance with Empress Sindel of Outworld, and the Mortal Kombat tournaments begin anew, with notably fewer fatalities than in previous entries of the story. The story as a whole is a 6 hour cinematic broken up with Test Your Might minigames and combat encounters. You progress through the 15-chapter story playing as the different cast members of the MK universe, seeing all their backgrounds and character development. Without too many spoilers, you see the new universe grow and the ramifications of Liu Kang creating a new timeline.
The one issue I have with this kind of story mode is that you get thrown into combat without any information on the various characters you're forced to play. While pop-up windows and tutorials may be immersion-breaking, I would appreciate a settings option to toggle tutorials or basic move explanations when playing as a new character in the story mode. I do appreciate the mode as a way to see all the characters and test them out, but I feel in a game where tutorial mode is as great as it is, the story mode could have provided more.
In terms of the cinematics, Mortal Kombat 1 again proves that Nether Realms should really just make an animated TV series on their own. While not everyone appreciates games where all you do is watch cutscenes, those who enjoy the story are treated to essentially a Netflix mini-series. Personally, I love it, and people who play fighting games for just the gameplay can skip the story mode entirely if they want and hop into online games.
Invasions
Noticeably absent from this instalment is the Krypt game mode. Taking its place is the new Invasion game mode. This game mode is a continuation of the story mode and utilizes a lot of RPG elements. Playing on almost a board game board, you progress through different maps and custom encounters, upgrading your character and finding better gear and abilities.
The battles themselves happen in unique spaces on the map. Each space will have unique gimmicks, such as flying enemies dropping fireballs, enemies having super armour or the floor catching fire, to name a few. This mode is interesting and can be good to take a break from the online lobbies, but the core gameplay of it can seem repetitive. I personally found myself using it to try out new combos I was practising outside of training mode, and otherwise found myself using the same combos on Johnny Cage to rush through the levels.
The Invasions mode is really cool at first, and it's exciting unlocking new maps, finding keys, and getting cool cosmetics for your characters. The problem for me is that the mode quickly becomes tedious, moving between spaces is clunky, and the ambush encounters become more of a chore. It just feels like a shame because some of the best cosmetics are locked behind this game mode.
I really like what Netherrealm was aiming to do, but after completing the first few maps, the game mode started to feel more like a grind, which is why I recommend using this mode as a break or playing just a bit at a time, and not just try to grind out all the stages.
While there are a lot of complex mechanics, type advantages, and stat bonuses, most of the time, I could just beat the opponents using the same normal launching attack and combo. While there are the occasional challenge fights and boss battles, I rarely had to make use of the items and type advantages to progress. Overall the mode is fun for a while and best played in short bursts. I enjoy the ideas behind it, but the clunkiness of moving through the board and repetitive nature takes away some of the enjoyment.
Mortal Kombat
The "Kombat" system of each instalment of the series always looks to improve the fighting dynamics, and Mortal Kombat 1 is no exception. Firstly, the Fatal Blow mechanic is back from Mortal Kombat 11, but with the fix that they are interruptable on start-up now. In fact, the new Kameo system and simplification of meter management create a game where resource management takes almost a back seat, in my opinion, and you can focus on experimenting with the new Kameos.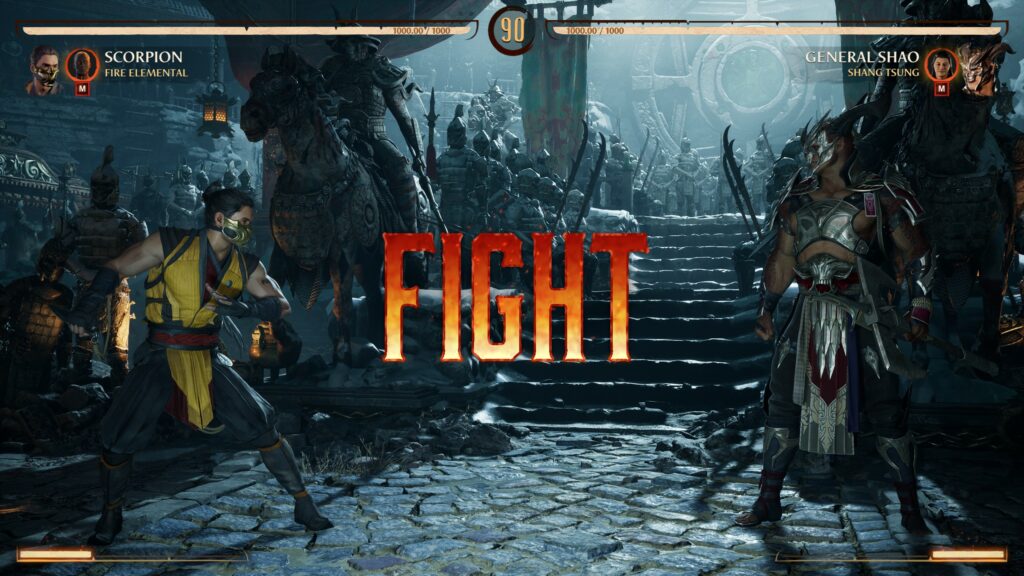 Kameos
So, what are the Kameos? At a glance, the Kameos seem like your normal support mechanic from other fighting games, push a button, call a supporter, and they come in to do a small attack and leave. Mortal Kombat 1 has managed to make the system a lot more flexible with its varying supporting characters and allowing them to be used as tools for specific characters.
A great example is a combination I love to use, Johnny Cage using Kung Lao as the Kameo fighter. In this game, Johnny is lacking in the teleport department. Sure, he has good dashes and can dash through enemies, but lacks ways to close distance after he launches an enemy towards the other wall. Kung Lao has a special Kamo ability to warp your fighter to the other side of the screen, allowing you to extend combos. Another example is Scorpion supplying a useful full-screen ranged attack for your characters that lack ranged options.
The coolest thing about this new feature is that when utilizing the Fatal Blow, your Kameo character will join and help with the ensuing beatdown, adding more variety and making for flashier finishers. And speaking of beatdowns, the Fatalities in this game deliver and remind us exactly why we play Mortal Kombat.
Fatality!
Mortal Kombat 1 revamped the fighting system, creating a more fluid experience while addressing some problems from the previous instalment. New to the game is the emphasis on aerial combos and launching your opponent without using your meter. The meter itself allows you to fire EX moves that are not only more powerful but also change the aspects of the move, turning knockbacks into launchers or making certain attacks land when the enemy is blocking.
Most importantly for the newcomers, the Fatalities can be performed with simple button commands, and for those that find it difficult still, you are able to purchase easy fatality tokens from the in-game shop to execute the move with a single button input.
Overall the combat can feel clunky or more slow-paced compared to other fighting games. Having to hold a button to block, the unique anti-air moves, the way inputs are needed for certain special moves, and the unique movement options in the game can take some getting used to. Newer players may need to adjust to the control scheme that is not shared with very many other 2D fighters.
Get Over Here!
The online multiplayer is what most players are here for, and for the most part, Mortal Kombat 1 delivers. The net code is great, matchmaking is smooth, and there are seasonal competitions to win prizes. The biggest issue I see is that there is a lack of options when going online.
Sure, most players just want to go to a menu and press find opponent, but after years of fighting games hosting virtual lobbies and rooms like those of DNF Duel of SF6, I would have liked to have had the option here as well. Additionally, you are unable to go into training mode, story mode, invasions, or any mode for that matter while waiting to be paired for your next fight. This may seem nit-picky, but I feel this has become more the standard of fighting games of late.
The seasonal rewards are also back, allowing you to earn currency and skins for your favourite fighters. For the most part, the online leagues have remained the same compared to MK11, and NetherRealm Studios really seems to follow an "if it ain't broke, don't fix it", and that's perfectly alright. I can't recall having issues outside of particular mechanics in the online mode, and it allows for goals to be set for progressing your characters.
Kustomization
If nothing else, Mortal Kombat looks absolutely stunning on all platforms except the Switch, but that's an entire article on its own for another day. The unique maps and environments are breathtaking and fully immersive. The stages are works of art, and I implore any player just to watch how the stages react to your moves and how you play. And once again, I need to mention just how graphic and brutal the fatalities are in this game. Netherrealsm knows what their audience wants, and they deliver.
What is very nice is how each individual character has a progress bar tracking your skill and usage of them, unlocking new Brutalities, Fatalities, Cosmetics, and artworks as you play them more. This really lets you "Kustomize" your fighters however you see fit.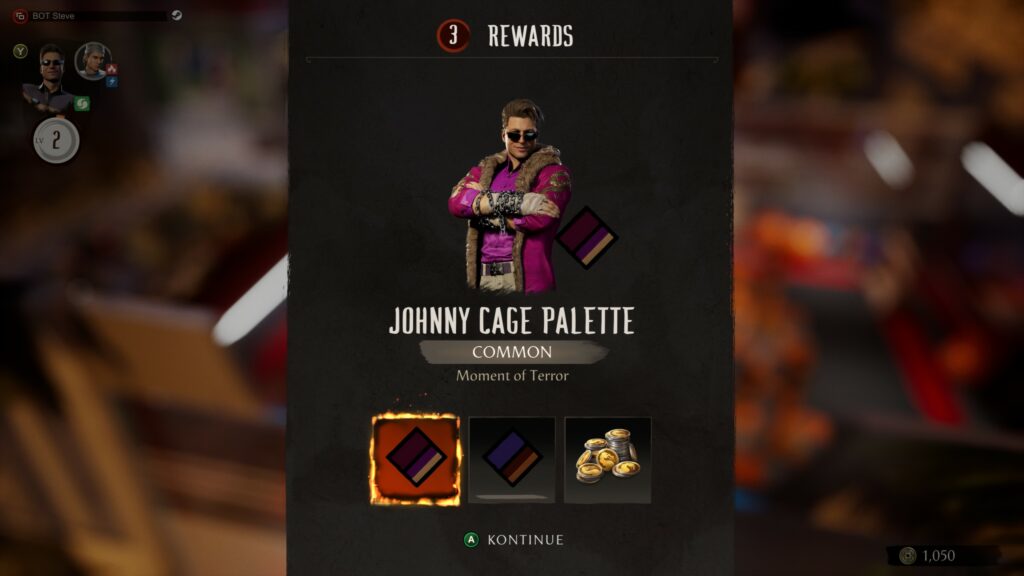 Victory
Mortal Kombat 1 is another amazing instalment of the iconic series and delivers on creating a unique and graphic fighting experience. The Kameo system and changes to aerial combat make for amazing fights and cinematic battles, and the Fatal Blows create amazing comeback moments. The single-player experience is immersive in the story, and the cinematics are always impressive, but the Invasions and Tower modes feel lacking in execution and suffer from repetitiveness. All in all, Mortal Kombat shows why it's a mainstay title in the fighting game genre, and I highly recommend it for players looking to crack skulls with their friends.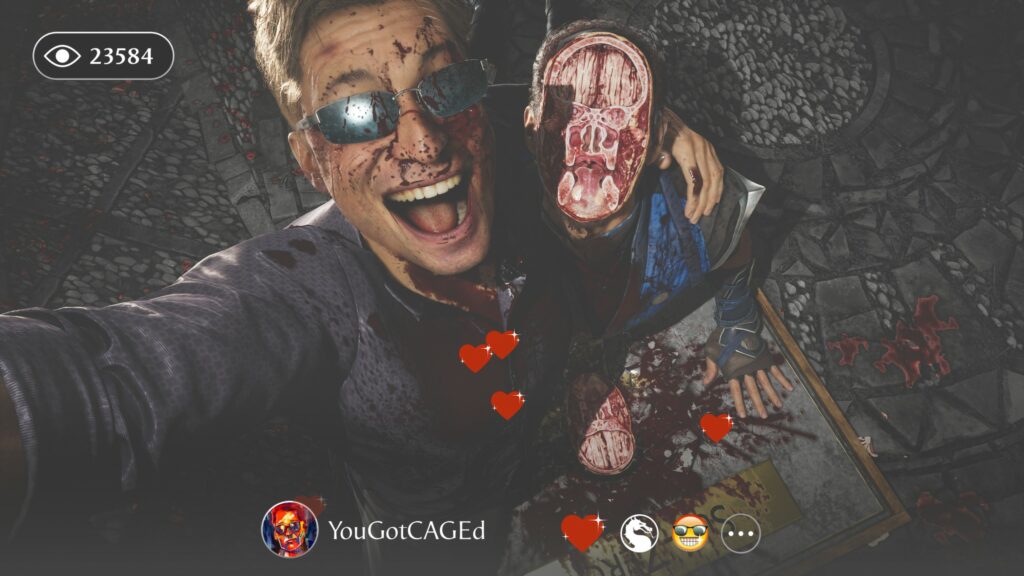 And a special thanks to CDMedia for allowing us to review the game.