You'll love it if:
You are looking for a plug-and-play resin printer.
What you need is great detail in your figures.
You want extensive aftermarket support and spare parts readily available.
Not for you if:
You are looking more towards 3D printers instead of resin.
You are looking for a cheaper solution.
The truth is that I have been looking for a resin 3D printer for a long time, mainly to print figures and later, paint them. As a newbie to resin printing, what I was looking for was a user-friendly printer with high resolution and build quality. The printers I saw in various reviews promised a lot and looked so much alike without anyone standing out, what a headache.
One fine afternoon, I open my emails and see one from a company I personally never heard of before, called Uniformation, along with the magic words "Resin 3D Printer 8K" offering us their latest GKTwo model for review.
Excuse me? Built-in resin heating? Check. Large print area and quick release resin bed? Check. 8K resolution screen? Check. Carbon air filter? Check. What is going on here? If you were intrigued like I was, stick around until the end, there will be links with serious discounts for the printer we secured from Uniformation.
Unboxing
Of course we accepted this offer for Uniformation's GKTwo, a short time later the printer arrived in a large cardboard box, impressively packaged with protective plastic on the corners and plenty of foam protection around and inside.
The total weight of the package might be 21 kg but it is very easy even for one person to unbox it as it comes ready assembled from factory. Inside the box, besides the GKTwo printer, you can find:
The print bed
The resin vat with a capacity of 700ml
Lid for the resin vat
A power cord
Various tools
Leveling paper
A screen protector
An extra nFEP membrane for the resin vat
A metal spatula
A rubber spatula
A funnel with filters
Nitrile gloves
A pair of pliers
A USB stick
At this point I should mention that the USB stick contains the printer's manual, dozens of videos with instructions for all printer functions, a folder with models that you can download for free from well-known designers and 2 slicer programs, Chitubox and Uniformation's own program named Slicer which is a reskin of Prusaslicer.
First touch of the Uniformation GKTwo
Taking the printer out of the package, one notices that it is almost ready to use. All you have to do is remove the extremely satisfying protective films, insert the print bed (which comes pre leveled from factory) and the resin vat which snaps into place with a click. How easy can it get?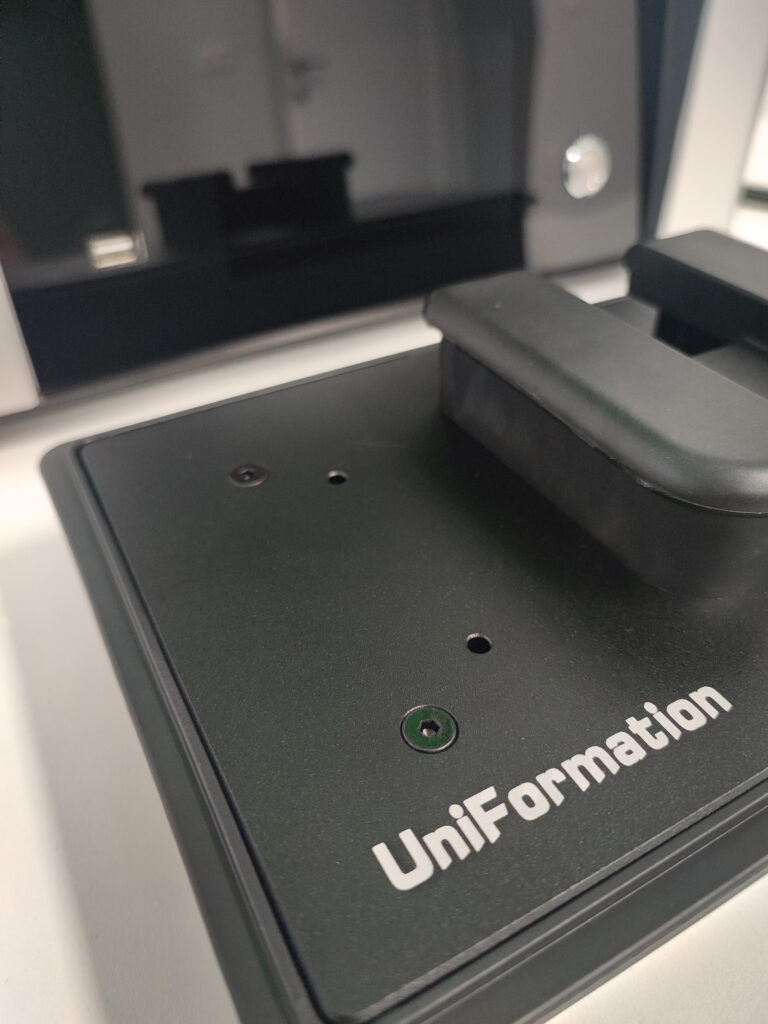 Basic Settings
Once the printer is plugged in, all that's left is to press the blue, LED-illuminated button on the front. We are immediately greeted by Uniformation's logo and enter the main menu. All we have to do is choose to move the Z-axis to its highest point to have better access to the vat, and also have more room for the print bed.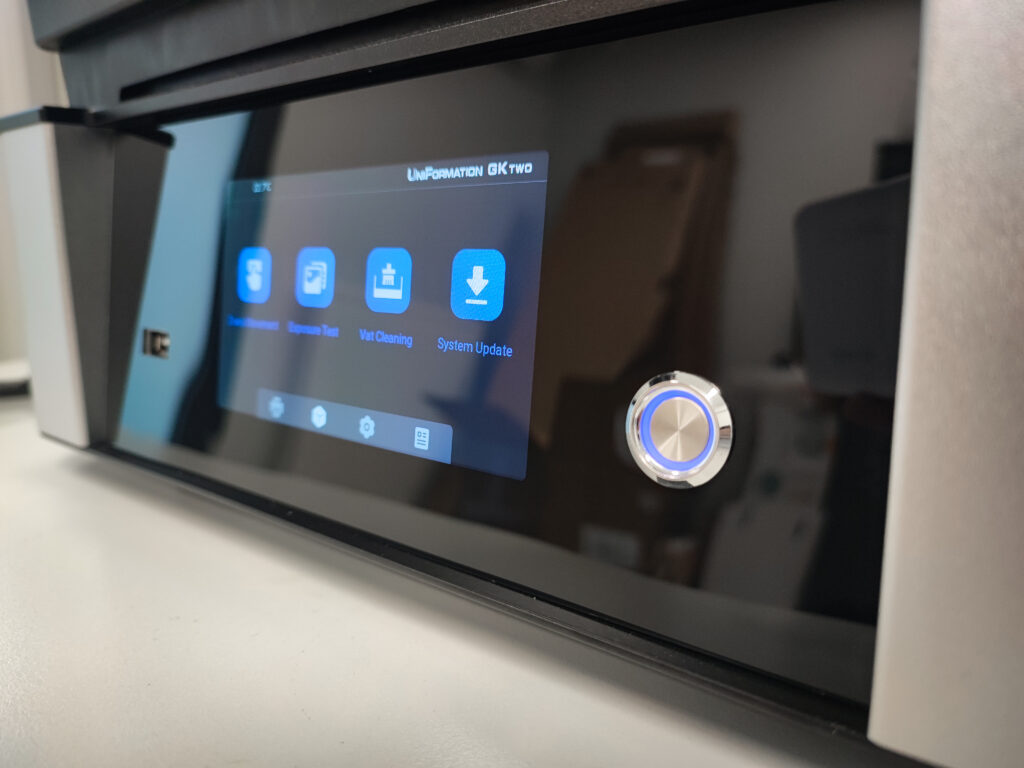 Design and features
Exterior Design
Remember when I told you that at first, the resin printers I was looking at, all looked the same to me? Forget it. As soon as I got my hands on GKTwo I knew something serious was going on here.
The printer is made of aluminum, while its upper part is made of hard plastic.
At the front is the transparent green tinted plastic door (which opens upwards thanks to 2 metal hinges) and doesn't come off completely like a lid, making you look for somewhere to rest it. Also on the front is the USB port (are the rest of the printer companies listening?) for loading files for printing, the large 5-inch high-definition touchscreen and the illuminated power switch.
At the back side, the first thing one notices, apart from the 4 fans for cooling the internal parts, is the removable active carbon filter that keeps resin odors to a minimum. It is held in place with strong magnets and is very easy to change. Uniformation also offers replacement filters on its site. On the back side there is also a second USB port, for upgrading the firmware, as well as for installing the optional wifi antenna to connect to a computer.
GKTwo internals
I won't hide that what impressed me most about the GKTwo's features is an innovation by Uniformation inside the base of the printer where there is a ceramic heating plate that keeps the temperature of the resin regulated in 3 settings (25°C, 30°C, 35°C ) depending on what we choose. Ideal for colder climates as resin does not work well in the cold.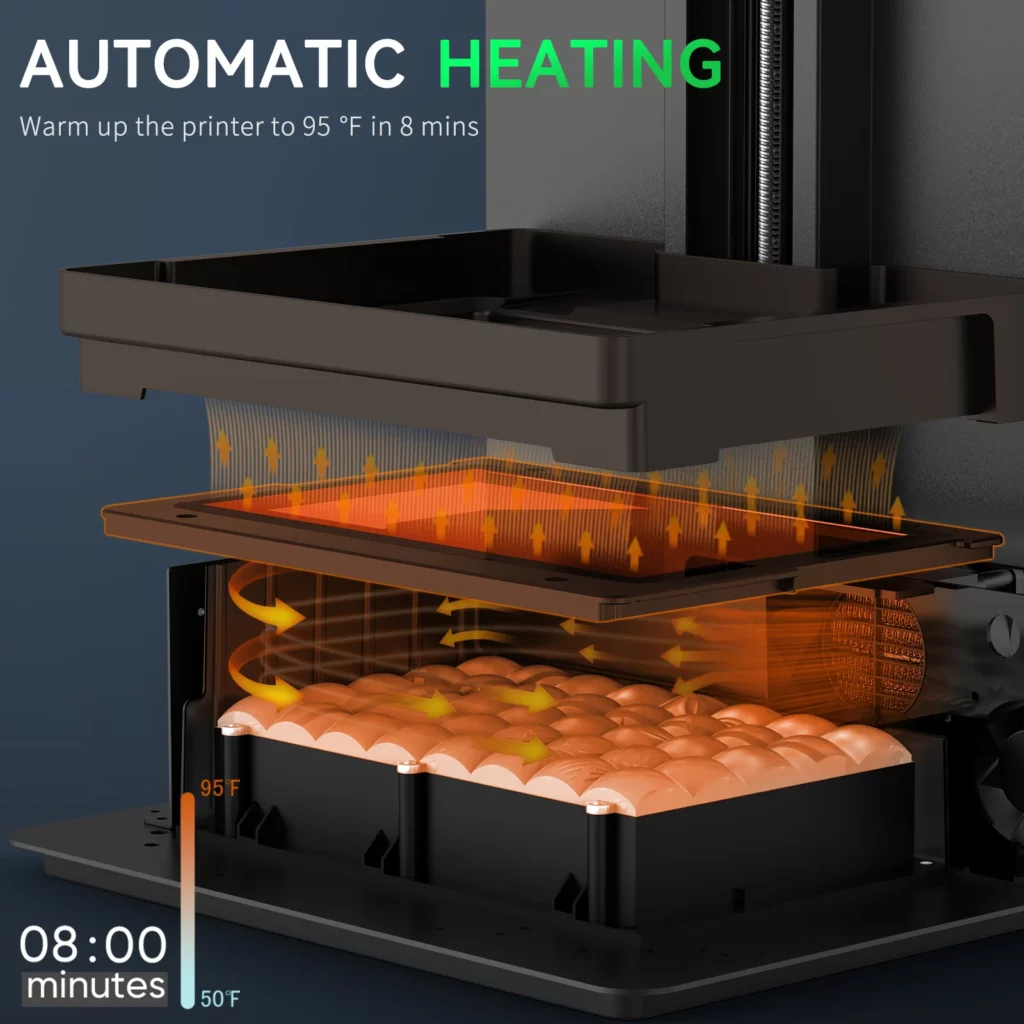 Above the heater is the photocuring technology LCD screen, with a resolution of 7680*4320 pixels and a resolution of 29.6μm in the XY axis. It comes with a pre-installed protective film similar to the one on our mobile phones. There is also a second film in the package.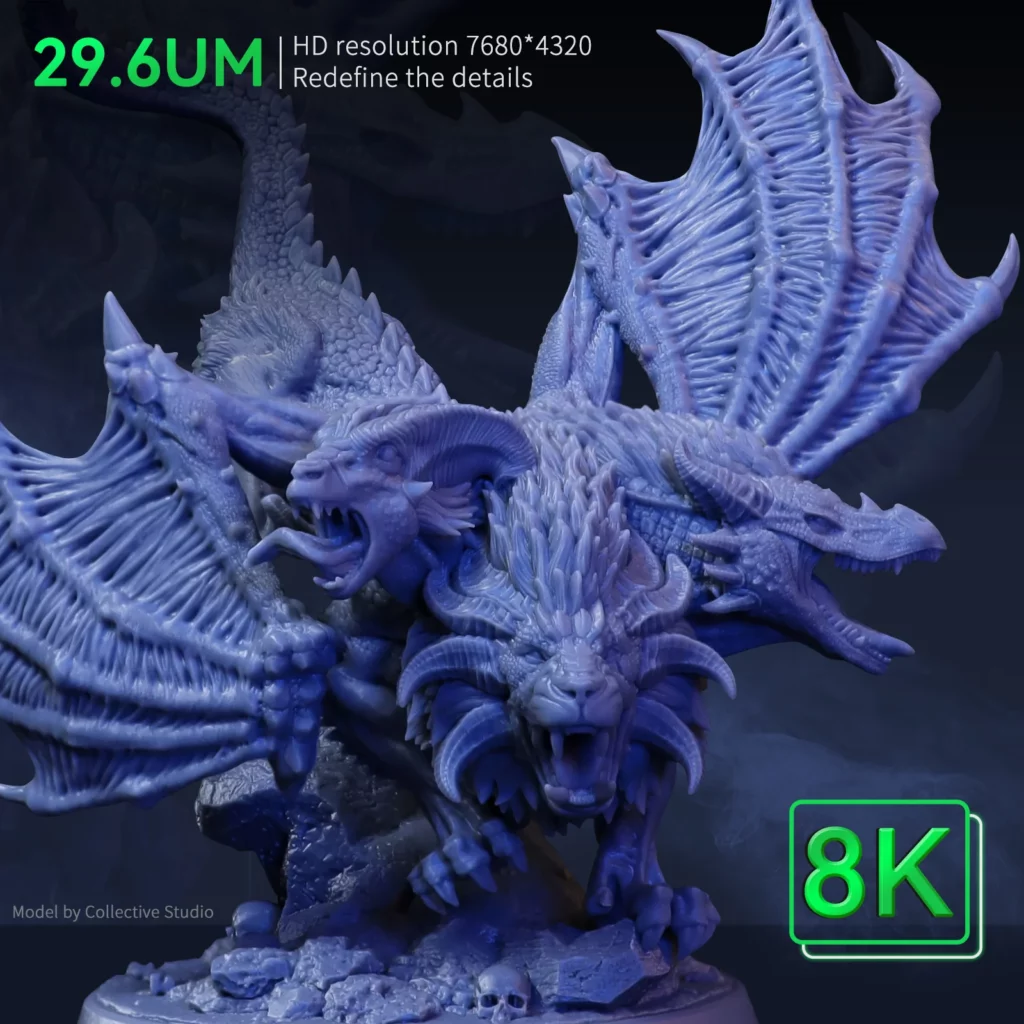 Right above the LCD screen, the 700ml hard plastic resin vat snaps in place in a unique way (like a drawer) and locks in. I would have preferred it to be metal but I think it would cause damage to the printer in the future. The film on the bottom is nFEP and is interchangeable if it wears out, the same way most resin printers do.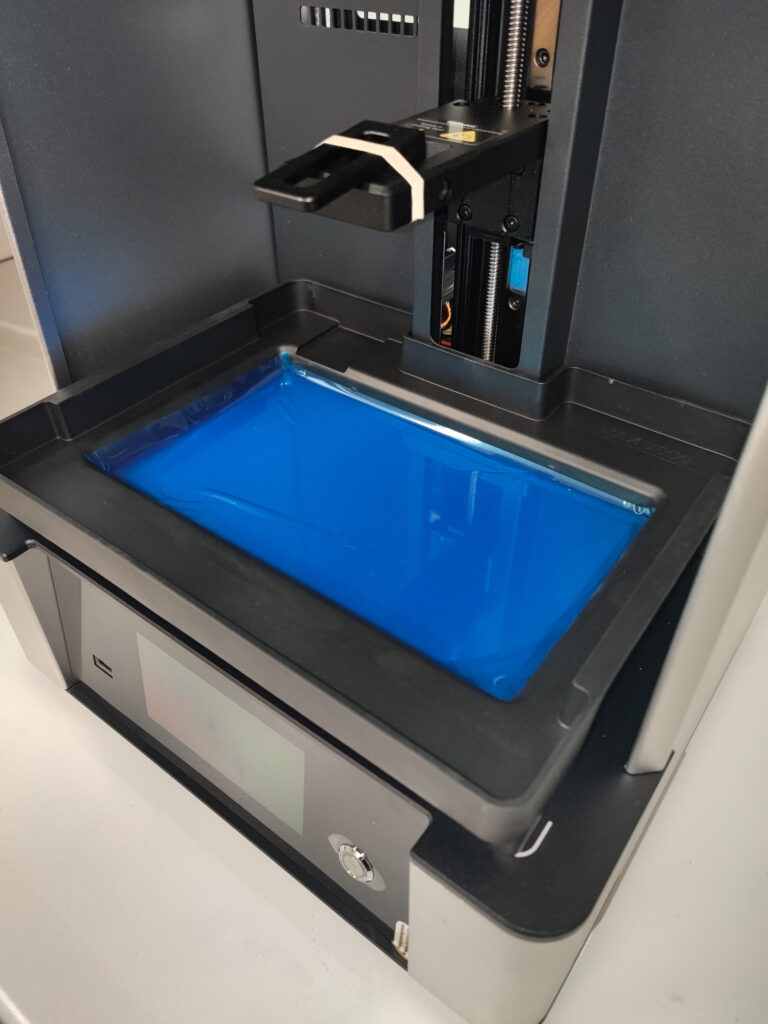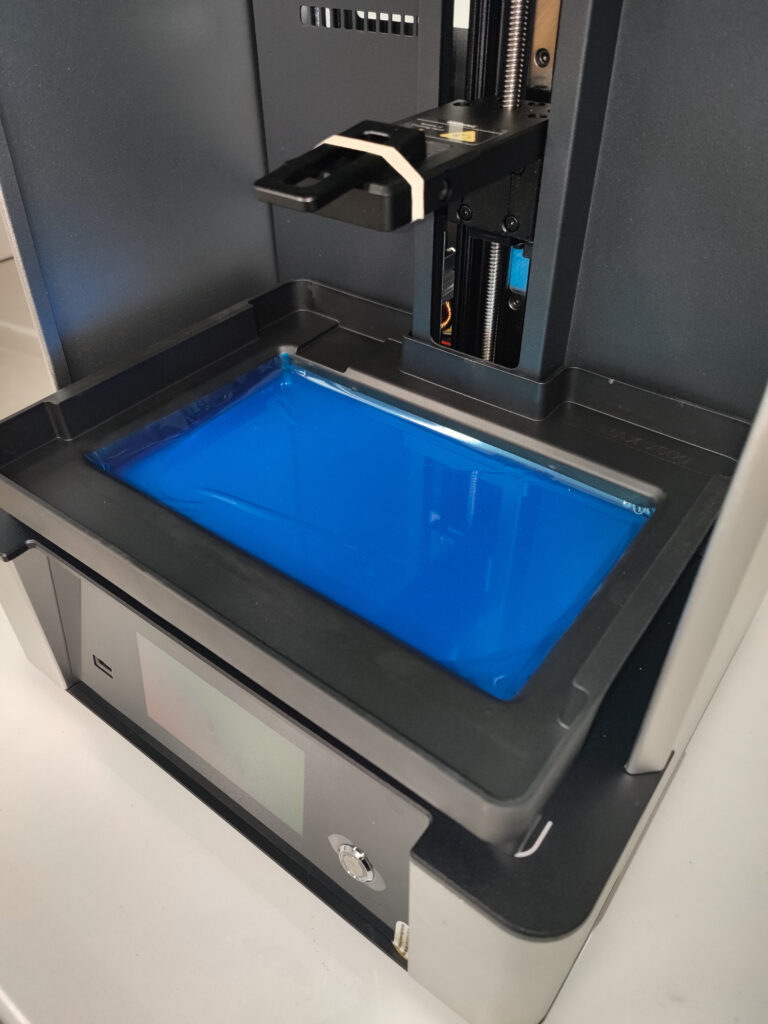 I couldn't pass up the print bed which also snaps on with a single metal clip, in one go, with no screws. Another innovation of Uniformation. It comes ready-leveled from the factory but in case you need to do it manually, there are 4 allen screws on the top that make it a piece of cake. Of course there are videos explaining how all these tasks are done, on the supplied USB stick.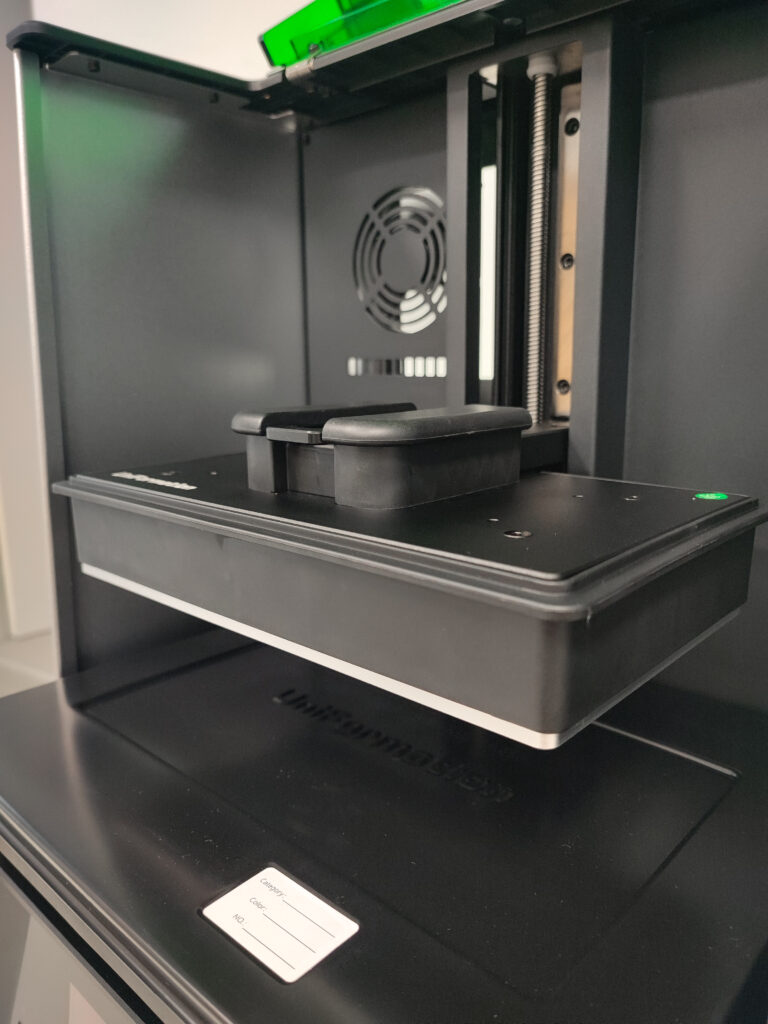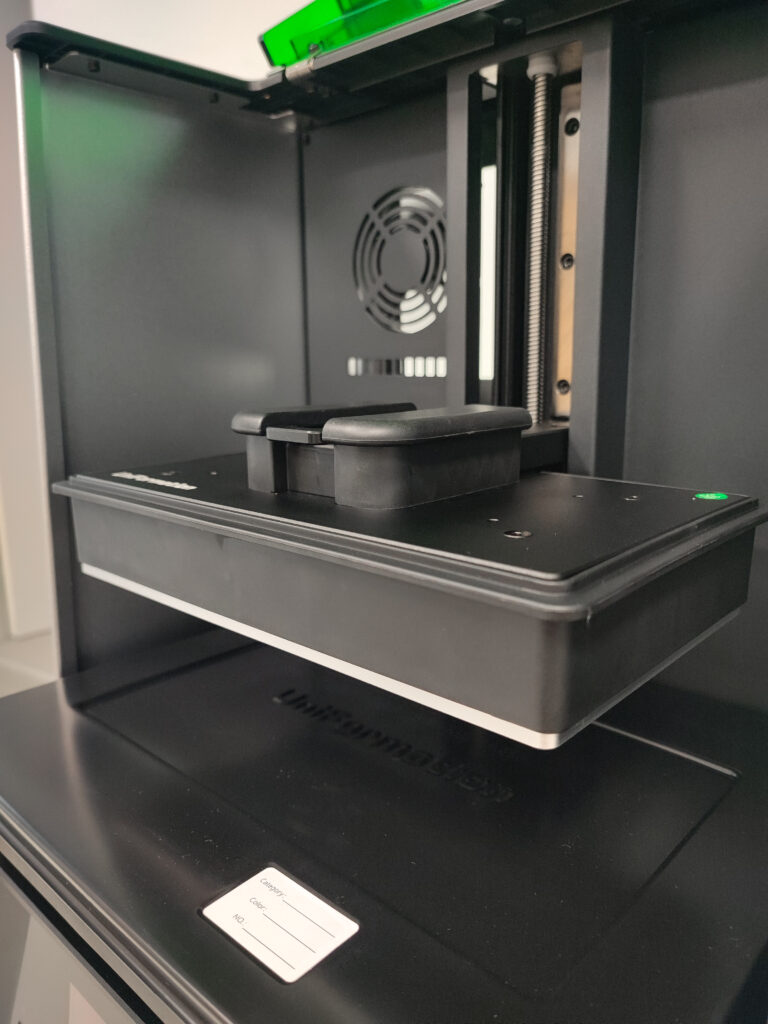 Finally, the print volume is 228*128*245 mm, larger than most of the competition. What more could one ask for?
Specifications
| | |
| --- | --- |
| Product Size | 350*315*H455mm |
| Package Size | 445*420*550mm |
| Package Weight | 20kg |
| Printing Volume | 228*128*H245mm |
| Exposure time | 2-3s/layer(0.05mm) |
| Technology | Photocuring LCD |
| Wavelength Range | 402.5-405nm |
| File Transfer | USB |
| Software System | windows7(64 bit) or newer |
| Slicing Software | Chitubox; Gktwo Slicer |
| UI Operation | 5'' Touch screen |
| File Format | STL |
| HD Resolution | 7680*4320 |
| XY Resolution | 29.6μm |
| Printing Tolerance | ±0.1mm(L≤100mm)±0.1% xL(L>100mm) |
| Layer Height | 0.03, 0.05, 0.1mm |
| Resin Vat Capacity | 0.7kg |
| Voltage | 110/220V |
The first print
After hooking up the printer to power, snapping on the resin vat and the print bed, we're almost done. What is missing? The resin of course! Uniformation provides their own resin, but due to some legislation, we were unable to test it.
What we also need is a machine for cleaning and curing the resin which is sold separately. Once we have all of the above, we are ready for our first print.
How to prepare our first model for printing
We've set everything up, filled the vat with our resin of choice, now what? Now it's time to find the model we want to print (some are provided in the USB stick) and load it into the slicer program. Uniformation provides Chitubox which is also the most popular, and one of their own called GKTwo Slicer. Both have printer settings ready, so you don't need to do anything manually.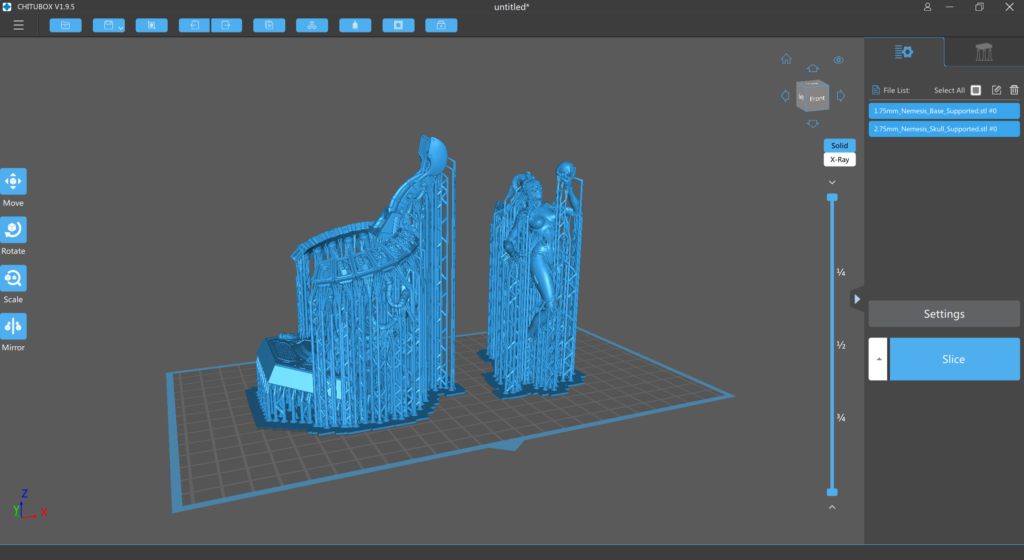 The next step is to save our model on the USB stick and put it in the printer. Something I liked is that the printer has an internal storage space and downloads the files from the USB stick so that if for some reason the stick gets damaged while printing, the printing will continue normally without any problems.
My first print
In our case we didn't have to look far for beautiful figures. Our friend Ed sent us several in incredible detail that would surely push GKTwo to its limits. This was our goal, of course, and as you will see from the photos below, I think the printer passed our expectations. The model I chose is called Nemesis, the First Singularity and while the figure is only 11 cm tall, the detail is shocking!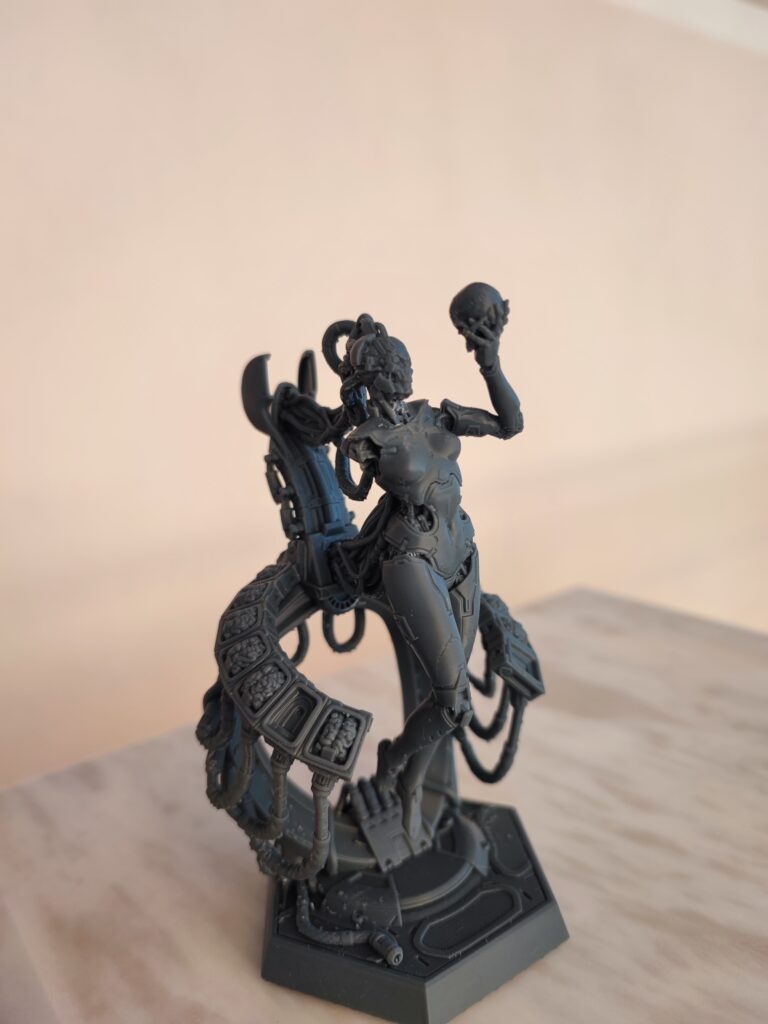 The second one is Baron Rivendare from the newly released Warcraft Rumble and although it's a low poly figure, the details are amazing.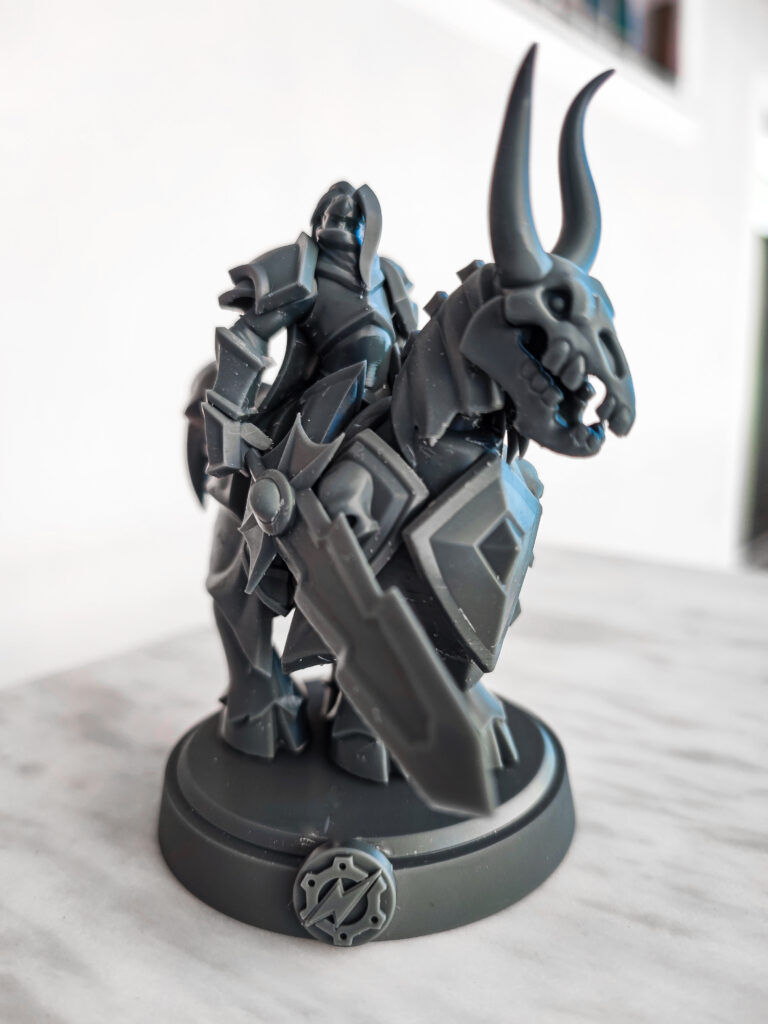 The above models have not undergone any treatment beyond the removal of the supports.
A few more photos from the process.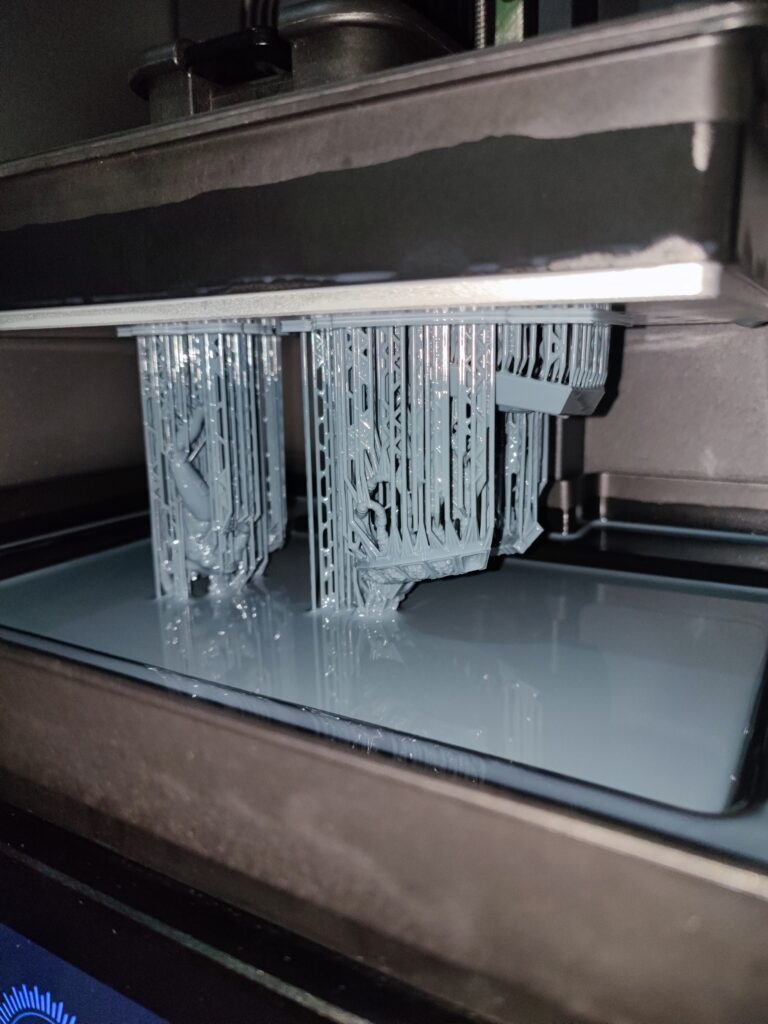 Conclusion
GKTwo is an excellent resin printer. I won't hide that what I read and saw about these printers scared me because of the preparation I had to do before printing. This particular one with Uniformation's user-friendly innovations, made the process a breeze.
GKTwo is an example for other companies to follow. Being able to print 8K resolution figures without having to think about the outside temperature and how it will affect the print is ideal.
Furthermore, you can tell you are dealing with a serious company, for their aftersales support and by visiting their site. They provide spare parts for everything, as well as upgrades to get the printer up to 12K (!!!) resolution and a wifi-antenna.
Finally, the price of $849.99 may sound excessive to some based on the competition, but to celebrate our partnership with Uniformation, we secured an $80 sale coupon with free shipping exclusively for BGeek!
Use these codes to get their amazing resin printers and save money in the process:
Uniformation GKTWO 80$ Save Code: bgeek
Uniformation GKTWO on EU 10% Code:IAD5NR3R
Uniformation GKTWO: 17/11 – 30/11:709.99$
Uniformation GKTWO on amazon.com: 20/11-27/11:679.99$ For Prime members.
140$ code save for GKTWO: GK140
230$ code for GKTWO KIT (printer plus wash and cure station): GK230
Above prices will only last through Black Friday, so act quick!
Resin printing isn't exactly what you had in mind? Check our FDM 3D printer review here.
We would like to thank Uniformation for providing the printer for this review.