With the season finale of Demon Slayer already behind us, the curtains on Spring 2023 Anime are closing. It's high time to look ahead to the next season. The release that has been making the most noise online is definitely Jujutsu Kaisen S2, but trust me, there's a whole lot more to keep you entertained. Whether you spend it poolside or inside, Summer 2023 has a ton of new anime releases in store for you. As per usual, you can head over to Anichart or Livechart for full lists with exact air times. This article offers a curated overview (without movies!), spoiler free with every synopsis only covering the first season to accommodate viewers who could be new to the series.
Summer 2023 Anime Week 26: 26/06-02/07
Horimiya: The Missing Pieces
Release date: 01/07/2023
Genre: Romance, Slice of Life
Technically the second season of the series, however it's supposed to cover side stories only. Personally I very much look forward to this, as I have been reading the manga after the first season captivated me. Hori-san to Miyamura-kun was originally a web series, which has inspired an OVA and manga, anime and live action adaptations. Fun fact: the anime previously won "Best Romance" during the Crunchyroll Anime Awards.
The story follows the bright and popular Hori and the gloomy nobody Miyamura. But looks deceive. At home Hori looks after her younger brother and takes care of household tasks, though she hides this from her high school mates. When one day her brother comes home with a nosebleed, he is being escorted by a boy with several piercings and tattoos. He recognizes Hori immediately, as he turns out to be her classmate Miyamura. They agree to keep each other's true identities a secret. As they learn more about each other, they also grow closer.
My Tiny Senpai
Release date: 02/07/2023
Genre: Comedy, Romance, Slice of Life
Based on a manga series, this promises to be a classic romcom produced by Project No. 9. Sajou Wataru is very much in love with his classmate Natsukawa Aika. He keeps trying to approach her, dreaming of a mutual love. Though one day he suddenly thinks he's never going to be good enough for her and starts keeping some distance from Aika. Aika, on her turn, thinks Wataru has started to hate her.
Am I Actually the Strongest?
Release date: 02/07/2023
Genre: Fantasy, Comedy, Ecchi
This Isekai anime is based on a light novel series with a manga adaptation. Haruto, having lived as a shut-in, is reincarnated as a baby. Though he has been reborn as a prince, his magic level is low so he gets abandoned in the forest instantly. However, the goddess of reincarnation has given him 1000 times the normal amount of magic without anyone noticing. Surely, he'll be able to make something of himself?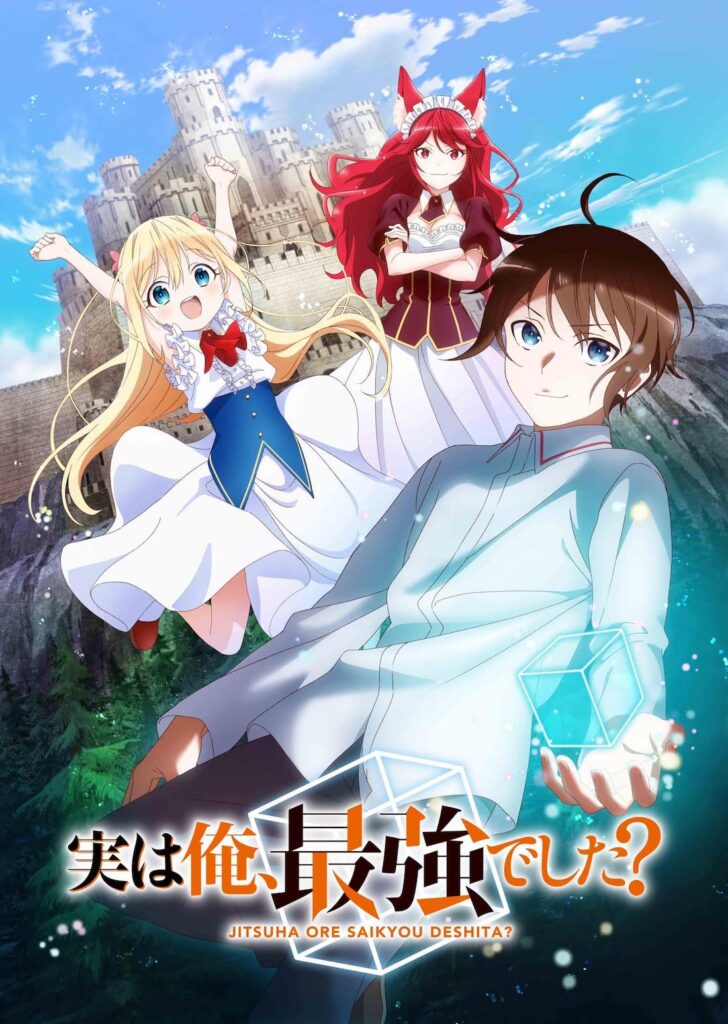 Summer 2023 Anime Week 27: 03/07-09/07
Mushoku Tensei: Jobless Reincarnation Season 2
Release date: 03/07/2023
Genre: Adventure, Fantasy, Ecchi
Based on a light novel with a manga adaptation. Protagonist Rudeus Greyrat is a 34 year old NEET, who gets evicted after his parents' death. Having even skipped the funeral, his life is truly pointless. However, he attempts to do something meaningful as he intercepts a truck heading towards a group of teenagers and pulls them out of the way. Giving his own life in the process, he reincarnates in a fantastical world. His memories are still intact though. Determined not to waste this new life as well, he sets off on "the adventure of a second lifetime".
Masamune-kun's Revenge R (Season 2)
Release date: 03/07/2023
Genre: Romance, Slice of Life, Comedy
Based on a manga series. As a boy Masamune Makabe had a close relationship with the beautiful and wealthy Aki Adagaki. Though one day she rejected him and nicknamed the chubby boy "Pig's Foot". Masamune changed his name and worked hard until he became a fit and handsome high schooler. Aki now no longer recognizes him. As a way of revenge, Masamune wants to seduce her so that he can now cruelly reject her.
The Girl I Like Forgot Her Glasses
Release date: 04/07/2023
Genre: Romance, Comedy
Based on a manga series (that was initially published by the author on Twitter). The story focuses on Kaede Komura, who's more focused on his deskmate Ai Mie than on the subject being taught. He thinks Ai is absolutely adorable, wanting her to look at him from beneath her glasses. But Ai is very forgetful, which isn't great for someone with terrible vision. Whenever she forgets to bring her glasses, Kaede helps her eagerly. As Ai starts depending on Kaede more, they grow closer.
My Happy Marriage
Release date: 05/07/2023
Genre: Drama, Romance, Supernatural
Based on a light novel series with a manga adaptation and a live action film, which premiered earlier this year. The story takes place in 19th century Japan. Miyo Saimori is forced to serve her abusive stepmother. Looking forward to a marriage that can free her from this life, she learns her fiancé's previous brides fled only days after the engagement. Kiyoka Kudou is a commander, rumoured to be cold and cruel. But Miyo has no other choice if she wants an escape from her life and gives the marriage a chance. Thankfully, she learns that he is not the monster others make him out to be.
Reborn as a Vending Machine, I Now Wander the Dungeon
Release date: 05/07/2023
Genre: Comedy, Fantasy
Based on a light novel series with a manga adaptation, this surely is a unique take on the isekai genre. After a vending machine crushes our protagonist to death, he is reincarnated in a fantasy world dungeon as a vending machine himself. He can see, hear and talk. Though he is limited to saying things Japanese vending machines are programmed to. He can also dispense items he has bought in his previous life. This vending machine also appears to have some magical abilities. Lammis, a young hunter, has a skill that makes her exceptionally strong. She befriends the vending machine and calls him Boxxo. She starts carrying him around on her back, and so Boxxo starts an adventurous life.
Jujutsu Kaisen Season 2
Release date: 06/07/2023
Genre: Action, Supernatural
Based on a (very popular) manga series, with an anime and movie adaptation. In a world where negative feelings turn into curses, some curses can cause serious harm and need to be exorcised. Itadori Yuji is an ordinary high schooler with incredible physical strength and strong determination to help others. Trying to save a friend from a curse, he eats the finger of a curse by the name of Sukuna. He now shares his body with this curse. As a result he enrolls in the Tokyo Metropolitan Technical High School of Sorcery, an organization that fights curses.
Rurouni Kenshin (reboot)
Release date: 07/07/2023
Genre: Action, Adventure, Drama
Based on a manga series from the nineties, with an anime adaptation, light novels, live-actions, OVAs and video game adaptations. This Summer 2023 anime release is a re-adaptation of the original anime series that finished airing in 1998. The story takes place in the late 19th century in Kyoto, a time when American "Black Ships" are coming to Japan. A warrior arises with a bloodstained blade. With his killer blade he puts an end to a turbulent era, welcoming the progressive Meiji era. He becomes Himura Kenshin, a wandering swordsman who protects the people of Japan with a vow never to take another life.
Rent-a-Girlfriend Season 3
Release date: 08/07/2023
Genre: Comedy, Romance, Drama
Based on a manga series with a live-action adaptation. When Kazuya Kinoshita gets dumped by his girlfriend after only a month, he decides to just rent a girlfriend. Chizuru Mizuhara is very attractive, but Kazuya thinks she's ingenuine and therefore gives her a low rating. He later brings her along to meet his grandmother, who's been hospitalized. Seeing that his family likes Chizuru, he keeps renting her to keep up appearances. Things get complicated as it turns out he lives right next-door to his rented girlfriend, and they're attending the same college on top of that as well.
BLEACH: Thousand-Year Blood War Part 2 (The Separation)
Release date: 08/07/2023
Genre: Action, Adventure
Bleach: Thousand-Year Blood War is based on the manga series Bleach, and serves as the sequel to the original series. It's also been announced that this will be "the last story arc". This series will consist of four parts. The first part aired during Fall 2022. Bleach is a classic that I will not even attempt to summarize for you, you'd do better to watch a video on the matter.
Liar Liar
Release date: 08/07/2023
Genre: Psychological, Ecchi
Based on a light novel series with a manga adaptation. The story takes place on Academy Island, where everything needs to be settled with Games. Students wager a number of stars, with the top student carrying the rank of "Seven Stars". Transfer student Hiroto unexpectedly beats Sarasa, the strongest student. As he defeated her by sheer luck, he now has to keep up appearances, applying bluffs and tricks in an attempt to stay at the top.
Reign of the Seven Spellblades
Release date: 08/07/2023
Genre: Action, Fantasy
Based on a light novel series with a manga adaptation. The story takes place at the Kimberly Magic Academy. One of the new first-years is Oliver Horn, whose mission consists of getting revenge on the members of the Academy's faculty that murdered his mother. When he meets Nanao Hibiya, a samurai girl from a distant nation, he feels trapped between his revenge mission and his curiosity. Will he be able to focus on his mission, survive his time at the academy and make friends at the same time?
Zom 100: Bucket List of the Dead
Release date: 09/07/2023
Genre: Comedy, Horror
Based on a manga series, with a Netflix live action adaptation slated for this summer. Akira is slaving away for a soul-crushing company, lives in a trashy apartment and even lacks the nerve to confess to his co-worker. Then the zombie apocalypse happens. He finally decides to live for himself and wants to complete his bucket list with 100 items before he becomes a zombie himself.
Hero Classroom
Release date: 09/07/2023
Genre: Fantasy, Slice of Life
Based on a light novel series with a manga adaptation, this anime is alternatively titles "Classroom for Heroes". Rosewood Academy trains future heroes that will protect humankind. Only students with tons of potential get accepted. Protagonist Blade seems pretty ordinary, but he's hiding a terrible secret. Arnest Flaming, one of the top students, has been tasked to guide Blade. Together with their other classmates she tries to make sense of the mysterious guy and his secrets.
The Duke of Death and His Maid Season 2
Release date: 09/07/2023
Genre: Comedy, Romance, Supernatural
Based on a manga series. The Duke of death has been cursed by a witch as a child. Anything he touches will die. He lives a life of solitude in a mansion deep in the forest. His maid Alice acts awfully flirty despite his deadly touch. Can the duke break his curse, or is he doomed to live forever without love's sweet touch?
Summer 2023 Anime Week 28: 10/07-16/07
Dark Gathering
Release date: 10/07/2023
Genre: Horror Supernatural
Based on a manga series. Psychic Keitarou Gentouga becomes shut-in after an encounter with a restless spirit to avoid any other ghostly tragedies. Though eventually he reintegrates in society and takes on a part-time job as a tutor. He tutors the child prodigy Yayoi Houzuki, who's both an academic genius and a psychic medium. She is determined to find the evil spirit behind her mother's disappearance, dragging Keitarou along.
Bungo Stray Dogs Season 5
Release date: 12/07/2023
Genre: Action, Mystery, Supernatural
This manga series has been adapted into an anime series, an anime film, a spin-off television series and even a live-action film. Protagonist Atsushi Nakajima has been kicked out of the orphanage. He then saves detective Osamu Dazai from a suicide attempt, thinking he was drowning in the river. Turns out Atsushi has supernatural capabilities, allowing him to transform into a berserker white tiger in the moonlight. Dazai hires him, and now Atsushi gets to work in an agency with other supernaturals.
The Devil is a Part-Timer! Season 3
Release date: 13/07/2023
Genre: Comedy, Fantasy
Based on a light novel series with a manga adaptation, and a first season of the anime that was released in 2013. To the many fan's content we now finally get a second season. The story revolves around Satan himself, who wanted to conquer the world of Ente Isla, but was forced to retreat. He enters a gate and winds up in modern day Tokyo. In order to survive, he is now Sadao Maou. A part-timer at MgRonald's. The story unfolds as more characters from Ente Isla arrive in this new world.
​​