You'll love it if:
You love Garfield
You are looking for a light-hearted party game
You are planning to play this with or gift it to younger gamers
Not for you if:
You want online multiplayer
You want a lot of boards and characters to choose from
You hate lasagna
Garfield Lasagna Party is a new party game by Microids that has just been released on all platforms. For this review I got the Nintendo Switch version, which is the most handy console to bring to (lasagna or non-food) parties after all. It's fair to say the game is targeted at a younger audience, and just as with the DC Super hero Girls review I will take that into account for this review. Continue reading if you're hungry or want to know if this party game could be a good fit for your younger relatives/friends/inner child. Oh, and go grab a snack first if you're hungry!
TL;DR
Garfield Lasagna Party is a local party game consisting of 32 mini-games and various play modes. It's not unsimilar to Mario Party in that aspect, although it does not support online multiplayer and the board game mode only has 1 board design. The mini-games fit in perfectly with the Garfield theme and the characters are quirky. The overly bright colours, characters and simple game design make it more targeted at a younger audience, who imo should be able to entertain themselves for hours on end without much parental guidance needed. The game also supports 10 different languages, although both the game modes and mini games seem self explanatory enough.
Garfield Lasagna Party – Game modes
Garfield Lasagna Party offers 32 mini games, playable through different game modes. Every game mode and mini-game is always played with 4 players, the game automatically adds AI to fill up the open spots. There's also 4 playable characters to choose from: Garfield, Odie, Nermal and Arlene. I'll go over the different modes so you get a better idea of the differences and will also highlight some of the mini-games, but of course not all 32, that would not only be boring but also take away some delight of discovering the different games for yourself.
Lasagna Race
The main game mode if you ask me. Lasagna race is basically a board game, where you can set the difficulty and length. The shortest race is still 10 rounds, which takes you around the board approx. 1.5 times. The winner is the player who gathers the most lasagnas. Every player takes turns rolling a die, and then modifiers can be used if you have any. You can use positive modifiers on your own roll, but beware, the other players get the chance to use negative modifiers as well. This is where the bullying takes place. One by one you then go around the board, which is filled with special tiles. Once every player has taken their turn, you play a random minigame. The winner gains 5 lasagnas, which means you really have to win the minigames to win the overall board game.
To give you an idea of the special tiles, there's a pillow that gives you a "sleeper die". With it you're only able to roll 1-3 on your next turn. Another tile is next to a doghouse, the first person to land on it gets scared away by the dog and has to go back a couple of spaces. But the dog does leave after that, removing the effect of that tile. Other tiles give benefits like a number of lasagnas, items to use as modifiers on die rolls, there's even a little wheel of fortune. There's also a tile that triggers "chance cards", similar to those in games like Monopoly. If you win every single mini game, I don't think the possible bad luck of the board can bring you down. On the other hand, the board can definitely break a tie or close small gaps.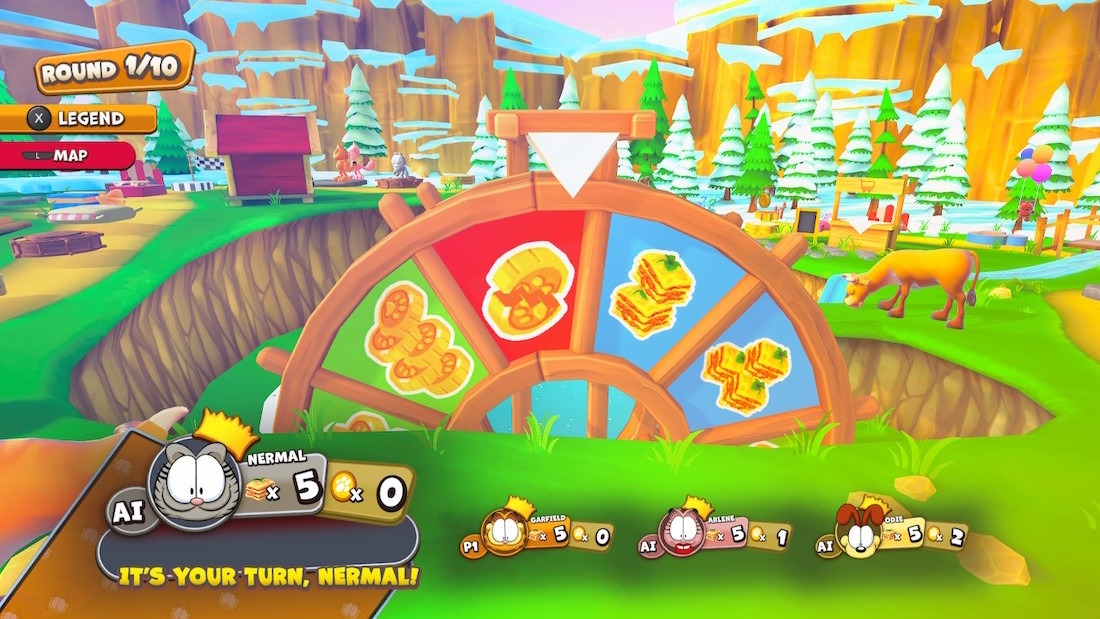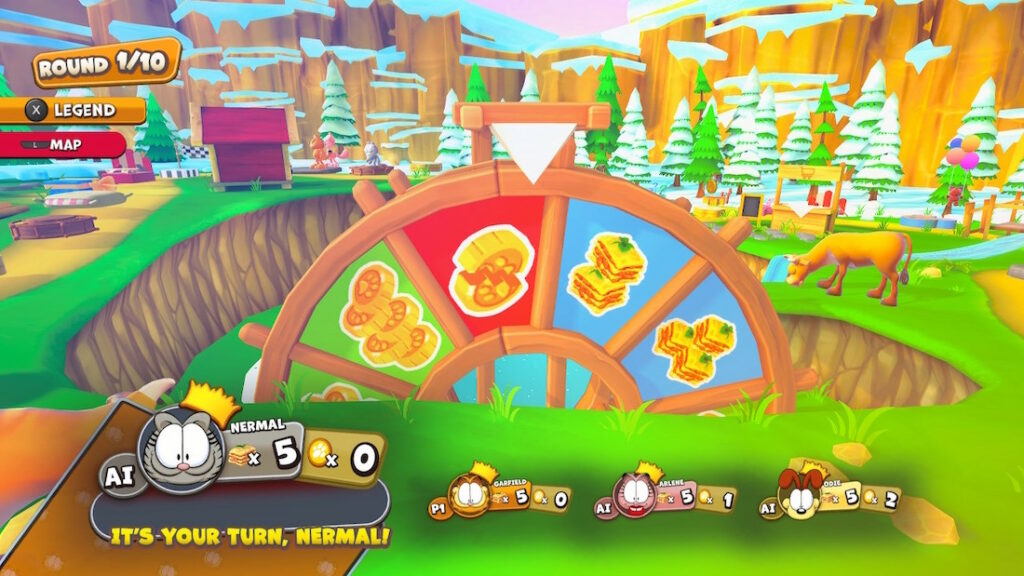 Lasagna Challenge
The second game mode in Garfield Lasagna Party basically just lets you choose and play any of the minigames. Great if you only want to play your favourite games or want to get better at the ones you find challenging. And the mini-games in Garfield Lasagna Party are honestly pretty good. They all fit within the Garfield universe and some of them offer new gameplay I haven't seen in other mini-games before. A lot of mini-games of course involve food such as lasagna, where others involve dogs, an obvious nemesis to cats.
There's a game where you have to eat as many things as possible by hitting a certain button combination that changes every time you finish a food item. In another game one person holds a lasagna, the others pick up tomatoes to throw at them. Once hit you can steal the lasagna. Whoever holds the lasagna the longest, wins. In one game you let the dog get as close as possible until you distract it with a bone, dubbed "Good Boy". Another game makes you gather ingredients to cook lasagna or has you cutting a pizza in slices that need to contain a certain amount of pepperoni. And there's even a game that takes place in the veterinarian's office! The theme is very consistent and on point in Garfield Lasagna Party.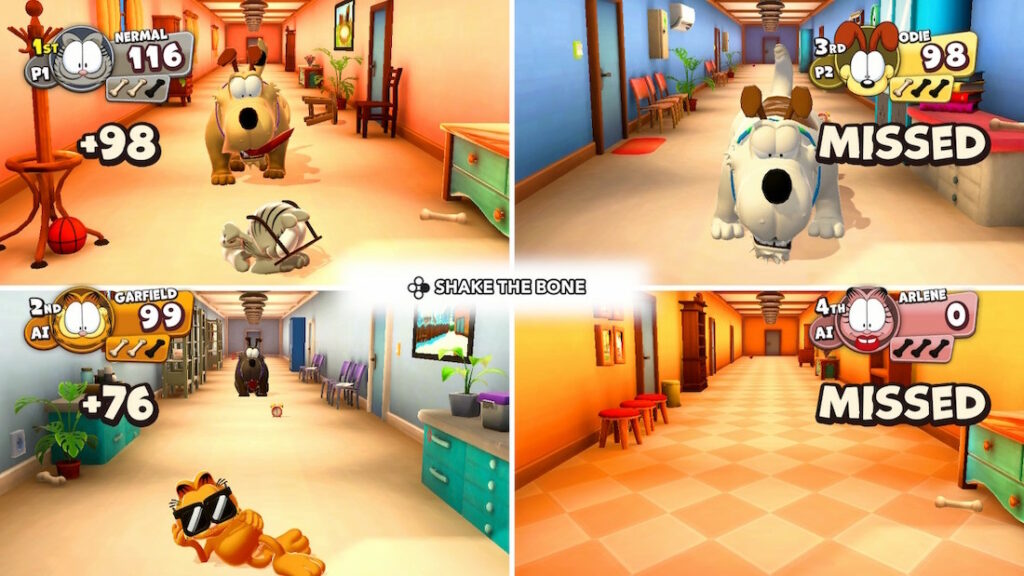 Lasagna World Tour
Similar to Lasagna Challenge, but this game mode is tournament style. You select the amount of mini-games you want to play and then the system will pick random mini-games for you to play through. You gain more points for winning than for losing, of course, and whoever gathered the most points (lasagnas) at the end, is the grand winner. I think this is perfect to just sit down and efficiently get a little competition going. There's no bickering about which mini-games to play and there's no bullying with die rolls or random modifiers that could lead to crocodile tears.
Garfield Lasagna Party: Conclusion
Garfield Lasagna Party is a party game in the theme of the loveable fat orange cat. Although it has three game modes, two of them do come down to just playing your mini-games. The board game in Lasagna Race mode is unfortunately always the same one. I would have loved to see different lay-outs here. The mini-games are the best part, together with a very straightforward interface. On consoles the game currently retails at 40 euros, which for me is too much considering the limited amount of content you are getting. I would rate it higher if the game was more fleshed out for this price point. So maybe wait a bit and get a nice Christmas deal on this one.
If you're buying this for a younger gamer though, you need to factor in the fact that they probably won't need parental guidance and can entertain themselves for hours on end. The bright colours and characters are very reminiscent of a children's animation. There's also no online multiplayer, which is an advantage if you want to leave kids alone with this game. So if you, or whoever you could be buying this for, like Garfield, just get it. It never hurts to own a party game.