As a fan of SteelSeries products, I was excited to have the opportunity to try out the SteelSeries Arena 3 speakers. I was told the SteelSeries Arena 3 speakers would simply blow me away. They sure did, in size and sound.
Let me start off by saying I am a headset gamer, I like my ears comfy and warm and speakers rarely were a part of my setup, especially when I stopped living alone. But I can assure you that the SteelSeries Arena 3 speakers have found their righteous place in our household. Just not where you think they might end up.
Unboxing the beast – SteelSeries Arena 3 unboxing
The SteelSeries Arena 3 speakers come packaged in a huge box, immediately I was blown back by the size of the box. Inside, the SteelSeries Arena 3 speakers are nestled in padding to protect them during shipping. The padding was only a minimal part of the inside though. These speakers are huge, I was starting to wonder if they were ever going to fit my pc setup. Spoiler alert: they didn't.
In addition to the SteelSeries Arena 3 speakers, the box contains a 3.5mm audio cable, cable to connect both speakers and a user manual. The overall unboxing experience is straightforward and hassle-free. The manual provides clear instructions for setting up the speakers, and it includes troubleshooting tips in case you run into any issues.
Goliath speakers – SteelSeries Arena 3 design
The design of the SteelSeries Arena 3 speakers is sleek and modern, with a minimalist look that fits in well with a variety of decor styles and desk setups. The speakers are pretty huge though and setting them up on a cluttered desk won't fit for everyone. Add in two extra cables running across your cluttered desk and things can get messy.
The black finish gives them a neutral outlook that fits most builds and desks, sadly there are no RGB options in case you were looking for that. To be honest the size of the speakers is the only downside.
The only light on the SteelSeries Arena 3 speakers is the one that shows its status. On/off or connected to Bluetooth. It's kinda bright so if you play in a dim lit environment it might bother you. Go for the the healthy choice and turn on some lights. A dial knob on the foot of the right speaker is used to set the volume level.
The SteelSeries Arena 3 speakers are also lightweight and easy to move, making them a convenient choice for users who want the flexibility to change their setup on a regular basis.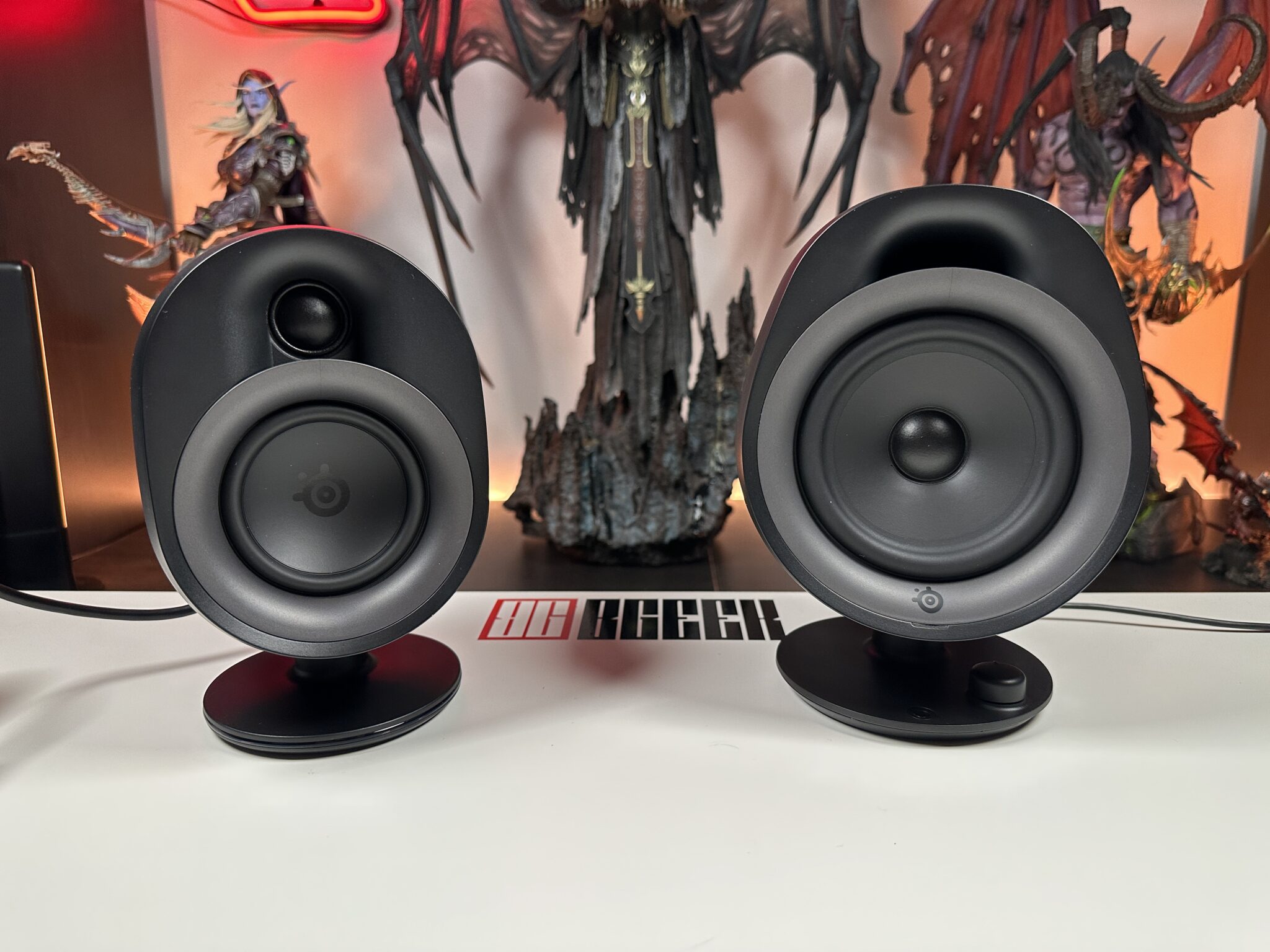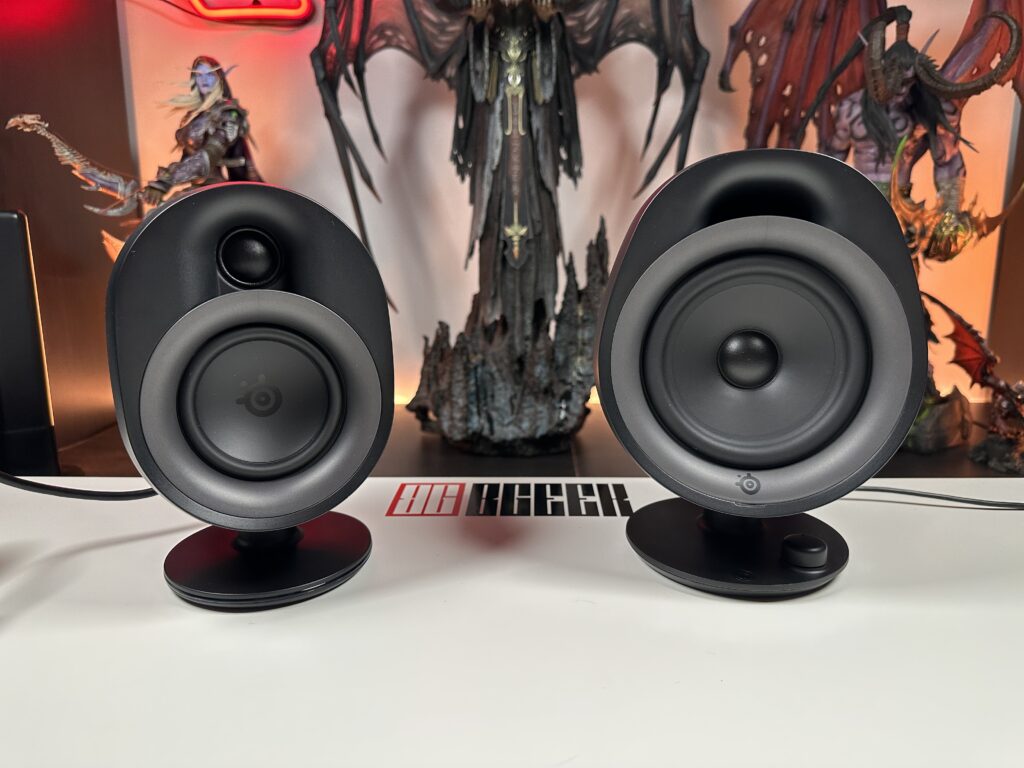 The Mr. Gadget of speakers – functionality
In terms of functionality, the SteelSeries Arena 3 speakers are very easy to use. They can be connected to a variety of devices using the included 3.5mm audio cable or Bluetooth, making it easy to use them with your computer, phone, or other devices. And with devices I mean your living room TV and the Steam Deck. As long as it has a 3.5mm audio jack you can connect the SteelSeries Arena 3 speakers and enjoy their beautiful sound. Simply connect it and BAM, they work as intended.
The SteelSeries Arena 3 speakers deliver a full, rich sound with crisp highs and deep lows. The frequency response range of 50Hz – 20kHz ensures that you hear every detail of your favourite tracks or death sounds.
The nitty gritty – SteelSeries Arena 3 specifications
The SteelSeries Arena 3 speakers have a maximum power output of 15W per speaker, which is more than enough for most home listening situations. They have a 3.5mm audio input and are compatible with Bluetooth 4.2, so you have a range of options for connecting them to your devices. The speakers are made of high-quality materials that are built to last, and they have a sleek, black design that looks great in any setting.
The SteelSeries Arena 3 speakers spot a range of 50 – 20000 HZ and 91dB sensitivity, enough connector ports in the back to even connect your SteelSeries Arctis Nova 3 headset and seamlessly switch between headset and speakers with a single press of the button. Or connect them to your pc and Bluetooth at the same time and play your favourite Spotify soundtrack over your game sound for even more chaos.
SteelSeries Arena 3 conclusion
Overall, I am extremely impressed with the SteelSeries Arena 3 speakers. They offer excellent sound quality and are easy to use with a variety of devices. The huge size is something to take into consideration. Whether you're looking to upgrade your home theatre system, or just want to have some high-quality speakers for casual listening, the SteelSeries Arena 3 speakers are a fantastic choice.
They are well-designed and offer a superior audio experience that will surely satisfy even the most discerning audiophile. I have no doubt that these speakers will continue to deliver exceptional performance for years to come. If you're in the market for a new speaker system, the SteelSeries Arena 3 speakers are definitely worth considering.
They have found their place in our household connected to the living room TV. Not only to upgrade the sound of the TV as I watch Alice in Borderlands but also the sound of the connected consoles. Playing through Metal: Hellsinger with the SteelSeries Arena 3 speakers was a literal blast as the songs came to life even more.Thank you SteelSeries for delivering yet another amazing product. If you are interested in buying the SteelSeries Arena 3 speakers: Click here and today at 28/12/22 these speakers are on SALE!