You'll love it if:
You like open world racing
You want more than just cars to race
You want to feel what its like to drive a BMW and not use blinkers
Not for you if:
You are obsesed with using blinkers when making turns
You are looking for a realistic racing simulation
You want to enjoy some offline racing fun
Ubisoft's The Crew Motorfest is a bold entry into the world of open-world racing, akin to the Forza Horizon series. While Forza remains exclusive to Xbox and PC, The Crew Motorfest breaks these boundaries, making high-speed racing accessible to all. As the title of this review suggests, The Crew Motorfest doesn't hold back; it races head-to-head with its biggest competitor, and Ubisoft's Ivory Tower has certainly hit the mark.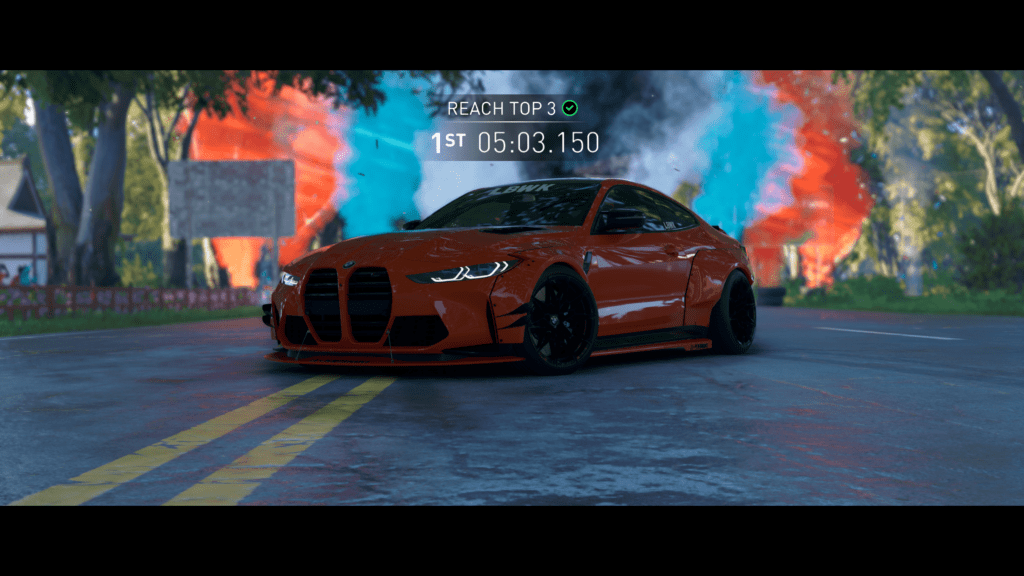 TL;DR
The Crew Motorfest delivers precisely what everyone expected: an open-world racing extravaganza that retains the essence of The Crew. It's not limited to cars; you can unlock boats, planes, bikes, and quads to explore the beautiful island of O'ahu in Hawaii. Diverse playlists offer unique themes and cars, from Porsche and Lamborghini races to vintage car challenges without GPS. The Crew Motorfest ensures a seamless experience, guiding you from event to event without fumbling through maps or menus. O'ahu is a racing paradise with hidden treasures, landmarks, and ongoing races, 24/7.
However, being an always-online title can come with connectivity hiccups and can be disappointing for those seeking offline play. High-speed races in quality mode felt unwieldy, with noticeable pop-ins even in performance mode. While the playlists are diverse and engaging, some accompanying characters can be cringy. Trying to silence the AI's constant GPS guidance and incessant chatter is an option I wish The Crew Motorfest had.
The Crew Motorfest Review – Racing to Excellence
When the trailer for The Crew Motorfest dropped, I had a big "Well, that's Ubisoft's take on Forza Horizon". The Crew Motorfest takes place in a more exotic locale and introduces the festival feeling. The Crew Motorfest was most definitely inspired by its biggest competitor. And I really have to admit it was a solid move on Ubisoft's part; Forza being locked behind exclusivity, PS5 users were locked out of an amazing racing experience.
Ubisoft now brought a taste of that to all platforms capable of running games above 40 frames. Yes, Switch users are left out, but they have Mario Kart. While I reviewed The Crew Motorfest on the Xbox Series X and also reviewed Forza Horizon 5 beforehand, I won't say one is better than the other. Why? Because, in the end, they are two different games doing their own thing as well as they can.
Rev Up Your Engines and Ride the Waves
Let me start with a confession. This is my first The Crew game, please put down your exhaust pipes and nitro containers. While I'm not an avid racing fan, I do enjoy some good arcade racing and dive into new iterations of the Forza Horizon series when they arrive.
These arcade racers scratch an itch in between some intense Armored Core or Elden Ring sessions. So I can't make the comparison with the previous The Crew games, but I sure can compare The Crew Motorfest with the current king, Forza Horizon.
History, Diversity, and Fooling Around
Imagine renting an entire Hawaiian island, allowing racers to tear through towns, jungles, and volcanic craters at breakneck speeds. This is the captivating backdrop of The Crew Motorfest. The festival organizers invite racers to participate in playlists spanning the entire island in grand festival style.
You get dropped off, take a group picture, and create your racer. While lackluster compared to Baldur's Gate 3, it does the job for an arcade racer where the focus is on vehicles anyway. Without further ado, you are thrown into the introduction race. You take a whiff of the tarmac and dirt as you try out three short races from the starting playlists. Helping you decide what your first stop will be.
After that, you pick a car, are introduced to the most annoying AI you will ever meet, and hit the gas towards your first stop. All playlists in The Crew Motorfest are so diverse and well thought out. They are a joy to play and contain intro videos with iconic characters or vintage footage. Each playlist is dedicated to a certain theme and delivers it well. From car modding to electric cars and even boat races, the diversity and history these bring keep The Crew Motorfest fresh as you play through them.
Some of the characters that accompany you along these playlists are less entertaining. My least favourite is the AI in your GPS, the celebrity rocker, and his muscle car collection. While the expose about muscle cars was legit interesting and made me learn something. The character bringing it was borderline cringe or had plain bad jokes. Overall, I started tuning out the ones I disliked and focussed on winning the race.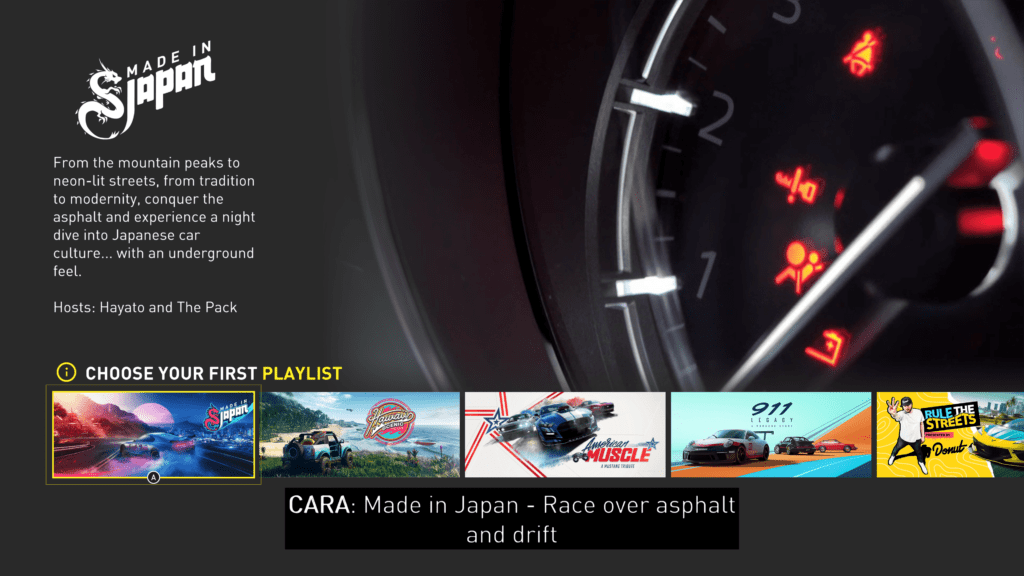 Tuned for Optimal Fun
The PvE playlists are all tailor-made for a certain experience and involve racing with loaned cars. This balances the game for those with a garage full of supercars and allows new players to try out the feel of some models of cars they don't own. Furthermore, replaying the PvE playlists becomes a way to grind exp to unlock rewards in the PvE reward track. Mastering these races with the same vehicles can get repetitive.
As for PvP, a small roadblock prevents you from entering it immediately. You need certain vehicles to enter those playlists. Spending your hard-earned credits to buy a specific vehicle you don't really know you like doesn't sound like a good decision. But it does help that newer players get a grip on the racing mechanics and feel for driving as a whole before diving into competition.
O'ahu is a breathtaking island with lots of jumps, off-roading, and street racing opportunities. Doing a tour of the whole island took me about 18 minutes during a race. The map might seem small, but I assure you it isn't. Once you unlock your first airplane, you could even go full lazy and fly straight from race to race. This will net you a lot less exp and works detrimentally in the long run when mastering your drifting skills or off-roading vehicle control.
Ubisoft Game to the Core
Ubisoft has perfected the open-world model so well that everyone started doing it, and we all got bored of it. While the map of O'ahu isn't filled with icons to explore or towers to climb, there sure are a lot of hidden treasures, collectibles, and races. Just like what we are used to but in a different form.
A complex web of multiple reward tracks, rotating themes, and RPG elements is tied to cars. These elements make The Crew Motorfest slightly more intricate and grind-oriented than it should be. Three reward tracks cater to different aspects—PvE, PvP, and exploration. It can be a completionist's nightmare if you aim to finish everything before the next theme arrives. Each theme features specific cars that provide a 10% experience bonus during relevant activities, making it worth considering buying a new car to fit the current weekly theme and maximize your rewards.
Cars also have slots for equipment obtained as race rewards. These come in various colors, from rare to legendary, with affixes that can alter the car's performance when equipped. Legendaries even feature tier slots when a full set is equipped, adding an extra affix. This system may not be everyone's cup of tea in a racing game. My inventory quickly overflowed with parts that needed to be scrapped, a process that took several seconds for each item I wanted to delete.
Drifting Through the Corners at High Speed
The Xbox Series X performance was at its best when playing in performance mode. The visual downgrade was minimal compared to quality mode, and you should probably only use that mode for screenshots. There was some pop-in for certain races, and the overuse of fireworks and floating decoration was a bit of an eye-sore for the beautiful island. There are fireworks going off all race long, and the same floating decorations appear over the whole track.
My only technical issue was with the servers on launch day. Getting into the game took ages, with several disconnects as people were flooding into the servers. If your internet is in bad shape, you might have trouble maintaining a good connection and get booted mid-race. Overall, everything went smoothly, from loading times for races to switching out vehicles in the open world.
Expensive Car Business
If it wasn't clear, The Crew Motorfest is a live-service game. With its weekly themes, year-pass, and three different currencies, you can be sure to hit a point where you consider grinding or paying for convenience.
The premium currency can be used to buy anything from cars to cosmetics and gear packs. All necessary things you can buy with in-game credits. So, you are never forced to pay for content. Everyone will be able to play and experience everything in The Crew Motorfest.
But, you will hit a point where there are no free playlist unlocks. This goes for PvE and PvP, where certain playlists are locked behind you having unlocked a certain car. A car you can buy with credits or premium credits. Did you spend all your credits on buying a fancy car you like? Does that car unlock a new PvE playlist, or is it viable for a PvP playlist? If not, then you will have to grind credits to unlock a specific car to progress in PvE or participate in PvP. Or you could oil your exhaust, sell some spicy rim pics, and get your credit card out.
Is the monetization aggressive in The Crew Motorfest? No, it's not. If I managed my credits wisely, I never felt like a playlist was out of reach. Doing the free playlists got me a total of 1.6 million credits and helped me finish all PvE playlists. Am I annoyed by such systems? Hell, yes. Creating an inconvenience and supplying the solution at an additional cost is greedy.
To the Finish Line – The Crew Motorfest Conclusion
The Crew Motorfest is a solid experience and a good arcade racer. While some minor systems are questionable and might be a more fitting feature for a different game. They don't get in the way of the main experience and racing fun.
The writing for some playlists is uninteresting and a stark contrast to the better playlists with interesting facts and backgrounds. The live-service aspect of The Crew Motorfest is sure to bring many more cars and races to an already packed game. If you are a PlayStation player looking for a good open-world arcade racer, I recommend picking it up.
Thank you, Ubisoft, for sponsoring us with a key for the Xbox Series X. You guys nailed it with this one. I'm back to do a demolition race and total some cars.