You may already know that here at BGeek, we are strong advocates for better audio in gaming. However, we have been somewhat limited to only talking about gaming headsets, since that is the usual audio gear of choice for the average gamer. Mind you, that is not because of the cost or anything of the sort, we have reviewed some expensive gaming headsets over the years. It's mostly about us gamers as a species being very conscious of ourselves and not wanting our neighbors to hear every single gunshot and start knocking on the walls for us to turn our game down. However, there comes a time in every gamer's life, when you realize that your next-door neighbors don't really care about how much noise they are producing, so why should you? And that is why I have indulged in the best 2.1 gaming speaker setup money can buy: the SteelSeries Arena 7, the best middle finger you can give to your noisy neighbor.
After the launch of the Arctis Nova lineup in the last quarter of 2022, SteelSeries went ahead and dropped the massive bombshell that the Arena line of speakers was. Our very own Stijn Ginneberge has already reviewed the entry-level option, the SteelSeries Arena 3, and we absolutely loved the sound, the build quality, the compatibility, and most importantly, the price.
You shouldn't expect anything different for my verdict on the Arena 7s, I fell in love with them as soon as I took them out of the box. This is finely crafted, top-notch gaming equipment that delivers quality sound, just as we're used to from SteelSeries. In fact, the Arena 7s stay true to most of SteelSeries' mantras, but they do also have some aces hidden up their sleeves. Be it a colorful sound signature, premiere build quality, connectivity to absolutely everything or even some of the best RGB lighting in a speaker set, there's not much you could ask for that the Arena 7s don't have. This is not an article about me saying that this product is worth your time (and money), but rather, it's an article about me going into detail about how much I enjoyed testing this speaker set. Let's dive right in:
Inside the SteelSeries Arena 7 box
The unboxing experience is as good as it can get with recyclable cardboard box packaging. Don't expect anything grandiose, as the packaging is mainly designed to keep your new speaker set safe during transport and be friendly to the environment. We love to see gaming companies finally catching up to the big tech giants when it comes to green packaging, and SteelSeries has been at the forefront of these efforts for the longest time. Get ready to do some heavy lifting though, because the Arena 7 box weighs in at a stunning 12 kg.
If you'd like to take a quick look at what the unboxing experience is like, you can watch our RapidUnboxing episode for the Arena 7s. Inside the box you will find:
Two SteelSeries Arena 7 monitor speakers (left & right)
A SteelSeries Arena 7 subwoofer
A USB-A to USB-C cable
A region-specific power plug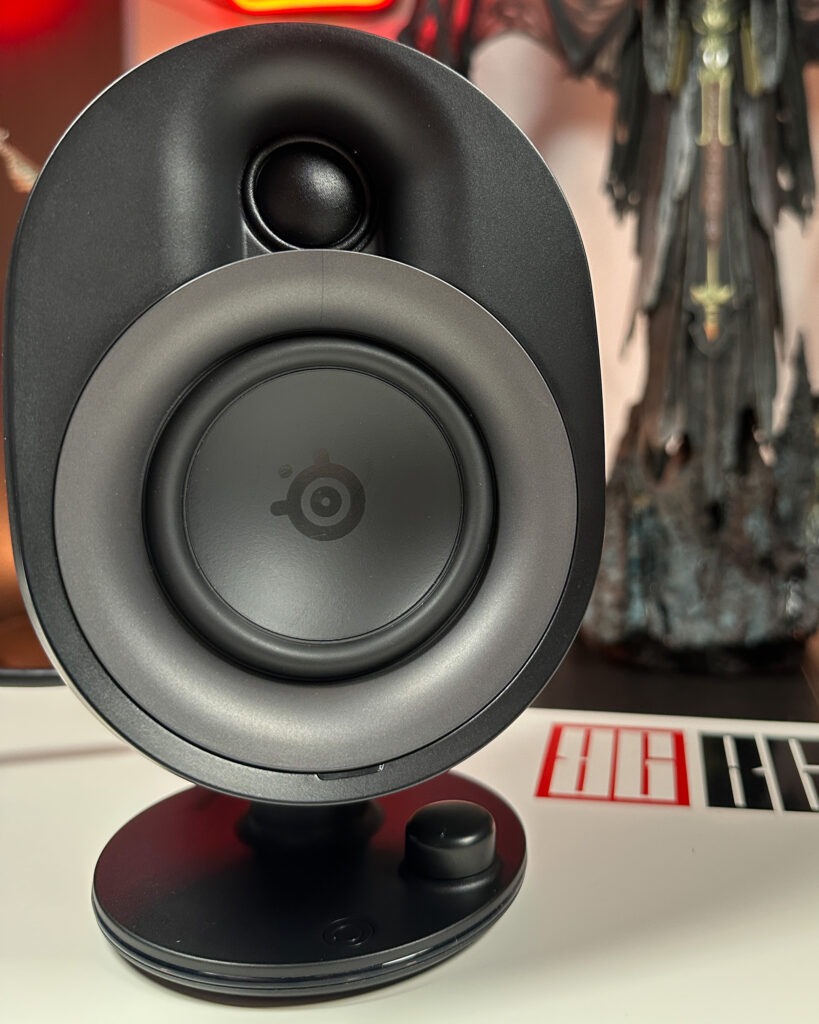 A closer look
The SteelSeries Arena 7 is definitely a looker when it comes to design. It follows the same design language that the Arena 3s do, with some key differences to show off the higher-end hardware. The monitor speakers in the Arena 7 are smaller in size compared to the Arena 3s, but they are about the same when it comes to weight. This is because the Arena 7s have two different drivers, a woofer and a tweeter, in the monitors, whereas the Arena 3s have only one. The two different drivers help separate the different frequencies and make for an overall clearer sound, and ensure that the higher frequencies will not get drowned out in bass-heavy audio scapes.
The monitors are made out of hard plastic, and they feature a large grey ring that acts as the frame of the woofer, with a rubber ring inside and a hard plastic surface with the SteelSeries logo in the center that will vibrate to produce low frequencies. The tweeter cover, up top, is made out of a rubbery material, the feel of which resembles faux leather, and although you can, I do not suggest pressing that in. The neck can be tilted about 45 degrees up or down, and each speaker has 2 different RGB zones: one around the base, and a larger one with 6 individually lit RGB LEDs on the upper back, as well as the non-detachable thick cable that you need to run to your subwoofer. The right speaker also has an action button and a volume knob at the base, a status LED below the grey ring at the front, as well as a 3.5mm port at the back to connect a headset.
The subwoofer is downwards-firing and has a lip at the front which does act as a sound "exhaust", but can also act as a handle. The SteelSeries logo is also found on the front side. The legs are made of soft rubber so that you can move your subwoofer by dragging it across the surface it's placed in, without damaging the floor or the furniture surface that's beneath. On the upper back is where you'll find your connectivity suite, complete with two multi-pin connectors for the monitors, two Optical in/out ports, a USB-C port, a 3.5mm AUX port, two-band power connector, a bass knob, and an on/off switch.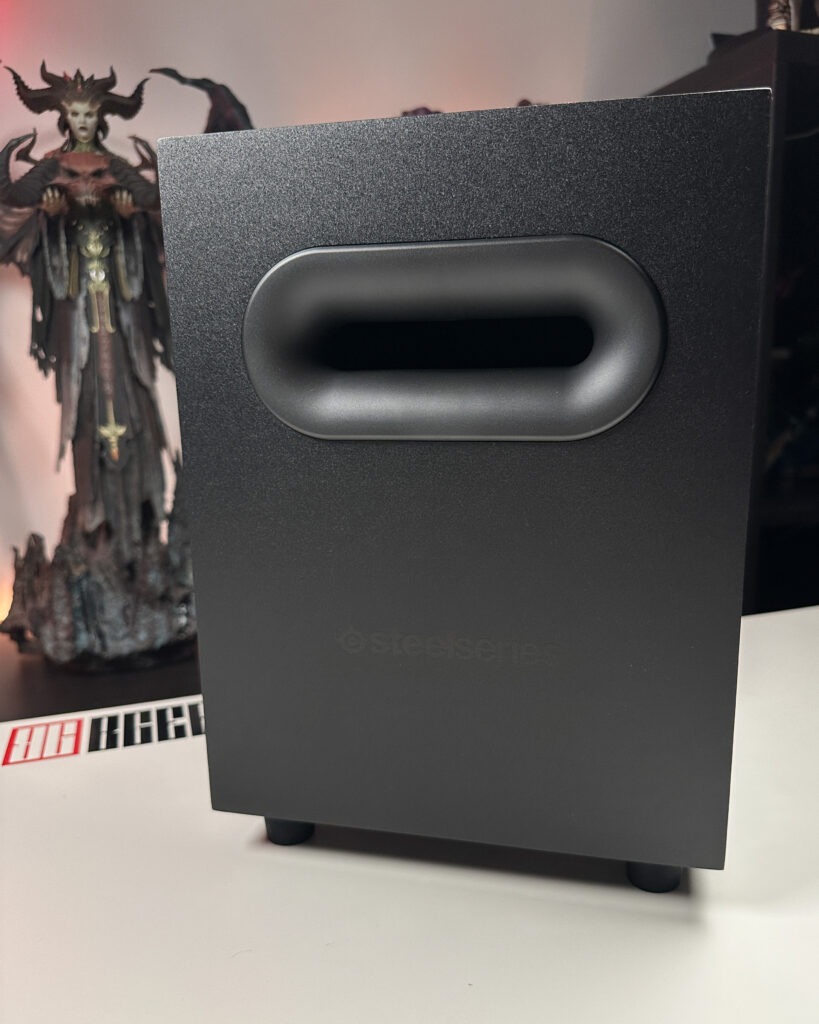 Build quality remarks
Overall, the build quality gets a big green checkmark from me, with quality plastics used all around the build, and thick cables that, although not braided, do not look as if they will succumb to usual wear and tear. The rubber used in key spots is a nice touch that helps explain the €300 price tag.
Even though the materials used are high quality, I would still try to take care of these as much as possible. For example, avoid accidentally kicking the subwoofer if you've placed it close to your feet, because even though the casing is rather rigid, the edges are pretty sharp and could get damaged easily.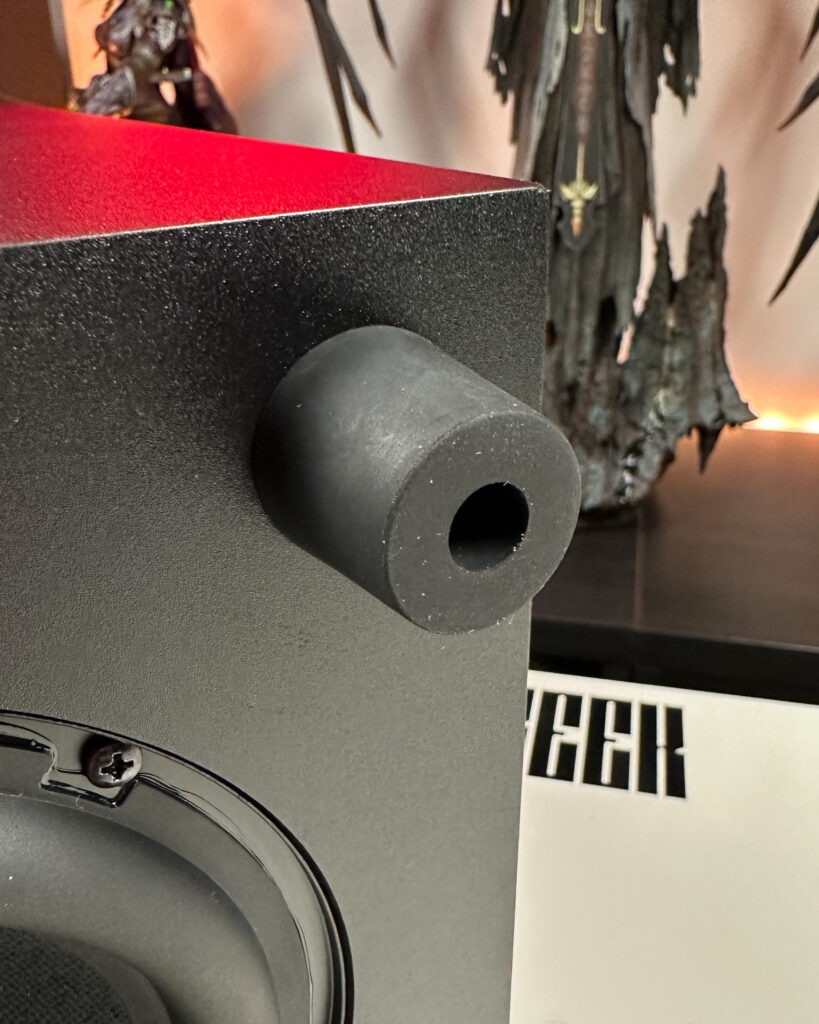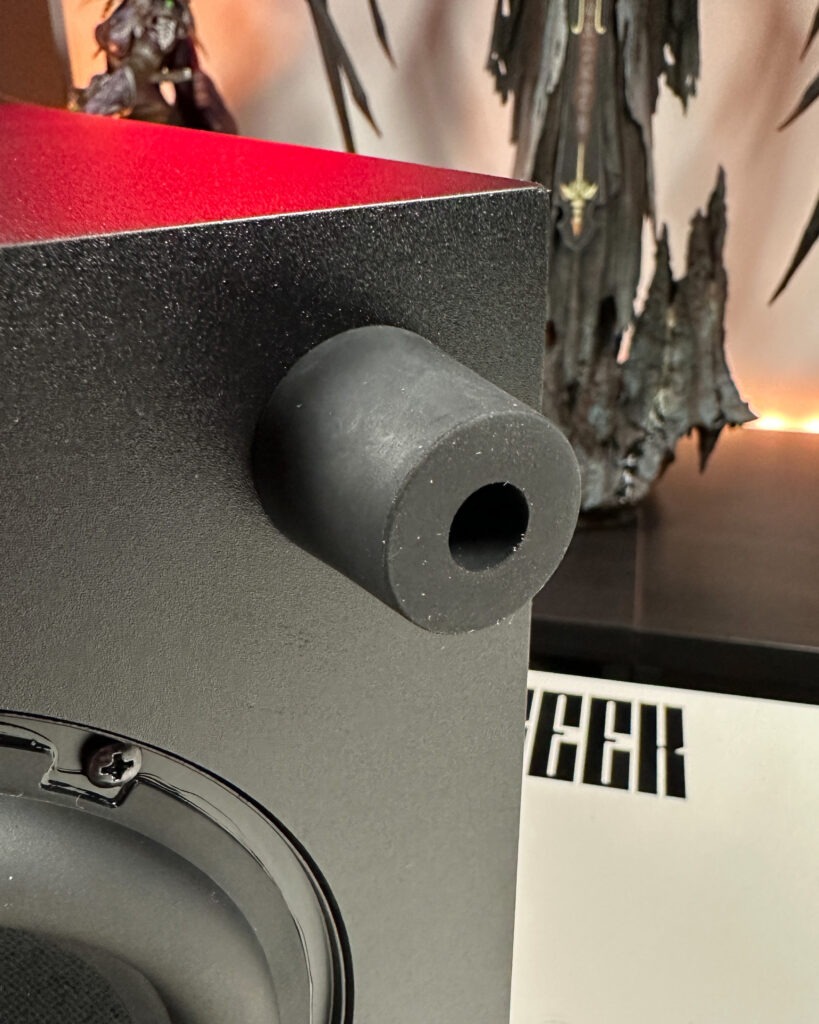 Setting up your new speakers
Setting up the Arena 7s is a very straightforward process, you'll really need to try to get it wrong. The first thing you will need to figure out, however, is the placement of your new speaker system. Having these at your desk/in your gaming room setup makes the most sense, as the Arena 7s are a 2.1 system.
Don't get me wrong, these are powerful enough to fill up a bigger room if you want to place them in the living room for example. However, the sound the monitor speakers produce is largely position-oriented, so if you would like to get the best positional audio out of them, you're better off placing them closer to you. Nailing the positional accuracy could be hard in a larger room, where you will be sitting further away from the monitors.
It was an easy choice for me, as the desk is where I do most of my work, media consumption and gaming. Placing each monitor speaker at the corner of my desk, and the subwoofer on the floor, as it takes quite a bit of space, seemed like the best option. Cable management wasn't the nightmare I initially thought it would be, since you only need to conceal the two thick cables running from the subwoofer to the monitor speakers, and thankfully that was easy to do behind my desk. There is also the USB cable that you might need to route behind your console or PC, but that is really small and does not stand out, especially if you're in a setup that uses black as its primary color.
The champions of connectivity
When it comes to connectivity, the Arena 7s have pretty much every option you'd ever need. In terms of sound quality, the best option would be to use the optical port in the back to provide sound. However, optical ports nowadays are only found in last-gen consoles, dedicated sound cards, or most TVs. If you're looking to connect to most modern devices, the USB-C to USB-A cable included in the box will be your best option, as you can transfer the highest quality audio through the USB interface. Be it a PC, Mac, or gaming consoles, the experience when using the USB cable is straightforward: plug-and-play. My experience when initially connecting these to my PC and both the PS5 and Xbox Series X|S was effortless across the board.
If you're playing on the Nintendo Switch or an older console that does not support data transfer through USB, you can also use the AUX port with a plain 3.5mm to 3.5mm audio jack cable, and the experience would be even more straightforward.
Now, what makes the Arena 7s really special is the inclusion of Bluetooth connectivity. You can use your phone or PC to connect to your speaker system wirelessly, and that is probably an option if you'd like to use them with multiple devices. The best thing about this is that you run Bluetooth audio on top of what's already playing through USB or AUX, meaning that if you're playing a game and you want to cast music on the speakers from your phone, you can do that, and get audio output from both sources at the same time with the Bluetooth source playing on top of the USB/AUX one. It's worth mentioning that even though the Bluetooth chip is v4.2, the connection quality was good enough, and I didn't experience any breakups in sound whatsoever during my testing period.
Audio experience with the SteelSeries Arena 7
Now, the audio on these things is absolutely sublime and can be tailored to whatever activity it is you will be using them for with SteelSeries' own software, but they do sound pretty nice out of the box, so the only adjustment I had to make was setting the preset to 'Exciting' in the EQ, and I was more than happy with the result for all my use cases outside of gaming.
The typical SteelSeries audio signature is pretty flat, and that's great when you want to let the developers handle how your game sounds, something that usually works when it comes to headsets. Now, the Arena 7s have a punchier sound signature and they produce a more vibrant sound overall, something that I absolutely loved. They get loud enough to fill up a smaller room, and the experience is best when you've configured the monitors to point towards you, whether that is from the front or from the sides (optimal setup). That will give you the same experience as wearing a gaming headset more or less, without doing as much damage to your ears at louder volumes.
You can configure the bass from the knob on the back on the subwoofer, and although it doesn't get muffled at higher volumes, which is a sign of great quality drivers, it can overpower higher frequencies. I found that setting it to about 30% worked the best for me, but your mileage may differ.
Keep in mind that while they do fill up a room very easily, you'll have to set them at very high volumes for the audio to be clearly audible in other rooms, since the audio from the monitors is highly directional. Make no mistake, however, if you want to annoy your neighbors, you can absolutely do that with the Arena 7s. They're adequate to power your music setup for a small-scale house party, and their party-trick value only increases with the RGB lighting – keep reading to find out more about it.
Gaming with the SteelSeries Arena 7
The Arena 7 is a pair of gaming-grade speakers, so it only makes sense that you would want to use them primarily for gaming. And oh boy, are they good at that. In single-player games, they fill up the room with detailed, high-quality sound and the subwoofer will make the floor tremble (well if it's hardwood, like mine) during action set pieces. Paired with a nice monitor, you can't beat the immersion these tiny beasts can offer. I especially recommend them for narrative-driven, cinematic games like God of War Ragnarok, where you'll be blown away by how natural the game audio is made to sound through the Arena 7s. If you're into Japanese RPGs that typically have incredible original soundtracks, I had an absolute blast playing through the latter parts of Persona 5 Royal and enjoying the great music. Gone are the days of visible headset cables to your controller or having to adjust your headset every once in a while. I loved how effortless gaming with these speakers was.
Now, multiplayer games, first-person shooters especially, are a different story. Don't get me wrong, they still sound great, and they will offer a more immersive experience than your average headset, that's for sure. But, no matter how good SteelSeries gets the engineering part, it's still hard to get good positional audio from a 2.1 speaker set. You can hear enemies coming from in front and from the sides loud and clear, often better than with a headset due to the vastly wider soundstage, but enemies coming from behind will be hard to notice. The sound coming from the monitors has high positional accuracy, so if you experiment enough with the placement of the speakers (and have a wide enough desk), and with some practice, you'll be able to get the best out of the situation. If you're looking to play competitive multiplayer, however, you're better off sticking to a headset.
Non-shooter multiplayer games though are still an absolute blast. Even mid-season FIFA Ultimate Team was bearable, since I was so busy admiring how immersive the stadium sounds in FIFA 23 that I didn't have time to think how much I hate the latest in-form cards. And if you think that talking to your teammates will be a problem in the middle of a gaming speaker setup, normally you'd be right, but SteelSeries has thought of this too and released the Arena Wireless Mic, a rechargeable earpiece that I did not have in hand to test, but the general consensus on the internet seems very positive and is a valid way to solve this problem.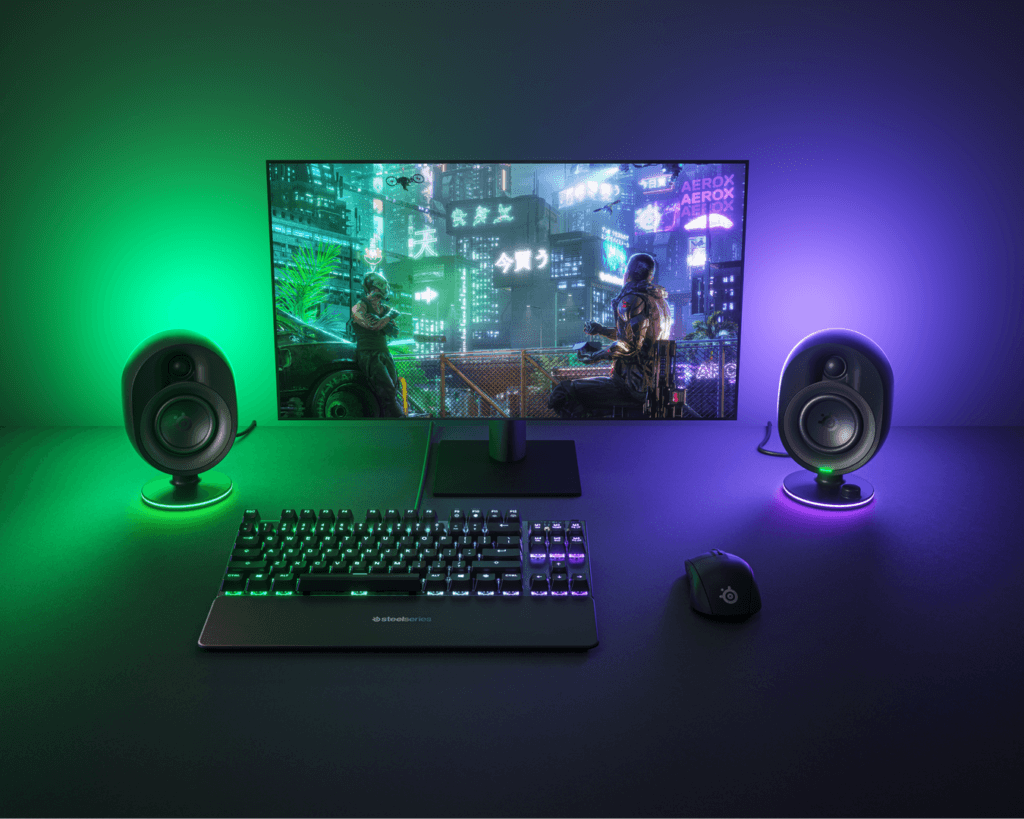 Media consumption with the SteelSeries Arena 7
Of course, gaming is not the only thing you will be doing with your fresh pair of speakers. Who wouldn't like kicking back, relaxing, and watching the latest episode of The Last of Us on HBO with a pair of speakers that offers boomy yet detailed sound? I must say, that watching both The Last of Us and Alice in Borderland on Netflix (am I late to the party?) has been an incredible experience, both for me and for my neighbors. The clickers sound absolutely menacing and the speaker announcements in Borderland are enough to send chills down my spine. The same goes of course for anime, if you're more of a connoisseur. Watching Makoto Shinkai's classics, like Tenki no Ko, with your s/o is incredible. Or you could take a look at our BWeeb selection for Winter 2023, and you can pick your poison accordingly.
Music is where the Arena 7s shine the brightest. Vibing to your favorite tunes goes next level with these beasts, especially since you can cast everything from your phone, or you can use Spotify as a hub to share a speaker with your friends if you're inviting people over. More importantly, the Arena 7 sound signature is perfect for distinguishing all the different tones in your favorite tracks, even at very loud volumes, and will have you noticing details that you hadn't noticed before. These are by no means audiophile-grade speakers, but most audio gear tends to give their own spin to music, and they usually feel a bit off until you get used to them. The Arena 7s sounded almost identical to my AirPods Pro that I'm so used to always wearing when I'm on the go – It all sounded so natural to me. If there's one thing we can almost all agree on is that Apple has the sound game for mid-range earbuds on lock with their astute sound calibration, and it feels like SteelSeries has done the same for mid-range gaming speakers.
RGB Lighting
Sure, sound is the most important part of a speaker system, but we have to make sure that your new addition to your setup plays well with the rest of your gaming gear. And what way to mix and match better than with fancy RGB lighting? Honestly, the lighting in the Arena 7s has to be one of my favorite RGB implementations in a gaming peripheral ever. On both monitor speakers, there is a triangle-shaped array of 6 RGB LEDs inside of a slightly-tinted plastic cover, as well as a ring-shaped LED on the base – 4 individually-lit RGB zones in total.
The RGB lighting is completely customizable through the SteelSeries Engine software that has a variety of different presets to choose from, or you can make your own lighting scenes through the Prism+ app that is included and offers an excessive amount of customization options that I did not have the time to play around with. My favorites were the Audio Visualizer preset, which had the RGBs cycle through all the colors and pulsate in sync with the music with the lighting getting brighter the louder the music was (incredibly cool, ngl), and the Vaporwave static scene. I think I should also mention that the lighting in the Arena 7 played extremely well with my Nanoleaf Shapes, matching colors almost shade-to-shade. I may not be the biggest RGB fan in the world, but the implementation here made me reconsider for a bit. Kudos to SteelSeries.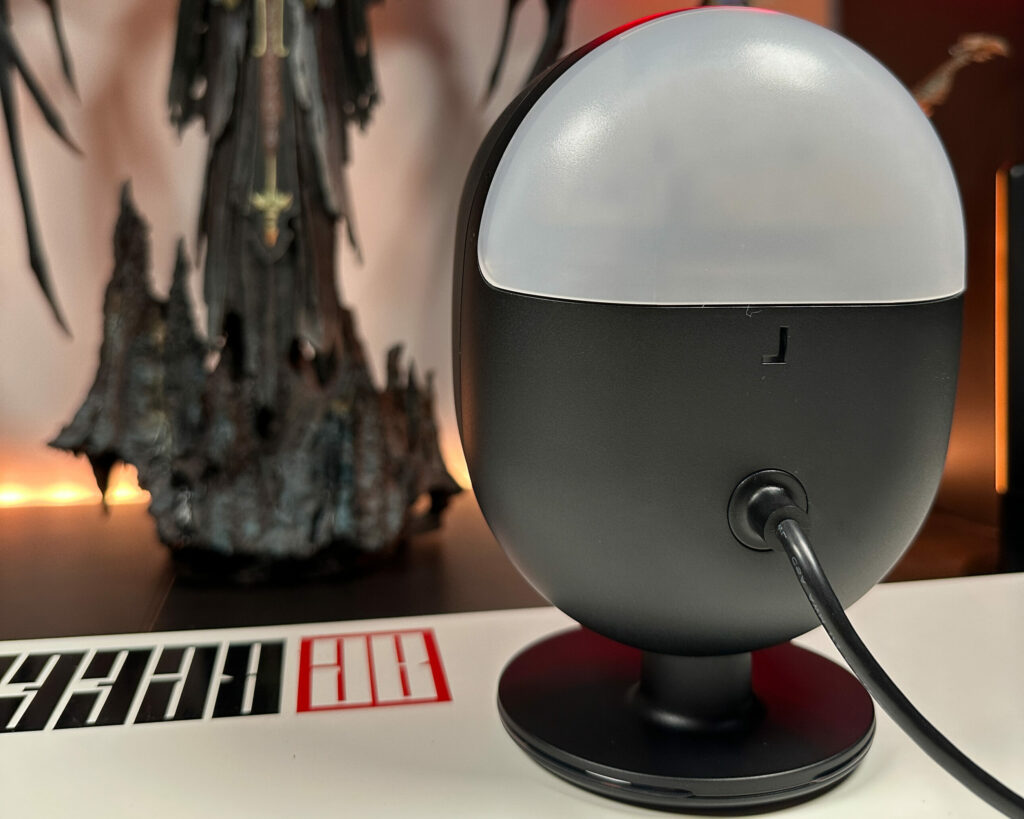 SteelSeries Arena 7: Verdict
The SteelSeries Arena 7 packs in everything you could ever want from a speaker set. It offers top-notch audio that is pleasant for all types of media content, plenty of connectivity options including Bluetooth which for me was the game-changer, solid build quality, and great RGB lighting. Being able to use gaming speakers as a multi-purpose audio device was a great experience as I was not only able to play my favorite games at their best, but I was also able to watch films and listen to music, and edit videos for our social media pages on top of that. They play nice with pretty much every device that outputs audio, and that's a huge win in my eyes.
The flat sound signature is replaced by a more exciting one which makes the sound more pleasant in most situations The high levels of customizability are also something to take note of here, as you can easily fine-tune the sound according to your needs very easily through SteelSeries Sonar, and you can also use some of the already available presets to do so. The same goes for the RGB lighting, of course, which you can customize to fit the rest of your setup very easily through the Prism+ suite.
The price might seem a little daunting for some people, but in all honesty, the Arena 7s are well worth the price if you're looking to level up your gaming setup. All promises made in the marketing material are delivered with this product and I am very happy with how these little beasts have performed for me, they've definitely become a permanent part of my setup. You can currently get the SteelSeries Arena 7 for 249€ form the SteelSeries store – a hefty discount – but don't dwell on it too much as they go out of stock very often.
On the other hand, if the Arena 7s are still out of your budget, and you don't mind compromising to save some extra cash, or if you don't really need the subwoofer and the fancy RGB, but still want to step up your audio game – the SteelSeries Arena 3 might just be the perfect fit for you.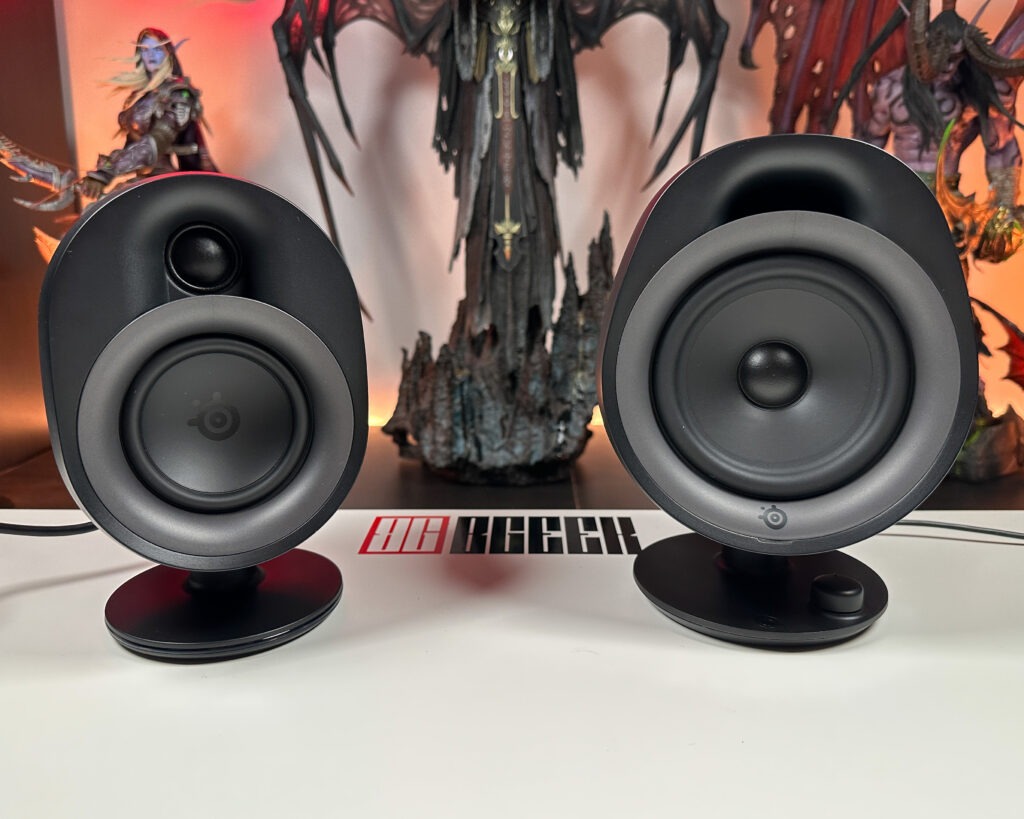 We would like to thank SteelSeries for providing the review unit we used for this review.